9 Vessels and the Stories they Carry

Inside our favorite vessels, you'll find the beverages that sustain us: the French press coffee, the Two-Buck Chuck, the unsweetened iced tea with a splash of lemon.
Beneath the layers, these treasured objects also hold our stories. Stories of the places we've been, the people we've met, and the memories we've collected along the way.
As a team of creators, we couldn't help but carry our conversation on drink and design into the tactile world of cups, containers, and carafes. What follows is a collection of the vessels we hold dear, each representing a moment, person, or place that carries meaning far deeper than the liquids they contain.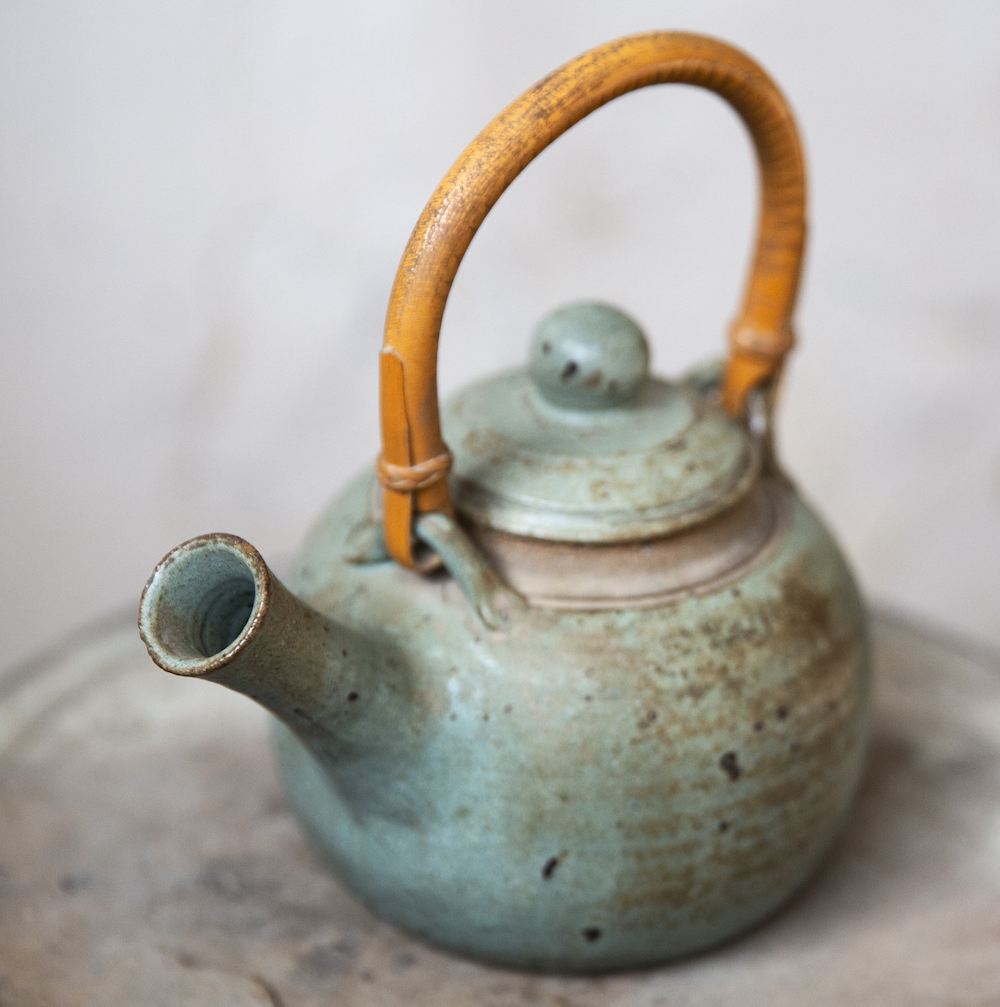 My mother was a potter of some renown, working with heavy grog clay until it ruined her hands. I have half a hundred of her pots, paintings and sculptures, and in every one I feel her heartbeat. This little green teapot is a departure from her normally muted, earthy palette of whites, grays, and browns, and the honking spout shows her in a playful mood. Like all her pieces it is lightly thrown, elegant and rigorous in form, leavened by touches of jolly humor — close to perfect as a portrait of the woman who made the son.
/ Eric Thoelke, President + Executive Creative Director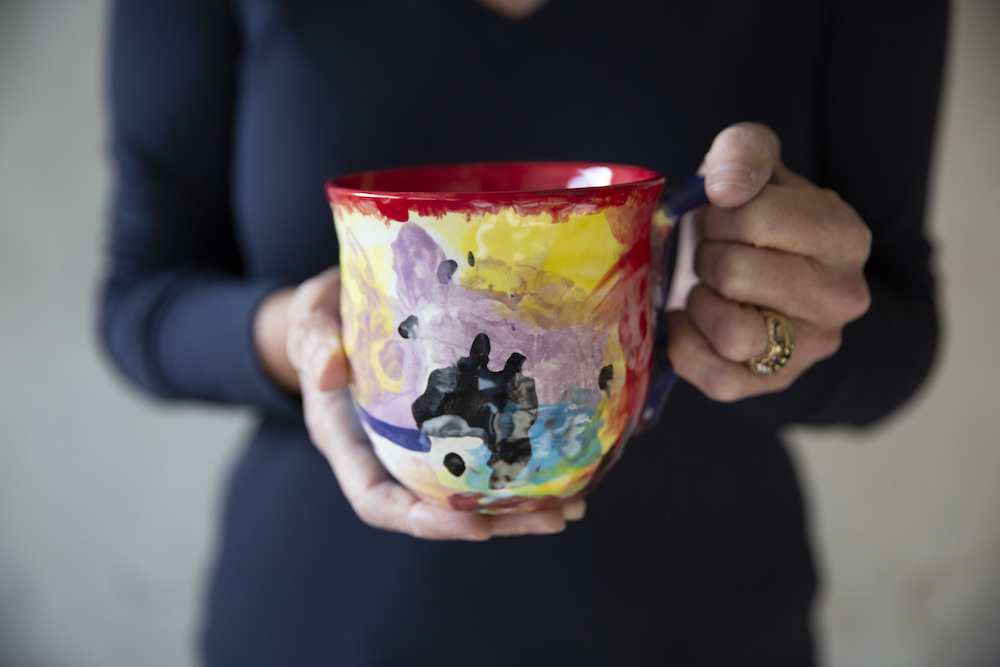 Each year for as long as I can remember we share an "adventure" with each child or grandchild to celebrate their birthday; no one needs more "stuff." Our adventures are chosen by the child — a hike in the woods, a picnic in a park, exploring museums, storming through the Magic House, dinner in a favorite restaurant.
Many of these birthday adventures have been getting creative with paint and pottery. Bowls, vases, mugs, figurines — each trip has resulted in a precious handmade gift chosen and decorated by the child. These treasures now ornament our home, the fragile clay cracked or chipped, or simply too precious to risk with use.
Every morning I begin with hot tea steaming from my newest treasure — an oversized mug that my granddaughter Lily (my "Lilybits") and I painted together on her third birthday adventure. Whether I'm running off to work or soaking in the early morning light on a sleepy Sunday, I get to start my day reminded that my greatest treasure is time spent with our children and grandchildren.
/ Mary Thoelke, Principal + Operations Director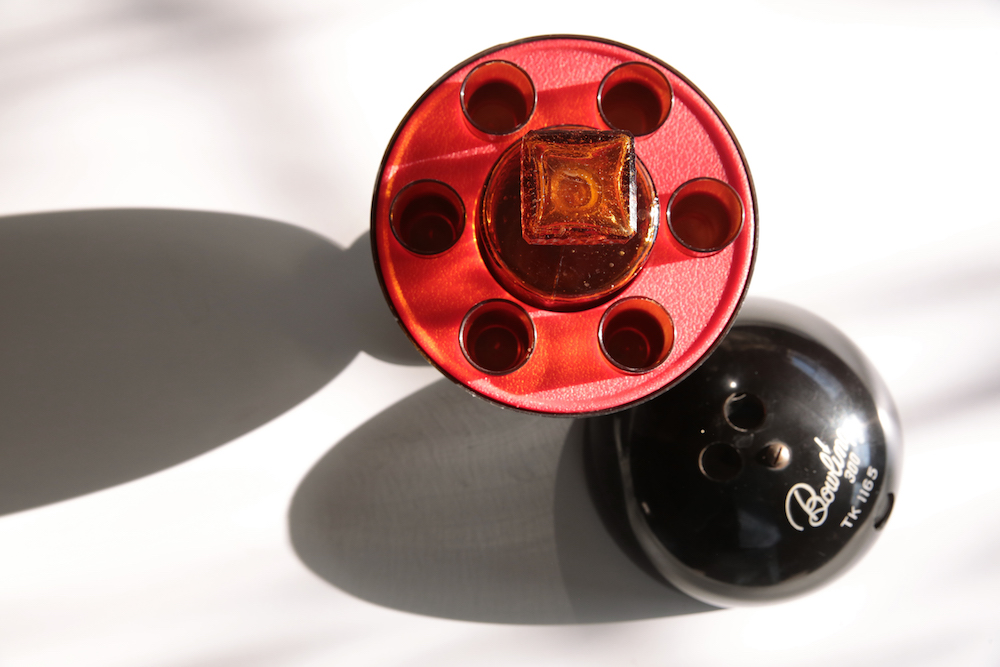 About seven years ago at one of our TOKY holiday parties, I was the fortunate recipient of this vintage bowling ball shot glass and decanter set in our white elephant gift exchange. Our former team member, Jane Nagle, found this gem at TFA. Since then, our team has put this set to good use at our holiday celebration each year to toast the year's milestones with an often repeated, and always booming "Now that's a reason to celebrate!"
/ Jane Winburn, Account Manager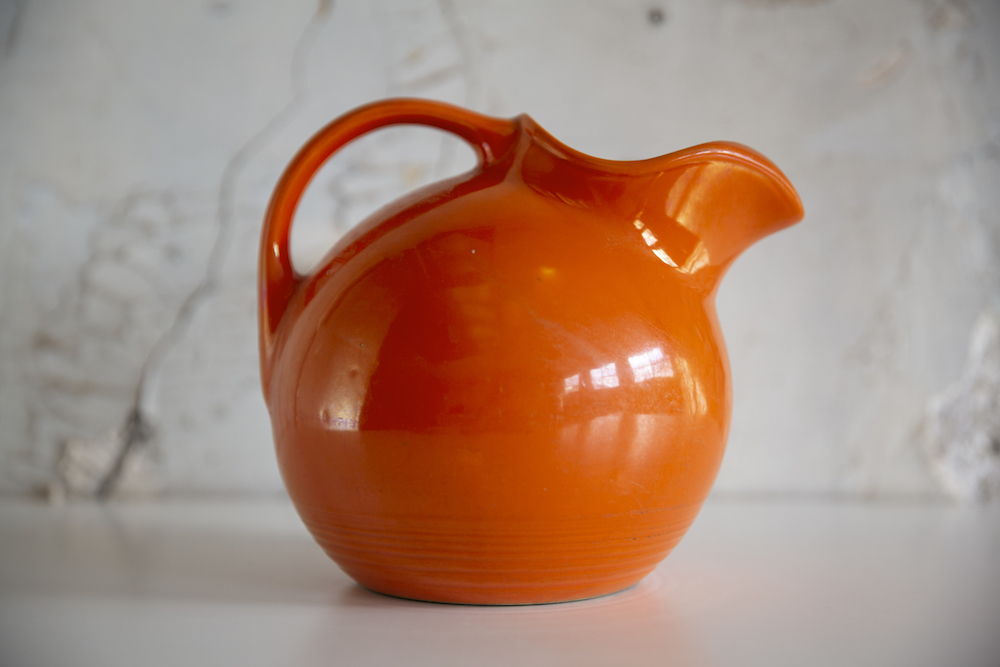 The atomic orange pitcher, with its Saturn rings, seemed to float above my grandmother's refrigerator. Long before I heard the term mid-century modern, or knew I wanted to be a designer, I was drawn to its curvy shape and beaming color. It seemed to glow from within! In my lifetime it never held water or Grandpa's perfectly brewed iced tea. Its only job was to remain unbroken, safely away from my curious hands.
The orange pitcher looks smaller now, sitting on top of my own refrigerator. But it has the power to transport me back to my grandparents' kitchen, where a water pitcher from Woolworth's could hold all the mystery and possibility of the universe.
/ Geoff Story, Creative Director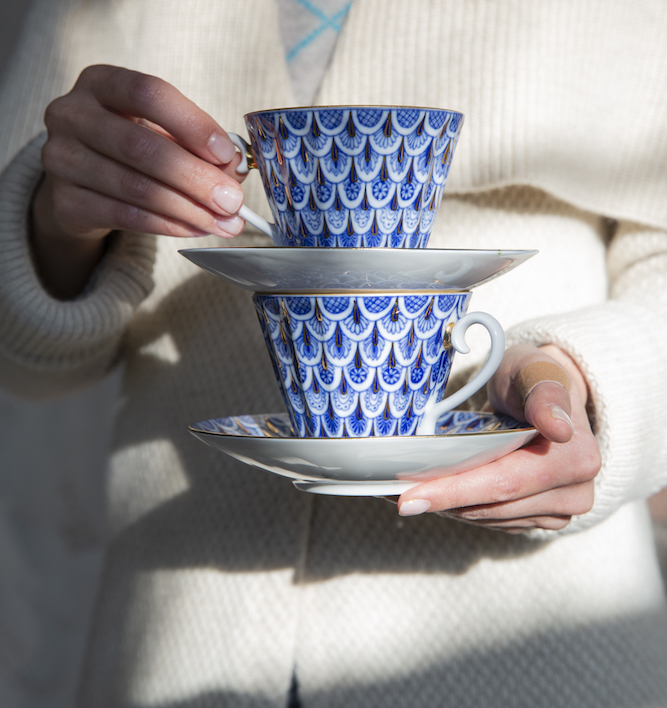 It may seem a little excessive to drink your daily morning tea out of a hand-painted porcelain cup, but that's a part of my day that gives me a piece of home. This set was given to me years ago by my two best friends and reminds me of the "never-ending tea party" that is the culture back home. My "fancy" vessel is these two cups in a traditional cobalt net pattern with 22-karat gold from the Imperial Porcelain Factory collection in St. Petersburg.
/ Irina Pavlova, Junior Designer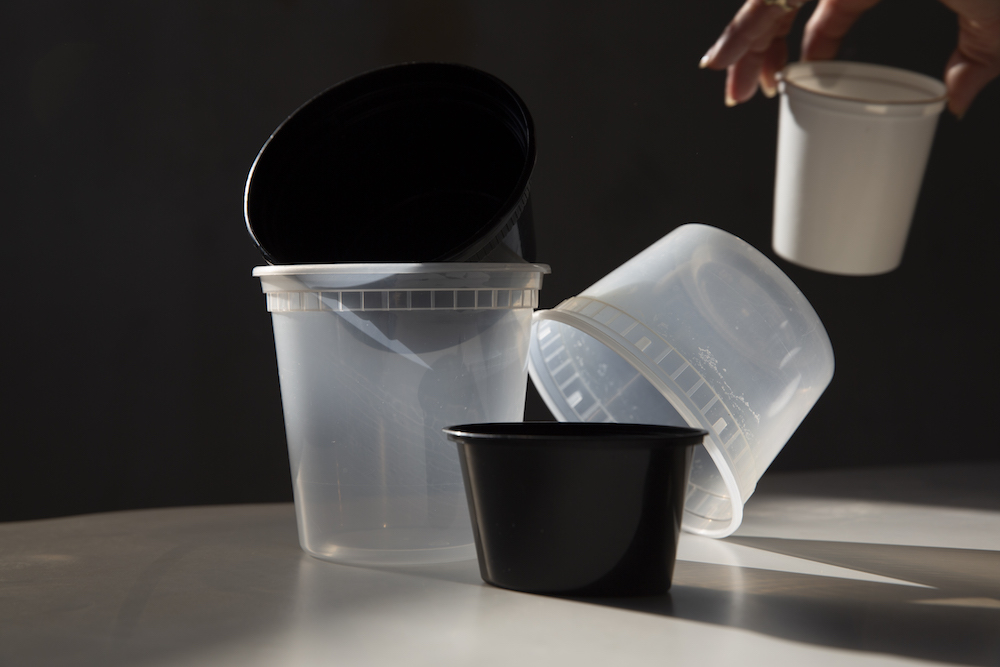 I always try to follow the three environmental "Rs" (reduce, reuse, recycle), so my go-to item for containing leftovers, a traveling meal, or wrangling odds and ends is the repurposed plastic container (take out, yogurt, hummus, etc.). It's a habit I picked up from my mother. I once heard a comedian joke about how none of the containers in their refrigerator actually held what was advertised and I thought, "Yep, that would be me."
/ Susan Gillham, Researcher & Brand Strategist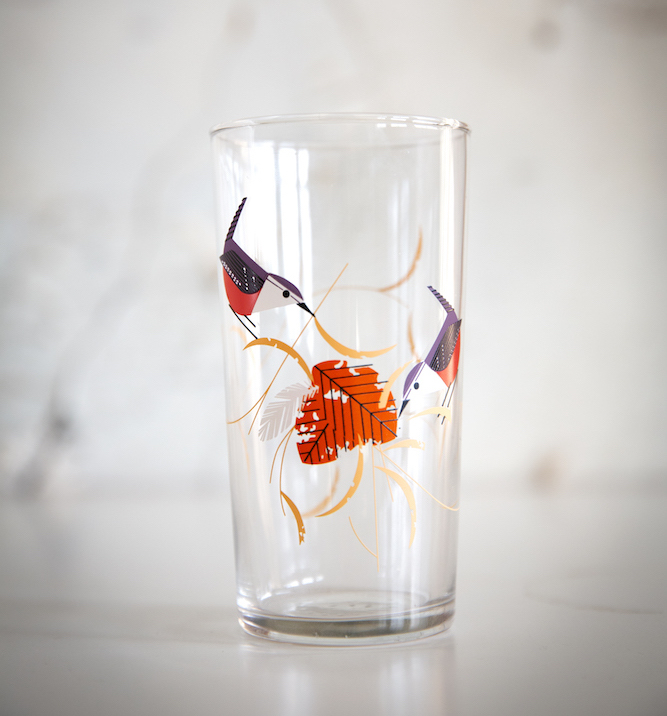 This was found at one of my favorite NYC stores, Fishs Eddy. The illustration is a classic by Charley Harper. Anyone who knows me knows that I am a HUGE Harper fan AND I like to put birds on things. Put those two things on a glass and it's a match made in heaven. Somehow, everything tastes better in this glass.
/ Katy Fischer, Creative Director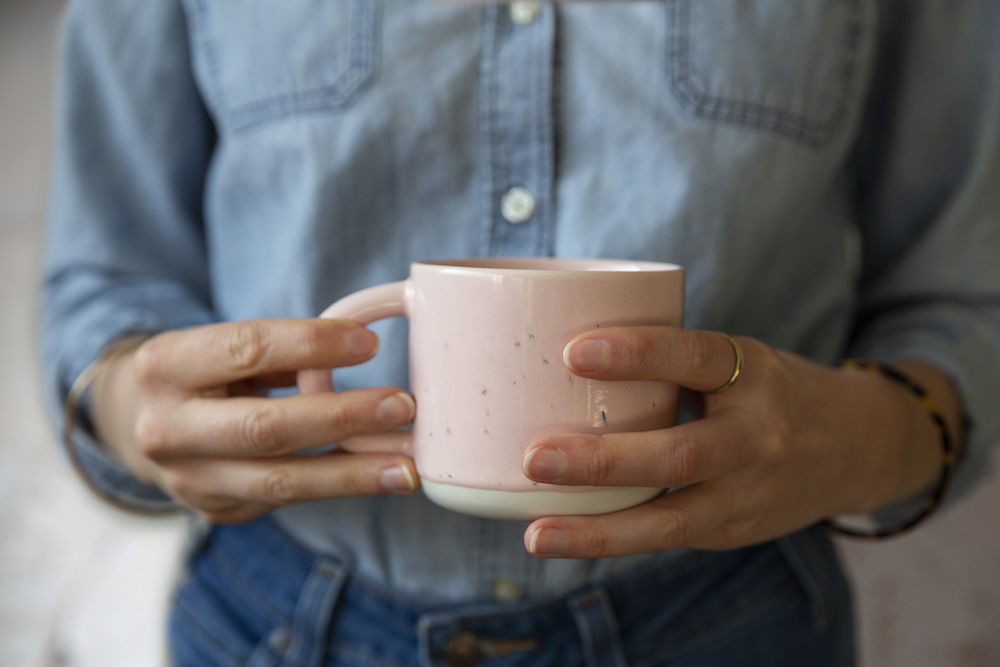 A few months back, I set out on a solo trip to Scandinavia. The bag I carried was quite small, but I was nevertheless determined to carry home some sort of talisman from my travels. That first jet lag-clouded day, I wandered into Stillleben, a ceramic-filled shop that embodies Copenhagen's eye for design. This mug spoke to me immediately, but I set it down gently and walked away, wanting to gain a real sense of the city before committing to one object. Five days, countless coffees, and a redacted number of pastries later, I concluded that this cozy little mug represented the very feeling I wanted to bring back with me.
/ Katherine Leonard, Brand & Senior Content Strategist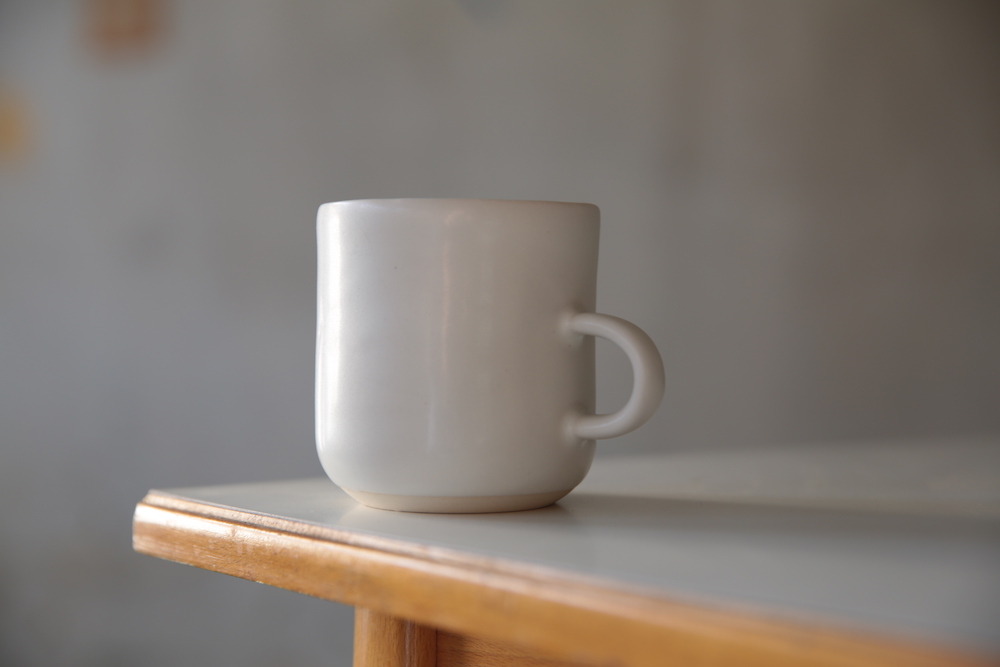 There's something really adorable about a small coffee mug. I'm sure it's all in my head, but they seem easier to hold and sip from, and I swear the coffee stays hotter longer. Or maybe I just drink it faster. This lil guy — at a mere eight ounces — is stark in its lack of color, yet very warm and a little odd. I picked it up at Lola Jean's while on maternity leave this fall. It was made right here in STL by Justin Leszcz. Reminds me of one of those first good days out of the house with my little one.
/ Laura McCarthy, Account Manager
—

For more on drink and design, check out the full series or sign up for our newsletter below.