Eight Wins for TOKY at the 2020 St. Louis ADDY Awards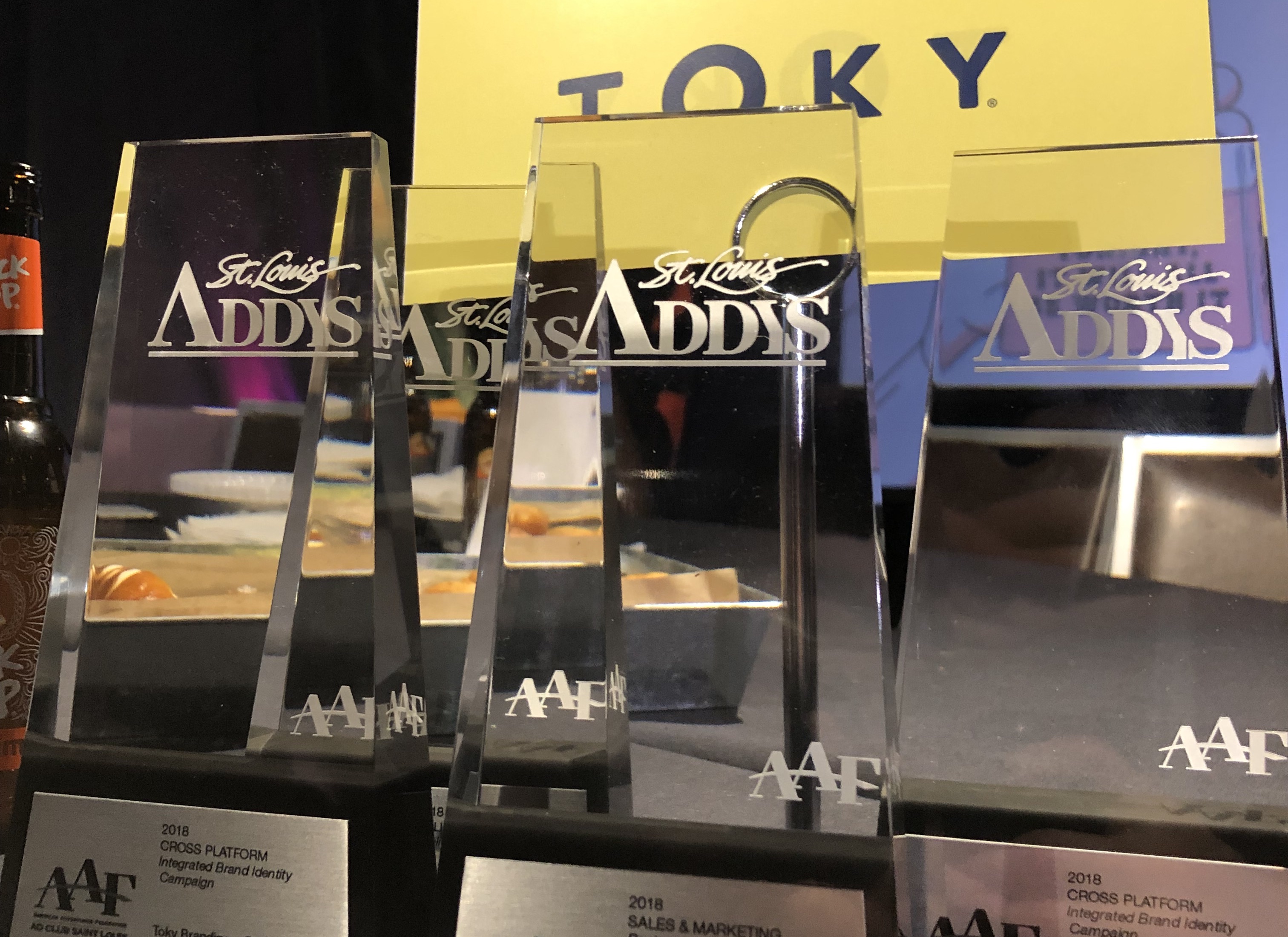 Life moves quickly here at TOKY, and each year, we look forward to the local ADDY awards — a moment to gather with our team, share a few drinks, and reflect on the year that was.
Together with our peers in the St. Louis creative community, we celebrated the great work being done in this city — and took home a few awards of our own. For TOKY, ADDYs 2019 was the year of packaging design, with honors for our 1220 Spirits bottles, Firecracker hot sauce, and Rockwell cans. Alongside the bottles and cans, judges selected our brochure for the highly anticipated 100 Above the Park and a psychedelic poster from Type Hike's Arch series.

Best of Sales & Marketing: Flora & Spettro Packaging
A distillery tucked inside 4Hands Brewing Co., 1220 Artisan Spirits is shrouded in an aura of secret society mysticism. That mystique is ever-present in the distillery's two new Italian-inspired sprits: Flora, an aperitif and Spettro, a digestif.

Gold: Flora Packaging
Taking its name from an ancient Roman myth, Flora's bottle features the goddess of flowers and spring in full bloom — a fitting toast to the aperitif's botanical flavors. Astute drinkers will find Flora's secrets hidden among intricately woven tendrils.

Gold: Spettro Packaging
Italian for spirit, Spettro is 1220's after-dinner digestif. At the label's center is an intricate, die-cut moth. Nocturnal yet always seeking light, the creature brings Spettro's ghostly spirit to life. As drinkers enjoy the earthy bitter Amaro, a secret is slowly revealed from behind a shroud of darkness.

Gold: Firecracker Pizza & Beer Hot Sauce Packaging
With a collection of 66 hot sauces, Firecracker already packed a punch in the spice department. So when owner Chip Schloss began bottling the heat in-house in 2019, we knew the packaging would need to make a bang. Much like the restaurant brand and Grove-famous mural, Firecracker's pizza bottles are loud, proud, and a little profane.

Gold: 100 Above the Park Brochure
Rising 36 stories above Forest Park, One Hundred will shape the city's skyline to the west. Designed by internationally acclaimed architect Jeanne Gang, One Hundred will stand as an icon for generations to come. St. Louis' most anticipated residence needed a high-end brochure as eye-catching as the building itself.

Silver: Arch Poster – Trip to the Top
Type Hike's fifth series, ARCH, featured 60 depictions of America's 60th National Park, the Gateway Arch. Contributing designers were challenged to creatively express the city's most overused icon. "Trip to the Top," a take from TOKY's own Irina Pavlova, uses typography to evoke the feeling of adventure and height melting in the St. Louis summer sun.

Silver: Rockwell Beer Co. Bizness Ethics Can
Rockwell Beer Co.'s brewing philosophy is based in experimentation, and the same can be said for the branding system, which was designed to adapt to an ever-evolving beer menu. A crowd favorite on Instagram, the can for Bizness Ethics is a cascading technological throwback starring Rockwell's mascot, Fabricius the Llama, as Clippy.

Silver: Rockwell Beer Co. Polymath Can
By definition, a polymath is someone with knowledge of many different subjects. Named for the versatility of its base recipe, this Belgian-Style White Ale was sold in a special edition $15 bottle at Rockwell's tasting room. Drinkers will see the saison's flexibility in the twists and turns of Polymath's die-cut label.

Cheers to all of our clients on the wins! Next up, these winners will move onto the district ADDY awards.