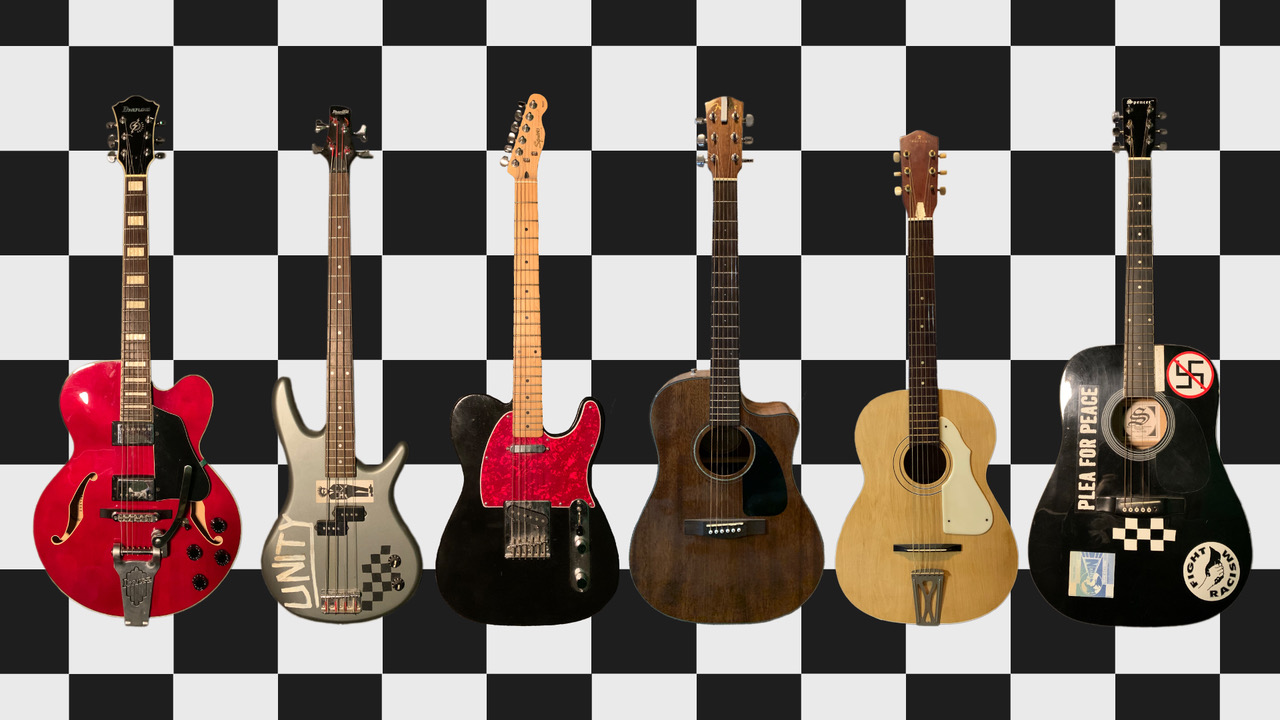 "Music doesn't lie. If there is something to be changed in this world, then it can only happen through music." – Jimi Hendrix
Through the centuries, music has earned a lot of labels from a lot of different people. It is the universal language not only because it transcends all other forms of communication, but because it brings people together.
The guitar as we know it today, now often referred to as the Spanish or classical guitar, began showing up around 1850. From there, the guitar moved away from simple rhythm and accompaniment and became a central part of many cultures and styles of music. Fast-forward to the birth of the blues, country, and rock-n-roll, and the guitar has become the first instrument many people turn to for their musical passions — our staff included.
Just as music has brought people together for millennia, the many guitars of TOKY have brought us together during this difficult time. As guitar after guitar appeared in our team's quarantine house tours, we decided to compile a collection of our favorites. From the kid-friendly to the nostalgic, unique, handmade, and even the rockers, these are the guitars of TOKY.

Alec Gleason, Director of Business Development
On display is a 2019 B. Toys "Woofer" guitar featuring multi-color plastic button inlays, customized dog bone whammy bar, and signature hound dog play mode. Batteries not included.

Deana Frisch, Senior Web Producer
On the left is Winnie's first stringed instrument. She loves to play along with Dada or to the beat of her own drum. To the right is a Gibson Chet Atkins Tennessean. Alec bought this guitar in Florida when he was in school at Full Sail. When our apartment was broken into this was one of the things that was taken. Nine years later, and on his birthday, he stumbled across it on Killer Vintage's website and we were able to buy it back.

Hayden Loos, Designer
This is my 1949 Gibson L-4C. This guitar was originally bought for my father by my grandmother in 1956 for $150. It has a solid spruce top, maple back and sides, Brazilian rosewood fretboard and bridge, with mother of pearl inlays on the fretboard.

Jane Winburn, Project Manager
After creating cigar box guitars for a few years, Scott built this guitar in 2009. He used a bedpan, some found cocobolo wood for the fretboard, and bloodwood for the neck and headstock. He uncovered the cocobolo wood in a scrap pile at a woodworking shop. At the time, it was a solid, dull grey color and had cut lines all over it. There was no evidence of the beauty within. He said he had really only grabbed it because it was unusually heavy for its size, and he was curious. When he cut into it, he discovered the most interestingly configured piece of wood he'd ever worked with.
The guitar's headstock design resulted from his trying to undo a mistake. After a mishap with our table saw, he had to figure out a way to salvage the bloodwood and the project. The oddly shaped yet perfectly functional neck and headstock was the result.

Jim Harper, Creative Director
The Gretsch Electromatic Jet (left) features a single-cutaway chambered basswood body with an arched maple top. Features include Gretsch dual-coil humbucking pickups that ensure luscious tone, 22 medium jumbo frets, and anchored Adjusto-Matica bridge and stop tailpiece that ensure vibrant sustain. On the right is a super simple single pick-up, standard scale Washburn Bass, earth-stain finish.

Kevin Willingham, Designer
Artcore: This was purchased around 2004 and not long after they launched the whole line. Super fun hollowbody that can give a real old school sounds while also putting out some really heavy distortion, this has played a lot of Ska over the years.
Ibanez Bass: Just a crappy SoundGio bass, was the first bass I ever owned and I've never replaced it. Real punchy sound, that I actually really enjoy. I think the sticker and hand painting speaks to what I originally bought this for.
Squire Telecaster: I bought this tele on eBay for $40 shipping and all for a fun project; I repainted it and was intending to gut the insides. But it had Seymour Duncan Hot Rod pickups in it, which are oddly worth more than the original guitar.
Fender Acoustic Electric: One of the best guitars I have ever owned, period. All mahogany and sounds just so warm while being a dream to play.
Truetone Acoustic: This is an acoustic that belonged to my wife's grandmother. It was manufactured by Kay Musical Instruments and sold under the Truetone brand for Western Auto. We believe this is from the late 60s early 70s. Not a bad little strummer for what it is.
Spencer Acoustic: This was an incredibly cheap acoustic I bought to just goof around on and take places. This ended up becoming a guitar I would play for several years and record several terrible folk/punk/acoustic ska albums with.