SMPS Webinar: Convincing Your Boss to Invest in Content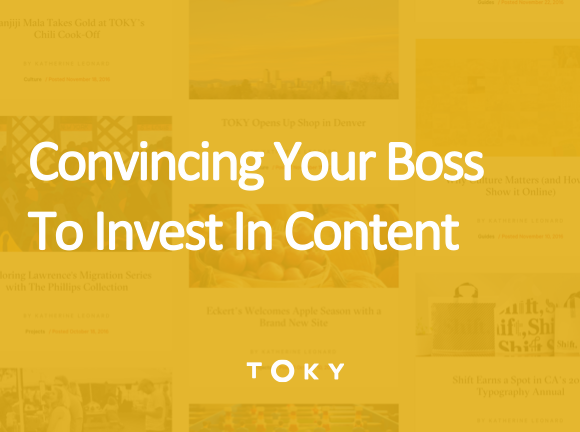 Pushing out great content can help your organization build trust and boost search rankings — but without leadership buy-in, it can be tough to get the budget, support, and team members you need to start publishing.
While some AEC leaders embrace strategic content, others are quick to shut the idea down, insisting that there's "no budget," "no time," or "no point in giving away the secret sauce." Join me, Katherine Leonard, Content Strategist here at TOKY, for "Convincing Your Boss to Invest in Content," a webinar hosted by the Society for Marketing Professional Services (SMPS) at 1:00 p.m. CST on Tuesday, February 21. I'll be sharing tools, tips, and a game plan to prep you for the sometimes daunting pro-content conversation.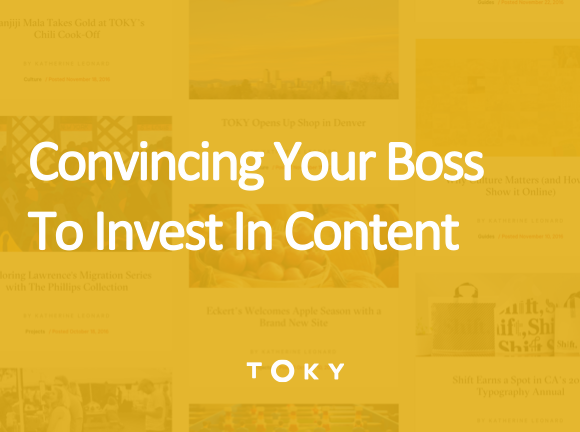 This 90-minute SMPS webinar will help you:
Gain the tools to explain, with data, how your firm will benefit from a content program.
Learn and see examples of how to propose a content plan through storytelling (rather than information overload).
Develop your own outline for an effective (but not overwhelming) one-sheet content plan to share with leadership.
Identify the content metrics that matter most to your leadership.
You can register at smps.org to participate. This webinar is approved for 1.5 CPSM continuing education units (CEUs) and 1.5 learning units (LUs) from the American Institute of Architects (AIA).
If you can't make it on February 21, we'll be publishing a recap of the session here on TOKY.com.