To Connect or Consume? On LinkedIn, Pulse, and the Redesigned Facebook Feed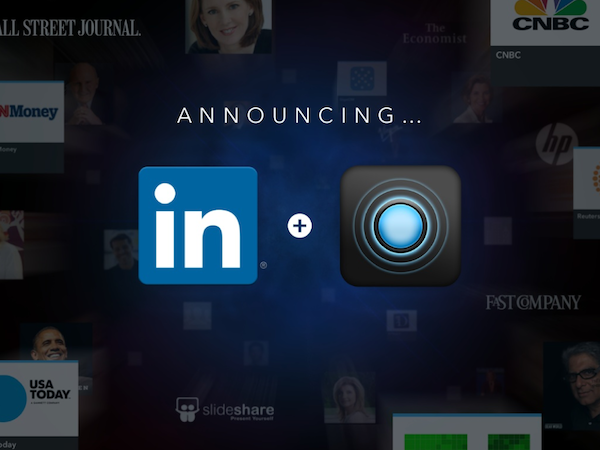 Many of us who follow emerging content news were bummed to hear that Tumblr's David Karp just lovingly axed its in-house Editorial team — in the process shutting down its admirable Storyboard blog.
No, Storyboard wasn't "journalism," as some have tried to suggest. But as brand content, it was ambitious and compellingly presented. (If you happen to be nostalgic for a certain wonderfully dank Berlin ping-pong bar you used to frequent — like you and your friend Mike played 'around the world' there with loads of strangers to a live DJ — then Storyboard's April 10th piece touched an especially tender nerve.)
The Tumblr news ricocheted around the Web immediately. While this was surely in part due to Karp's You're Awesome, Goodbye approach to the announcement — Gawker: "If Tumblr 'Couldn't Be Happier' With its Journalists, Why'd it Just Fire Them All?"; it even prompted a New Yorker humor piece — I bet it's also because those still in journalism are fascinated by what's professionally possible for those so trained.
More recent content news came yesterday, from another megawatt online property. Here's Wall Street Journal technology blog All Things Digital, writing yesterday afternoon:
"LinkedIn announced on Thursday it has acquired mobile news aggregation startup Pulse, as Kara Swisher reported last month that it would, signaling another step by the massive professional network toward becoming an online content powerhouse.
It's a big buy for LinkedIn, costing a cool $90 million, according to the company."
The most interesting quote about this news comes from LinkedIn itself, in the blog post announcement from senior vice president Deep Nishar (italics mine):
"We believe LinkedIn can be the definitive professional publishing platform — where all professionals come to consume content and where publishers come to share their content. Millions of professionals are already starting their day on LinkedIn to glean the professional insights and knowledge they need to make them great at their jobs. We believe we can help all professionals make smarter and more informed business decisions leveraging all the great business knowledge flowing through LinkedIn in the form of news, Influencer posts, industry updates, discussions, comments and more."
A few of us here at TOKY were just discussing this yesterday — social networks transitioning from offering and sustaining relationships to serving as conveyers of more official content. Including their own.
In a December 2012 post about the year's content trends, I noted how LinkedIn had introduced an original publishing series, inviting a few heavy-hitting 'thought leaders' to write original material for the site. At the time, LinkedIn's Ryan Roslansky had said the following: "We think that content is one way that we can make users more productive and successful on LinkedIn. When you come on LinkedIn, we show you stuff that you need to pay attention to, to be better at your job."
While Forbes and Inc might be psyched that LinkedIn will soon be able to more effectively serve up their content via the Pulse technology, they shouldn't forget that LinkedIn's also in the original contentt game. They're not just a conveyer; they might one day turn into a competitor.
•
Reading this LinkedIn news reminded me of "Friends Don't Let Friends Curate (FB's Redesign)," a post written by Levi Mills and published on Medium. Here's one bit, which explores how people use Facebook not just to connect, but to consume:
"Larger photos and a cleaner interface are great changes aesthetically, there's no argument there, but the bigger change is functional. Content is now the center of the Facebook experience, not relationships. It's been shifting that way for a few years, but while Facebook's professed purpose remains grounded in being the #1 network for connections between you and the people you know in the 'real world', the novelty of an online forum/scrapbook/messaging site has worn at the edges. 'Content is King', the now terribly clichéd saying goes, and content created outside of Facebook, content outside of photos of your friend's newborn child or ex-girlfriend's wild night out, has taken up more and more of the average feed. The network that was built to connect people is transforming from a communication platform with sharing ability into a content platform with communication ability."
And later:
"Facebook's own Jane Justice Leibrock recently posted in the Facebook User Experience Lab blog about the process Facebook went through in redesigning the new News Feed, and they found that I'm not alone in that sentiment. Despite users saying they wanted posts from companies, news stories, and music filtered out of their feed, they interacted with this content significantly more than their own friends' posts. Facebook's solution? Take the power away from your friends. Subscribe to more curated content by publishers, by influential people in topics of interest, by news outlets."
•
When I've heard the phrase "social network" over the years, I've long aligned that second word with only one version of its meaning — a group of connected people. One's "network."
Perhaps now I'll more frequently think of another. (See "ESPN," last word.)