The Content Strategy Starter Kit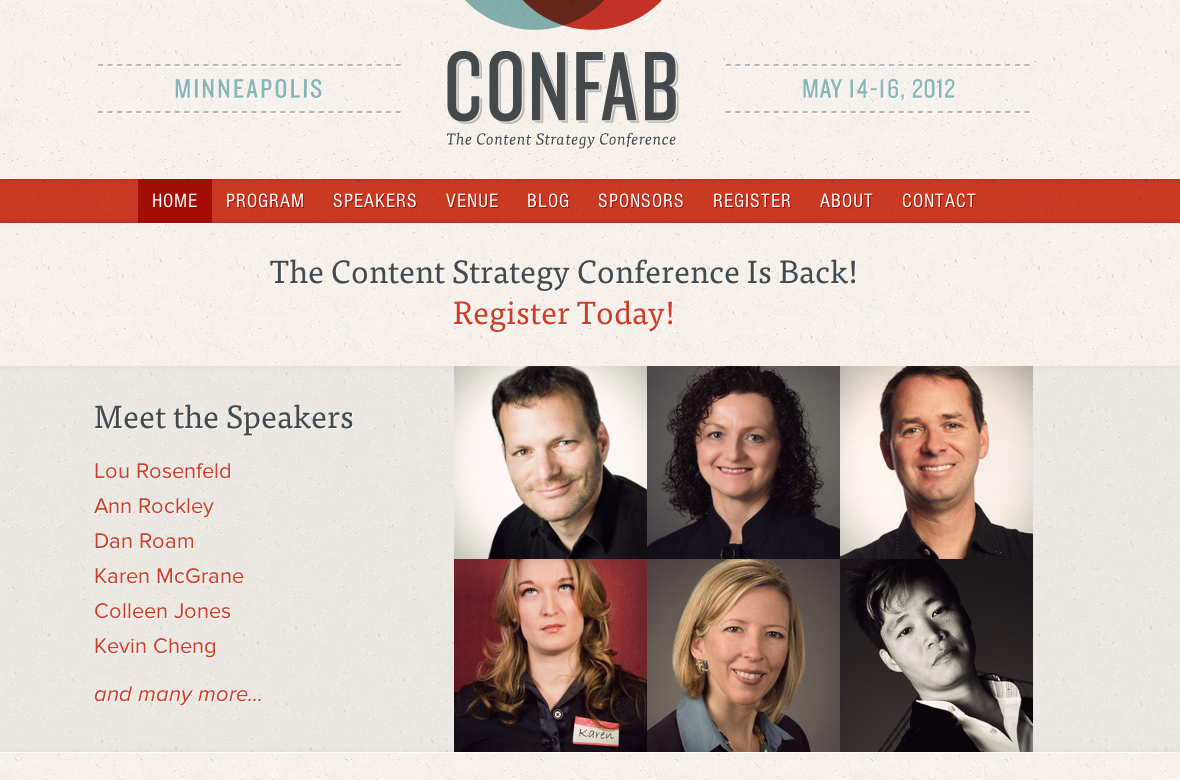 Earlier this week, TOKY registered two team members — myself and Melissa Allen — for CONFAB: The Content Strategy Conference, taking place in Minneapolis in May 2012. Yes, we're psyched. The program speaker list looks fantastic: Karen McGrane, Colleen Jones, Kristina Halvorson, Erin Kissane, and Lou Rosenfeld, just to name a few. At TOKY we've been watching the field of content strategy increase in importance with each month and year, integrating it into our digital client work in significant ways.
As I was finishing the CONFAB registration, I had the idea of posting a starter kit of CS resources, for the benefit of those readers still being introduced to the field. It's subjective, but here goes:
1. Content Strategy for the Web, by Kristina Halvorson
Halvorson, of Brain Traffic, has been the leading voice in CS, and this 2009 breakthrough book is a must-read. I like its clear and early articulation of what should now sound fairly straight-forward:
"Content strategy is the practice of planning for the creation, delivery, and governance of useful, usable content."
"When we practice content strategy, we ensure that our web content is treated as a valuable business asset, not an afterthought."
"Only when we embrace our identities as publishers will be able to commit to the necessary infrastructure to care for our content as a strategic business asset."
"Treat your social media efforts like a commitment, not a campaign."
Though it's not clear in the bits I quoted, Halvorson likes to have fun with her writing, and the copy carries a kick and an upbeat vibe. (A second edition will be published in February 2012.)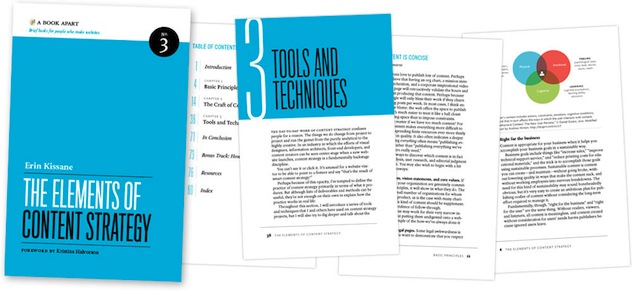 2. The Elements of Content Strategy, by Erin Kissane
Published this year by A Book Apart, Kissane's Elements "collects our discipline's core principles, competencies, and practices for easy reference." The author defines quality content (it is "useful, user-centered, clear…") and provides valuable insights on process and influences on the field (from editing to marketing). Kissane also gives newbies the chance to see what a content inventory and content template can look like. A few of my favorite lines:
"Adopt the cognitive frameworks of your users."
"Publish no content without a support plan."
"The fact that anyone reads anything at all online" — often a pit of ugly pages and distractions — "is a demonstration of an extraordinary hunger for content."
3. "Content Strategy and UX: A Modern Love Story," by Kristina Halvorson
An interesting article published in UX Magazine earlier this year. Diagrams and illustrations aplenty.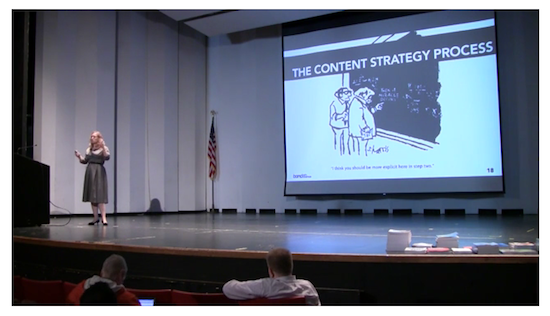 4. "We Are All Content Strategists Now," by Karen McGrane
A terrific presentation for the IDEA Conference 2010. (Embedding is not allowed for this video, so you'll have to jump to the Vimeo page to watch it.) McGrane, very respected in the industry, comes to CS with serious credentials in user experience, information architecture, and interaction design.
5. The Content Talks Podcast
Hosted by Halvorson. Part of Dan Benjamin's 5By5 empire.
6. "Content & Curation: An Epic Poem," by Erin Kissane
Published in five meaty parts during the summer of 2010. The author's witty and well-read, and both come through in this series, which helped put her on the map.
7. "Complete Beginner's Guide to Content Strategy," by Andrew Maier
A primer about the tools and people and processes of CS, published in July 2010.
8. Three Articles from Waaaayyyy Back
For some historical context, I recommend "Content Strategy: The Philosophy of Data," a March 2007 post by Rachel Lovinger of Razorfish; "Content-tious Strategy," a December 2008 post by Jeffrey Macintyre, now of Arc90; and "The Discipline of Content Strategy," also from December 2008 and from, alas, Halvorson.
Melissa and I are eagerly awaiting CONFAB 2012. We'll be sure to post here about our experience at the conference. I'll also be writing more in the coming year about how TOKY uses content strategy to help clients reach their larger communications and business goals.