What does retired life look like for an individual who demands the very best in dining, cultural, and living experiences?
Enter The Gatesworth, a senior living community known for upscale accommodations and unparalleled amenities. To continue to attract discerning residents, The Gatesworth needed messaging and marketing materials to reflect that same level of luxury.
From research and messaging to a polished new website, lively photography, and advertising, TOKY articulated what makes The Gatesworth completely unique to any other senior living option available today.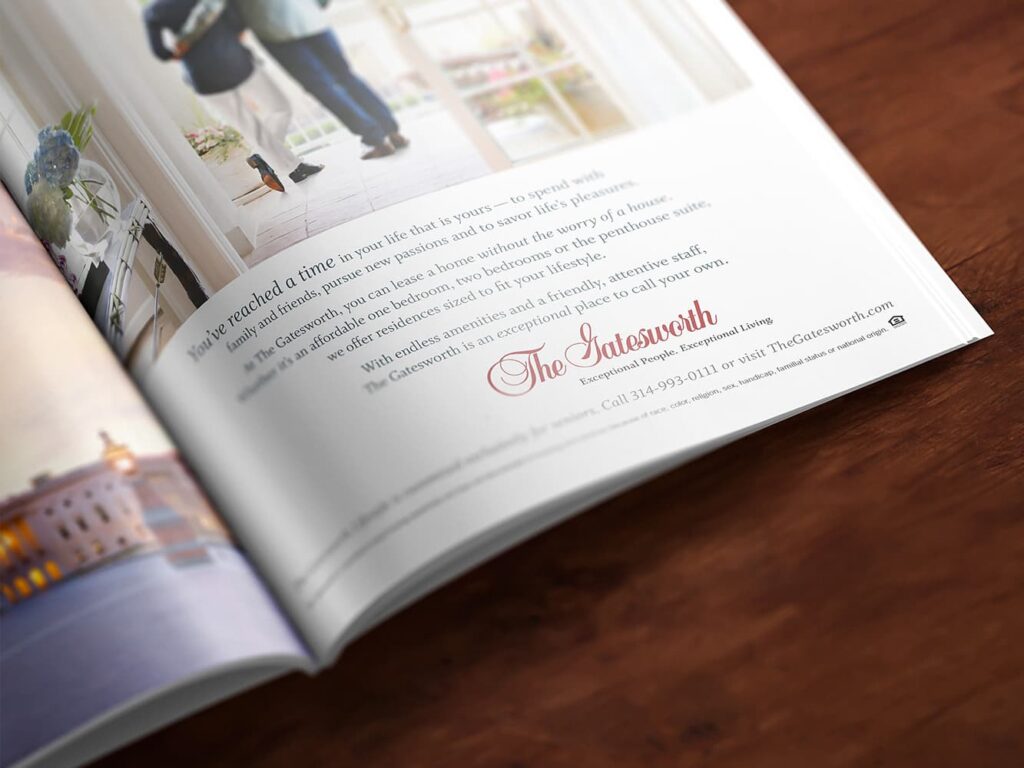 First: Research & Messaging
The process began with in-depth research, including interviews with the organization's leadership, residents, families of residents, and potential residents. Pairing these findings with a thorough best practices review, we created messaging that is grounded in an aspirational new purpose: Inspiring Exceptional People to Live Exceptional Lives.
Upscale Imagery
With the new messaging in place, we set out to create a premium visual brand for The Gatesworth, depicting an upscale lifestyle that is worlds away from the stale, mundane imagery so often used in senior living materials. Since The Gatesworth team was committed to keeping the existing logo, we turned instead to photography, creating a series of images that capture a feeling of service and luxury. These images appear throughout the new materials, including print advertisements and the new website.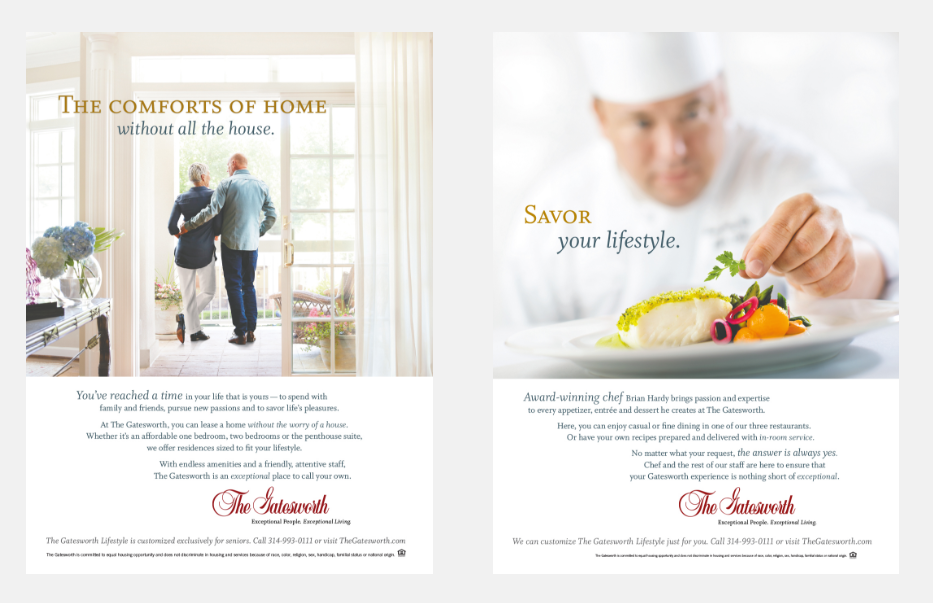 A High-End Website
The existing website said little about what life is really like inside The Gatesworth. It felt dated, did not work well on mobile devices, and looked more like a typical senior living establishment than a community for luxury living.
The new site is full of texture, subtle animations, and bright, lively photography highlighting the luxury of the experience. The main navigation puts a spotlight on The Gatesworth's unparalleled amenities: fine dining, cultural experiences, an onsite spa, and its exceptional staff. Exploring each facet of the site, it's easy to see that for residents of The Gatesworth, life is anything but ordinary.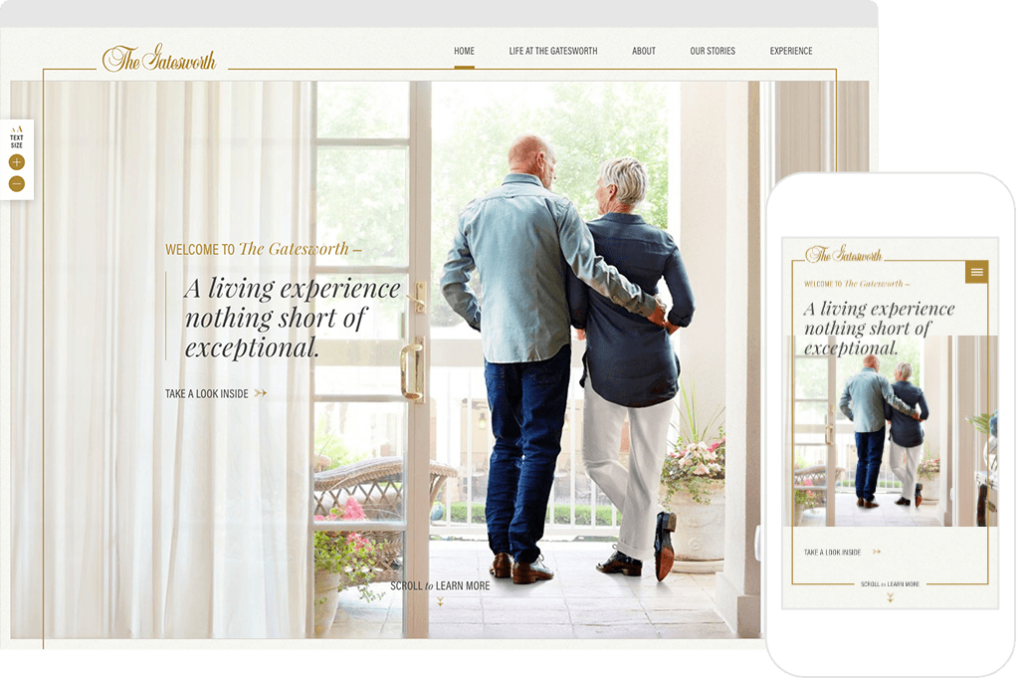 The site's new Experience section features a series of videos that capture quiet moments at The Gatesworth: a day in the greenhouse, dinner by the fire, a chauffeured ride to town. These vignettes paint a picture of what life is like inside.
Aspirational Content & Copywriting
TOKY penned new copy for the redesigned site, highlighting residents and amenities while matching the aspirational tone of the brand platform. We also created the Our Stories section of the site, which provides updates on people, programs, and events at The Gatesworth. In this section, resident profiles capture the incredible experiences of those who live at The Gatesworth, and event recaps showcase the community's world-class calendar of events, from lectures and classes to happy hours and musical performances.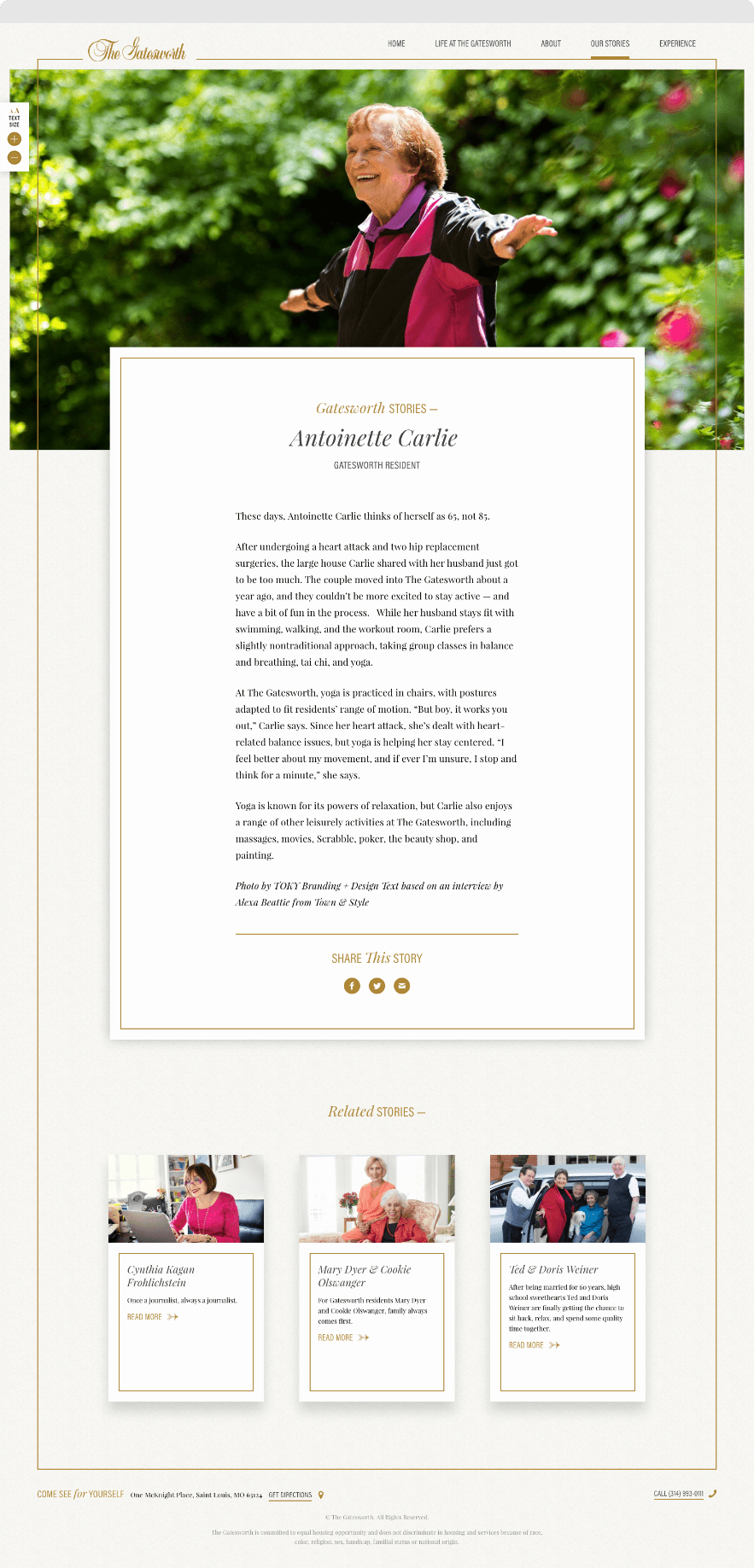 Resident-Focused Advertorials
To spread the word about the standard of living at The Gatesworth, we created an ongoing advertorial campaign that focuses on residents — doctors, lawyers, and leaders of industry who have come to expect a certain level of living, and want to bring that sophistication to their new homes. From a retired journalist focused on helping the next generation of storytellers, to a 96-year-old ping pong champion, we photographed residents to show the community just how great life can be at The Gatesworth.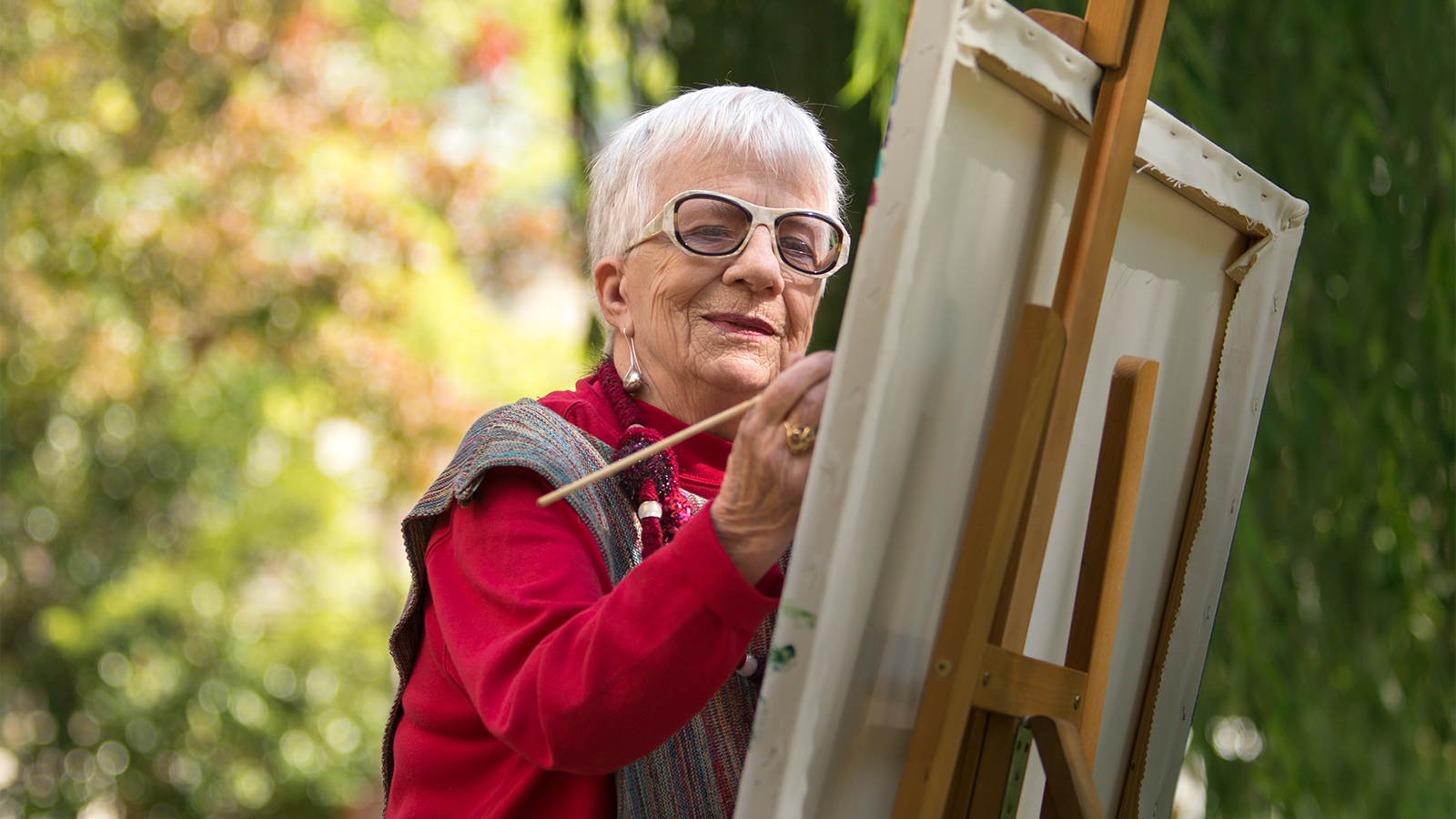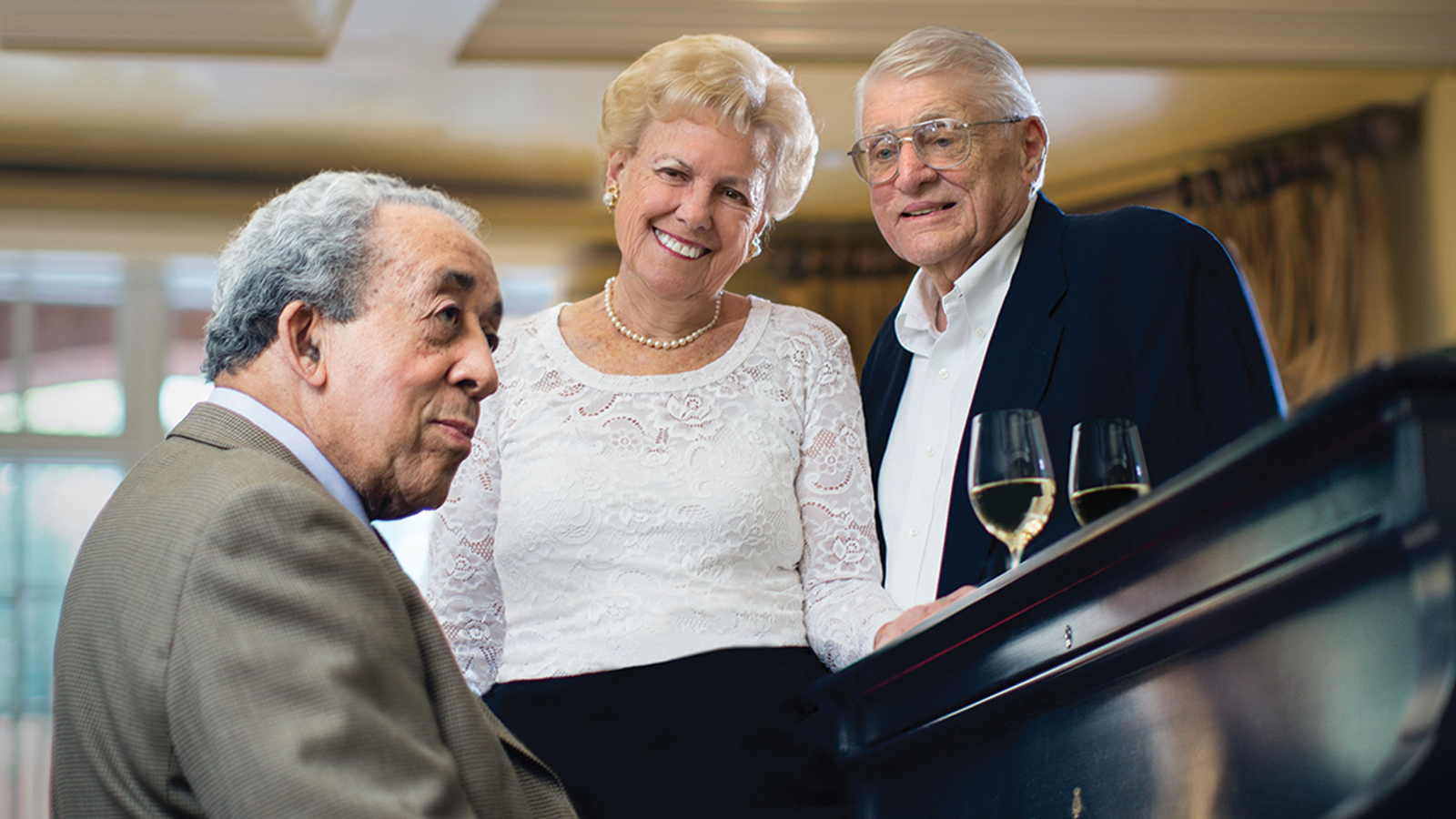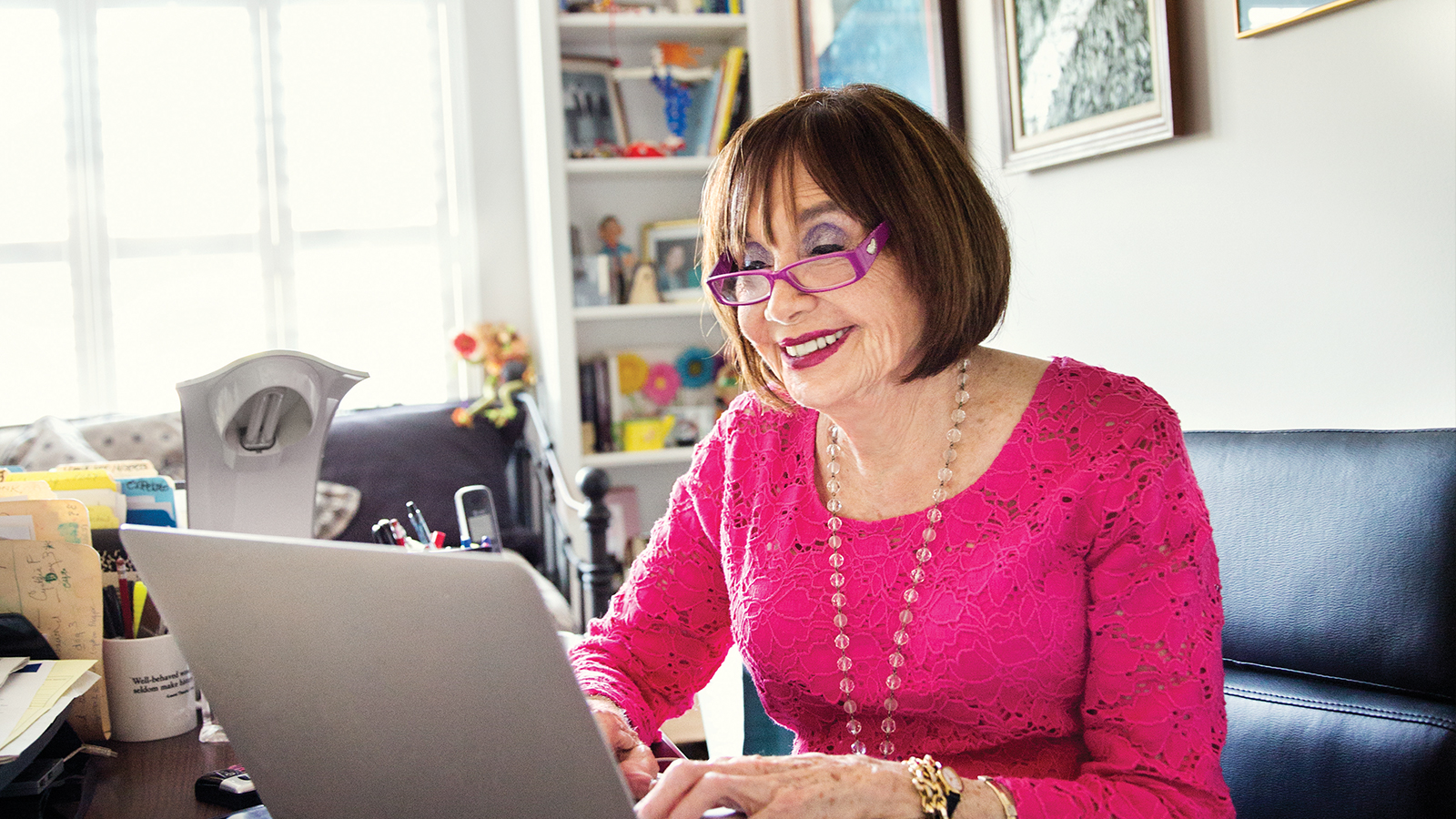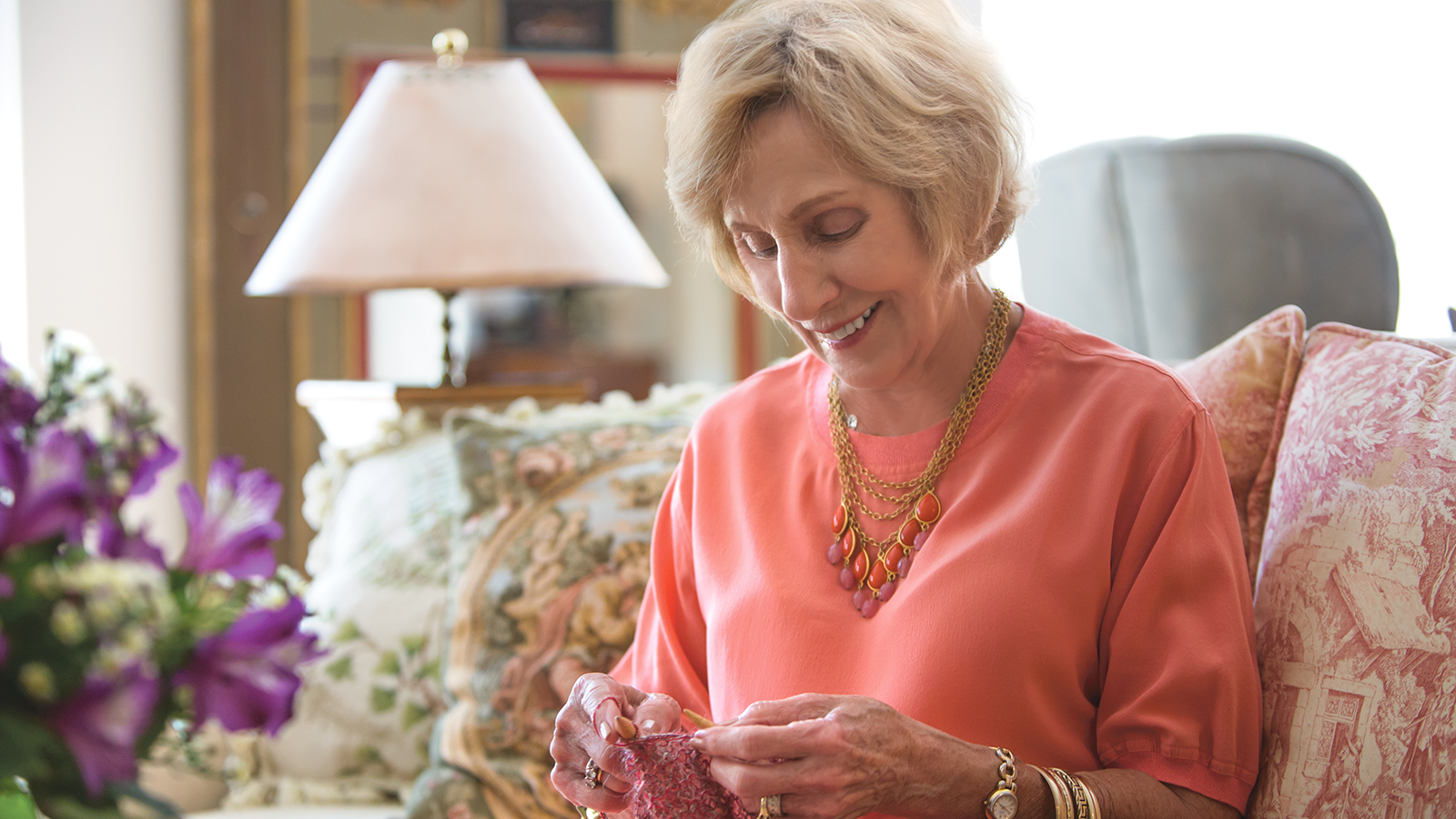 Explore the full Gatesworth experience on their new site, and look for future photographs and stories in Ladue News and Town & Style.
Subscribe to our mailing list.