Annual Report Design Inspiration to Celebrate Your Year

At one point in time, annual reports were created to summarize a company's financial performance for the year.
Nowadays, organizations are using these year-end statements to tell larger brand stories. From print to digital, annual reports can illustrate the year's accomplishments, paint a picture of company culture, or reinforce mission, vision, and values.
TOKY's interactive team got together to look at the latest and greatest in online annual reports. We curated these observations into a list of ways to create a standout annual report of your own.
1. Let Employees Tell Your Story
Highlighting the team behind the organization is a surefire way to humanize your annual report. With a variety of faces and voices, viewers will get a better sense of who you are as an organization.
Think about:
Incorporating quotes or stories from team members
Showing company culture through fun stats and images
Recognizing individual employee accomplishments
2. Rethink Your Letter from Leadership
Traditional annual reports often lead with a letter from the company's leadership. While there's no mandate to include this type of content, we found that organizations are taking a range of approaches — from text-based to video to a little bit of both.
Think about:
Sharing your leadership's point of view as a Q&A-style interview rather than a traditional letter
Offering a video version of the letter, where your leadership narrates or appears on camera
Shortening the letter to a paragraph or two, or a quick list of bullet points
3. Incorporate a Timeline
We've seen several organizations include an interactive timeline into the report to show the journey that led to their current state. If you're approaching a major milestone or company anniversary, adding a history component can kill two birds with one stone.
Think about:
Including a timeline section that lets users scroll through important events (think abbreviated timeline, not history book)
Show the past year's accomplishments chronologically, associating each with a key date
4. Organize Into Chapters
By organizing a large amount of content into thematic chapters, you give viewers the ability to easily navigate toward their interests. Plus, with a section-by-section report, members of your team will be able to send out links to chapters that highlight their specific department's work and accomplishments.
Take Mid-America Transplant's 2016 Annual Report, for example. We separated the microsite into five key sections based on the organization's brand promises. Members of their team can use the chapters that are most relevant to their own specific goals — whether that's organ donation or the organization's charitable foundation.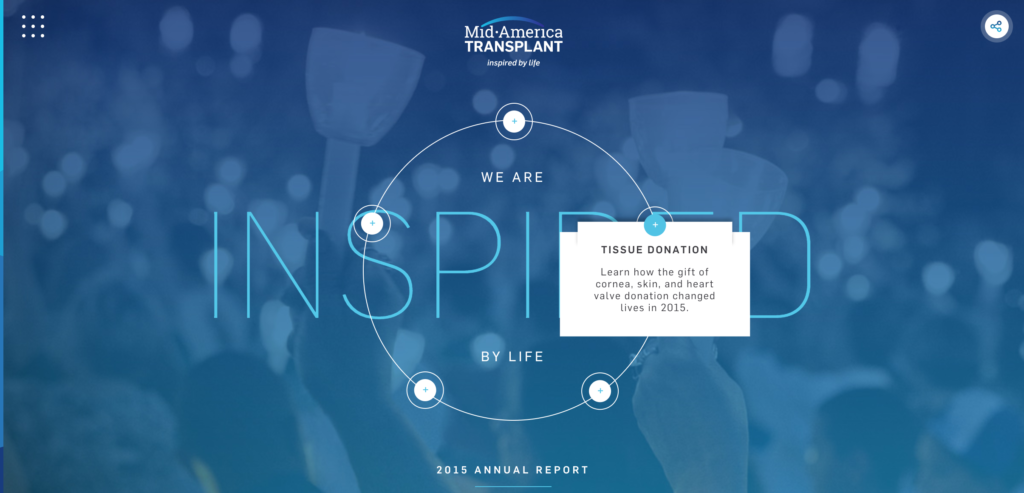 Think about:
Using your brand promises as a guide to determine the focus of each section or chapter
Focusing on a different audience for each chapter, for example, "Investors," "Customers," and "Community"
5. Incorporate Social Media
Whether you're encouraging viewers to share the report or pulling in past posts, social media can play an important role in your annual report. A few years back, we created an Instagram annual report for TOKY, telling the story of our year through a series of eight, 30-second videos on a platform where people already follow us.
https://www.instagram.com/p/kAM5sSNMuS/
Think about:
Slicing your annual report into smaller pieces that can stand alone or in a series on social media
Create an annual report hashtag to give visitors a place to respond and continue discussing the topics presented
Incorporate tweets, Instagram images, or other social content from customers or employees to offer multiple perspectives
Looking for more annual report ideas or examples to inspire your retrospective? Give us a shout at info@toky.com.