Eckert's Welcomes Apple Season with a Brand New Site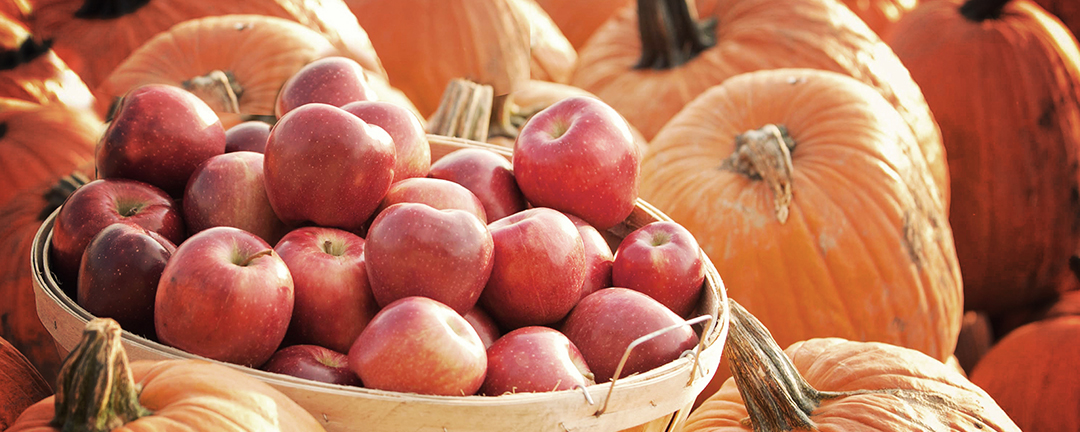 One hundred and twenty six years ago, Henry Eckert planted the first fruit trees on Turkey Hill in Belleville, Illinois.
Today, Eckert's is an autumn staple that thousands of St. Louisans flock to for hayrides, cider, and of course, pick-your-own apples.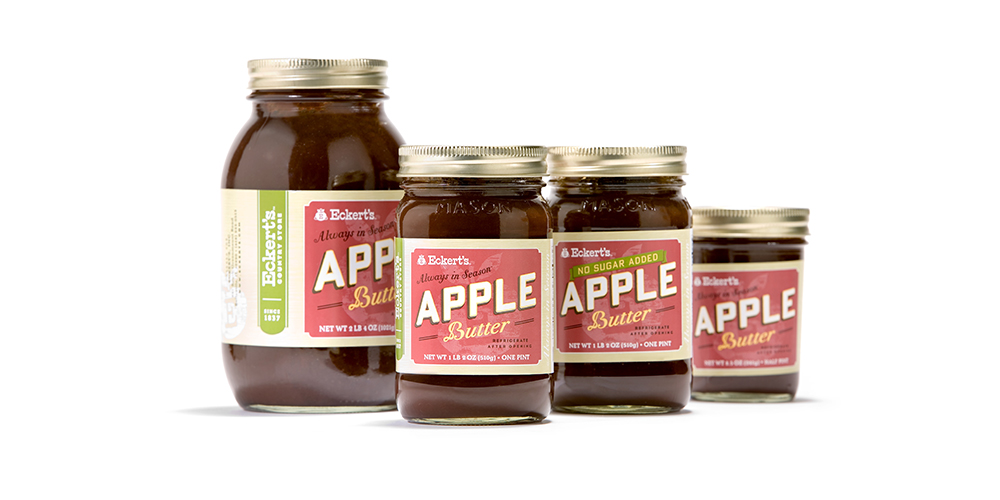 We've had the pleasure of working with Eckert's for more than a decade on a range of projects, from pumpkin butter packaging to gift boxes. This year, we collaborated with the Eckert's marketing team to launch a brand new website just in time for the orchard's busy season.
The Challenges
Improve site navigation for all users, especially on mobile
Clarify location information
Expand and evolve the brand library
Promote activities beyond pick-your-own
Create a space to showcase visitor photos
The New Eckerts.com
Now live, the new Eckert's website helps users plan their visit and explore everything the orchards have to offer.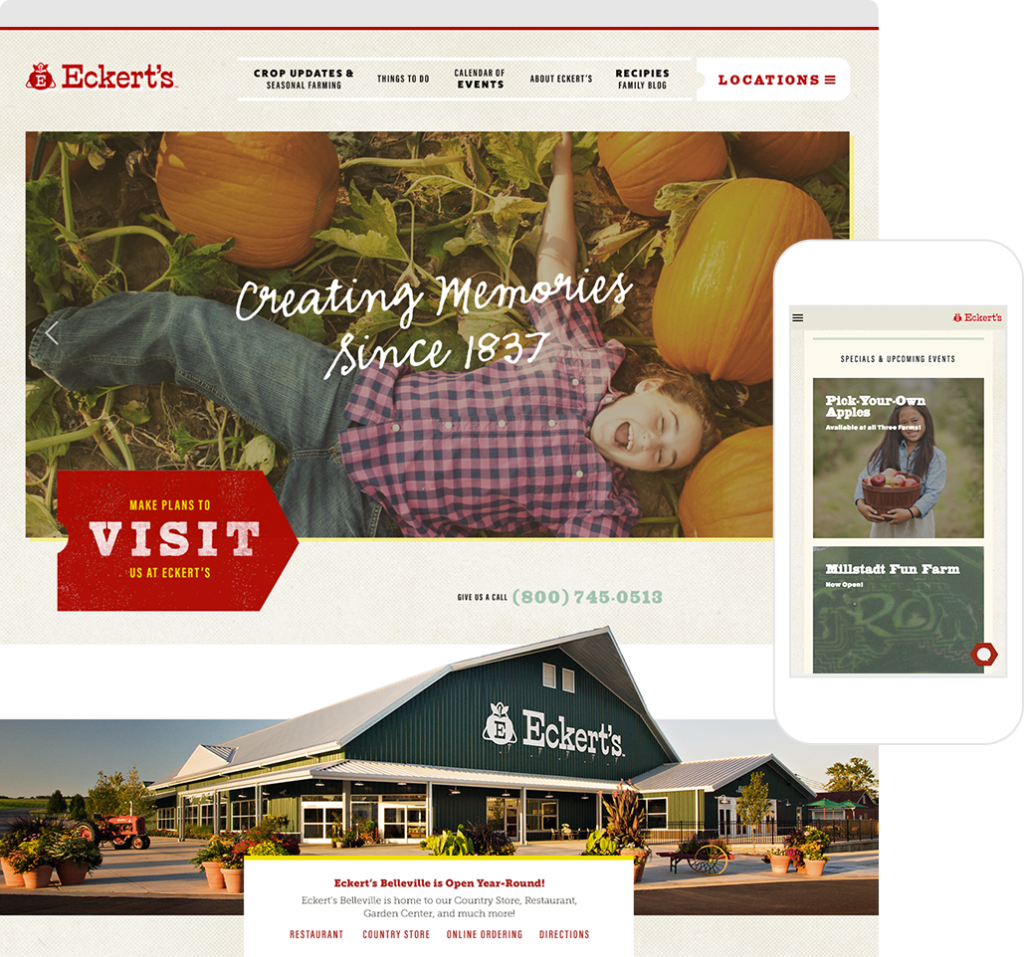 Intuitive Information Architecture
Peeking into analytics for the previous site, we found that visitors — especially those on mobile — weren't visiting many pages. To ensure these visitors can quickly find what they're looking for, we completely restructured the site's main navigation, highlighting priority items such as crop updates, things to do, events, and locations.

Locations Front & Center
The Eckert's team heard from visitors that the previous site caused some confusion about which activities happen at each of their four locations. To tackle the "which activities are where?" issue, we made Locations the most prominent item in the main navigation. When a visitor hovers over this tab, they'll see a breakdown of Eckert's four locations and can click to see a landing page with information for each.
An Expanded Brand Library
TOKY created Eckert's brand standards just under 10 years ago, so it felt like time to freshen things up for the new site. We recommended new typography and colors for the website that work well with the existing identity and packaging. With a new style guide and easy-to-use content management system (Squarespace), the Eckert's team can build out their own pages to fit future needs. They also have the ability to add an online store in the future, if need be.
More than Apple Picking
Concerned that the public only thinks of Eckert's as an apple orchard, the marketing team asked us to find new ways to showcase everything the locations have to offer. To that end, we created a new Things To Do page, which walks visitors through everything they can do at Eckert's — from pick-your-own and cooking classes to special events.
A new calendar highlights upcoming activities, cooking classes, and concerts by location to eliminate confusion about what's happening where. By selecting an activity, visitors can view event details and add the date to their personal calendar.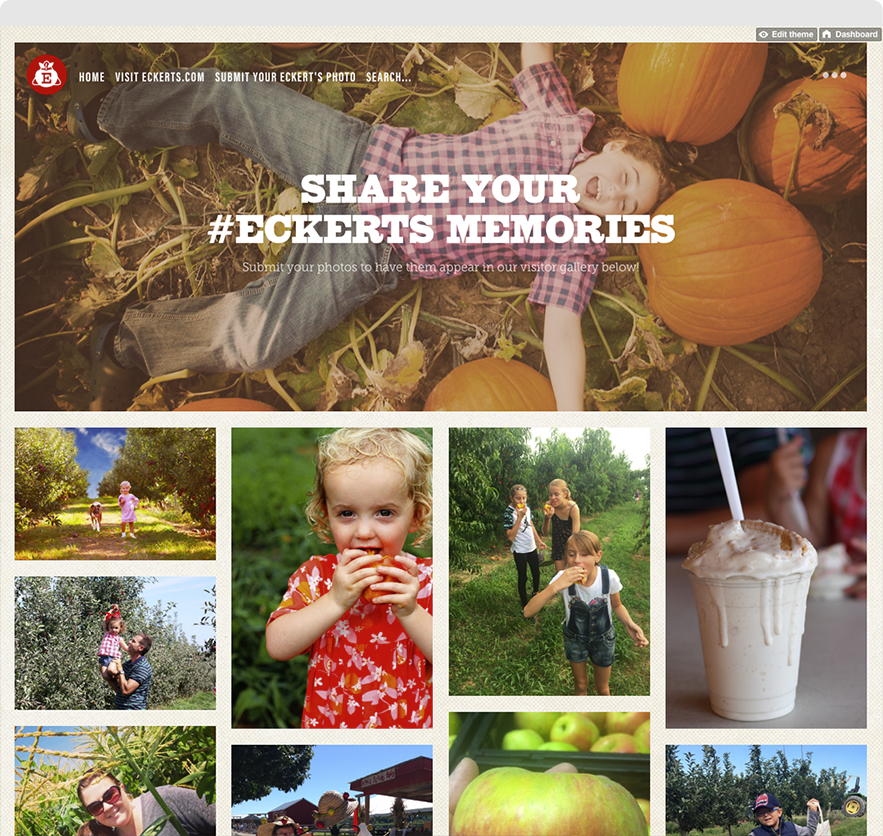 #Eckerts Memories
Between smiling kids and fall leaves, Eckert's is a great place to snap photos, and the staff wanted a way to showcase these images online. TOKY created eckertsphotos.com, a Tumblr-based site where visitors can upload their own photos to share with the Eckert's community.
"So many families have great memories of a trip to Eckert's. The new site gives them a chance to share their photos within a greater collection that is a part of the Eckert's community — something outside of your typical social media channels. We're excited to see how this grows over the next few — or 150 — years."
– Jay David, Interactive Creative Director / TOKY
—
You can check out the new site and upcoming events at eckerts.com.