Building "The Beginning of Possible" for Salem Academy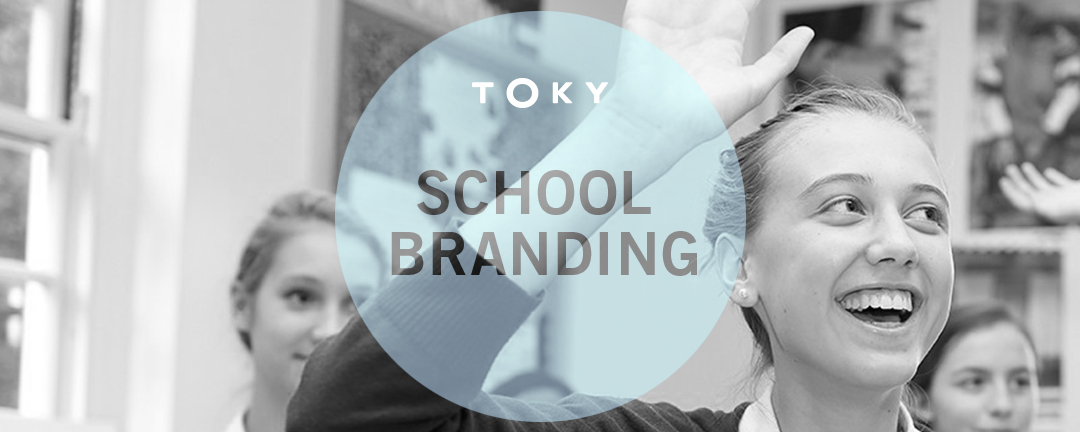 In the 1770s, educational opportunities for women were few and far between. That didn't stop 17-year-old Elisabeth Oesterlein, who dreamed of opening a school for girls.
Elisabeth teamed up with the Moravians — an early Protestant denomination that believed in a woman's right to education. The community planned to open a girls school of its own, and Elisabeth jumped at the chance to help. There was just one problem: the future school was planned for Salem, North Carolina — 500 miles away from Elisabeth's hometown in Bethlehem, Pennsylvania.
Not one to give up easily, Elisabeth gathered fifteen friends and made the long journey by foot. Salem Academy opened its doors in 1772 with Ms. Oesterlein as its first teacher. More than 200 years later, Salem continues to empower young women as a boarding and day school.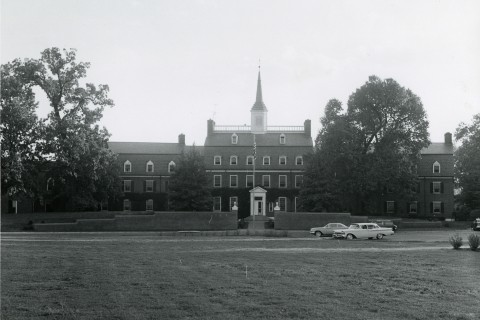 The Beginning of Possible
To honor its rich history and attract future generations of bright, motivated young women, the school needed a fresh, forward-looking identity. "We were long overdue for a brand and website overhaul," says Lucia Uldrick Higgins, Director of Admissions and Financial Aid at Salem Academy. "We wanted a more streamlined and contemporary look for the website and some professional input on the best way to communicate our vision and outcomes."
Higgins and the team at Salem Academy selected TOKY to conduct an extensive rebrand including research, messaging, and digital media.
TOKY's brand strategy team traveled to Winston-Salem several times, interviewing alumnae, parents, and faculty to delve into the school's underlying identity. Surveys and extensive competitive analysis clarified why families do — and in some cases do not — choose Salem Academy.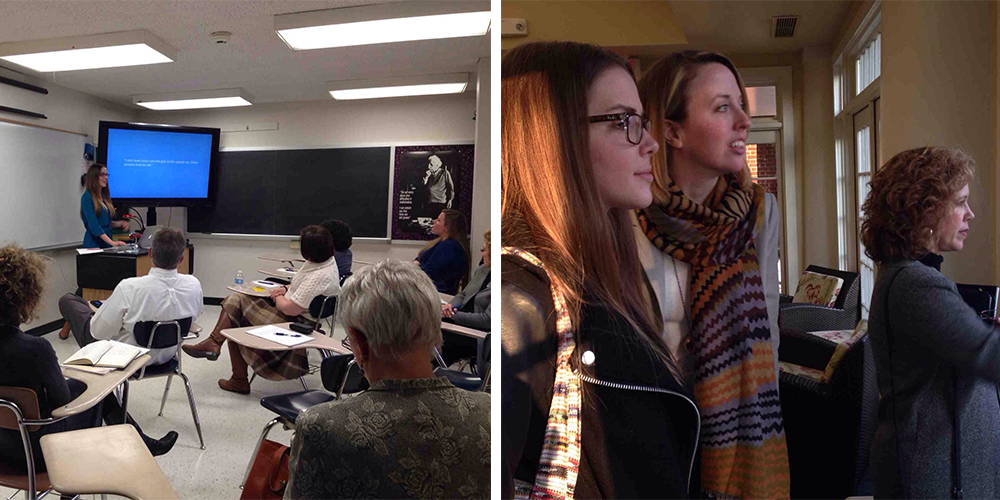 With that research in hand, TOKY developed a brand platform capturing the traits that set Salem apart from other boarding and day schools for girls. The platform is based on the six promises of a Salem Academy education:
A Curriculum That Challenges and Inspires

Experts in Educating Young Women

Igniting Brilliance

Attainable Excellence

Modern Young Women, Grounded in Tradition

Our Students are World-Ready
TOKY crystalized the brand promises in a single, external-facing positioning statement, or tagline. The beginning of possibleTM paints an inspiring picture of a school that prepares students to excel in college and in life. 
"Our new tagline, in particular, speaks directly to the Salem Academy student experience," Higgins said of the new branding. "'The beginning of possible' will also be meaningful to alumnae and parents."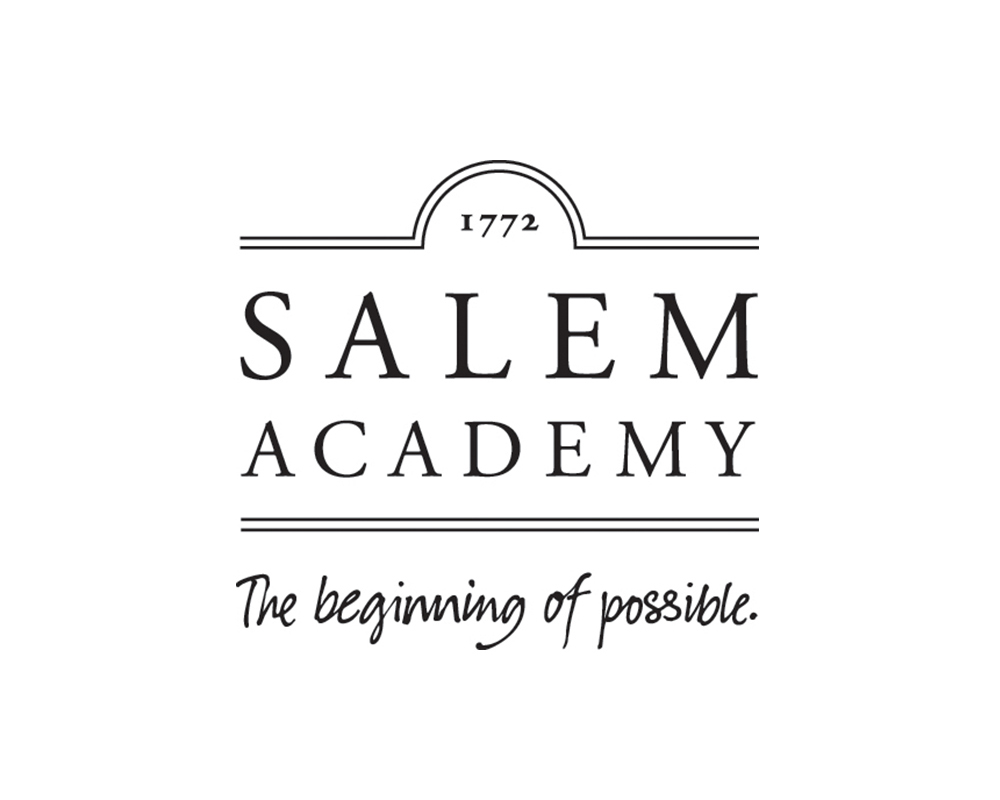 A Reworked Logo
Rather than commissioning a full redesign, Salem wanted a more polished version of its existing logo. To make the mark more legible at smaller sizes, TOKY increased the height and shifted the typeface from Garamond to Adobe Garamond Pro. The Scotch Rule lines at the top and bottom of the mark now have equal weight and are spaced slightly wider. Spacing of all lettering is more consistent, including in the "1772," which is slightly bolder than in the previous version.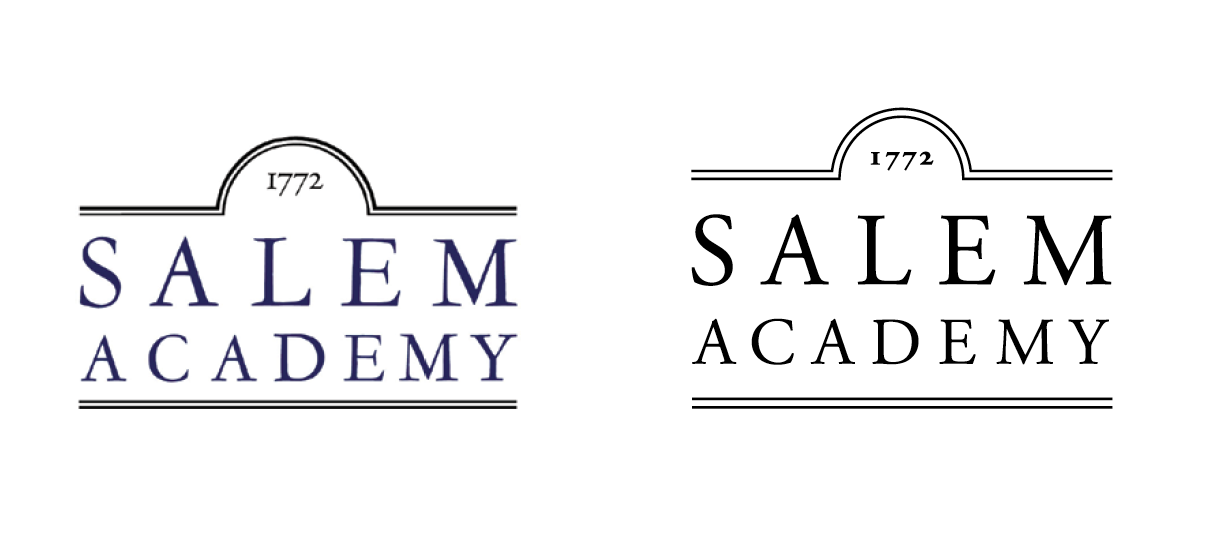 TOKY also created t-shirts that incorporate the school's founding date, location, and tagline in a whimsical, hand-lettered design.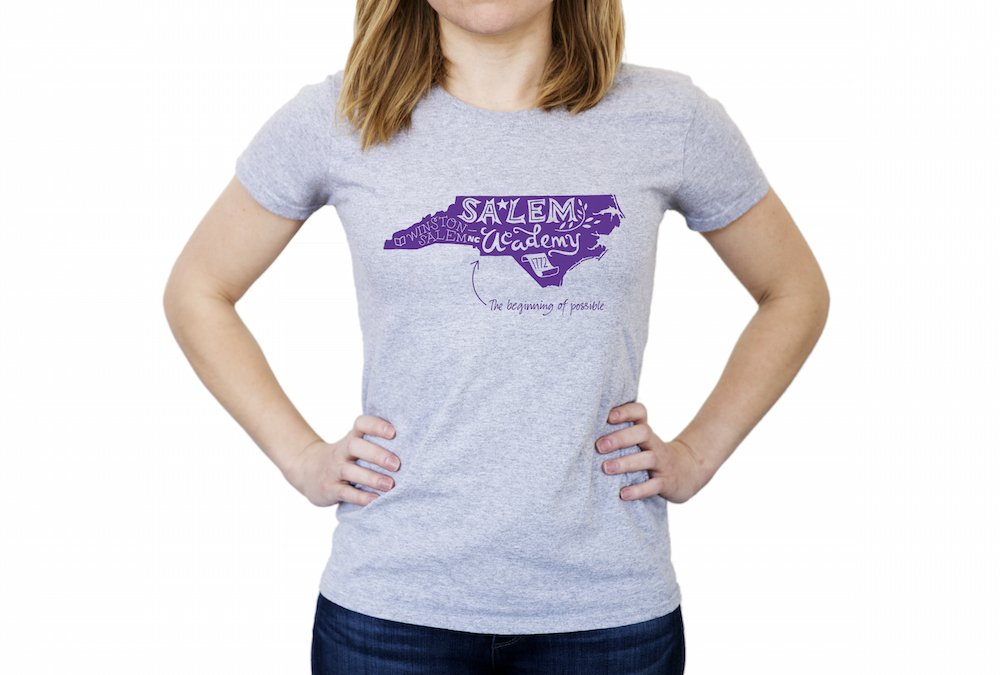 Taking the Brand Online
Research revealed that, while word of mouth remains a top influencer, most parents (and students) turn to the Web to research boarding and day school options. TOKY recommended upgrading the site to give visitors an idea of what makes Salem different — whether they're visiting from a desktop in North Carolina or a mobile device in China.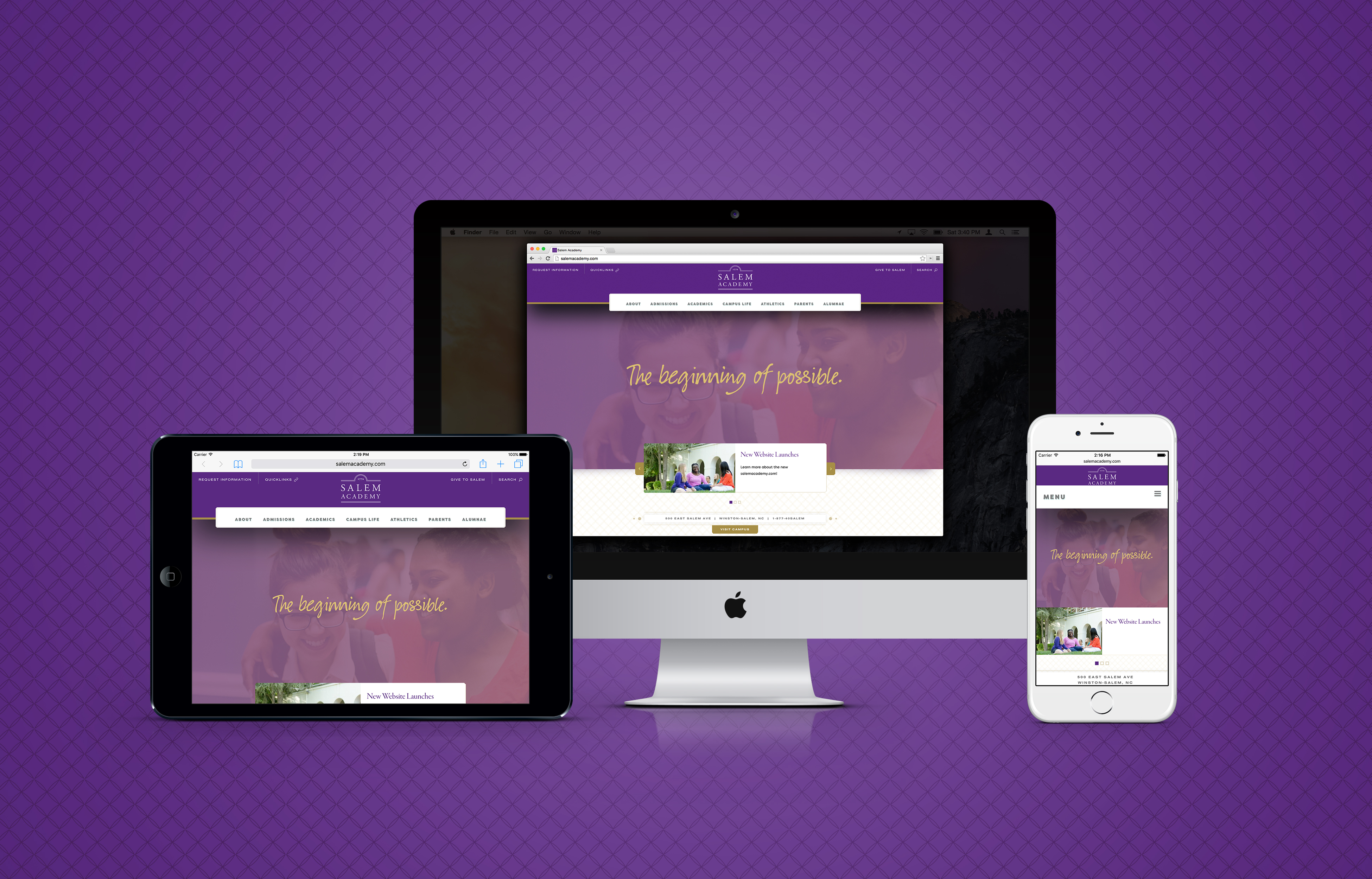 TOKY's interactive design team created responsive design templates for the site's Home Page, Subpages, and Admissions Landing Page. These pages provide information quickly and concisely, then direct parents to the next step — whether that means scheduling a tour or requesting more information by mail.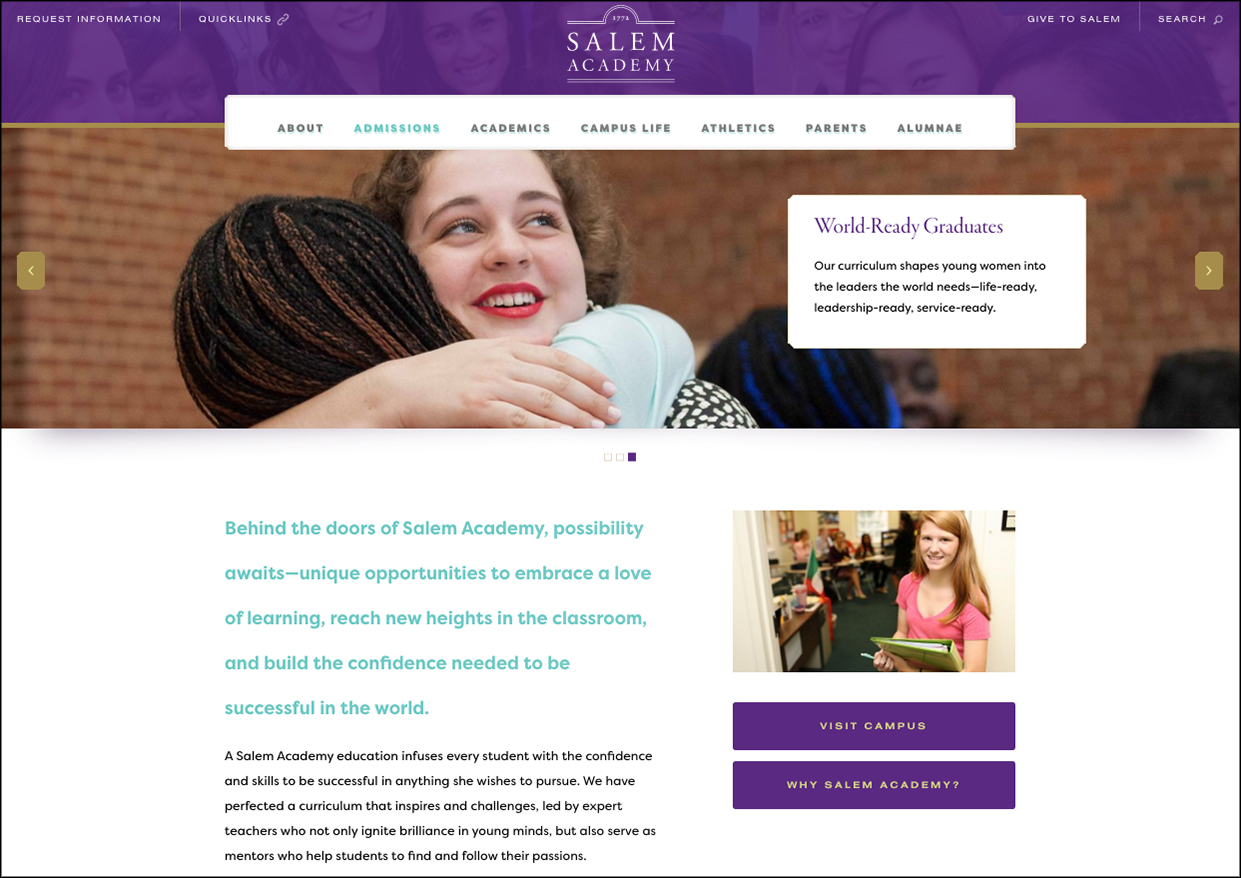 TOKY handled preliminary website development for the Home Page, Admissions Landing Page, and subpage templates. Salem's internal IT team then completed development and made adjustments to several other pages.
To ensure that the updated messaging translated to the new site, TOKY wrote copy for several pages, including About, Academics, Admissions, and Why Salem Academy.
A redesigned website is a top priority at Salem Academy, as it is a critical mode of communication not only to our current Salem community, but also to prospective students and families. This website allows us to showcase Salem in a new and contemporary way, which is impressive, considering that our school was educating girls more than 200 years before the first website was ever launched.
/ Karl Sjolund, Head of School at Salem Academy
Recruiting Students and Parents on Social Media
To bolster the school's national and international recruitment efforts, TOKY conducted social media competitive analysis and delivered a formal social media plan. This toolkit included specific guidelines and an editorial calendar to target current and potential parents and students on Facebook, Twitter, and Instagram. TOKY's recommendations helped Salem Academy's Communications team build overall engagement and achieve a 63% increase in Facebook followers over the course of 18 months.
Congratulations to our friends at Salem Academy on the launch of the new identity, language, and website.