"Design. Content. Insights." Those three words hover always up in the TOKY header. They're central to everything we do.
"Design" might be the most expected word for a firm like TOKY. As for "Insights" — the companies and organizations that have hired us for deep-dive strategic research and comprehensive brand positioning (which come well before design) know why we champion that term. And "Content"? Though this is far from a new area for TOKY, it's one we've amplified in recent years. With this in mind, we thought we'd take a few minutes to unpack the term.
Anyone who's read this blog has read us on the subject before: on the content trends of 2012, our trip to Confab, and more. But when we talk about content offerings for potential clients, what exactly are we talking about? Here's what:
Books
The bulk of the world's current content talk — in Forbes, in The Independent, in a magazine actually titled Chief Content Officer — is focused on digital. And for good reason: your organization's blog and social media channels provide exceptional outlets for distributing daily and weekly content. But the world, blessedly, still needs books.
And at TOKY, we build them. Like many creative firms, we often design books based on content provided by clients. Like so, for the Gregg Museum of Art & Design at North Carolina State University: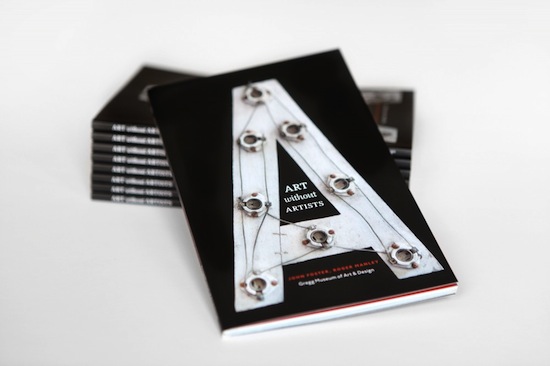 But in many cases, a client hires TOKY to start by developing the concept and the content — from editorial elements and structure to the writing itself — before ultimately moving into design. That describes our work creating this deluxe hard-bound book for new owners of The Private Residences at The Chase Park Plaza: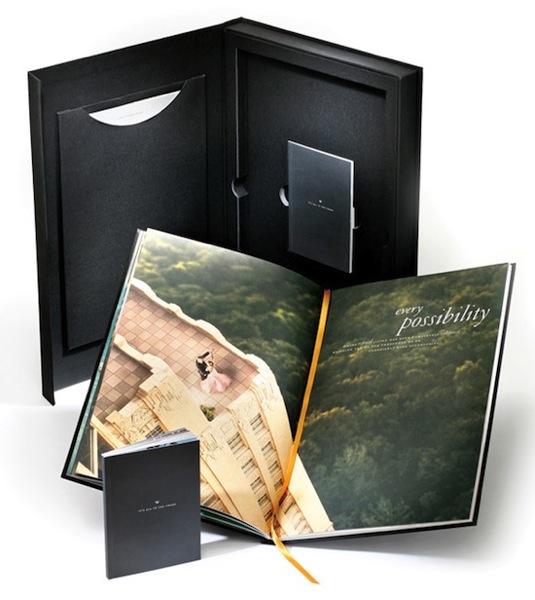 During 2011 and 2012, we spent about 15 months deeply engaged with Washington University in St. Louis professor Dr. Gautam Yadama, helping develop a full-length book exploring issues of energy impoverishment in rural India. As we will detail in a forthcoming case study, we were involved in this book project to what we'd consider an enviable degree — helping define the editorial scope, the chapter structure, and the design of scientific data; developmental-editing the manuscript, suggesting pull-quotes and sidebars; and more. Working with Gautam and his collaborating photographer — the sought-after Mark Katzman — was a thrill. So was holding our own private-run version of the book: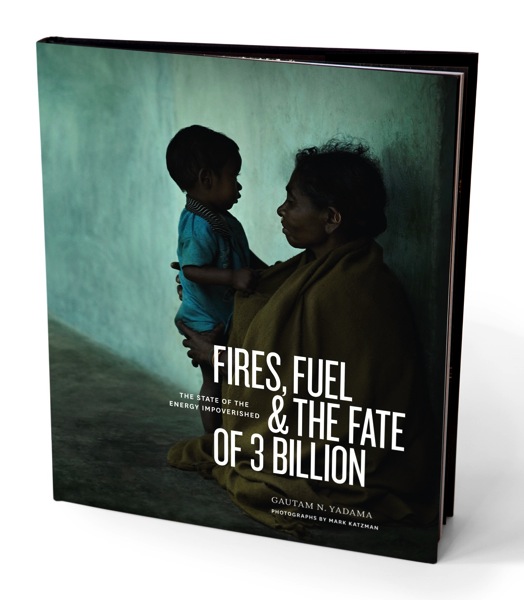 This story's just getting started: In the fall of 2013, Fires, Fuel, and the Fate of 3 Billion will be published internationally by the prestigious Oxford University Press. When the book hits a global readership this fall, TOKY's editorial structure and design will remain intact.
Booklets & Magazines
Much of what I wrote above holds true here for smaller print pieces like magazines and brochures, both of which we've developed for years. Again, for The Chase, here's a 24-page booklet focused on the wedding experience that we wrote and designed: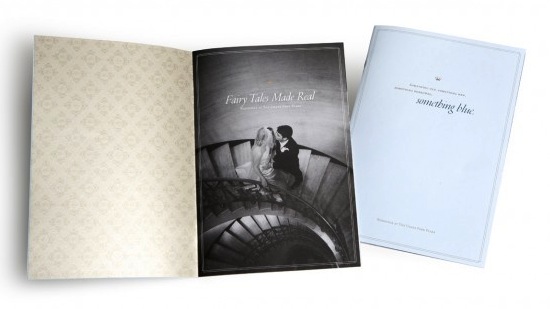 For the University of Chicago Medicine, we relaunched its two chief magazines (including Imagine, below) redesigning the publications and aligning them to the organization's new brand messaging, which we aided in developing: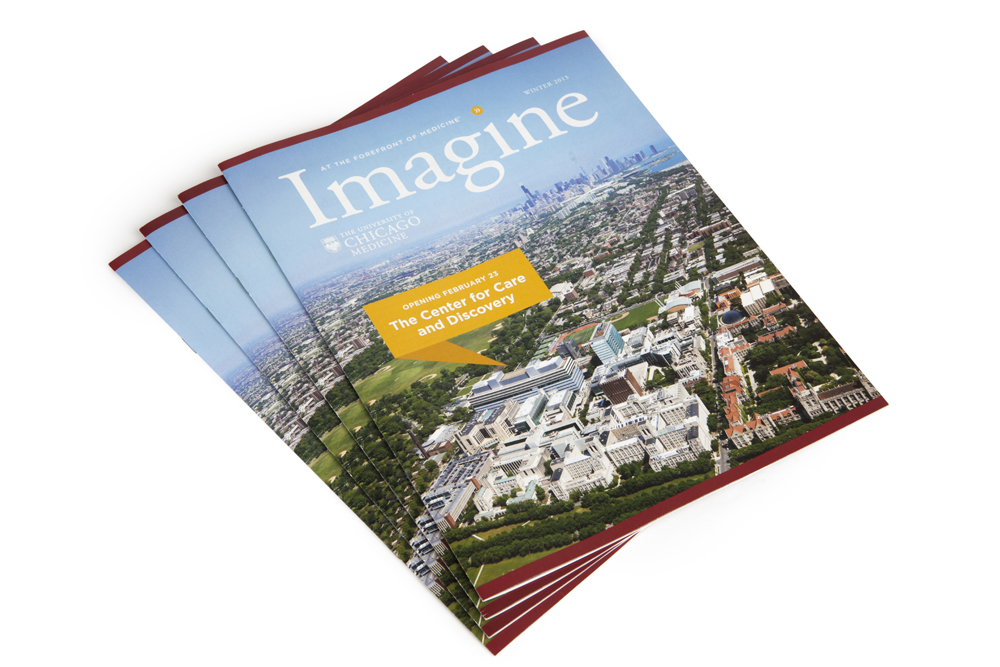 As mentioned above, when the industry talks of content, it's the digital they're almost always referring to. And while we love our paper and ink, a good chunk of our staff is engaged in this digital world in a major way. And many of our projects have a content component. A few examples:
Content Research & Planning
TOKY recently worked with a fast-growing company in the engineering, architecture, and construction space, helping the Marketing division prepare to transition into a full-fledged daily and weekly publisher. This meant writing a Competitive Review & Analysis document, delivering a sector-specfic Best Practices for Content & Social Media presentation, and developing a Content Strategy & Social Media Plan for the company, which included guiding principles, a site-wide Content Outline, and channel-by-channel advice for Twitter, Facebook, and LinkedIn.
Online Content Development
When Brinkmann Constructors hired TOKY to launch a new website last year, the company also turned to us to research and write a good deal of new content necessary for launch. After interviewing key Brinkmann leaders, TOKY wrote six in-depth project case studies, each of which would be teased on the front page as "Ideas" the company delivered: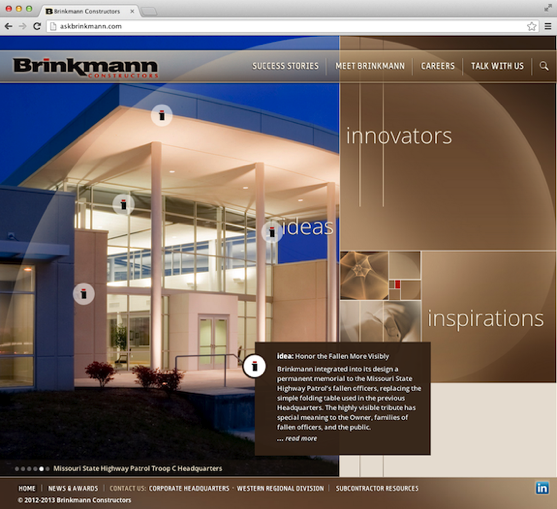 More recently, TOKY was charged with helping Mid-America Transplant Services chronicle its successful 2012, absorbing a range of client-provided materials and writing a cohesive, Web-exclusive Annual Report that captured the spirit and accomplishments of the year: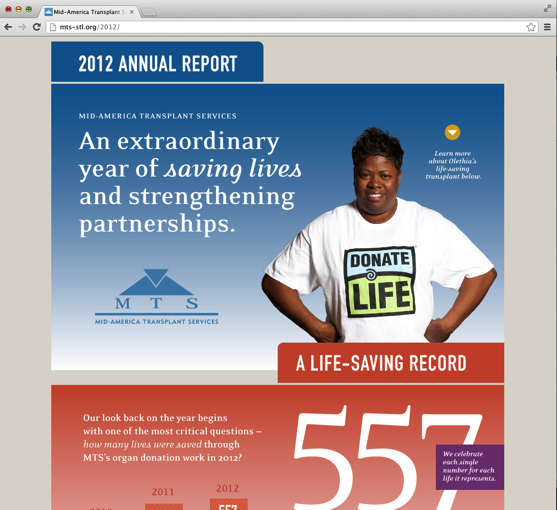 Video Conception, Script-Writing & Production
There's a reason online videos have been called the fastest-growing content segment — they're sharable, emotional, and memorable. TOKY's been pleased to work with a handful of clients in recent years to produce short films for their respective audiences. Our team is involved in developing the concept and creative direction, writing or editing the script, conducting behind-the-camera interviews, and editing en route to a final polished piece.
Here's one short film from the TOKY portfolio: "Carrole's Story: Dealing With Multiple Sclerosis Symptoms," which we made for the MS Center for Innovations in Care:
In response to the Center's wish to tell a patient story, we concepted the animated approach, produced the patient interview and recording, directed the animation, and edited the final piece.
—
So at least in part, that's what we mean by Content. While we might be writing or planning, launching books or websites, this focus on story is one we're genuinely at home with and passionate about. It's been said often in the past few years, including by us: Every company is now partly a publisher. The question is what content you'll offer your waiting audience.
Subscribe to our mailing list.