Five Lines from Confab 2012
Last month in Minneapolis, about 600 content-focused professionals convened for Confab 2012, one of the leading content strategy conferences in the country and beyond.
(There were attendees from England, South Africa, and Australia.) Very much bullish on content, TOKY sent two of us: Senior Web Producer Melissa Allen and me.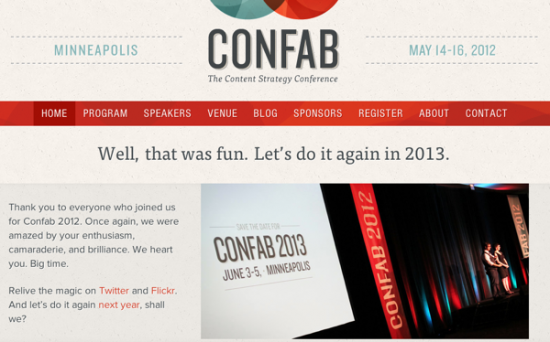 The sold-out conference was fantastic — informative, inspiring, and packed with smart peers who were generous with their knowledge and experience. While this Storify has forever archived the various tweets and photos Melissa and I posted during the two days, I wanted to share five brief lines that — as I go back through my ever-long Evernote file of points made and insights spoken — are still resonating especially clearly:
"Generally, trying to respect people is a great start."
— Longform's Aaron Lammer, about curating compelling content for your audience, during the panel "Content Curation Grows Up
"Back catalogue of awesomeness"
— Erin Kissane, in the above-mentioned panel, making the point that many publications and brands likely have material that, while dated, might still be highly interesting to their audiences. (Relatedly: Lammer reported that on Longform, "The age of the story has no bearing on its click-through rate.")
"Show us your struggles."
— NPR's Matt Thompson, from his talk "The Art of the Quest," explaining the value of communicating openly with your audience about the obstacles you're up against as you chase your goals (like so: "Starting a bank is hard")
"Our content doesn't just make people do things. It makes people feel things."
— MailChimp's Kate Kiefer Lee, during her talk "Voice and Tone: Creating Content for Humans" (which illustrated how she's leading by example)
"You are not in the print / mobile / web / brochure business. You are in the content publishing business."
— Karen McGrane, during her conference-closing keynote "Adapting Ourselves to Adaptive Content"
There are another 30 points I could easily share, but I'll keep it brief. (Our clients, of course, will be hearing more and more from us about the role of content strategy in their projects.)
For those interested in reading additional recaps of the 2012 conference, there's a good deal of content at the CONFAB site. And photos are available on Flickr and on Facebook.