Artful Travels: Art, Design & Robert Plant in New Zealand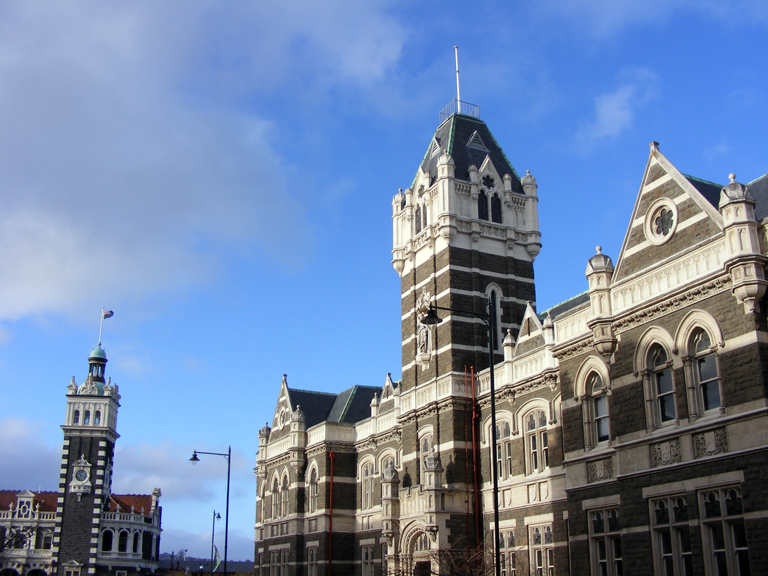 Dunedin's historic train station
Note: This is part of a new series of TOKY blog posts about artful trips our staff have taken. Today's entry is from Designer Logan Alexander.
As the half-empty coach bus came to a halt in the cold pre-dawn, I alighted — sans map, sans coat, sans shave, sans food. Dunedin, New Zealand: I don't know anything about you. I beelined for a cluster of steeples, hellbent for a flat white and an egg sandwich. Luckily, I found both, along with a healthy dose of contemporary art, at the Dunedin Public Art Gallery.
Located upon the Octagon — the city's forcefully named centre — the gallery is the oldest of its kind in New Zealand. Following a delightful and much-needed breakfast at the adjacent Nova Café, I checked my backpack at the front desk and wondered upstairs into Pieter Hugo: Nollywood. The exhibition caught me by surprise. How often does one travel to New Zealand in search of surreal and striking portraits of Nigerian film stereotypes?
They say Nigeria's Nollywood is the world's third largest film industry. It releases up to a thousand titles a year onto the local home-video market. Such productivity is only possible because the movies are made in conditions that would make western filmmakers cringe. Produced and marketed in the space of a week, they use cheap equipment, basic scripts, actors cast the day of shooting, and real locations. While drawing on genres and typologies drawn from Hollywood, Nollywood movies are a rare instance of mass-media self-representation. The stories — including tales of romance, comedy, witchcraft, bribery, and prostitution — speak to the experiences and values of their local audiences. The narratives are overdramatic, and deprived of happy endings. The aesthetic is loud, violent, excessive; nothing is said, everything is shouted.
South African photographer Pieter Hugo became intrigued by Nollywood's fictional worlds, where the everyday and the unreal intertwine. He asked a team of actors and assistants to recreate Nollywood myths and symbols as if they were on movie sets and photographed them. The resulting images recreate the stereotypical characters that typify Nollywood productions, including mummies, satanic demons, and zombies, all casually posed in the backlots of Enugu.
I'm no art critic (and am mostly going off the few notes I took while at the exhibit), but the strange characters of Nollywood appear all the more real because of the informal portrait format. The lines between Nigeria and the Bizarro Nigeria that is Nollywood become a little less defined.
Partitioned by a glass wall in a corner of the downstairs lobby is a viewing area for New Zealand films and documentaries, where I took in a documentary on the kiwi band The Chills and a few shorter pieces on Maori civil rights issues. It was a lovely way to learn more about some of the country's less visible history.
A few days later, while wondering around town, I came across a building on the campus of the University of Otago sporting a sign for the Masters of Design program. Chancing a peek through the window, I spotted a navy blue Cardinals cap and knew I was in good company. The wearer was a design student named Josh Jeffreys (who is not from St. Louis — he just liked the hat). He graciously showed me around their space and later introduced me to some undergrad designers in the final day of their thesis projects — a situation from which I was not far removed. Josh explained some of the problems the masters students were tackling. It should come as no surprise that an island nation would have a heightened awareness of global warming and its symptoms (e.g., rising sea levels). As such, many solutions involved finding ways to live more sustainably. In one case, that meant sturdy food packaging that encourages reuse and discourages the purchase of additional containers. In another, it meant finding ways to reduce the amount of waste from Air New Zealand one flight to the next. Remarkable stuff for a program in its first year.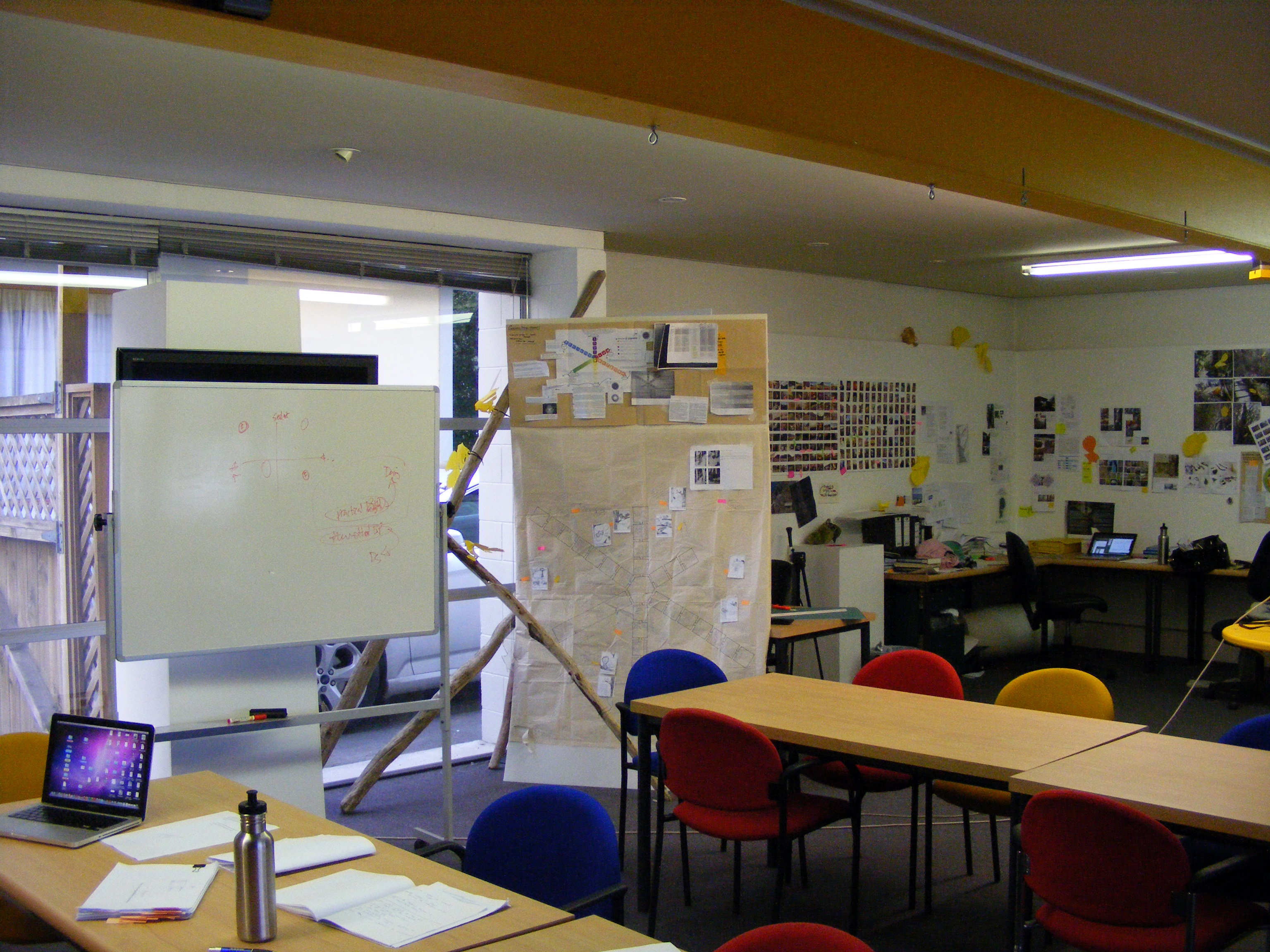 Studio space for the University of Otago's Masters of Design program
Shortly afterwards I was on a bus headed north along the east coast. I stayed overnight in Christchurch on a day in which they had the largest aftershocks since the February 22nd quake. With the downtown closed, much of the city on lockdown, and no water at the hostel, I thought it best to leave. Several hours later I was on a ferry coming to port in Wellington on the north island.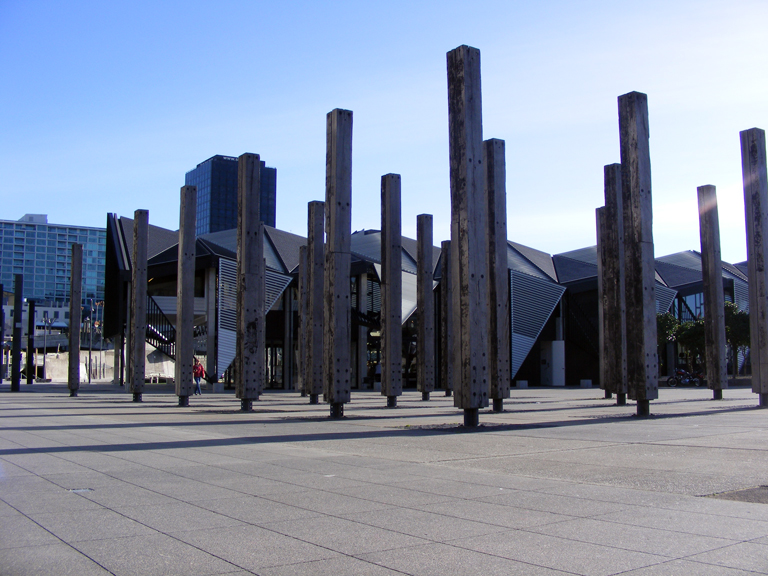 Wharewaka o Poneke — a recently opened waka house along the Wellington bay
I think of Wellington as New Zealand's San Francisco: beautiful bayside location, historic trolley cars, and straddling multiple fault lines. Upon arrival I ventured over to City Gallery Wellington, where I explored Tender is the Night, a group exhibition that "brings together a selection of art works which explore the complex and intense nature of desire, love, and the loss of a loved one." It was a large and varied show, spanning multiple galleries and floors, but the work was strong throughout. Ancient shunga prints, Jesper Just's haunting A Vicious Undertow, and Liz Maw's Robert Plant — a hyper-sexualized giant pink visage of the Led Zepplin frontman (immortalized on a postcard sent back to the TOKY offices) — somehow all work together.
While bopping around the south island, I was fortunate enough to get in contact with one of my absolute favorite typographers, Kris Sowersby. Mr. Sowersby works under the Klim Type Foundry moniker, and had just released the beautiful pair of Metric & Calibre. It is nearly impossible to spend a day in any New Zealand town without seeing something of his, whether it's Serrano plastered all over BNZ locations, shopping tags emblazoned with the Rodd & Gunn logo, or even something as simple as the window numbers for an apartment building. Readers of The Daily will recognize his Founders Grotesk, FF Unit Slab, and Tiempos. (My personal favorites are cheeky National and curvaceous Feijoa.) I met Kris (and his awesome dog) at the Peoples Coffee just off of Cuba Street, for a flat white and an hour or so of type geekery. With the exception of a few brief encounters as a student with WashU alum Ben Kiel, I had never really discussed typography with a real typographer. Kris showed up with a boxing-induced bruise around his eye, and we proceeded to discuss his design process, life as a self-taught typographer, font theft, Berlin, "crap newspaper design," New Zealand's design culture, the state of Web typography, Melbourne coffee shops, hunting, New Zealand craft brews, rare type specimens, and everything in between.
One rainy day spent in the Wellington City Library I read chef René Redzepi's NOMA (published by Phaidon, no less). In it, Redzepi describes an inspirational journey of discovery he took throughout Scandinavia and its many islands to meet the farmers and fisherman who supplied his award-winning Copenhagen restaurant, Noma. These interactions caused Redzepi to change to focus of his restaurant, and set it on the course that would eventually earn it the distinction of World's Best Restaurant for two years running. While in no way do I presume to be the design world's René Redzepi, I did find the experience of talking with Kris Sowersby to be quite enlightening. Great ingredients transform a mundane dish into a great one, and similarly, great typefaces can (and often do) anchor entire brands. Whenever possible, we designers should make an effort to know the other designers who provide the foundation for much of our work.