Post-Dispatch Spotlights Creative Midtown Family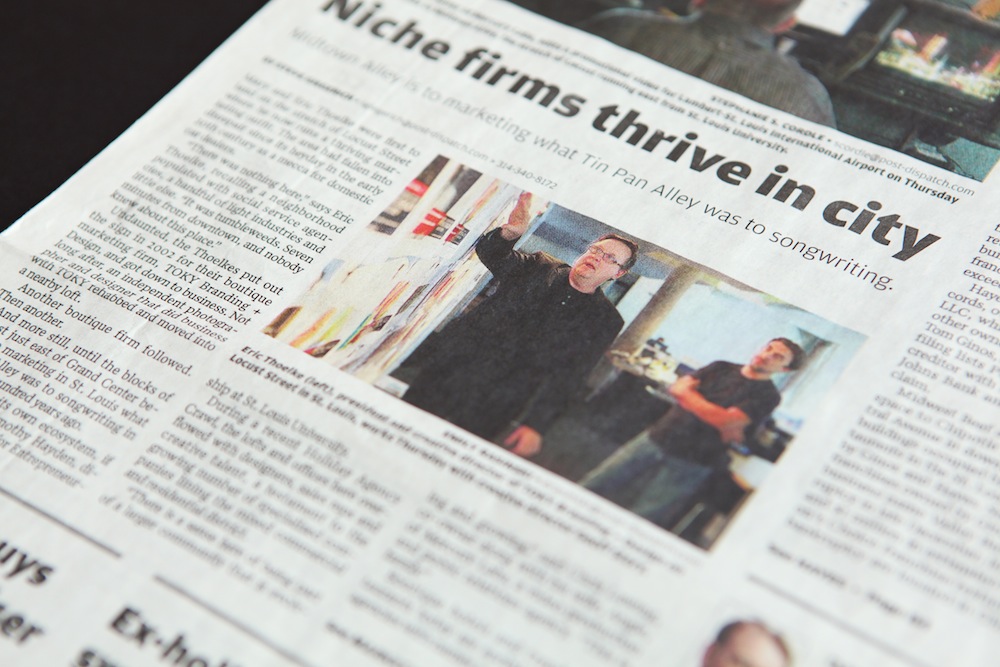 Today's St. Louis Post-Dispatch carries an article titled "Niche firms thrive in the city," with reporter Steve Giegerich starting his Midtown-focused piece through Eric and Mary's eyes:
Mary and Eric Thoelke were first to land on the stretch of Locust Street where he now runs a thriving marketing outfit. The area had fallen into disrepair since its heyday in the early 20th century as a mecca for domestic car dealers.
"There was nothing here," says Eric Thoelke, recalling a neighborhood populated with social service agencies, a handful of light industries and little else. "It was tumbleweeds. Seven minutes from downtown, and nobody knew about this place."
Undaunted, the Thoelkes in 2002 put out the sign for their boutique marketing firm, TOKY Branding + Design, and got down to business. Not long later, an independent photographer and designer that did business with TOKY rehabbed and moved into a nearby loft.
Another boutique firm followed. Then another.
Yep, the momentum has been remarkable. Be sure to check out the whole article, which has quotes from many of our fantastic Midtown neighbors about the creative family we're all building here together.