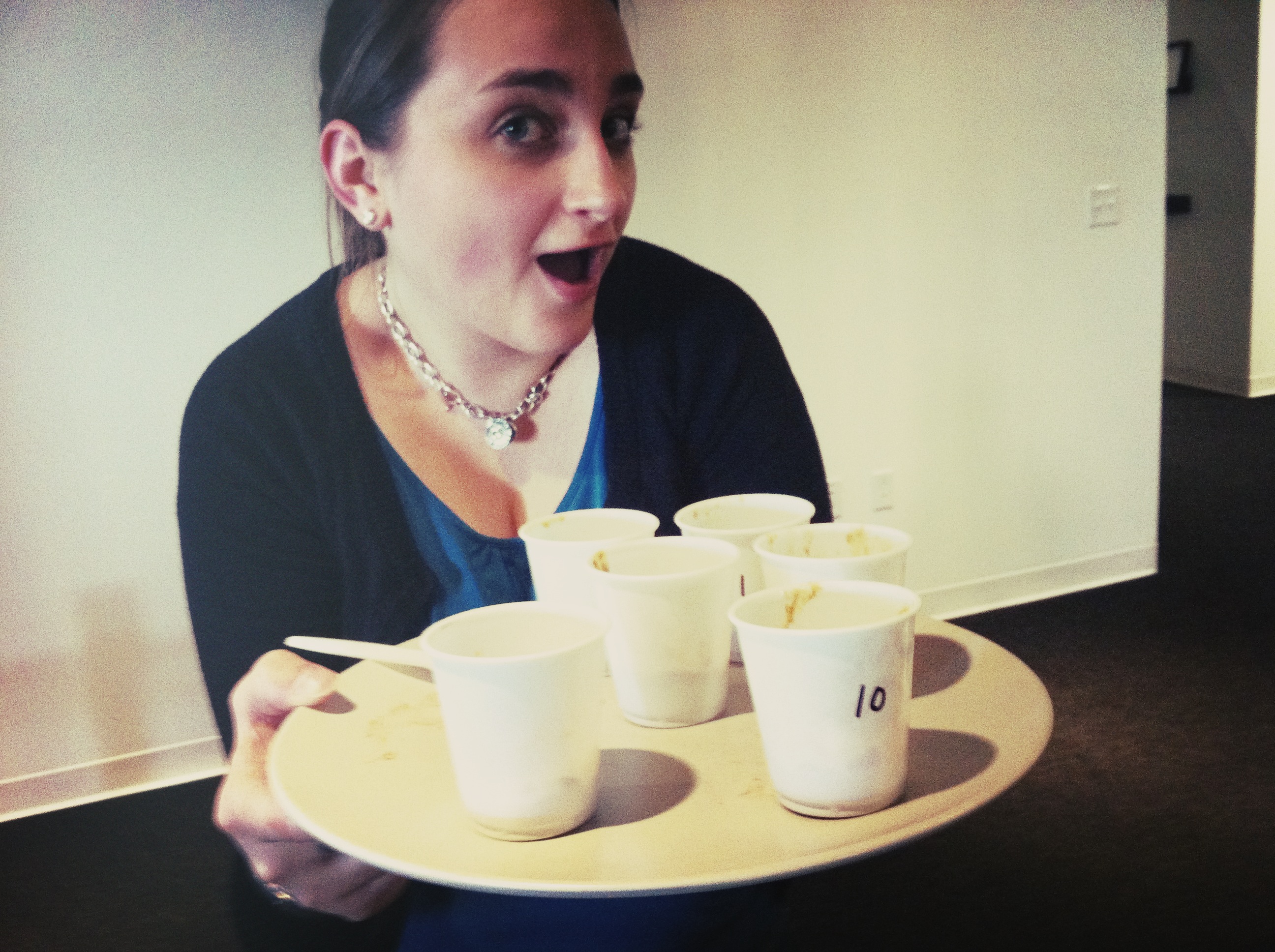 Maddie organized the event, and guess what … she won! Surprise, surprise.
November kicks off chili season around these parts, and TOKY Account Manager Maddie Maglinger put together a huge competition on Monday. Winners were selected in Vegan, Chicken/Turkey, and Meat categories (formerly known as "Multi-Meat" until multiple objections to the name). Winners and their recipes are listed below. As for me, my prize for finishing tied for 3rd in the Meat category is that I get to write a blog post about a Chili cook-off!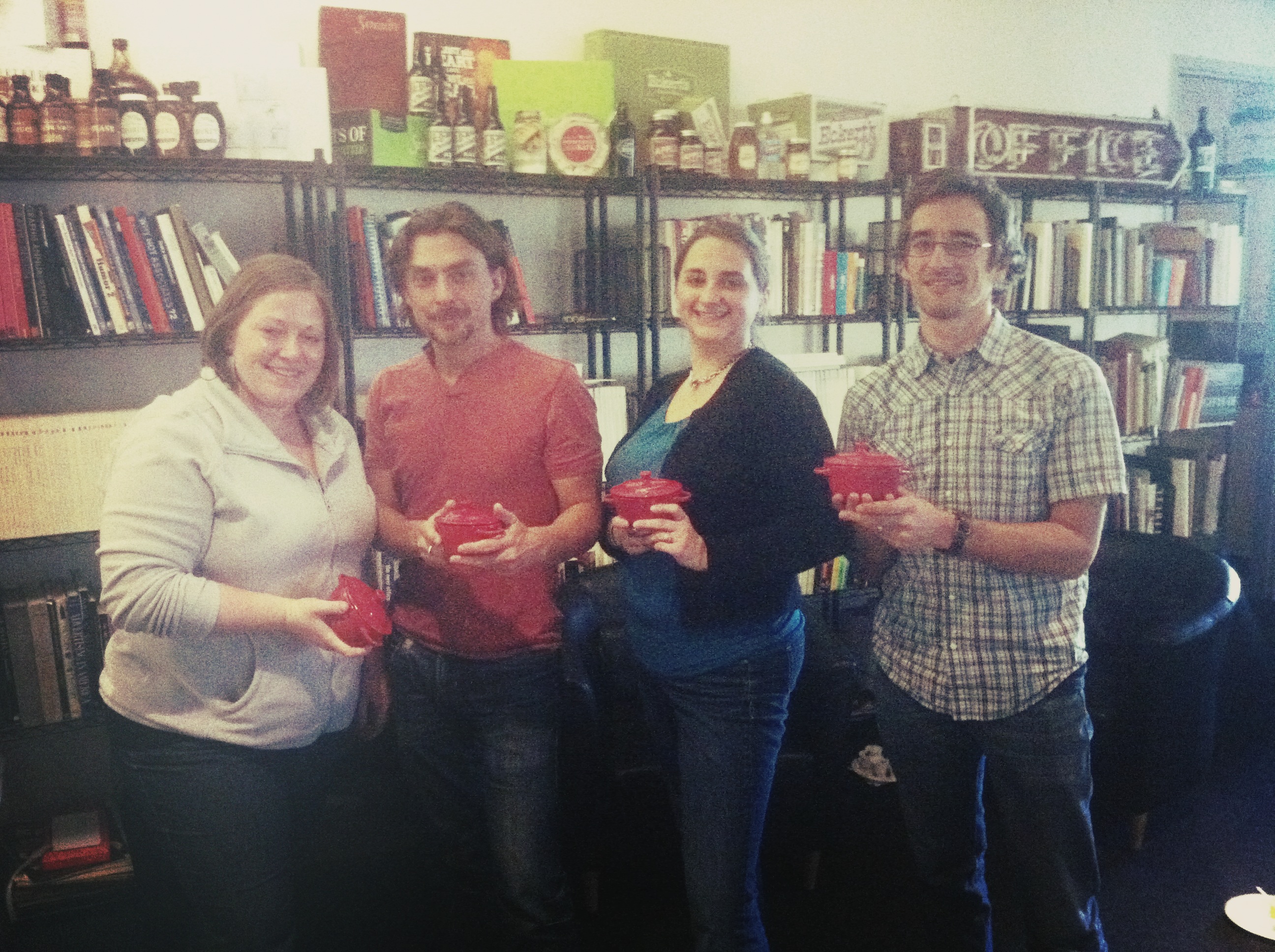 World Champions of Chili, pictured left to right: Liz, Geoff, Maddie, and Jamie. Parade to follow.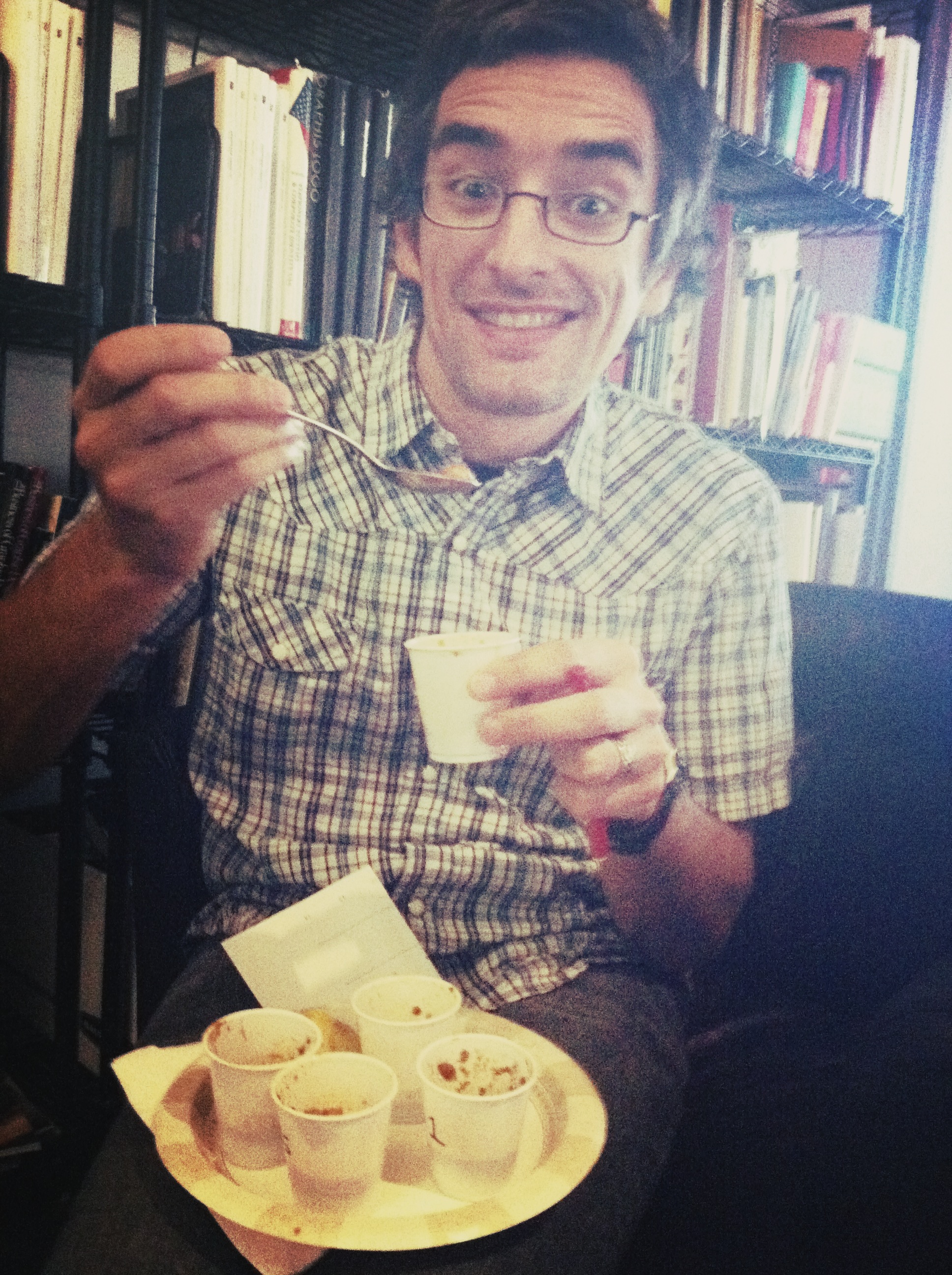 Jamie pretending to enjoy everyone else's chili except his own. I mean his wife's chili, because apparently your wife can make your chili for you in a company chili cook-off.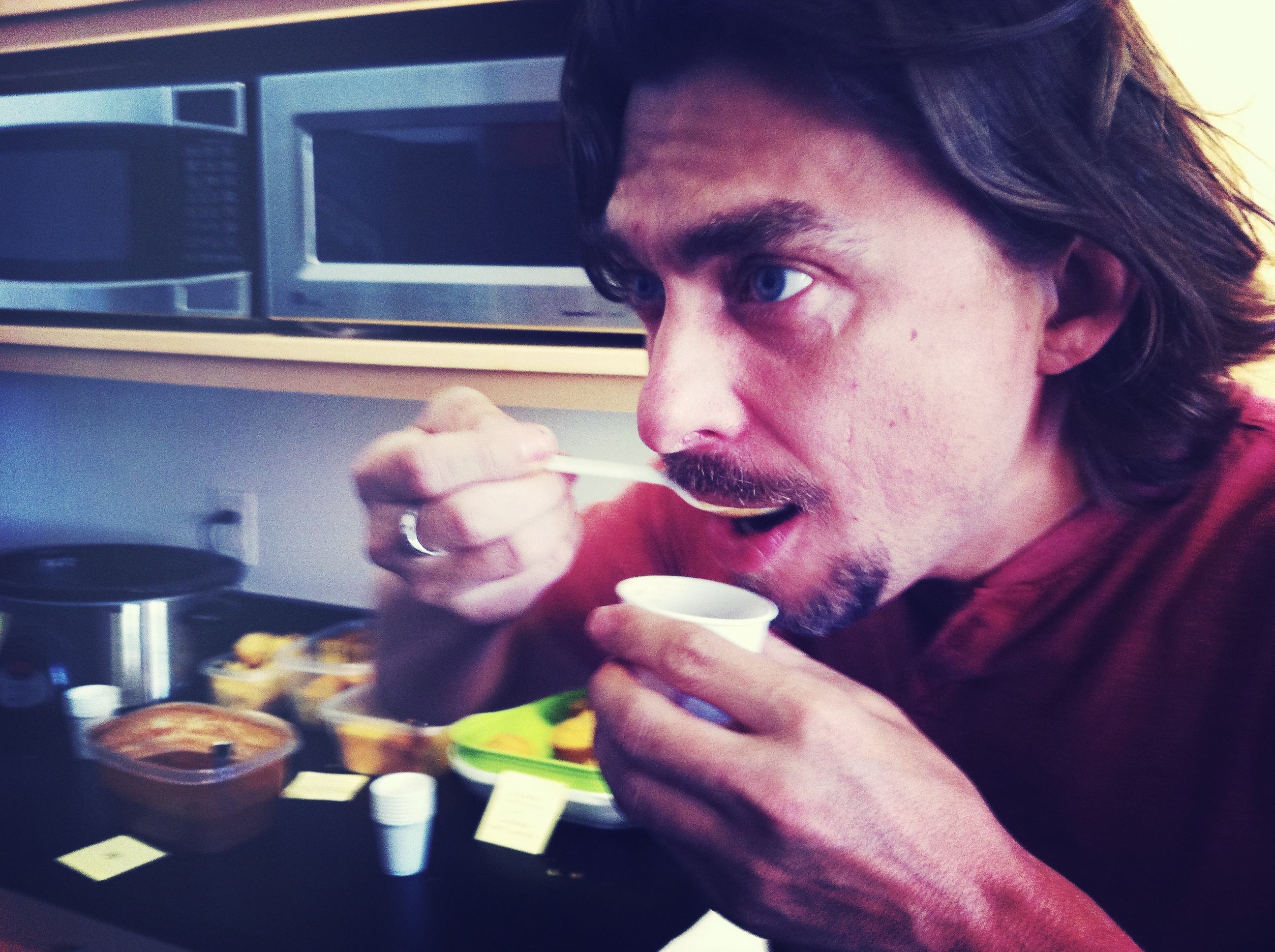 Geoff stood by his crockpot throughout the event coaching people to vote for his chili. He also is the only winner neglecting to share his recipe online.
The recipies:
Maddie's
1 (14.5 ounce) can stewed tomatoes, chopped (use tomato juice as well)
1 (6 ounce) can tomato paste
1 small can of diced carrots
1 onion, chopped
2 stalks celery, chopped
1/4 cup white wine
1 pinch crushed red pepper flakes
1/4 cup chopped green bell pepper
1/4 cup chopped red bell pepper
1/3 cup bottled steak sauce
5 slices bacon
1 1/2 pounds ground beef
1 (1.25 ounce) package chili seasoning mix
1 teaspoon ground cumin
1 (15 ounce) can kidney beans, drained
2 tablespoons chopped fresh cilantro
2 tablespoons chopped fresh parsley
Directions:
Cook the bacon until crunchy, then remove and let cool. Cook the ground beef in the bacon grease. Once browned, drain grease and add the chili seasoning mix and 1/3 cup water and simmer. While beef is simmering, crumble bacon and chop all veggies. Mix all other ingredients and cook in crock pot over low heat 6-8 hours or on the stove top.
Liz's:
2 red bell peppers
2 jalapenos
3 poblano chiles, roasted, peeled
2 banana peppers, roasted, peeled
(substitute anaheim or serrano chilis for more spice!)
2 yellow onions, large
2 heads garlic
2 lbs. ground beef, lean
1 lb. ground turkey, lean
1 lb. chorizo
2 tsp. onion powder
2 tsp. garlic powder
3 tbsp. chili powder
2 tsp. paprika
2 tsp. cumin
2 tsp. coriander
2 tsp. cayenne pepper
2 tsp. kosher salt
2 tsp. black pepper
2-3 tbsp. brown sugar
2 cups tomato sauce
1 cup tomato paste
12 ounces beer
1 cup chicken stock
2 cans black beans
2 cans dark red kidney beans
3 tbsp. olive oil
2 tbsp. butter
Directions:
Saute onion, red pepper and jalapeno in olive oil and butter, 5-10 minutes.
Add garlic, saute another 2-3 minutes.
Add beef, turkey and chorizo to brown.
Add all seasoning, tomato sauce, paste, beer and chicken stock, bring to boil.
Add beans and brown sugar, simmer for 2 hours.
Jamie's (Betsy's):
1 T olive oil
1 1/2 T dried oregano
1 small onion, chopped
1 t basil
1 t cumin
2 t salt
2 stalks celery, sliced
1 t paprika
1/2 green bell pepper, chopped
1/4 cup chili powder
3 cloves garlic, minced
1 t ground black pepper
1 (4 oz) can chopped green chile peppers
2 bay leaves
2 pkgs vegetarian burger crumbles
1 (15 oz) can kidney beans, drained
1 (28 oz) can tomato sauce
1 (15 oz) can garbanzo beans, drained
2 (28 oz) cans whole tomatoes, crushed
1 (15 oz) can black beans, drained
2 t sugar
Directions:
Heat olive oil in large pot on medium heat.  Add onion, cumin, oregano, basil, and salt.
Cook, stirring until onion is soft.  Add celery, green pepper, garlic, and green chile
peppers.  When mixture is heated through, mix in burger crumbles.  Reduce heat to
low and cook 5 minutes.
Mix in the tomatoes and tomato sauce. Bring to a boil. Add in remaining ingredients
of sugar, paprika, chili powder, black pepper, bay leaves, kidney, garbanzo and
black beans. Simmer 45 minutes, stirring occasionally.