New Work: Website Relaunch for the World Chess Hall of Fame
In July, we were proud to announce that the World Chess Hall of Fame had come to TOKY to develop and build its website, in preparation for its fall 2011 opening in St. Louis' Central West End neighborhood. Our preliminary site, shown above, provided a count-down lead-up to the Hall of Fame's official September kick-off. When the institution opened its doors last month — across the street, conveniently and strategically, from the Chess Club & Scholastic Center of Saint Louis — the full site went live.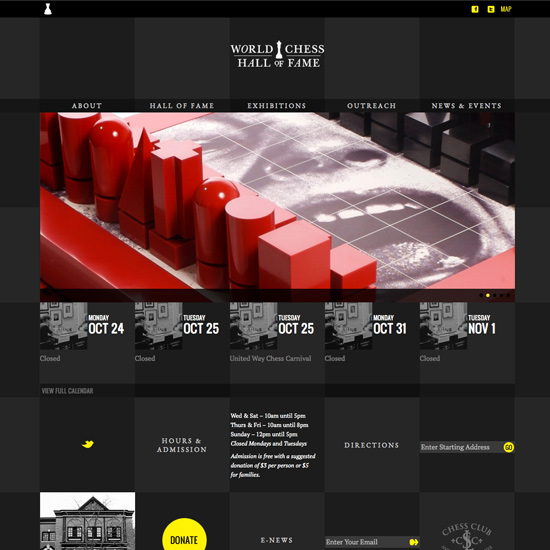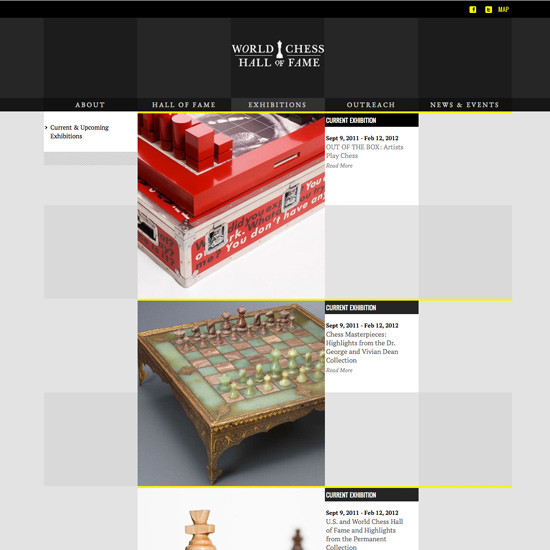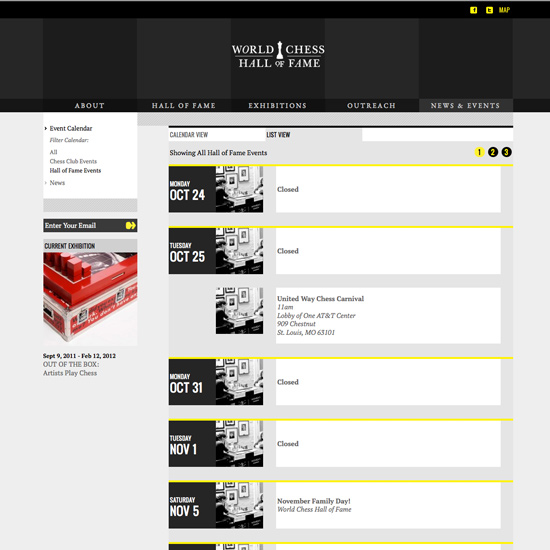 TOKY's design is a clear nod to the chess-board grid, with a few related smaller touches here and there (with a quick click up top, users can 'switch sides' … and color schemes.) We built the site to run on Eero™, TOKY's own from-scratch CMS that provides a great deal of flexibility and future control for clients. A few highlights from the project:
Robust calendar features (including tagging), which allow the Hall of Fame to easily promote their events
Dead-simple video and audio embedding
Tight social media integration, allowing users to share pages and RSVP for events on Facebook
Large images for highlighting the remarkable objects on view in the Hall of Fame's rotating exhibitions
Smart exhibition archiving, a feature that will kick in as the Hall of Fame gets older
TOKY has been proud to be part of St. Louis' ascension as a U.S. chess capital — with the thriving Chess Club & Scholastic Center of Saint Louis hosting national events, two recent "Chess City of the Year" titles from the United States Chess Federation, and now the World Chess Hall of Fame. It's an exciting addition to our home city.