Another PK Night Approaches!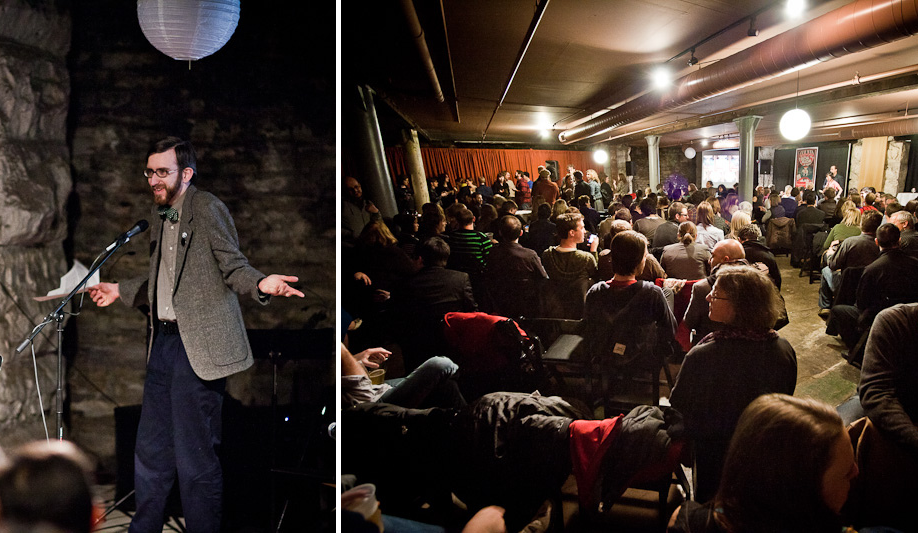 Photo from Pecha Kucha Night #5 by Bill Sawalich
Pecha Kucha Night in St. Louis is tonight! It's the 6th event now in St. Louis, and each event seems to get bigger and better. This week, as part of the St. Louis Design Week festivities, it's happening at CAM in Grand Center. 11 diverse presenters will take the stage using the PK Format to share big ideas, creative passions, and little known facts about this city. It's the perfect format to shuffle through multiple ideas in one night, and perfect for those with short attention spans.
A few names you may know from TOKY are on the presenter list:
Eric Thoelke goes up first on the night, so get there on time (7pm)! Eric's been heavily involved as one of the chairs of the first ever St. Louis Design Week, and will be discussing Design Week and the local design community that is making big impacts all over the globe.
Natalie Zurfluh comes in later in the evening and will be introducing a new series of short documentaries created to honor the design legends — the graphic designers who helped create the industry in St. Louis. We'll be talking about this a lot more on the blog in the coming weeks. Natalie is jumping in at the last minute thanks to some late cancellations.
Kirsten O'Loughlin will wrap up the evening by not talking about anything related to design. As a passionate member of the Arch Rival Roller Girls, she will give a short background on the resurgence of the sport, and introduce a few of the St Louis personalities who weave the fabric of the eclectic and passionate community.
It all starts at 7pm, with doors opening at 6pm. There's a lot going on this week around town in all areas of design. Check out the Design Week site for more information.
PK Night is a free event, you can RSVP at Facebook (not required).
See you there!