A New Website for Mid-America Transplant Services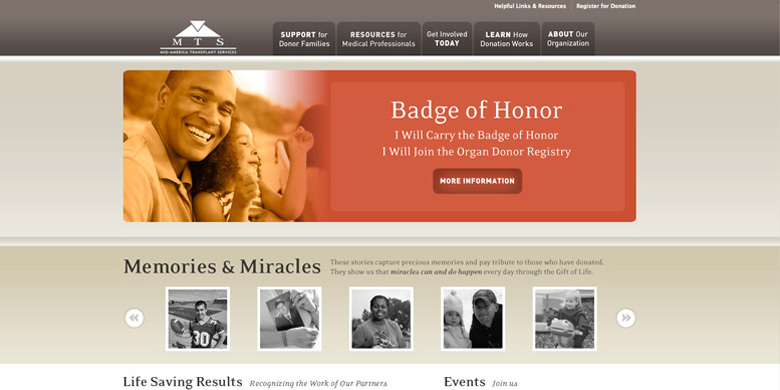 In the midst of the snowmageddon meltdown that didn't happen, we launched a new site for Mid-America Transplant Services, a not-for-profit organization serving regional organ and tissue procurement for eastern Missouri, southern Illinois, and northeast Arkansas.
MTS has a solid mission—to save lives through excellence in organ and tissue donation. They partner with the national Donate Life® registry program for Arkansas, Illinois and Missouri, and have extensive programs for donor families dedicated to honoring their loved one's gift of life.
Before diving into design or development, we worked closely with MTS to determine their needs: their current site was cumbersome to update, and did not accommodate the extensive volume of images and content they needed on the site. We collaborated with MTS on a detailed site map and wireframes of key pages, whittling them to the last detail before we began design.
The result is a fully content-managed, flexible site built on Eero™, our proprietary Content Management System. We also applied a brighter, more contemporary look and feel to their brand, with an updated color palette and typographic adjustments.
The site is a valuable resource of education and information for medical professionals, donor families, recipients & the general public. It also offers a place of respite in the Memories & Miracles section, where anyone can submit and share their story of donation, or browse through a collection of memories from others involved in the donation process.