Feast Magazine Debuts, Designed by TOKY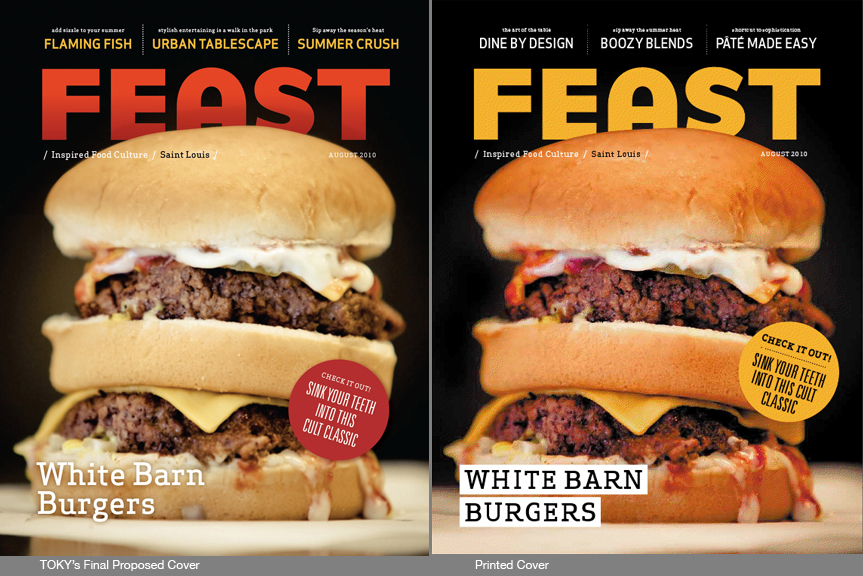 We attended the debut launch party of Catherine Neville's new FEAST Magazine last night, and finally got our hands on a copy of the real thing.
After 100 days of immersing ourselves in the design of everything FEAST — from the new logo to the grid structure to the look and feel of the publication to the CMS-driven web site design — as well as final design of the magazine's two main feature stories — it was nice to see the first issue printed and looking, well… pretty OK.
There were a lot of changes that we noticed in the magazine from our original files, but that's to be expected as magazine designers turn over templates to internal art directors (kudos to Lisa Triefenbach, the magazine's new AD, for getting this issue to the finish line!).
So we're going to make this week a full-on feast of "FEAST" on our blog. We think this will be a nice way to present the reality of how designs can change from the designer's hands to final execution, and to celebrate the arrival of a long-expected labor of love for Katy, Liz, Kirsten, and Becky on our team.
Today, a before and after of the first issue's cover. The TOKY team designed this WEEKS ago (and were asked to keep the subject on the hush-hush) and finally saw the printed copies for the first time last night. The changes that we noted are subtle but interesting for students of design: the red FEAST logo has gone yellow and lost it's shading behind Tuan Lee's monumental burger, our more understated white type headline has been boxed in honkin' white bars, and the lack of yellow highlights in the above-the-logo teasers. Otherwise… pretty much what we designed.
Tomorrow: the White Barn Burgers feature story — before and after.