A Cemetery Website Without the Gloom: Bellefontaine Redesign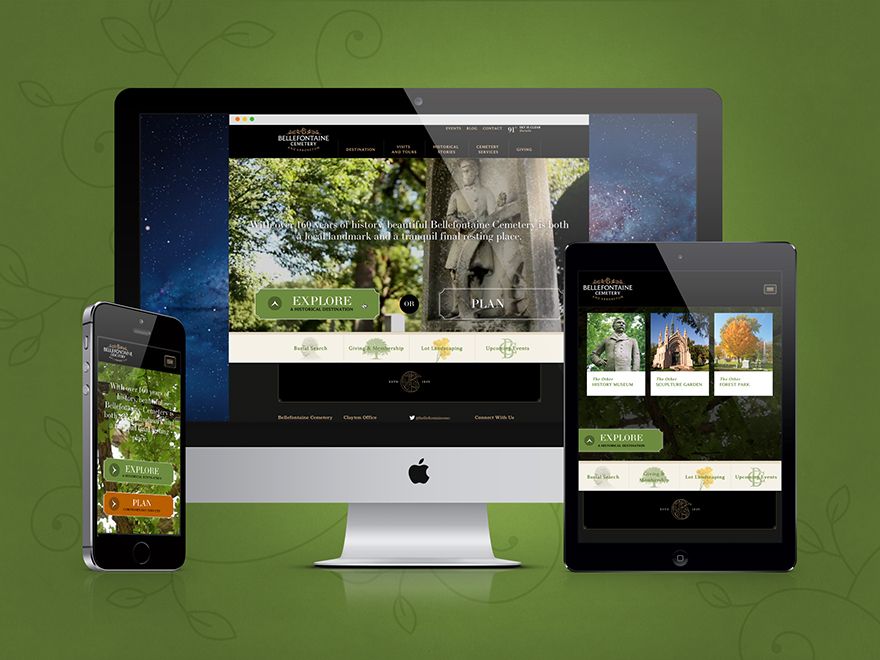 Like the graveyard itself, the cemetery website has a reputation for being bleak, bare, and desolate.
When our friends and clients at Bellefontaine Cemetery came to us for a full website redesign, we were excited to dust the cobwebs and build something a bit more lively. Bellefontaine is unlike other cemeteries in that it is both a landmark destination and a tranquil burial ground — and it was important to the client to show both sides of that story.
So how do you design a site that entices some people to come out and explore, and others to start planning their end-of-life services? Here's a look at our two-fold approach to designing a cemetery website.
A Device-Friendly Site
First and foremost, Bellefontaine needed a site that would work well and look great on any screen. The previous version of bellefontainecemetery.org featured flash-based animation, which was problematic for anyone using a mobile device. Rather than scrapping all of these animations, we reclaimed the content by pulling each into video form.
The redesigned site is also fully responsive, and interactive tools including the map and Historical Stories are now fully functional via smartphone, tablet, and desktop.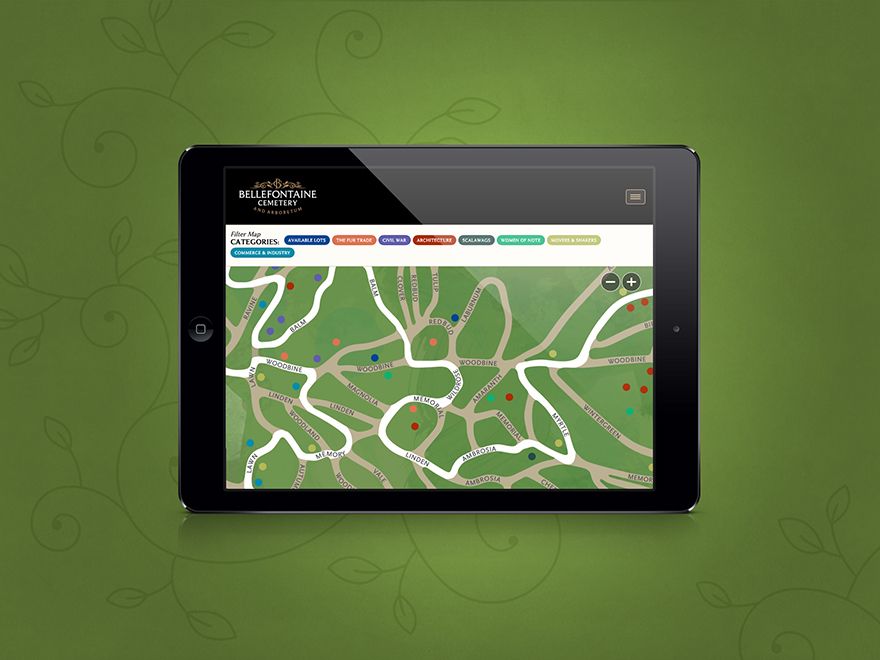 Dual-Focus: Explore & Plan
Bellefontaine staff had two primary goals for this site: To attract visitors to come out and explore the historic cemetery and arboretum, and to encourage families to start the end-of-life planning process for themselves and their loved ones. On the homepage, we funnel visitors toward these vastly different goals with options to "Explore" the grounds or "Plan" using comprehensive guides to the pre-planning process.
Thoughtful Details
To really set Bellefontaine apart from run-of-the-mill cemetery sites, we focused on a series of thoughtful details.
Interactive callouts at the bottom of the homepage feature a subtle animation that is interesting and unusual for a site in this industry.
The weather detail in the navigation updates potential visitors on current conditions at the arboretum.
A social widget in the footer pulls in Instagram, Twitter, and Facebook content tagged #bellefontainecemetery, providing a wealth of visual content from both cemetery staff and enthusiastic visitors.
The interactive map, formerly used for just history and tours, is now also used as a sales tool that displays available plots.
The new site is the latest in a long and collaborative relationship between Bellefontaine and TOKY. We've also produced billboards, a TV commercial, and a beer-related logo for this historic cemetery.