Behind the Design: TOKY's Creation for Bailey's Chocolate Ale Featured in Cool Beer Labels Book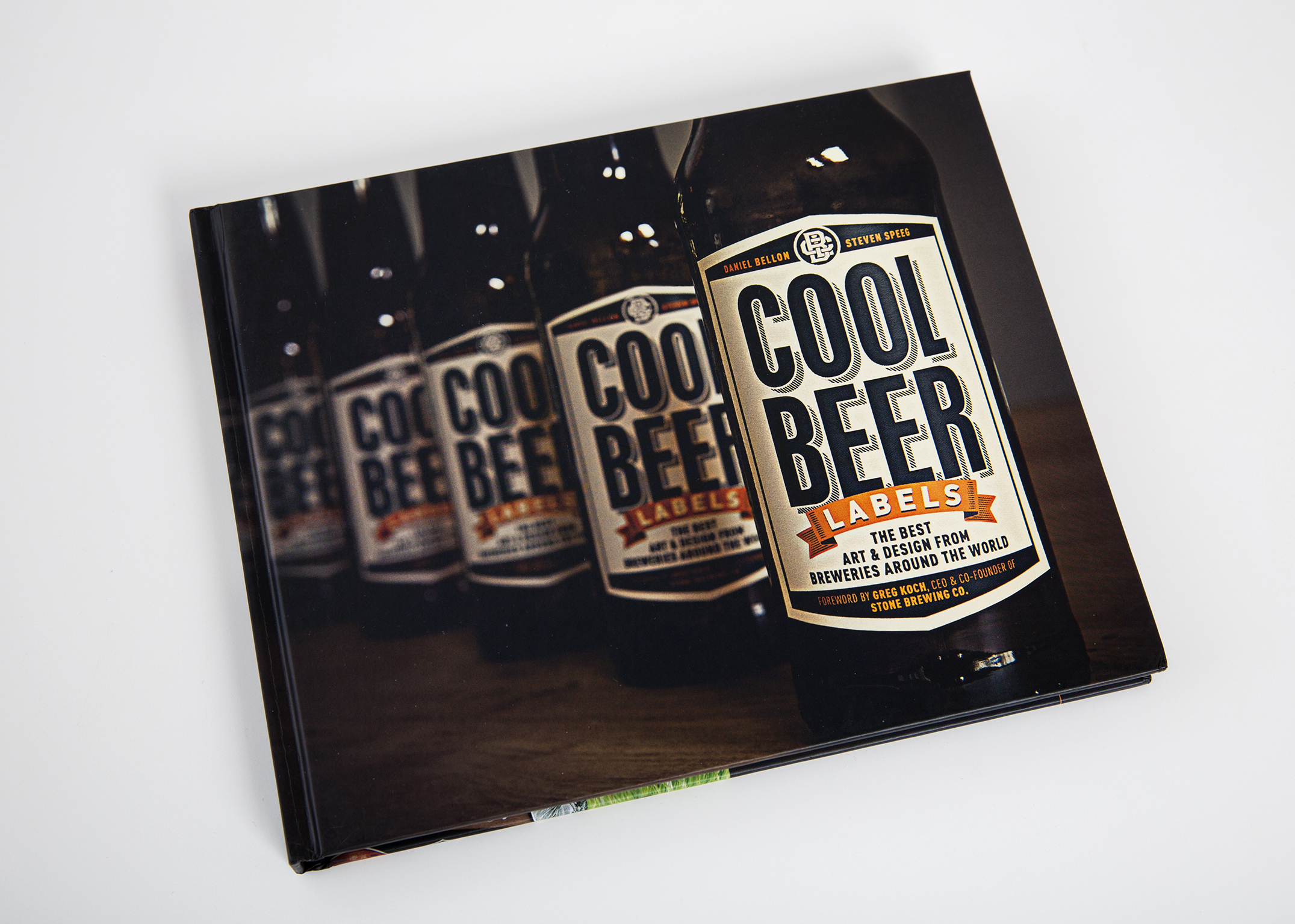 Look anywhere and you're likely to see a vast array of craft beers. From the corner grocery to the neighborhood dive bar, your beer selection has been upgraded significantly from the days of Budweiser, Coors, and a PBR, if you were lucky.
But a well-crafted microbrew goes beyond the hops and spices in the bottle. Many craft brewers are looking at the craft involved in packaging, as well.
Cool Beer Labels
Featuring beautiful labels from small breweries around the world, a new publication demonstrates how package design and thoughtful branding takes the art and enjoyment of craft brewing to a new level. Cool Beer Labels by Daniel Bellon and Steven Speeg features unique and quality beer label designs and interviews from their creators on the design process – including master brewers and package designers.
Given all this, imagine our happiness to discover that, completely unsolicited, one of TOKY's project designs from the vault had been selected for inclusion in Cool Beer Labels.
Right there on page 59, TOKY's design for Bailey's Chocolate Bar's Chocolate Ale.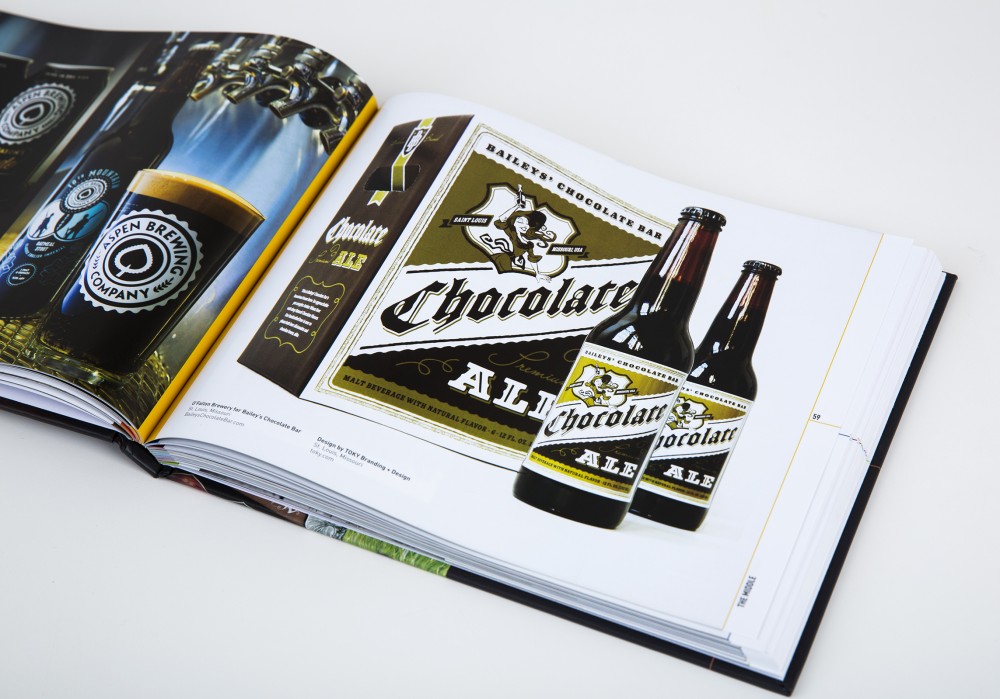 The Beer
The beer itself is a house-exclusive specialty beer produced for Bailey's sister restaurants in St. Louis. For a family of restaurants specializing in all things craft and quality, a signature beer made for a logical addition to the menu. Originally produced by O'Fallon Brewery, Bailey's Chocolate Bar Chocolate Ale is currently made by Perennial Artisan Ales, another local St. Louis brewer. Consistently well reviewed for it's bittersweet chocolate notes and a unique malty fruit finish, Bailey's Chocolate Ale earned its keep both on tap and in Cool Beer Labels.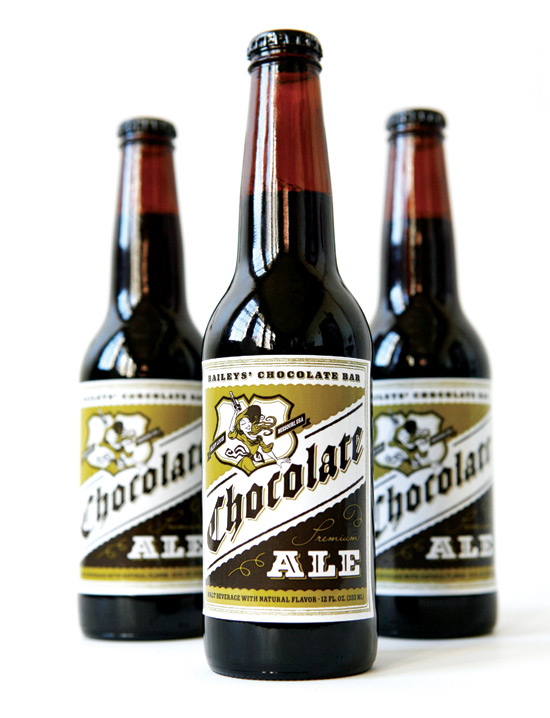 The Design
We originally wrote about the design when it was released and again when it won its first award.
Back in 2009, we wanted the design to reflect Bailey's appreciation for handcrafted edibles with a sense of humor. We're no strangers to beer or branding, so this was a sweet treat for our creative team.
Since it was such a boutique brew, we wanted it to look like something really special and that's reflected in the design. Much like a chocolate confection, the packaging is presented like a delicate treat.
The warm tones and old-fashioned lettering are reminiscent of the paper-wrapped candy bars that filled your childlike heart with anticipation for the promise of melty chocolate and an epic sugar rush. At the same time, the crest style and font are a callback to St. Louis' storied brewing history and an homage to the beer barons who helped build the city.
TOKY's designers incorporated a one-of-a-kind commissioned design in the crest by a close friend of Dave Bailey's, illustrator Christian Meesey.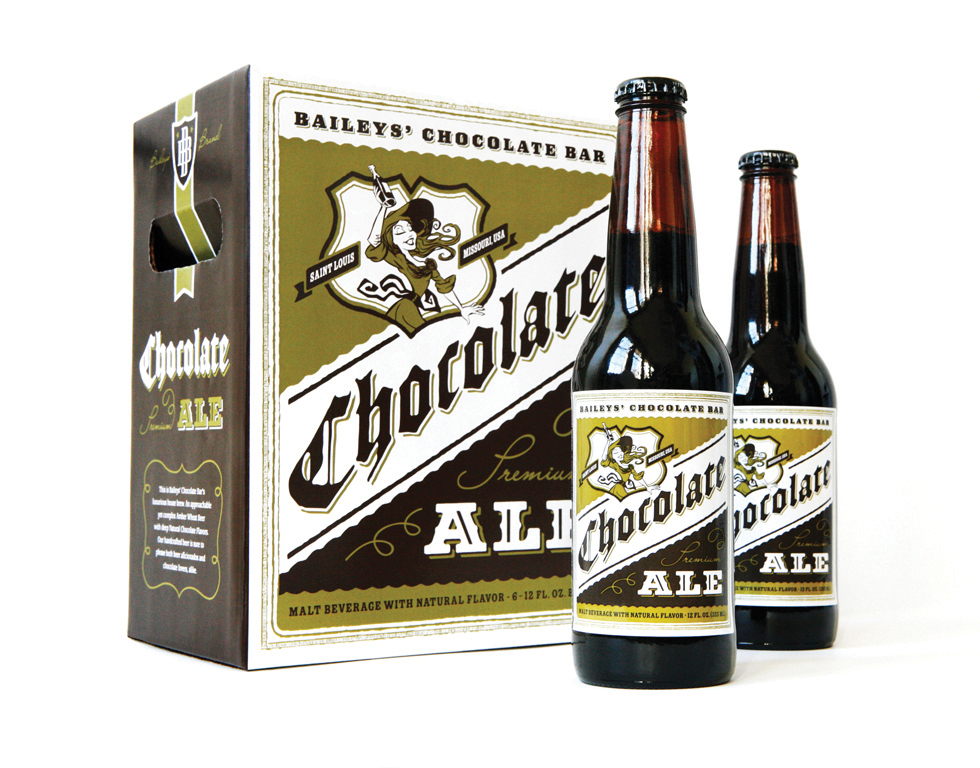 All told, the design is evocative and personal. The perfect kind of story to tell over a pint. If you're ever in St. Louis, we'd invite you to stop by one of the Baileys Restaurants and see if their Chocolate Ale is flowing that day to see (and taste) the nostalgia for yourself.
Bailey's Chocolate Ale was truly a labor of love and a wonderful way to showcase a great brew, some of our favorite restaurants, and the craft that goes into writing both concepts into a label. We're honored that Cool Beer Labels agrees with us!