A New Website for Metro Transit — St. Louis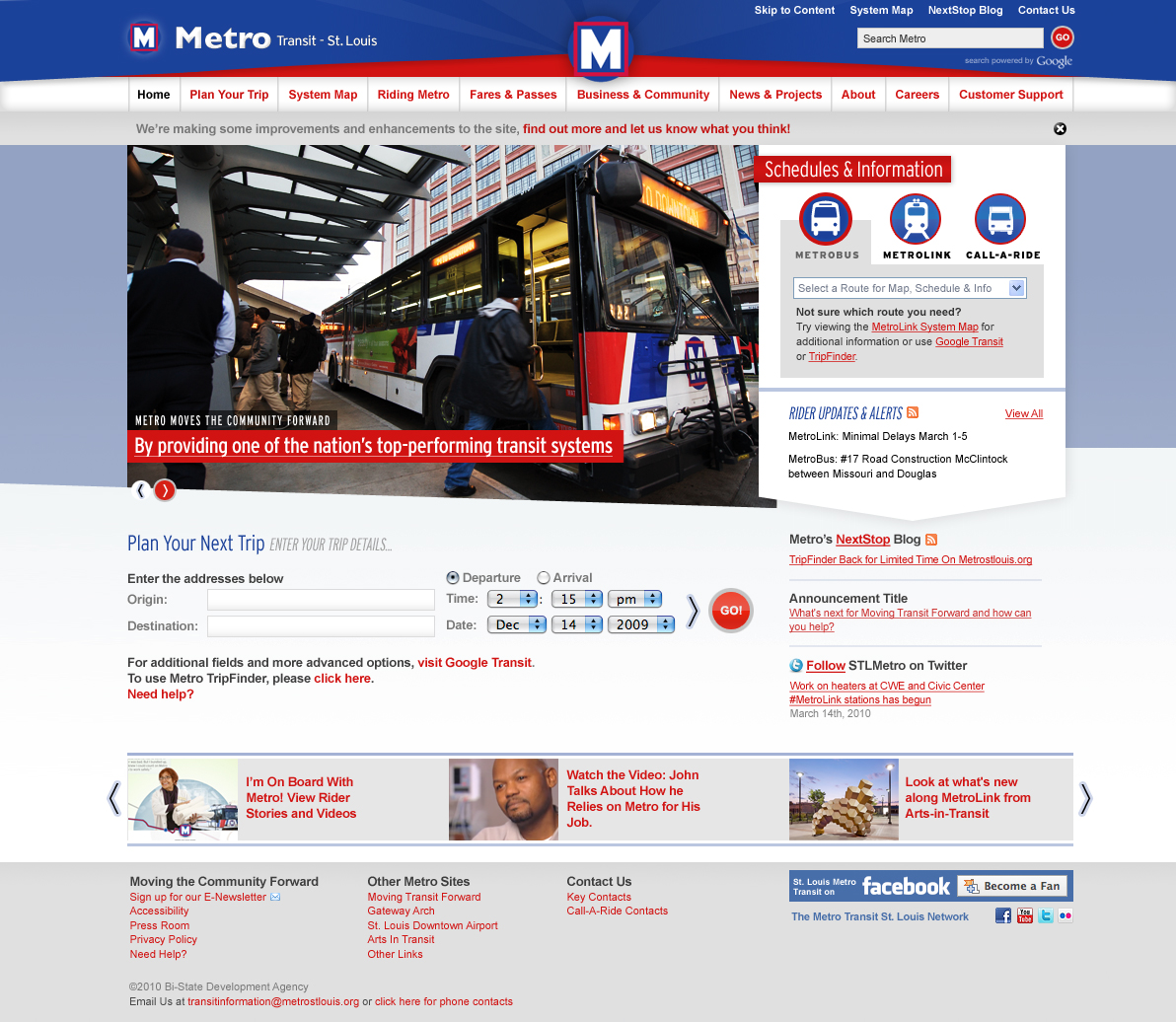 Redesigning the Metro Transit site was no simple task. Everyday hundreds of thousands of local riders refer and rely on this website as their primary source of information regarding transit routes, service changes and for up-to-the-minute information on major updates.
TOKY was assigned the task of not only improving the look of the site — incorporating much of the branding TOKY had developed for Metro on the successful Proposition A ballot initiative — but also to re-conceive and simplify the online experience. Our research found that the old site was hard to navigate, hard to update, and left users frustrated.
We took a step back; we started by rigorously evaluating many other transit organizations in other cities, we listened to user feedback and concerns from Metro staff, we completely reorganized the content structure of the site and conducted analytic research to determine a logical path forward for the site's growth. Once this was complete, we developed wireframes for key sections of the site and worked with Metro's internal IT group to make sure our recommendations were able to be implemented.
A few must-haves for the new site: seamless tie-ins with Google Maps, smarter integration with Metro's advanced Social Media efforts, easier to read and update bus routes and MetroLink station pages that don't rely on PDFs, and much more.
After several months of consulting and meeting with Metro's Internal IT development group, our designs have come to life. Metro IT did a fantastic job with the development of the site, and left no small details overlooked. Metro is truly committed to providing a great online experience and it showed throughout this process. We wish them great success as the site continues to evolve and grow with even more intuitive and smart features being added in the coming months.
For more information on the new design, check out Metro's NextStop Blog.
or visit the new site at: MetroStLouis.org