Last Night, Through the Looking Glass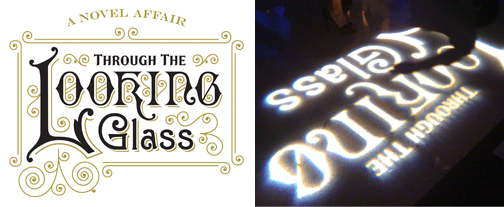 Mary and I had the great pleasure to attend "A Novel Affair: Through the Looking Glass" last night, the gala to benefit the St. Louis Public Library. TOKY was a top sponsor of the event, as we have been for the last three years, supporting the Library and its ambitious $70 million Capital Campaign. We've also designed the logo and invitations (here and here) for every benefit gala they have had.
Last night's was one of the most beautiful and fun; we entered a tall room surrounded on all sides by billowing gauzy drapes, and sat at a long pink table with green grass runner down the center, sporting tea cups and illuminated ice cubes. Video projections versions of "Alice" stories from the early 1900s through the Tim Burton version, mashed up into an hallucinatory story all its own, fluttered silently on the walls as electronica put everyone in a party mood. Big kudos to our friends Sam Foxman and Jeff Jarrett at Contemporary Events.