TOKY's "$10 Million Idea" in St. Louis Magazine
The editors at St. Louis Magazine had a very cool idea for their September issue cover story. In their words, "We contacted about 50 especially informed, creative, and influential St. Louisans and asked: If we gave you a check for $10 million, what's the single project you would create to transform or improve St. Louis?"
Beaming from the flattery of being one of the 50 people asked, we brainstormed many ways to spend the hypothetical $10 million. Thinking big wasn't the problem. Dam the Mississippi at Kimmswick to create a massive recreational lake below St. Louis? Even $10 million wouldn't get that done. How about paying off ABInBev to get control of the brewery back in St. Louis? Or paying all of our City public school teachers what their counterparts in the County make? All too expensive.
Eventually we came around to an idea we've been working on for a while with Grand Center, St. Louis' arts and culture district, and the neighborhood just west of our home in Midtown Alley. We proposed enlivening this theatre and museum district at night with artists' sculptural works that deal with light and lighting. Think of it as a 10-block long sculpture park that springs to light at dusk.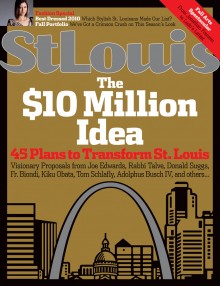 We see at least 12 opportunities for light sculpture in the district, from Strauss Park to the Scottish Rite parking garage. The magazine has made us one of two respondents profiled on their website. Check it out, read the article, and tell us what you think!