In 2017, TOKY had the pleasure of creating a new website for The Journey, a network of churches that serve the St. Louis market as well as southern Illinois. Part of what makes The Journey so unique is that while it's a faith-based, non-profit organization, it operates like a business when it comes to communications.
For the internal team, The Journey is a brand, albeit with a very special mission and vision. They came to TOKY for help designing a website that would align with their organizational goals, as well as the goals of end users.
Now that the site is live (and The Journey team is already thinking about how to build upon the current version), we caught up with two of our clients on the project: Michelle Burke, Director of Communications, and Creative Director Brett Arndt.
The Journey Experience
How has the internet and social media changed the way you run your organization?
Michelle: The people who attend our church services are the people that are on Facebook, on Instagram, and waiting at the doctor's office and scrolling through those. So for us to really be a part of their lives, to reach them with the Gospel, that's how we connect with them.
Brett: I would say organizationally, we actually run the creative communications team more as an in-house agency. We have six churches that we support and then also about six other partner organizations. So, we look at it as more of like a client relationship that we're deeply invested in.
We're trying to create as much relevant content as we can while still trying to be consistent with our brand…. With our new platform that TOKY created, we're saying, "Okay, how can we take our message, be true to who we are as one church and one vision, but at the same time support the day-to-day content needs and promotions of the [individual] churches?"
What do visitors want out of a church website?
Brett: So we break it down, really, into three categories. It's potential visitors, who we consider "skeptics." And then we have people who are "regular attenders," which we view as one to three times a month. And we have "invested," so there's these three buckets.
If you're a potential attendee, what they're looking for is, "Am I going to fit? Am I going to belong?" That was really the drive behind the Plan A Visit feature, for sure. It's not just this idea of establishing this connection so we can have their data and follow up, but it's really so that when you walk into a room, there's 500 people and it's bustling, but you're not lost.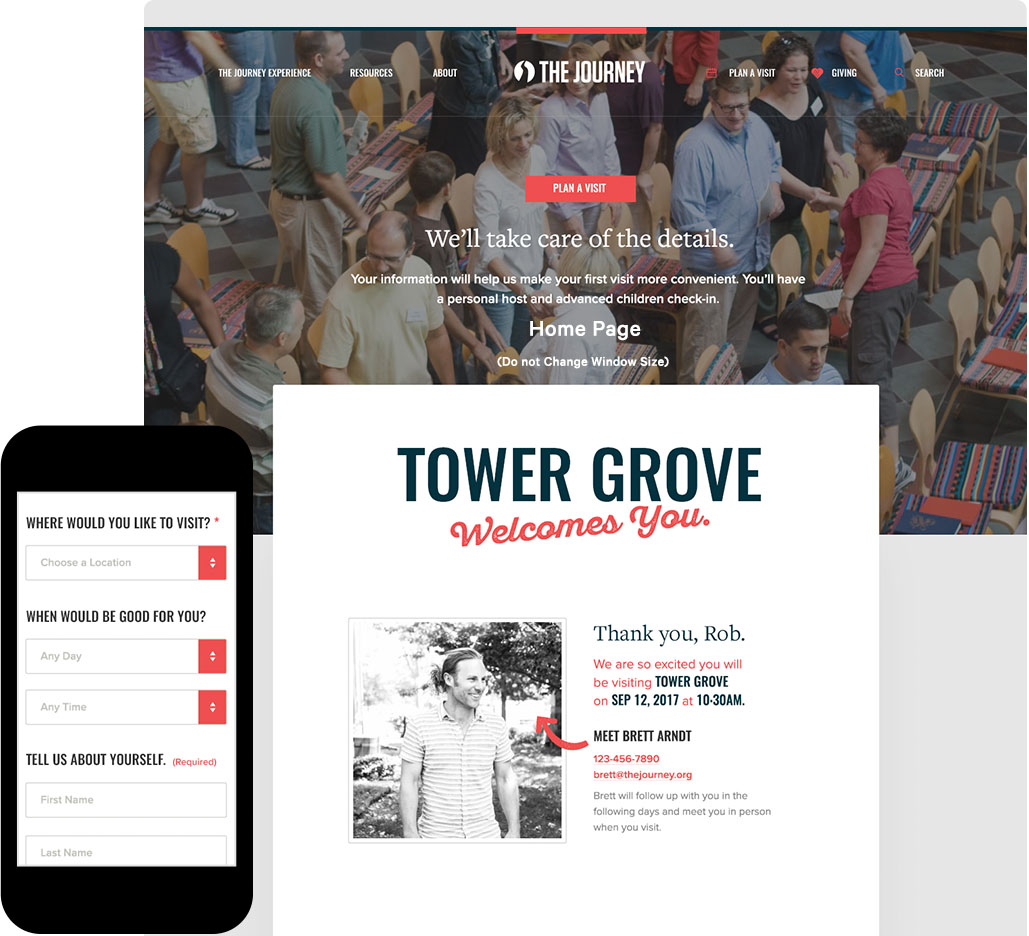 What were some of The Journey's goals for the new site?
Brett: We wanted the site to be a place for new people, prospective attendees who want to find quick, easy information about the church they want to visit and eventually plan a visit. For our current attendees, a place where they can find information about events and what's taking place at their local church. We also wanted the website to be a good, rich content resource. So to make a content resource library that not only displays well, but is also searchable.
Michelle: A lot of websites just have one of those [features], so to be able to have a website that does all three of those well is a really great thing.
The Journey is unique in that you have a robust in-house content team. What does your process for creating content for your new website look like?
Brett: For us, there's two elements that we create content for. One is our weekend content, where we're creating a live event or experience for 3,500 people. For web content, we start with a big brainstorming session, and from there, we trickle down to a creative brief. And then we start to go into more hard assets, like design or video, and then from there, execution to the website.
We never look at return on investment. The only time we do is when we're doing some sort of fundraising campaign. But we do this whole idea of a return on experience, where we're saying, "What is our goal for the end users and experience?" We have accountability, but at the end of the day, our hope is that people are experiencing Jesus and experiencing the story of what we believe.
Michelle: And granted, we do look at analytics and do make fact-based decisions, but what Brett said is absolutely true.
What were the reactions to the new site from your team and church attendees?
Michelle: I think it has been overwhelmingly positive. We've had some good constructive criticism, most of which we could put in to use. And I think a lot of that is because TOKY did research before, and worked really hard to understand our end users, how our organization works, and our goals, and it really paid off.
Brett: We feel that it was worth every penny we invested in the site.
—
If you're in the St. Louis area, you can check out The Journey at one of their six locations — and plan your visit beforehand using their brand new site.
Subscribe to our mailing list.