7 Tips for a More Engaging Architecture Project Page

"What's the best way to share our work with the world?"
It's one of the most important questions to ask when redesigning your firm's website. And from our experience building sites for some of the largest architecture firms in the world, it's also one of the most hotly debated.
If your firm's goal is to get prospects excited about your work, these pages need to stand out. The good news is, the bar for architecture project pages is fairly low. The industry standard looks something like this:
Project title
Slideshow of project images
1-3 paragraphs describing the who, what, and how of the project
Sure, this formula gets the job done, but it's not exactly engaging. At best, a run-of-the-mill project page will get your prospective client the information they need. At worst, it will take the magic out of your very best work, leaving visitors underwhelmed and unengaged.
With that in mind, here are seven tips for creating a more engaging architecture project page to showcase your firm's work.
Write value-based headlines.
Yes, your client's name is important, and it absolutely deserves real estate on the project page. But why not lead with the value your firm provided to that client? Try crafting a descriptive title that speaks to the specific challenge you solved — something that your prospective client can scan and quickly understand or even relate to.
Example: Farnsworth Group's Echo Bluff State Park Project Page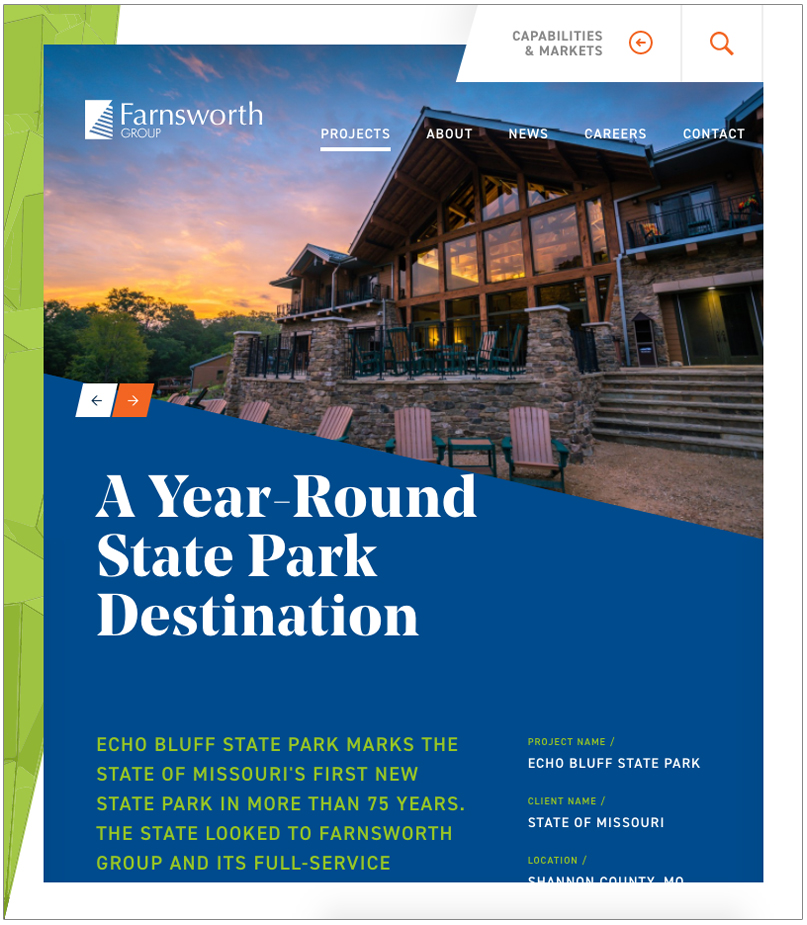 Replace lengthy text with small blocks of copy.
These days, content consumption involves more scanning than deep reading, and that's an important habit to keep in mind when it comes time to write these pages. The best web writing breaks text into short, skimmable blocks so readers can quickly find the information they need. Think short (two- to five-sentence) paragraphs, plenty of headlines, and images with explanatory captions.
Example: SWT Design's Audubon Center at Riverlands Project Page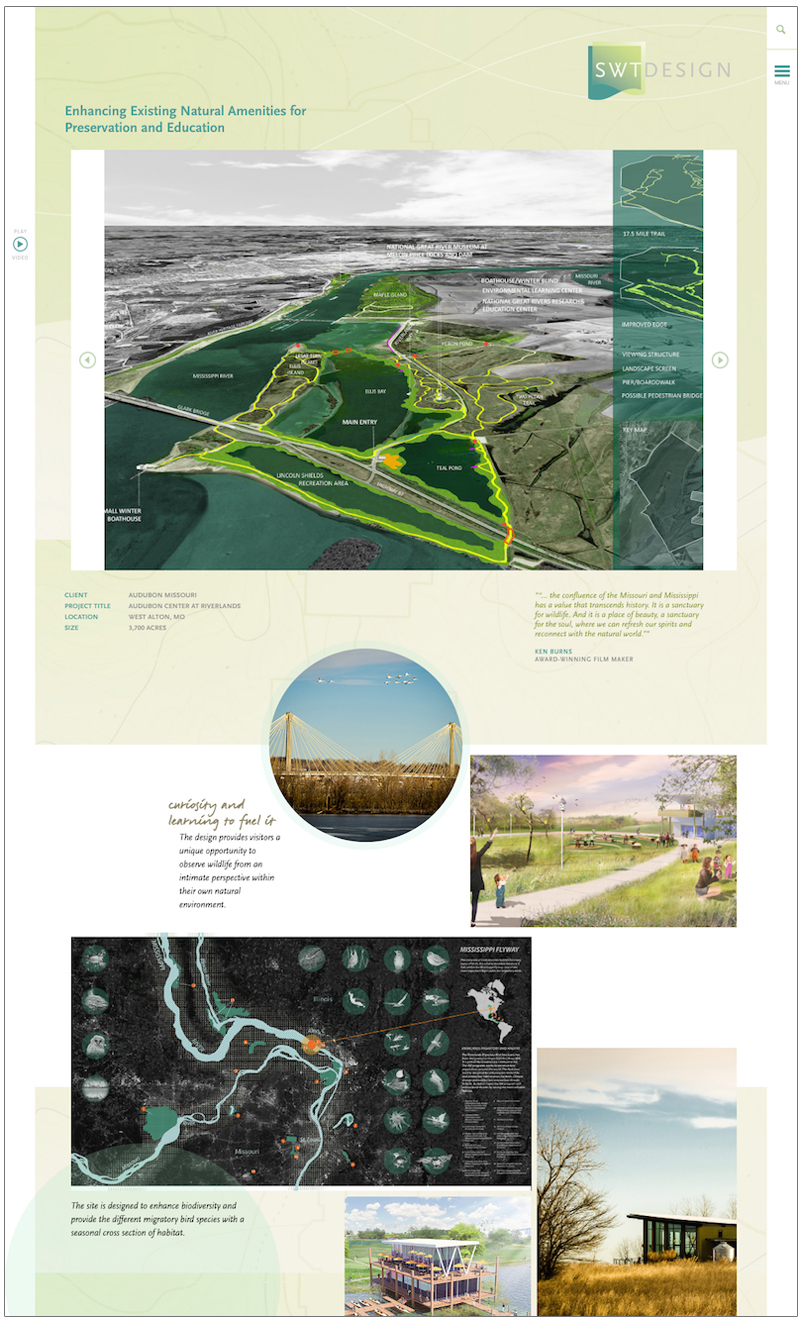 Invest in high-quality images. Don't forget the people.
A picture is worth a thousand words, especially in the architecture world — but a poorly lit or composed photo can do more damage than good. We encourage clients to invest in quality photography and use these images as a way to humanize the space. A beautiful architectural shot has its place, but an image of the same space filled with students, teachers, or whoever the end user may be adds emotion and impact.
Example: Wight & Company's Forest Elementary School & Early Learning Center Project Page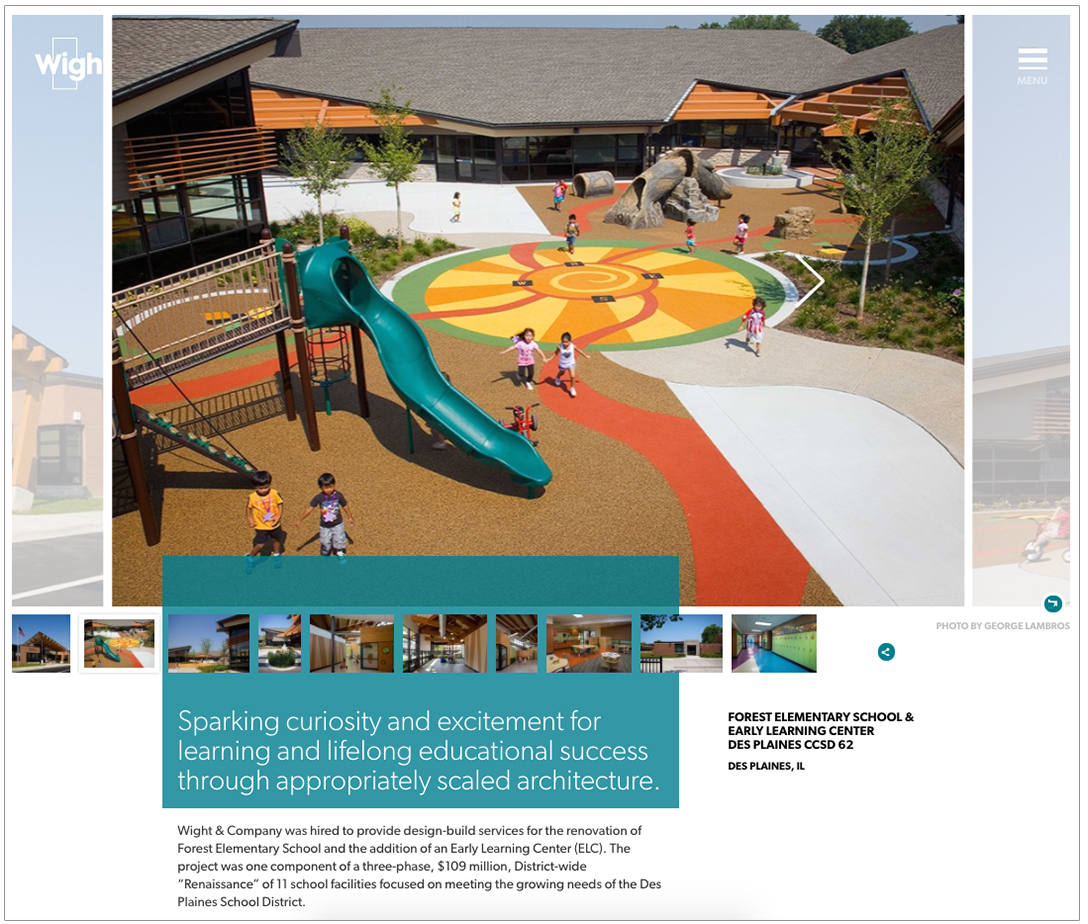 Incorporate short and sweet client quotes.
Testimonials are powerful. Words from a client can provide outside perspective on the quality of your work, as well as an opportunity to break up blocks of text with short, impactful messages.
Example: HOK's Clemson University Allen N. Reeves Football Operations Complex Project Page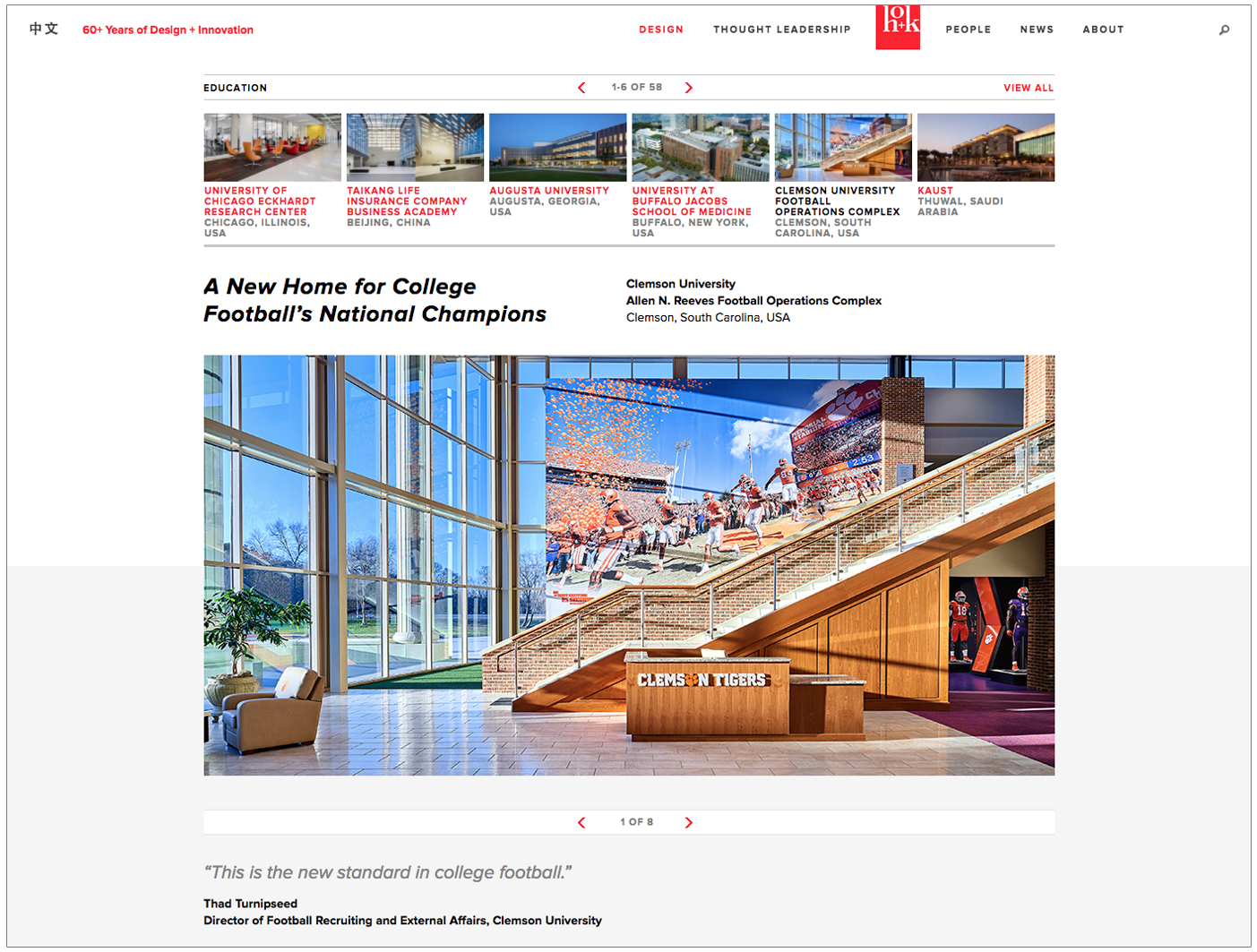 Add a few skimmable stats.
Aesthetics are important, but most prospective clients will also be looking for evidence of return on investment. If you can show that your design has saved a client $10 million in energy costs or added 1,200 new jobs to the community, those stats are worthy of prominent project page placement. Plus, the brevity of quantitative data adds another skimmable visual element to the page.
Example: Fentress Architects' Denver International Airport Project Page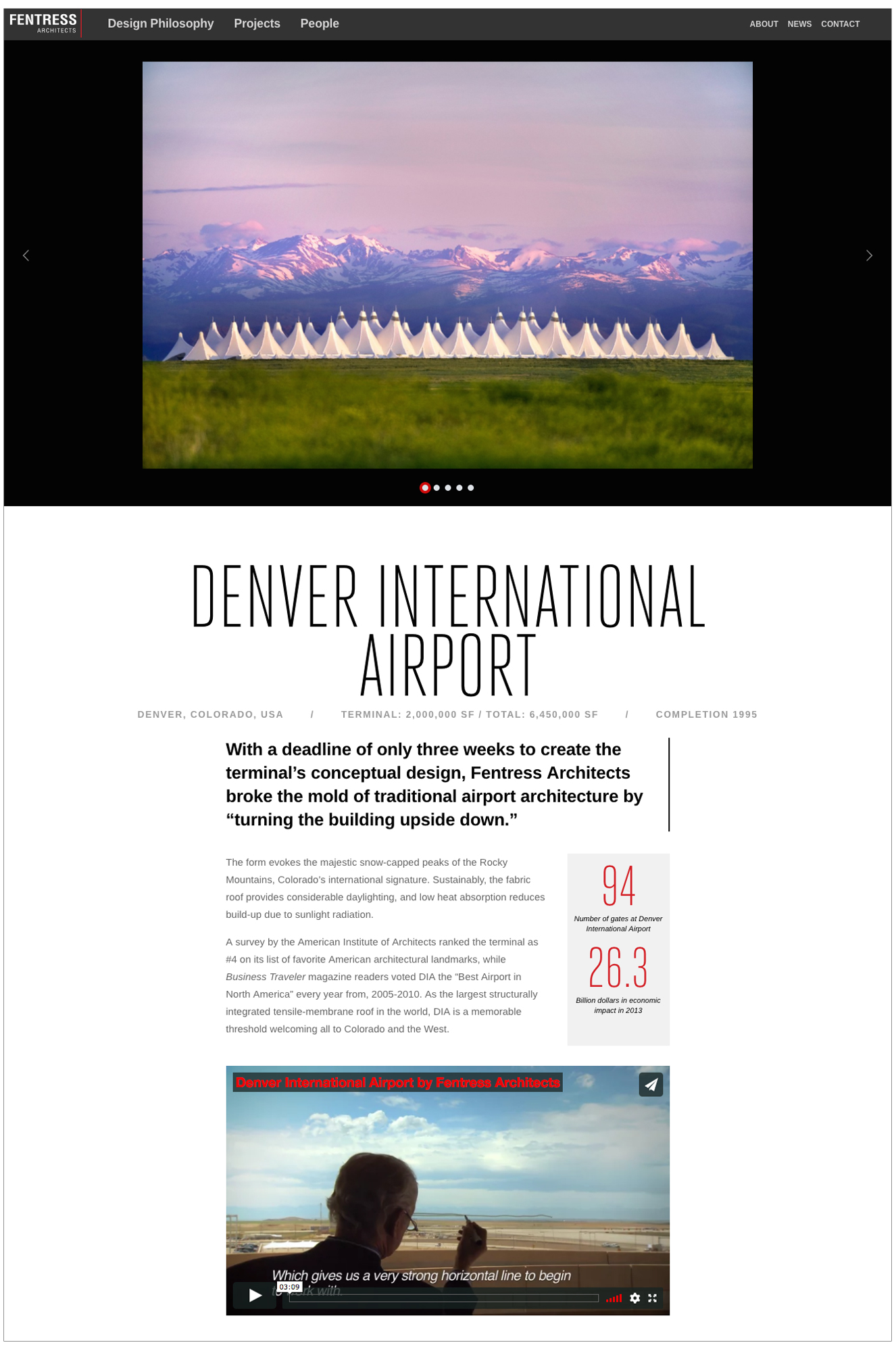 Show the process behind the work.
The final product — a finished, inhabited space — is important, but there's also value in the process that got you there. In many ways, it's that process that makes your firm unique. Consider using your project pages to offer prospective clients a peek behind the curtain, showing them what it's like to work with your team and how you get from point A to point B.
Example: KSS Architects' The Library Service Center Project Page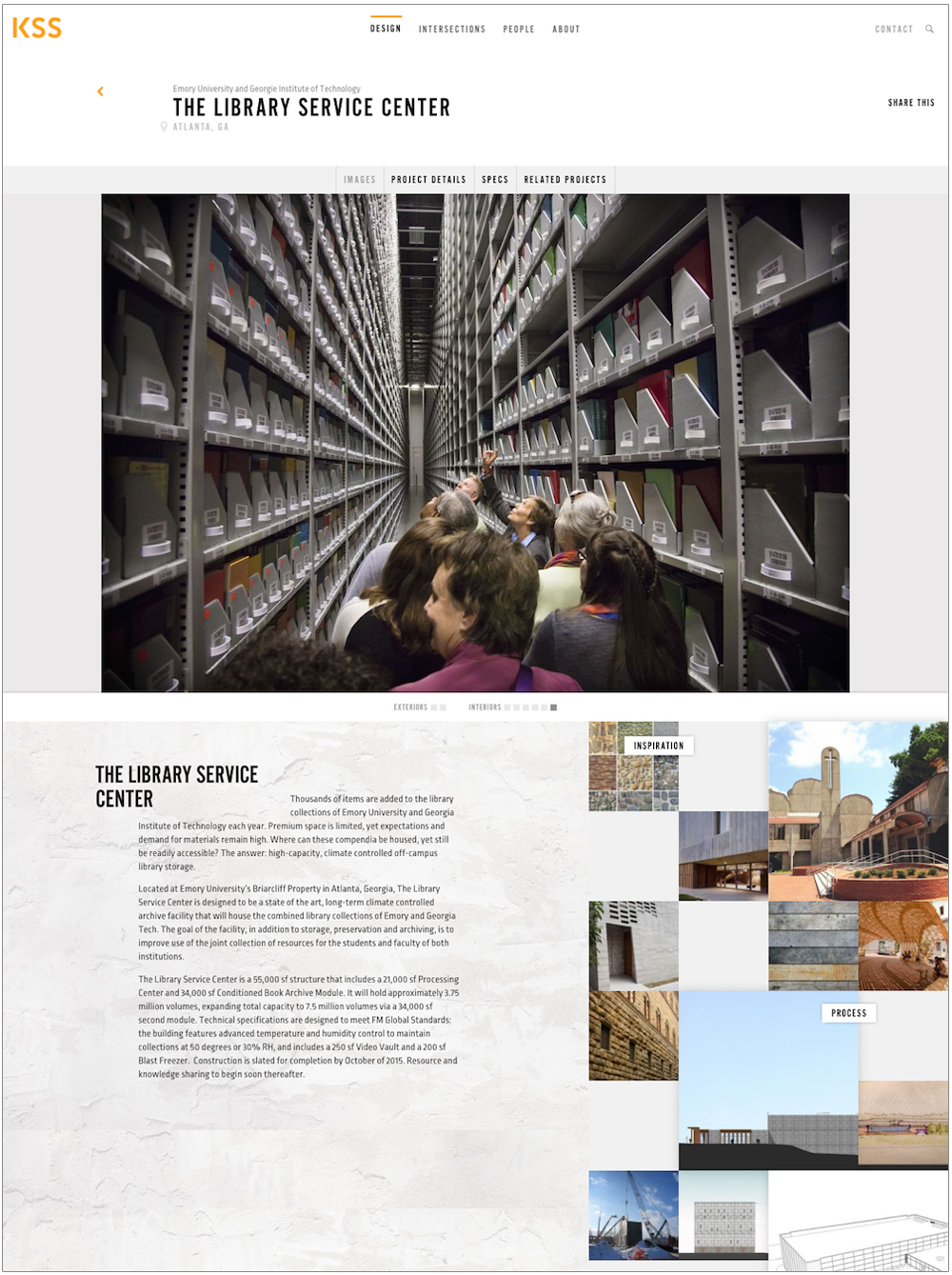 Link to quality related content.
Once a visitor has scanned one project page, you want to convince them to continue exploring. One way to do this is to provide links to related content — projects, articles, and other pages relevant to the project they've just viewed. Depending on how large your site is, you can opt to do this manually (hand-selecting which projects are deemed "related") or pull in related content using tags.
Example: PGAL NAVFAC Southwest Quality of Life Bachelor Enlisted Quarters (BEQ) and Dining Facility – Package 4 Project Page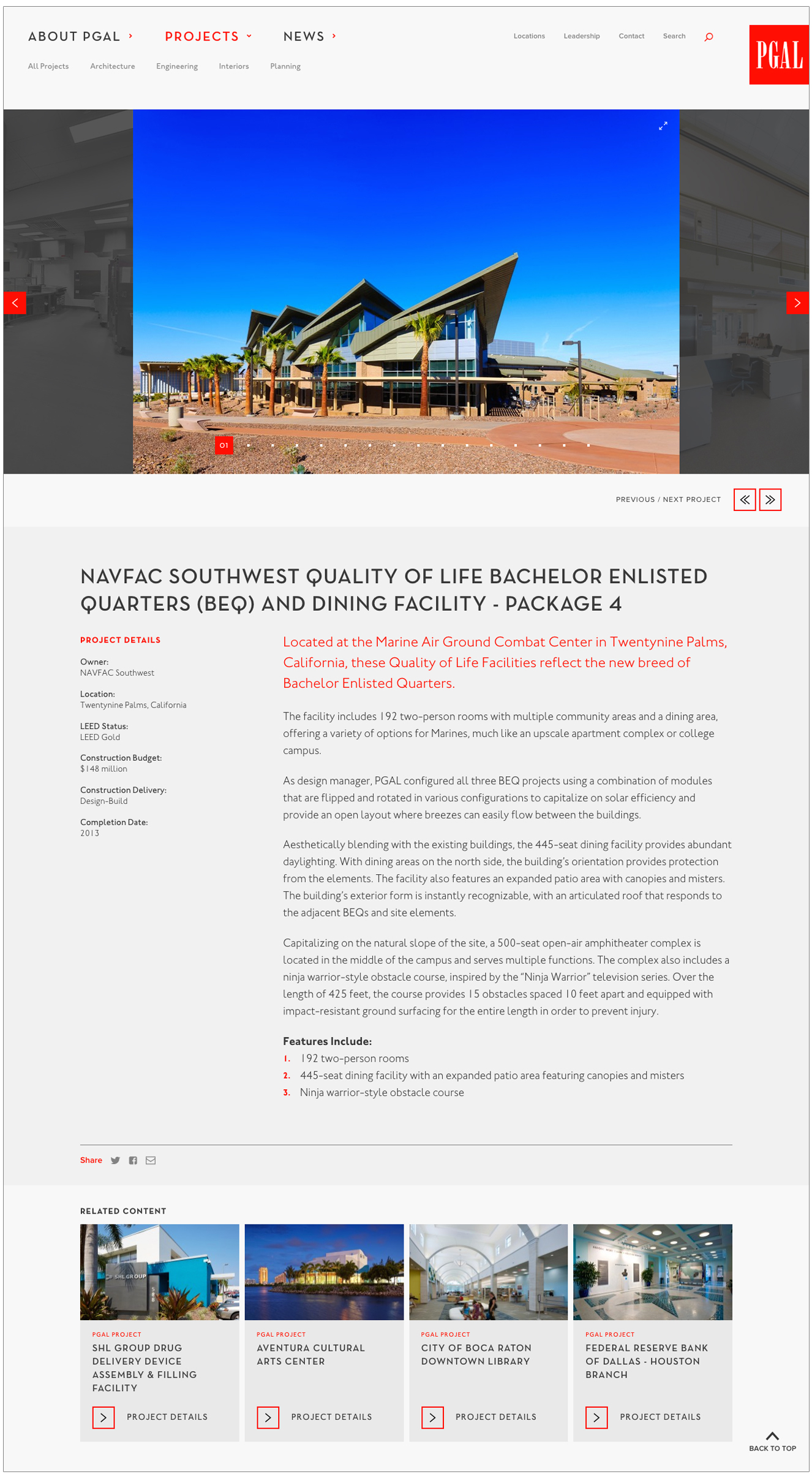 —
For architecture firms, the project page is your chance to share your best work with the world. Every decision — from design to copywriting to photography — is an opportunity to engage prospective clients and show what you do best.