10 Things I Learned at Typographics NYC

A few weeks ago, I had the pleasure and privilege of attending Typographics NYC, "a conference for people who use type."
Once I finally arrived in New York (the story of my hectic adventure is its own odyssey entirely, see #1 below), I had a fantastic time. The speakers were inspiring, the conference-goers were kind and positive, and the swag bags were killer. It's an impossible challenge to distill the immense amount of knowledge and inspiration I absorbed at the conference, but for now, these "10 things I learned" will just have to do.
10. Nothing says "Passion" like Helvetica. (jk)
The vast image library of Marlene McCarty's handmade "Resist Typography"
One of the most inspiring, and certainly the most empowering lectures of the conference was given by American artist and NYU faculty member Marlene McCarty. She shared images of handmade riot signs from the last few years. From Ferguson protests to the Women's March on Washington, McCarty stressed the power, passion, and intimacy of signs made by hand — not simply drawn with marker on poster board — but stitched, sewn, painted, cut, and pasted.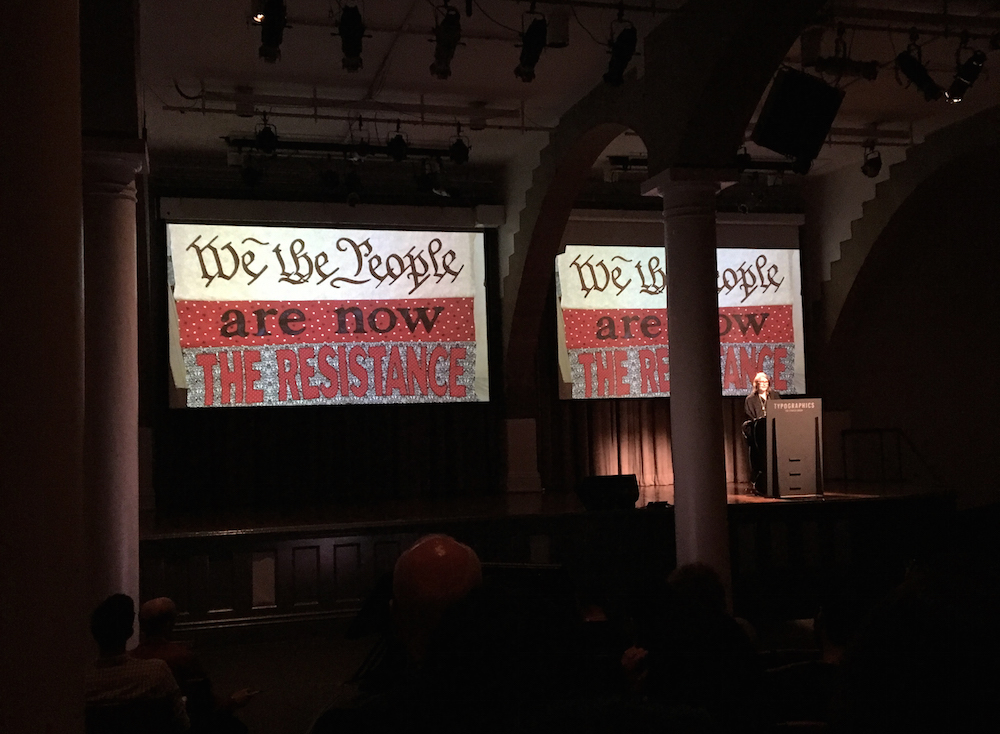 In contrast to the the DIY signs, she showed an image of a satirical poster she made with her daughter that was neatly typeset with script and serif. It seemed so sterile compared to the hand-rendered posters that flooded the streets of the DC Women's March, proving that there's real power in harnessing the handmade.
9. When in Rome: Not just Roman.
Lara Captan on Arabic typography (recently featured on AIGA's Eye on Design)
Talk about getting outside of my Western type bubble! One of the Saturday afternoon speakers, Lara Captan, spoke about her journey to create the first intensive Arabic type design program — ATDB (Arabic Type Design – Beirut). Born in Lebanon, raised in Saudi Arabia, and currently based in Amsterdam, Captan further blew my mind with her quest to create contemporary typefaces that "respect the essential characteristics of the Arabic script." She spoke of the immense struggle of designing Arabic type, including countless ligatures, complex diacritics, and multiple translations of a single letter. For example, the Arabic letter mīm (meem) can be written four different ways depending on its position within the word.

In English, a language that uses Roman characters, we do have different ways to transcribe letters (single story and double story "g"), but the form is not dependent on its location within a word. Imagine if that were the case! Would it change a word's inflection or meaning?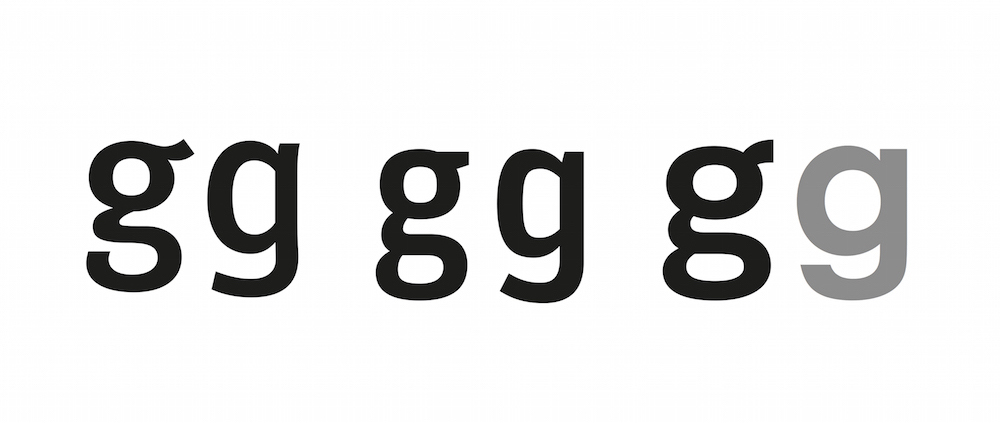 As a non-Arabic speaker, this was a revelation.
8. Handwriting (not "lettering") could experience a resurgence.
Agnieska Gasparska
"The aesthetics of all typography express layers of information and give shape to the way we perceive, interpret, and judge a piece of content. Handwriting is no exception."
Agnieska, the owner of the Brooklyn design studio Kiss Me I'm Polish, shared some of her personal history and love of handwriting. Among her slides were scans and snapshots of childhood mementos and learning-to-write exercises, written in the hand of her six-year-old self. She spoke of the intimacy of handwriting, how her father's scrawl is representative of him as a person, and how her brother's handwritten notes to her wouldn't have half as much meaning if they had been typed out and printed. I would encourage all who are reading this to check out the video of her talk — it's completely endearing. There seems to be a handwriting theme going on here…
7. Inkwell could be the new Comic Sans.
Type design powerhouse Hoefler & Co. releases a new font based on handwriting (as featured on Fast Company)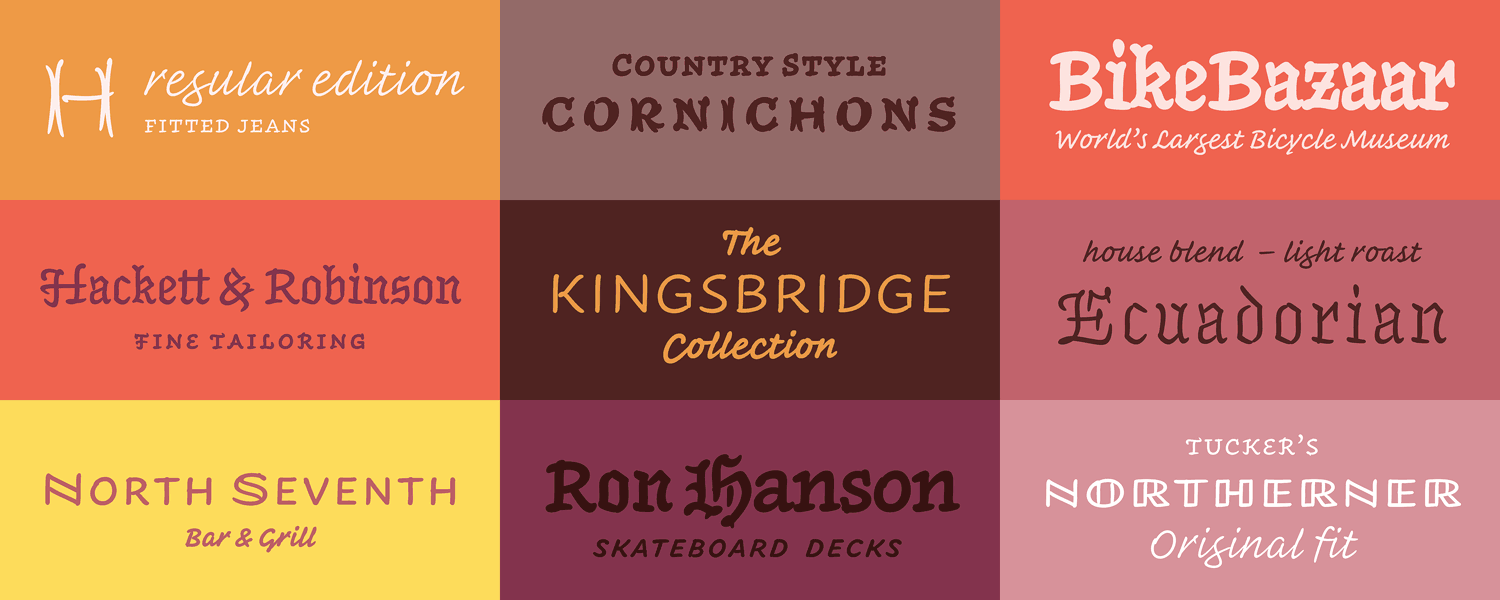 My number one takeaway: It's actually possible to create a usable, casual, handwriting-style blackletter font. That's right… more handwriting.
6. Your idle hobby could be your new business model.
Hansje van Halem's mind-numbingly beautiful letters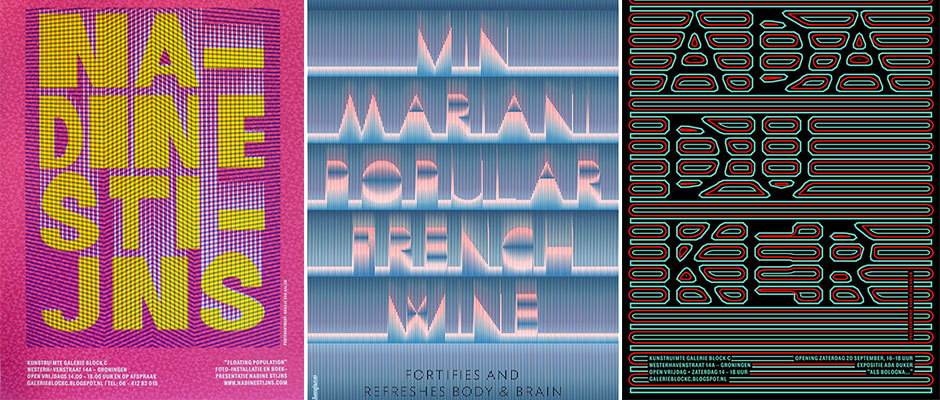 I'm almost at a loss for words here. Van Halem's intricate, refined, colorful, and painstakingly detailed work floored the audience, myself included. This Dutch designer takes detail in letterform to a whole new level. And since I'm struggling to capture the complexity of her work and design process, here's how the folks at Typographics summed it up:
"In between deadlines for book designs, she fills time gaps with type drawings and empty book space with patterns. With a 'practice makes perfect' mind-set, she taught herself not to be afraid of failure. Her time gaps soon took the upper hand and became her core business. While working on commissions from patterns for endpapers, architectural typography, and all scales in between, she creates a lot of overproduction. The talk will display a richness of design attempts that did not make the cut or ones that are waiting for the right opportunity. The benefits of 10+ years design experiments, failures and unused starting points have led to sweet revenge by up-cycling and up-scaling."
5. Does typography have a place in VR?
Who would go to VR to READ?
One of the main topics discussed on the first day of the conference was "designing within the frame." Whether designing for a magazine layout, poster, browser, or app, much of today's design is constrained within a rectangle (except for maybe the Moto 360, a smartwatch with a circular screen). In a speaker Q&A, one of the designers posed the question: "Does Typography have a place in VR? That is, does typography have to exist within the frame?" I wonder what the rules of alignment, composition, and scale will look like when you have seemingly endless virtual space. I can't imagine anyone putting on the goggles to read a book.
4. Girl power.
Ken Barber lauds a once-forgotten female
Ken Barber, letterer extraordinaire, generously shared some of his lettering and design role models from the mid-20th century. One of these designers was none other than Ruth Guzik.
You've never heard of her?
Maybe you've seen her work: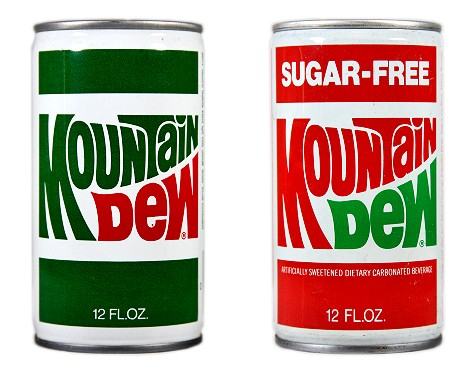 In addition to being a truly gifted lettering artist, Guzik was also an advocate for equal pay. The story goes: Guzik demanded equal pay upon threat of resignation. Her employer didn't follow through. Guzik quit. Her employer, tail between his legs, kindly asked her to return to work… with a handsome (and equal) pay raise.
3. What's in a name? Understanding.
Kris Sowersby on Untitled
As we know well here at TOKY, naming is important. Kris Sowersby, type designer and founder of Klim Type, said as much in his presentation about his new typeface, Untitled. This nondescript typeface has "nothing of ME in it," Sowersby says. Both the sans and serif versions are quite… regular! And that was precisely his intention. How does a type designer, artist, writer, or any creative person intentionally remove him or herself from their work? What challenges does that pose?
Aside from simply showcasing the typeface, Sowersby touched on the inherent meaning of a name. One of his more interesting points was the naming of paintings — an apt comparison as both typography and paintings are both carefully crafted works of art made by hand with a voice, context, and tone all their own. "Paintings," he says, "did not have names until they started to travel" to be shared amongst collections. I found myself thinking (as I did with many speakers at the conference), "I never thought of it that way!"
2. The type design community is full of smart, gifted, and kind folks.
'Nuff said.
1. When life gives you lemons, you meet a pioneering female designer who worked with Herb Lubalin and Milton Glaser in the '60s.
After getting stuck in Nashville, weathering the cancellation of my LaGuardia flight, ending up in Baltimore, and booking a last-minute train ticket from "The Greatest City in America" to NYC, I ended up sitting next to lady-legend and glass-ceiling-breaker Shirley Berman.
To elaborate:
Friday morning, the first morning of the conference, I was not seated in a Cooper Union auditorium chair, but in a window seat on the second to last train car of the #172 from Baltimore to New York. Exhausted and thoroughly strung out from the previous day's adventure, I was nodding off against the window in a dark, gray-upholstered "quiet car" gazing outside at a gray day. At Penn Station Baltimore, a small blonde woman sat down next to me. She was dressed in a bright purple shirt with large appliqué flowers at the shoulders. She wore a ring that was a bright yellow gold set with a purple cabochon stone that matched her blouse. Her appearance, and in fact her presence, was in stark contrast to the business suit gray of the train car. I complimented her ring and she whispered a quiet, "Thank you, dear."
"Do you like art and design?" she whispers in my direction. Wide-eyed, I turn to her and say, "Yes! … do you?" The woman pulls a piece of paper out of her backpack and shows me a pleasantly typeset, art-and-design-themed itinerary outlining her New York weekend getaway with her daughter-in-law. "I'm a designer, you know, so I like these sorts of things," she says. She pulls out her business card, hands it to me, and says, "I'm Shirley Berman… I like to design in the Bauhaus style. Do you like Bauhaus?" Now fully awake, I start asking this woman about her design career, much to the chagrin of my nodding-off neighbors in the quiet car. She tells me the story of how, in the 1960s, she was the first female designer for McCann Erickson in New York City. Apparently she coerced her husband, who worked in accounts at McCann, to get her an interview in the art department. At the time, it was against company policy to work at the same place as your husband, but Shirley, determined to get a job in her chosen field, told the men, "I know you like my work. You'd be a fool not to hire me." And so they did. "How's that for breakin' the glass ceiling?" she asked.
(Shirley Berman! Ruth Guzik! All the empowering and talented female speakers! What a weekend!)
She went on to talk about how she worked under Herb Lubalin and Milton Glaser. The original NBC peacock logo was one of her favorite identities ever designed. She likes lowercase e's that have diagonal crossbars. She quit her design job in New York and became a children's clothing designer. She still runs her own graphic design practice.
When the man sitting next to her daughter-in-law got up to exit the train, Shirley gets up to go sit with her companion. She places her hand on my knee and says, "Take over for me." I raise my eyebrows. "I'm slowing down," she says, "Take over for me." Taken aback, I say, "I'll do my best." She picks up her miniature backpack and itinerary, looks at me earnestly and says, "No. Don't qualify it. Do it."
"Oh, and good luck at the Cooper Union. You'll love it."