Vicia's Michael and Tara Gallina on Designing the Dining Experience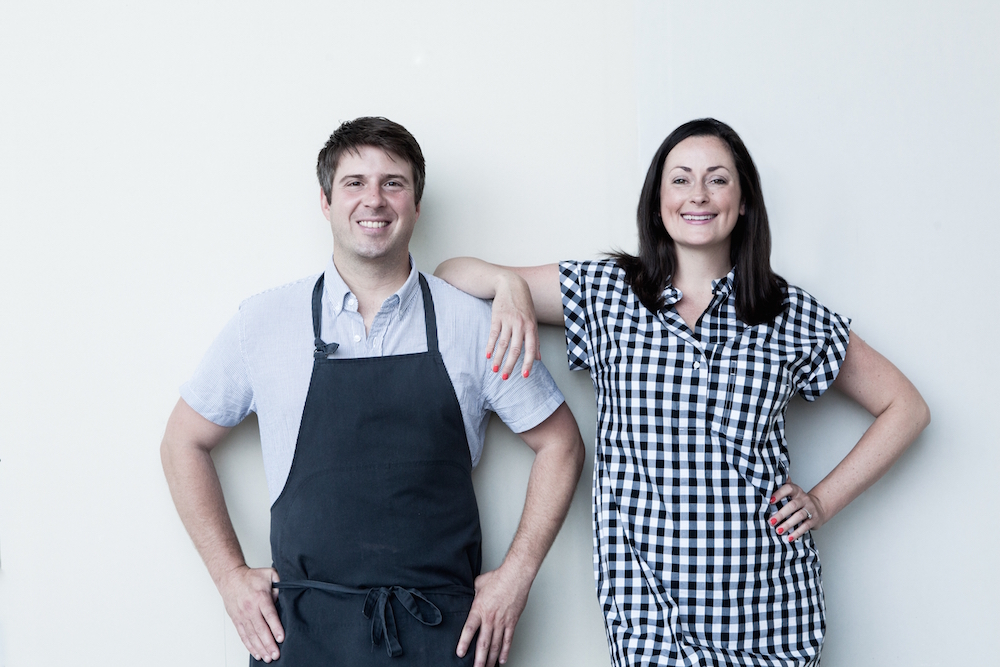 In 2016, Michael and Tara Gallina left their jobs at the legendary Blue Hill at Stone Barns in New York, packed their bags, and headed to St. Louis.
The plan? To use their restaurant and travel experience to create a vegetable-forward dining experience in Michael's hometown. Now, two months after opening the highly anticipated Vicia, Michael and Tara are settling into life as restaurant owners and St. Louisans. We sat down with the Gallinas to talk about what inspires them and how design thinking influenced their decisions along the way.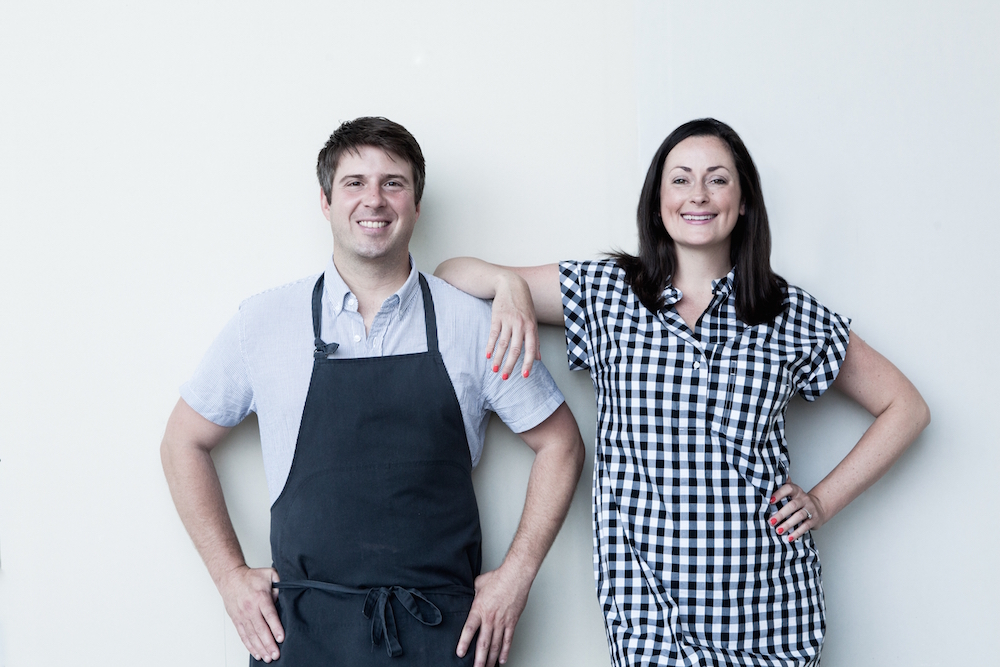 Describe the concept behind Vicia.
We wanted to take all that we learned from our time at Blue Hill at Stone Barns and other restaurants, cities, and countries and bring a taste of that here to St. Louis. We knew that we wanted something more casual than our previous post, a place where we could celebrate really good food grown with care in a setting that was both beautiful and comfortable at the same time. Being in the center of the Cortex Innovation District, it was important to us to create a lunch concept that focused on good food served fast, and then transition into a more full-service, elevated concept at dinner to attract people from all over. So far, these two are melding really well together!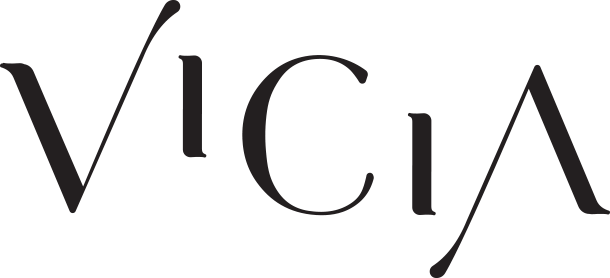 Where did the name come from?
Vicia is Latin for vetch, which is a leguminous cover crop that farmers grow, particularly here in Missouri, to restore nutrients back into the soil. To us, it represents the connection to good farming practices and how that shapes everything we do at Vicia. We work with local farmers that care about the soil and the entire full-circle process of taking care of the environment around us through growing food. We pay homage to that every day though our cuisine at Vicia.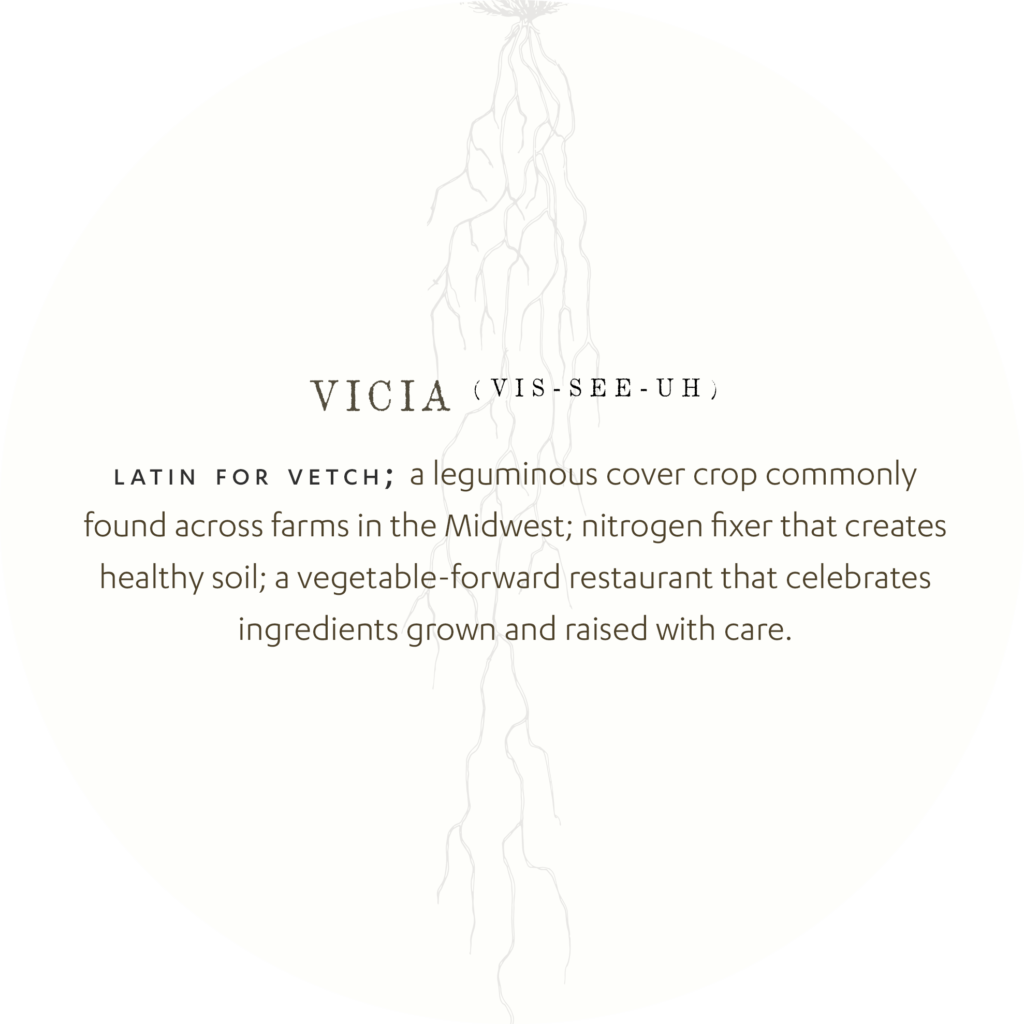 Talk a little bit about your collaboration with the TOKY team. What was the process like? The most exciting parts?
Can we just say, it's been the best, most shiny and wonderful part of the whole creative process. Getting to share your ideas, passions, fears, and dreams with someone and ask them to somehow translate that into a one-word visual representation of who you are and what you stand for is HARD. So we really had to let our guard down and let them in, which we did, and along the way it really helped us figure out who we are.
The most exciting part was the day we saw the top brand identities revealed. Behind each board we saw so much possibility and felt so relieved that our voice was really heard, that they got us, and the ideas they put forward were better than we imagined.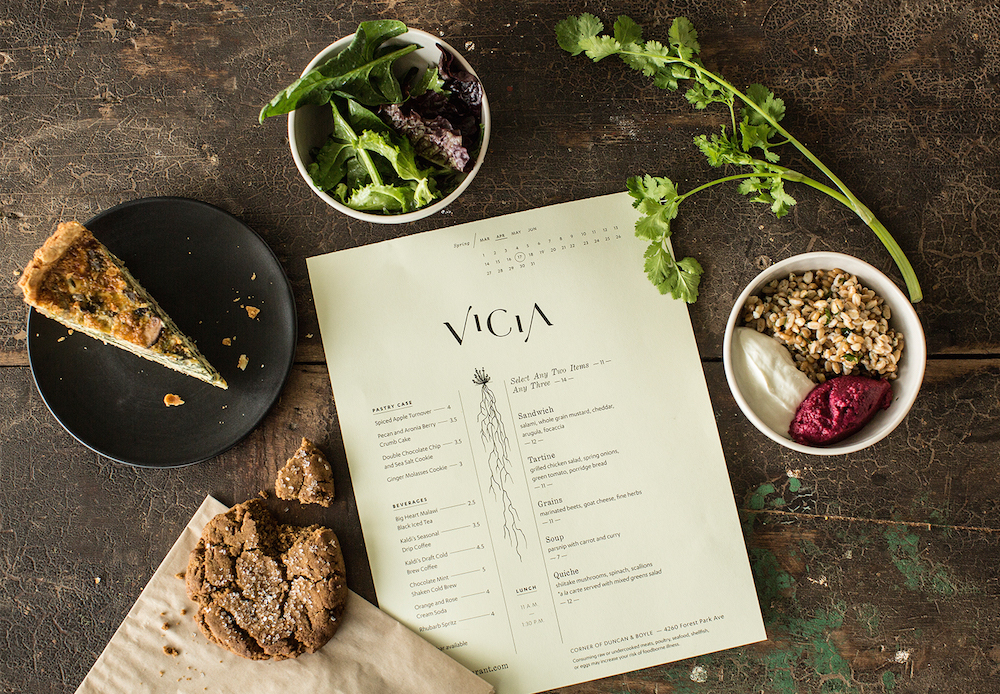 Tell us about the Vicia brand. What does the aesthetic say about who you are and what it's like to dine at the restaurant?
The brand is really all about keeping things natural with as little manipulation as possible. That clearly translates to the food, but also to the space and service. Let natural elements and textures shine. Let a relaxed but laser-focused style of service make people feel right at home and like no place else all at the same time.
When people dine with us we want them to feel connected to the farms we are working with though bursts of flavors, letting them taste vegetables, proteins, and even wines the way they are meant to be enjoyed. When these things are grown with care they taste freaking amazing. We don't have to do a whole lot but accentuate their flavors and textures with the char of our wood-burning oven and the TLC that Michael puts into each dish.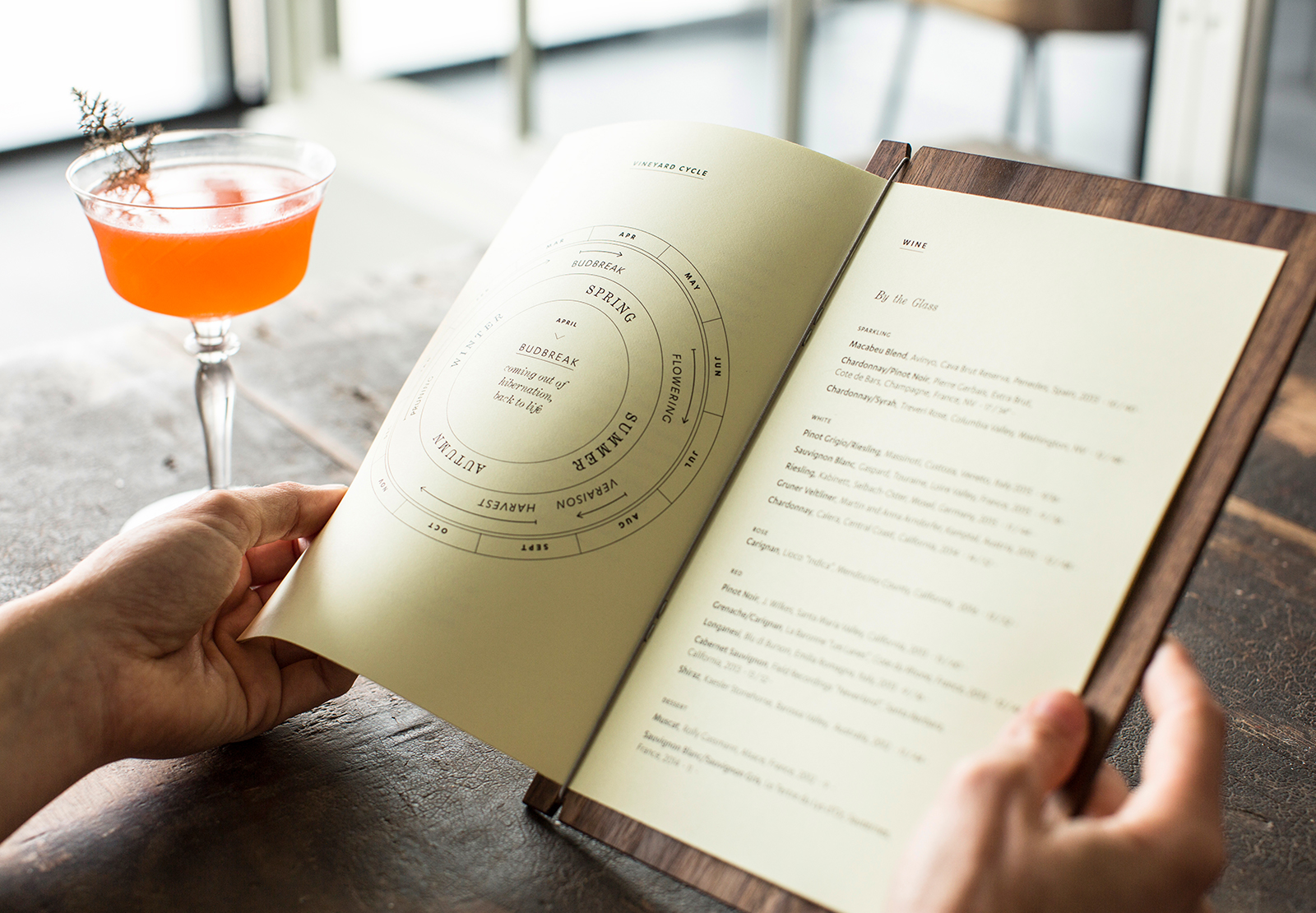 How has design thinking impacted your approach to Vicia, from the space to the food?
It is already challenging to tell the story of our food through words and actions, then telling that story without human touch, through print and visual mediums, adds another layer of complexity and you have to put a lot of faith and trust in the design. It has forced us to really think about things from a simplistic level, and not get so caught up in all the little details.
We are now thinking, "What will someone who knows nothing about us think when they see this?" "What are we communicating visually without words at all?" "How does the space, the menu, the touch and feel of the tables make people feel?" The food has to meet or exceed the expectations we are putting forth though design, so what we are saying without saying a thing is super important and has really evolved the way we think about the menu every day. The design of both our creative and the space itself grew very organically over the year we took to create it, and each day the experience at the restaurant now does the same.
"The design of both our creative and the space itself grew very organically over the year we took to create it, and each day the experience at the restaurant now does the same."
You are both really active on Instagram. Who do you follow there for inspiration, food and otherwise?
Tara: For me, now more than ever, I am so excited to see what my friends are doing, because I miss them and work too much now. But to be truly inspired, for design and all things pastry I am drawn to anything and everything happening at @tartinemanufactory. The ever-changing floral creations from the floral designer for Gramercy Tavern in New York, @rgbflowers, inspires my dreams and hopes for our farm table displays. And what @reneredzepinoma is creating down in Tulum, Mexico are beautiful, boundary-pushing, and lust-worthy food and experiences that I fantasize about experiencing myself one day.

Michael: As far as chefs go, I am always pushed and inspired by @chefdanbarber and the limits he continues to test at Blue Hill. Someone I don't know but am continually inspired by is @chefjeremyfox of Rustic Canyon in Santa Monica, California. He has a similar passion for vegetables as I do, and seeing his dishes on Instagram always sparks a new thought and idea in my mind.
I also really closely follow the farmers that we work with here in Missouri. These days, the farmers are really doing a great job of sharing what they are doing on Instagram and it's an even better version of a product list. I see things I'm excited about and text them right away that they better harvest some for Vicia! @earthdancefarms, @winslowsfarm, and @bohlenfarms are some of my favorites.

If you could sit down for a meal (just enjoying, not cooking) with three people, dead or alive, who would they be?
Michael's grandfather, Tom Widmar, Julia Child, and Chef Francis Mallmann.
The next couple months are going to be crazy for you guys. If, in some parallel universe, you got a whole day off, how would you spend it?
With our dogs, Abby and Louie, laying in a park or beautiful spot in nature, with a picnic of charcuterie, really good wine, really good bread, and the thought of having nowhere to be at all.
https://www.instagram.com/p/BUYFQknBAKl/?taken-by=funfearlessfoodie
—
Learn more about Vicia and explore the ever-changing menu at viciarestaurant.com, or take a closer look at the brand over on our portfolio page.