Convincing Your Boss to Invest in Content

If you're reading this post, you've probably seen what great content can do for a brand. From boosting visibility in search to motivating readers to take a specific action, content is an invaluable resource to have in your marketing toolbox.
Without the support of your leadership team, though, it can be tough to get your content plan moving. We hear from brand marketers all the time that, while they are raring to go on content, their leadership teams are less enthusiastic about the approach. To convince your own boss to invest in content, follow this step-by-step plan, which starts with thorough research, leads to a well thought-out pitch, and ends with a strategic ask. These steps will help you prepare a persuasive presentation on why content is a worthy investment for your brand.
1. Know Your Team
The first thing you'll want to do is figure out who, exactly, you need the go-ahead from. Maybe it's your CEO, a handful principals, your board of directors, or a marketing committee. Whoever it may be, think through the following.
Who will have your back? Who won't?
Is there one person in the room who will likely be your champion? Schedule a conversation with this individual beforehand and share your plan, giving them the tools to be your advocate when it comes time to present to the full leadership team.
On the other hand, there's a chance you'll have a holdout in the room, too. Figure out who the naysayer is likely to be, whether they're resistant to digital thinking or they just keep a tight hold on hours and budget. Do yourself a favor and think through their possible reasons for saying no. The more you can predict, the stronger the argument you can build against those hesitations.
What are their priorities?
Your content strategy should be based on your entire team's goals, not just your own. Take the time to think about each leader's priorities and motivations so you can incorporate these ideas into your pitch.
How do they want the business to grow in the next five to ten years? Do they want to position your brand as a leader in a specific capability? Is there a dream client they want to land? Figure out what these aspirations are for each individual you're presenting to and find a way to incorporate those goals into your presentation.
Also consider the people in the room from other departments. Maybe Steve from HR wants to recruit more Millennials. Or Sandy from engineering wants to promote her department's new capabilities. Whatever it may be, think about how you can position content to suit their goals, too.
It may even be worth your time to consider what these team members enjoy outside of the office. Do she love to hike? Is he Harley Davidson's biggest fan? As you start to collect samples of content from the wild, it can be helpful to know the types of brands that will resonate with your decision makers.
What's their knowledge of content marketing?
Before you launch into your pitch, you'll need to educate the team on what content marketing actually is. Take the time to figure out what they know — and what they don't know. This will help you get the agenda just right so you're not overeducating or assuming they know more than they actually do.
Start collecting relevant examples.
Definition is one thing, but examples will really drive the concept home. Weeks or months out before your pitch, start bookmarking examples that will resonate with your team, both from within your industry and beyond. When it comes time to actually build your presentation, you'll thank yourself for doing the research beforehand.
Figure out what success looks like to them.
Success means different things to different people. Start to think about the kinds of results your leadership team will want to see from an initiative like this. Some may be set on getting more eyeballs on your website. Others may be discouraged that your site doesn't come up for certain Google search terms. Or, maybe they want a reputation as the go-to thought leader in a specific market or service.
Which competitors matter?
We all have a competitive side, so showing your leadership team what certain competitors are doing can help sway them into action. Think about the firms they admire. The shop down the street they always want to one-up. The company you've lost projects to. Again, start gathering screenshots of these examples so you have plenty to choose from when it comes time to sit down and build your pitch.
2. Build Your Pitch
After a thorough recon phase, you should have a pile of knowledge and examples at the ready. Now it's time to build your pitch, making sure to check the following boxes along the way.
Educate them.
You've done the research about what your team already knows. Using that insight, you can build a brief (the key word here being brief) lesson plan on the what and why of content marketing. There are plenty of definitions out there, some better than others. Here are a few places to start:
From Content Marketing Institute:
"Content marketing is a strategic marketing approach focused on creating and distributing valuable, relevant, and consistent content to attract and retain a clearly defined audience — and, ultimately, to drive profitable customer action."
From Vertical Measures:
"Content marketing, in its most simple form, is the act of educating potential customers rather than selling to them. By doing so, your brand becomes the go-to source of information in your line of business."
Avinash Kaushik of Google:
"Content is anything that adds value to the reader's life."
This is also a good place to bring in a handful of best-in-class examples. This early on in the presentation, you might try showing a few screenshots from outside your industry — stories that appeal to those leadership team interests you identified early on in the process. A few places to start:
Show them the value.
Next, you'll want to put some numbers behind the concept. You've thought about what success looks like to different members of the leadership team, so use that insight to identify pertinent stats. Pull a handful of data points for your presentation (remember: the goal here is to inform, not bore), and be ready to explain each in layman's terms. A few examples:
Year-over-year growth in unique site traffic is 7.8x higher for content marketing leaders compared to followers (Aberdeen).
Content marketing is ranked as the single most effective SEO technique (Marketing Sherpa).
59% of marketers say inbound practices provide the highest quality leads for their sales team (Hubspot State of Inbound).
Show them what your competitors are doing.
A few slides back, you showed some fun examples from other industries. Now it's time to line up what your direct competition is doing. Gather the best examples you've collected and prepare a quick explanation of what these competitors are doing well and where there are opportunities for your brand to do it better.
Show them your goals.
It's important to reiterate that the idea here is not to produce content for the sake of producing content — it's to produce real and valuable results for your firm. Goals should be specific, measurable, attainable, relevant, and time bound. For guidance, see this post on setting SMART content goals. A few examples:
In six months, we will increase our number of average monthly site visitors by 10%.
In six months, we will increase the average number of social shares of our content by 10%.
In six months, we will earn 50 new email newsletter signups.
Show them exactly who you want to connect with.
Who exactly is your ideal reader? Take the time to show your leadership team who you want to connect with by building a few user personas. Put a name, face, and role to each of these personas so you can start to think about the questions they might ask and how your content can become their go-to resource.

Show them the types of stories you'll tell.
We've talked about goals, audiences, and examples — but what form will these stories actually take? Establish a handful "content types" so your team can start to imagine what your stories will look like. A few examples:
Show them how you'll get it done.
At this point, it all sounds great, but chances are, your leadership team will be left wondering how this is all going to get done. Take the time to spell out the who, how, and when of your plan.
First, assign roles. Select specific (and willing) members of your team to handle different phases of the process. Spell out who will be your:
Managing Editor (who oversees the whole process?)
Panel of Subject Matter Experts (who will you interview for industry insight and background?)
Content Producer (who will write and create visuals?)
Content Reviewer (who gives final approval before publishing?)
Next, map out the step-by-step process of how this will all get done. What needs to happen first? Then what? A flowchart is a great way to illustrate this process.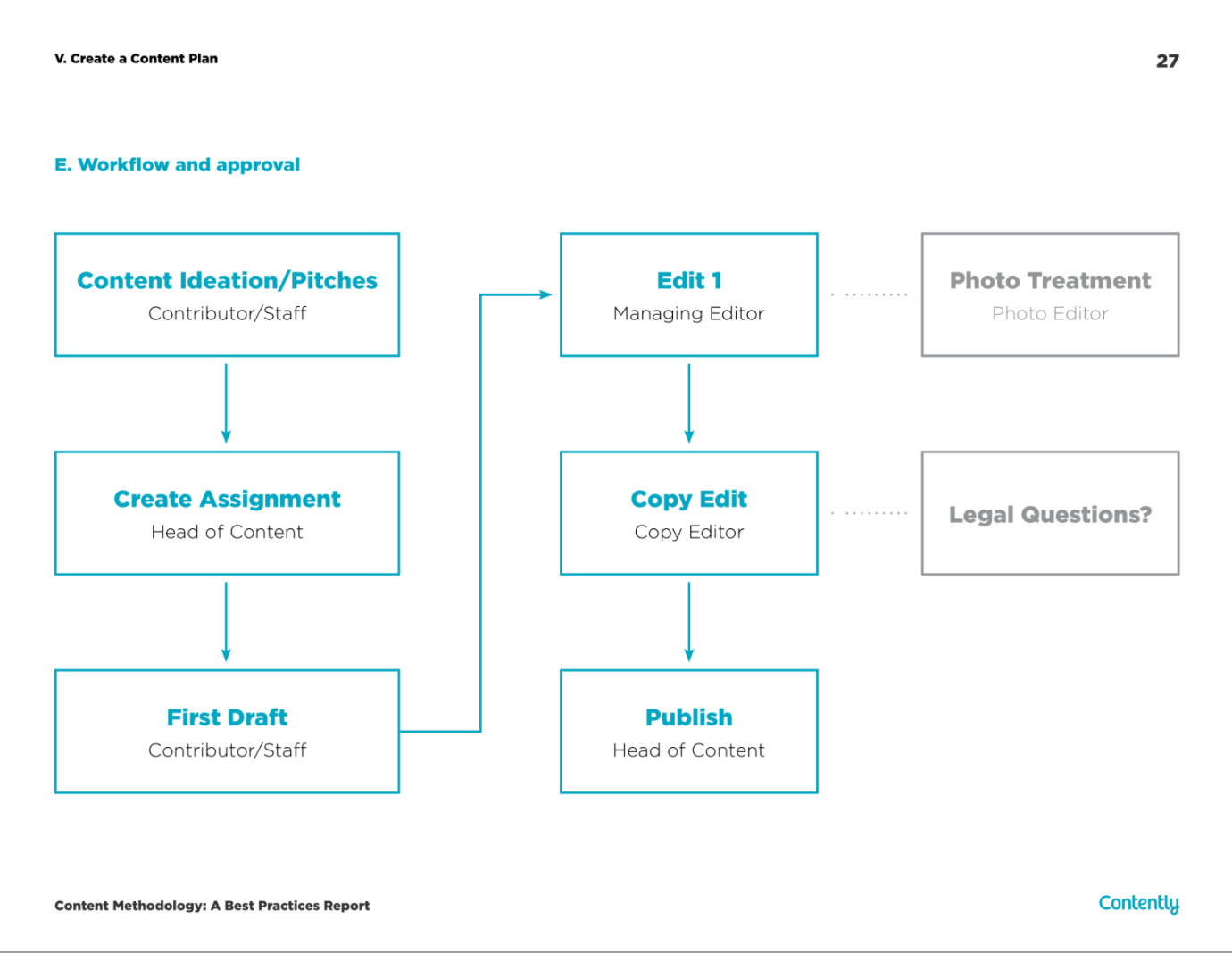 Finally, show them when this will all get done by giving every step a due date. You don't need specifics now, but show them how you will plan everything out using an editorial calendar that lays out when each piece will be published.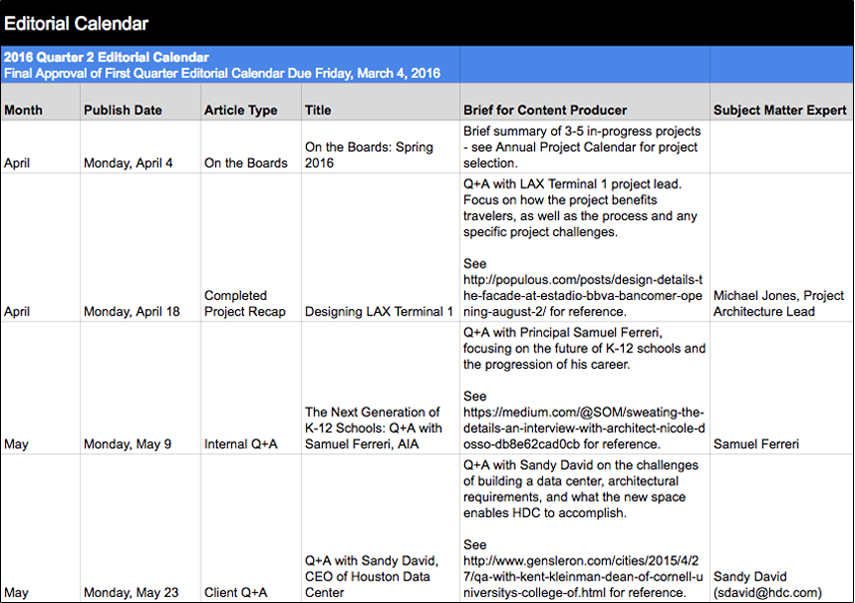 Here are some examples of helpful fields to include on an editorial calendar:
Publish date
Article type
Potential article title
Article brief
Assigned content producer
Potential research sources/subject matter experts
Potential visuals
3. Ask for What You Need
You've delivered your pitch, and now it's time to ask for what you need. It's important to be both deliberate and specific with this step of the process.
Ask for a trial run.
Forever is a big deal, but six months, not so much. Ask your leadership team for permission to run a six-month content pilot program. Rather than shifting your marketing plan entirely and forever, you're asking for the opportunity to try something out and prove your success.
Offer to make the pilot program as high-touch as needed — whether that means sending weekly progress reports via email or setting meetings at the three-month and six-month marks to evaluate progress.
List exactly what you need.
Beyond permission to hit the ground running, what exactly do you need from your leadership team to get started? This is the time to list those needs, whether they're about money, the approval process, or the ability to tap the rest of your team for help. A few examples:
Budget for blog or website updates
Estimate of hours needed from you and your team
Permission to tap others in your organization
Buy-in on process
Buy-in on role assignments
Answer their questions.
Like it or not, there will be probably some resistance when all is said and done. Think about the questions and holdups your leadership might have and prepare your rebuttals ahead of time. Below are a few common sticking points — and counter arguments.
"We can't afford it."
Statistics show using inbound tactics saves an average of 13% in overall cost per lead (Hubspot State of Inbound).
List out the specific costs for the program so you can provide the team with an actual budget requirement rather than a guess. Also highlight opportunities for savings — whether that means getting help from your internal team instead of freelancers, cutting underperforming marketing programs, or repurposing content for other uses across the organization.
"We're too busy to write blog posts."
Studies show more than a third of marketers say it only takes team members one to two hours to write a post (Hubspot State of Inbound).
Identify specific team members who have volunteered to help (use names!), then circle back to your process diagram to reiterate just how everything will get done.
"Our industry is boring. What would we even write about?"
Shift back to competitor examples to show how similar firms make content interesting. You might also want to have a list of potential blog topics at the ready to demonstrate the possibilities.
Leave them with a one-sheeter.
You might be tempted to leave your leadership team a 75-page strategy document — but don't. No one will read it. Instead, prepare a simple, one-sheet leave behind with the following information:
What are your goals?
Who is your audience?
What is your process?
What are your success metrics?
What is your plan for tracking progress?
What do you need from your leadership team to get started?
As it turns out, building a pitch for investing in content takes more than a five-minute email, but it's a process that pays off when you get the answer you want and the results your team is after.