Set the Info Free: An Intro to Knowledge Sharing

Ever sit down to write a proposal, train a new employee, or crank out a blog post, only to think, "Surely this process or information is already documented somewhere"?
"Knowledge sharing," as it's called, is the practice of capturing, synthesizing, and sharing information in an organization. The end goal is simple: to share insights, processes, and data among employees rather than letting these hard-earned resources go to waste.
Whether you're merging two organizations into one, ramping up thought leadership efforts, trying to build consistency across far-flung offices, or simply hoping to make day-to-day tasks easier, a knowledge sharing program can put all that valuable, preexisting information to good use.
As a recent report from the Society of Marketing Professionals (SMPS) notes, as we "transition from the Information Age to the Knowledge Era . . . continued training of both marketing and technical staff is vital to a firm's longevity. So while ignorance may be bliss, knowledge is indeed power."  This increasing demand for knowledge applies not only to professional services firms, but to those in education, arts and culture, healthcare, and beyond.
"Firms must strive to create a knowledge management framework in their organizations to offload critical insight and lessons learned from senior/retiring staff to benefit the next generation of firm leadership and newbies to the industry – and this must begin now, before it is too late."
Source / Society for Marketing Professional Services (SMPS) Foundation 2016 Fellows Survey
Common goals of knowledge sharing include:
Transferring knowledge and skills of senior or retiring staff to the next generation
Encouraging cross-office internal discussions
Keeping up with industry trends and news to stay competitive
Extracting valuable information from individual employees
Creating a "safe space" to ask questions and get reliable answers
Giving team members a look at what's going on outside their bubble (completed projects, new business, company news, etc.)
Building a bank of topics for external content efforts such as your blog or newsletter
Unfortunately, many organizations find themselves in a position of knowledge hoarding rather than knowledge sharing. It's tough to convince employees to take the time to share their knowledge and expertise with teammates who may need it, but technology can help. Whether you sign up for a freemium service or custom-build a platform of your own, there are plenty of solutions out there to encourage the flow of information in your organization.
Knowledge Sharing Option 1:
Slack & Other Group Messaging Apps
Here at TOKY, we use channels within the group messaging app Slack as our main method for knowledge sharing. By setting up separate channels, we can start conversations for specific teams, projects, and areas of interest. Anyone who is invited to the channel can contribute, but unlike email, there's no pressure to respond immediately. The casual nature of the app makes it easy and unintimidating to share links, files, and ideas that might not come up in a more formal setting. Slack is also searchable, which means users can hunt down links or information from conversations past.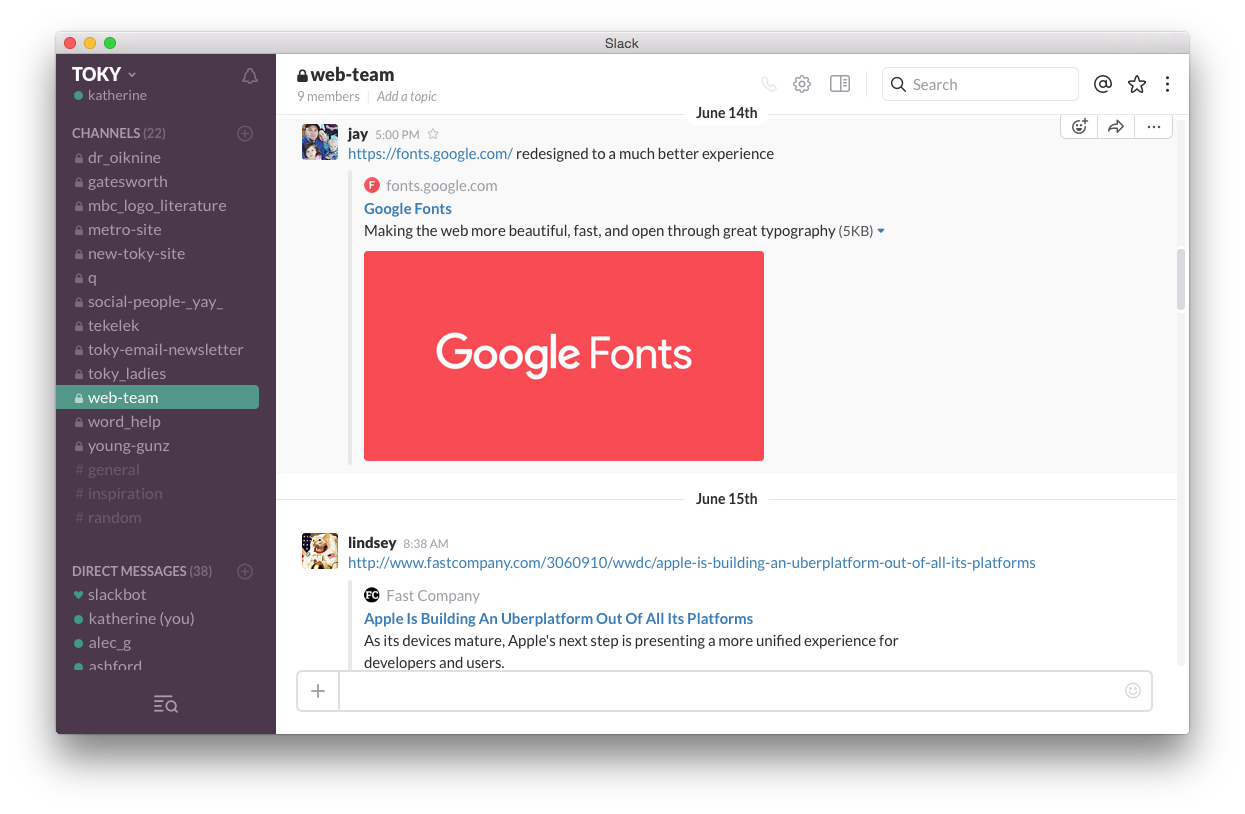 It's worth noting that Slack wasn't created specifically for this purpose and isn't perfect for important knowledge sharing functions such as storing and organizing documents. And as with any other communication platform, Slack comes with its own host of HR and legal concerns — from inappropriate postings to the need for a company-wide code of conduct.
Knowledge Sharing Option 2:
Custom Intranet
By building your own platform, you can hand-select the knowledge sharing features and functionality that make sense for your team. The Drupal-based intranet we recently designed for our long-time clients at Christner is essentially a private social network where team members can ask questions and find important information. Employees can view the latest conversations on their home feed, check the company-wide calendar of events, explore by project or topic, and add information of their own by posting a link, message, or document. It's the perfect place to quickly find relevant information for a proposal, blog post, or project.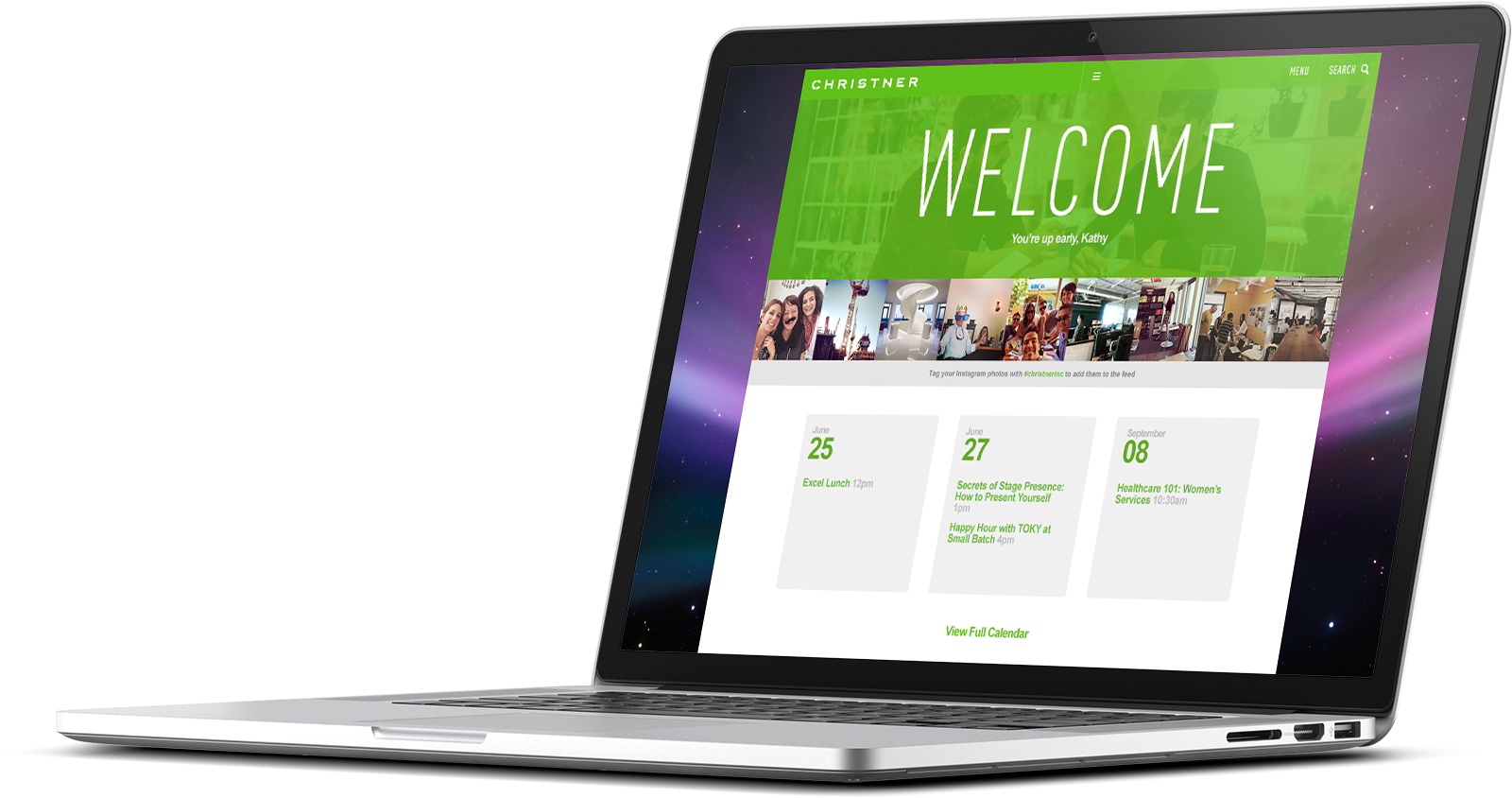 While a custom intranet can provide the exact functionality your team needs, it does present a few challenges, from the cost of design and development, to convincing employees to add one more tool to their arsenal.
Knowledge Sharing Option 3:
Industry-Specific Tools
For the architecture industry, there's another great option: Synthesis by Knowledge Architecture. It's a social intranet built on SharePoint that integrates with Deltek Vision, Newforma Project Center, and other tools common to the AEC industry. Synthesis includes employee and project directories, a social feed, document sharing, and search.
Technology can create the infrastructure for knowledge sharing, but, as McKinsey points out in a recent report on the subject, it also takes leadership and a culture of collaboration to get the team on board and in the habit of sharing information.
"The power of knowledge sharing hinges on the full and enthusiastic participation of employees who are not afraid to share their thoughts. Creating this sharing environment will be far more challenging than implementing the technology."
Source /  The Social Economy: Unlocking Value and Productivity Through Social Technologies by McKinsey
Synthesis Product Tour from Knowledge Architecture on Vimeo.
For more information on knowledge management and knowledge sharing, check out these resources: