Building Flexible Project Pages for Your Architecture Portfolio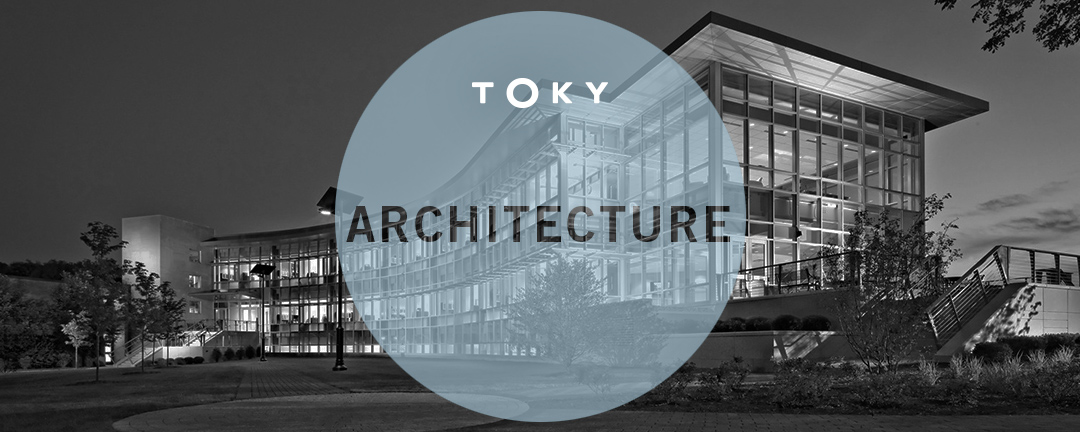 No two architecture projects are built alike — so why should all of your case studies be constrained to the same template? This is a question we've pondered for many architecture clients and one that proved especially important for Wight & Company.
The Chicago and Darien, Illinois-based firm works in a wide variety of markets — from corporate and commercial to government, higher education, and transportation. Wight also focuses on both design and construction, but not always at the same time. This cross-section of industries and services produces a diverse range of projects and, with that, a full spectrum of case study needs.
As we built out Wight's new site, the importance of flexible case studies played out not only in the design of the pages, but in the construction of the site's content management system (CMS). Using the Drupal platform, our development team created a robust CMS to give Wight's marketing team the flexibility to show all of their work, regardless of a project's complexity, assets, or lack thereof. 
Two Project Page Templates
When creating a new project page, Wight's marketing team can choose from one of two layouts. The slideshow template pictured below is meant for projects with multiple images displayed on a looping scroll at the top of the page.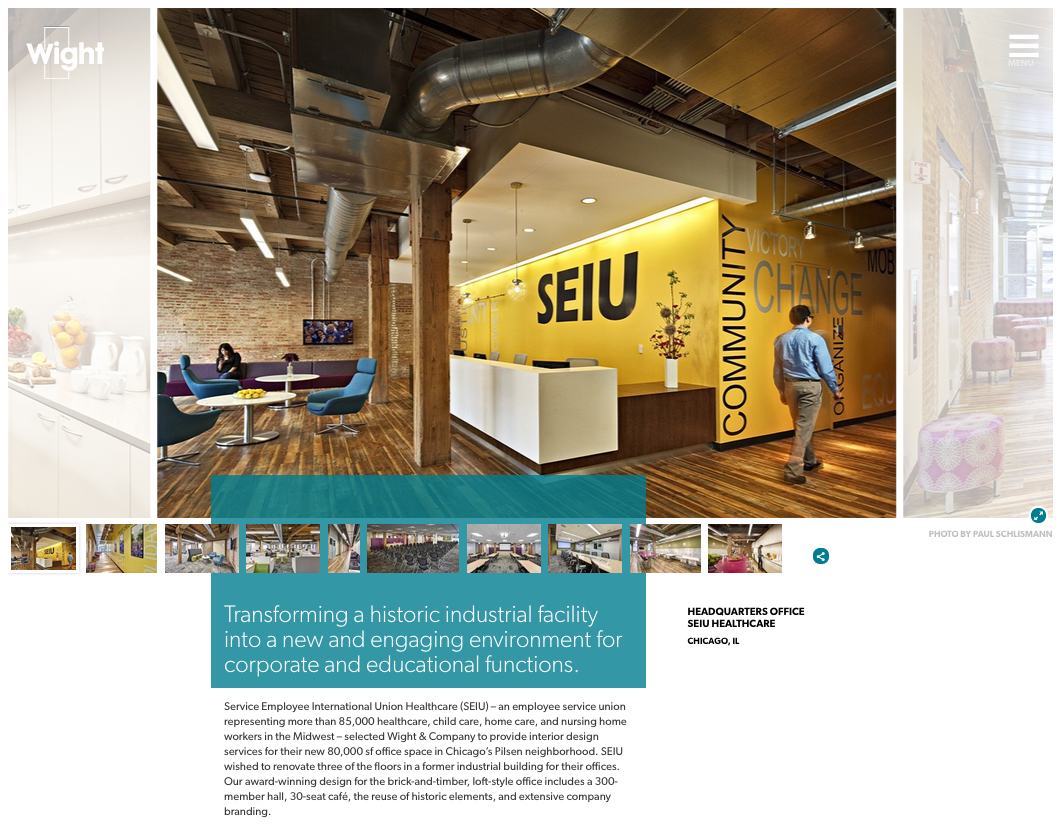 The featured image template is intended for projects that are lacking in visuals — maybe the images are low quality or the project was never photographed. To add interest to the featured image, the page author can choose to include a large headline (typically a value statement about the project), as well as a smaller inset image with a caption.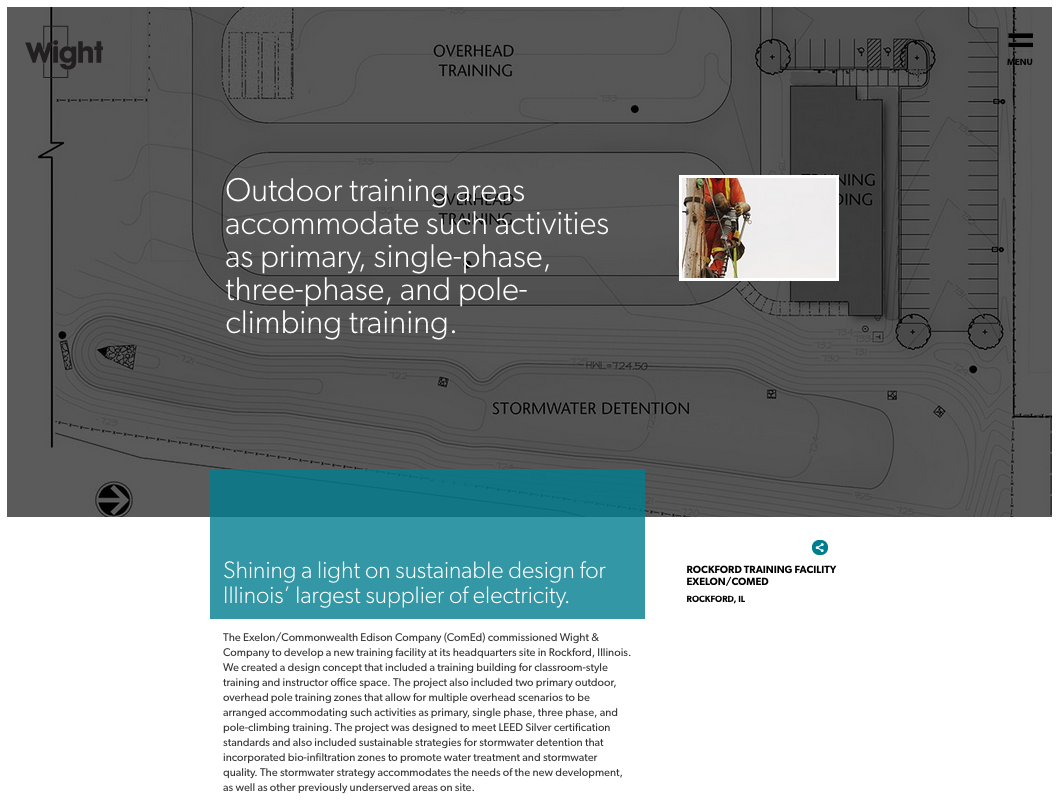 Customizable Project Page Details
Both templates are fully customizable in terms of project page content. Authors can turn features and sections on or off depending on what is important or available for that case study — from the bare minimum (image, project title, location, and headline) to extensive detail.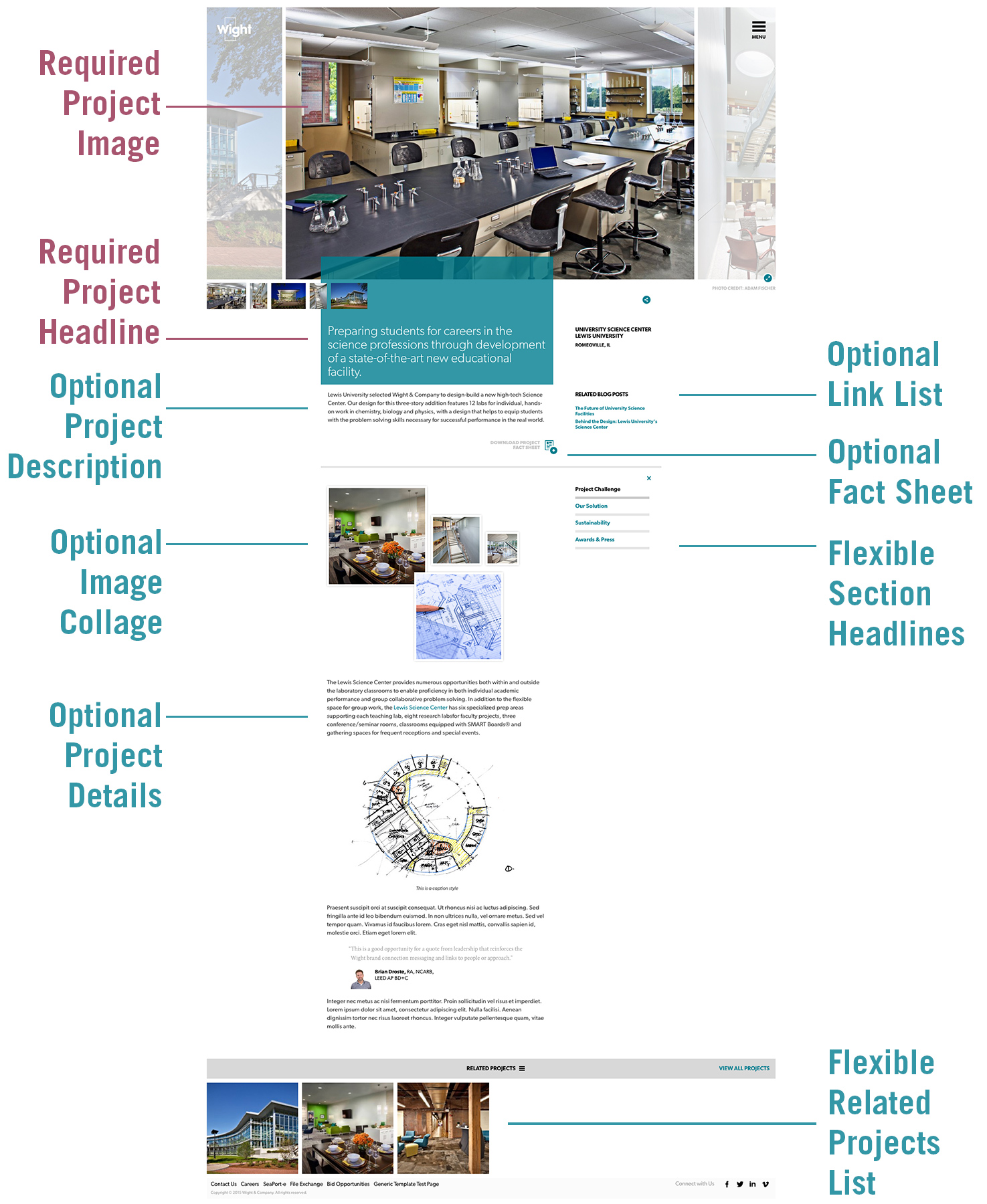 The required project headline, located within the color highlight just below the featured image, is meant to provide a value statement about the project. Just below this area, the project description (which is optional but recommended) provides a brief overview of the project's purpose and scope. The author can also choose whether or not to include a project fact sheet that potential clients can download to get a full list of project specs.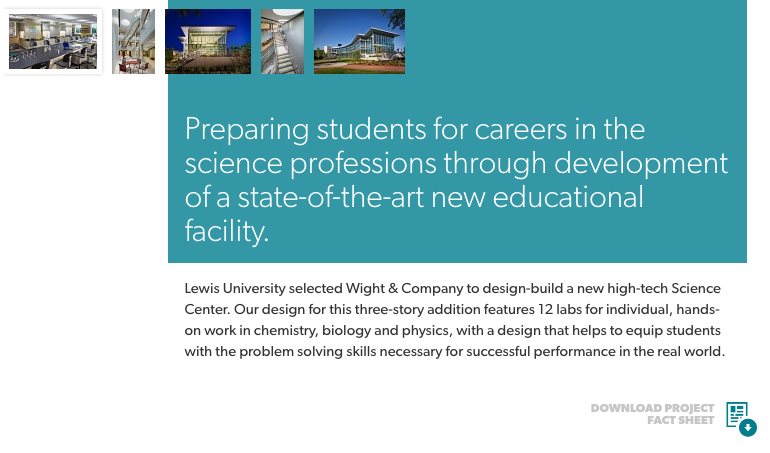 On the right-hand side of the project page there is an option to include a list of links. Authors have the ability to customize the title of this list, which means it can be used to showcase any set of URLs that are relevant to the project, for example, "Press and Awards" or "Related Blog Posts."

Below the initial project description, the author can curate a project image collage — a selection of four smaller project detail shots.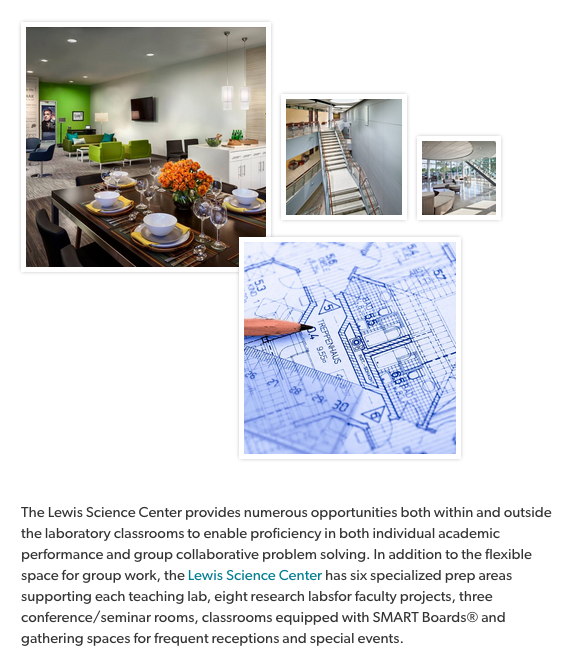 To get into extensive project detail, the author can include up to four project sections, which are content blocks that offer additional information on the project. The title of each section can be customized to fit the project — whether generic titles such as "Project Challenge" and "Our Solution," or project-specific names such as "Phase 1: Dome Restoration." If the project does not lend itself to this kind of detail, the author can simply skip this section.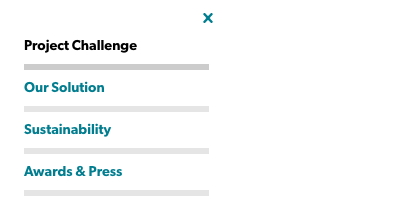 Related projects appear at the bottom of each individual project page and are automatically pulled in using project tags. If this selection needs tweaking, the page author can override auto-selections with handpicked projects.

Wight's fully customizable project pages give the firm the tools it needs to present a robust architecture portfolio, from meticulous restoration projects to engineering assessments.
Our work for Wight is now a featured case study over on drupal.org — an online community that hosts news, resources, and discussions on the popular development framework. Congrats to our clients at Wight and our hard-working development team!