The Architecture of Sacred Spaces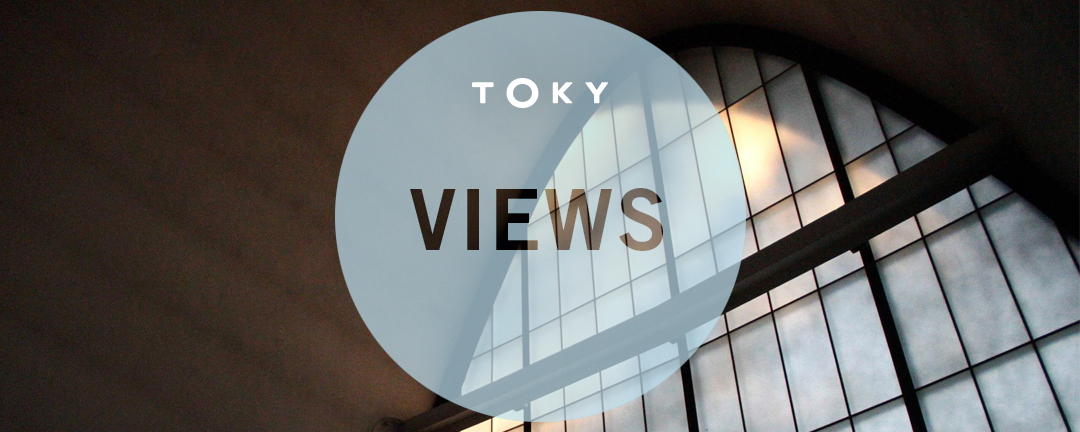 TOKY's interest in the built environment and the work of architects is longstanding. Our new interactive timeline for HOK showcases the first sixty years of that firm's design genius and innovation recognized across the globe. It was HOK's work back in the 1960s for the Benedictine monks in Saint Louis that truly announced the firm as a global design leader.
I have a long and personal history with Gyo Obata's Priory Church. This is my reflection of what makes a space sacred.
Sacred Space: Growing Up with a Masterpiece
I was just a kid the first time I saw Gyo Obata's church out on Mason Road. It was built in 1962 and I probably saw it for the first time before it was even a decade old. In a peculiar way that will make sense to other kids of the baby boom—those of us who grew up with Googie banks and George Jetson drive-ins—this church made perfect sense to me: nothing about it was shocking, certainly not the way it must have shocked my parents.
But the more I live with this masterpiece of modernism, the more about it delights and surprises me. That it grew from a peculiar meeting of Japanese-American sensibilities and the unflinching doggedness of ex-pat British resolve right here in Saint Louis is, perhaps, the only shocking thing about it.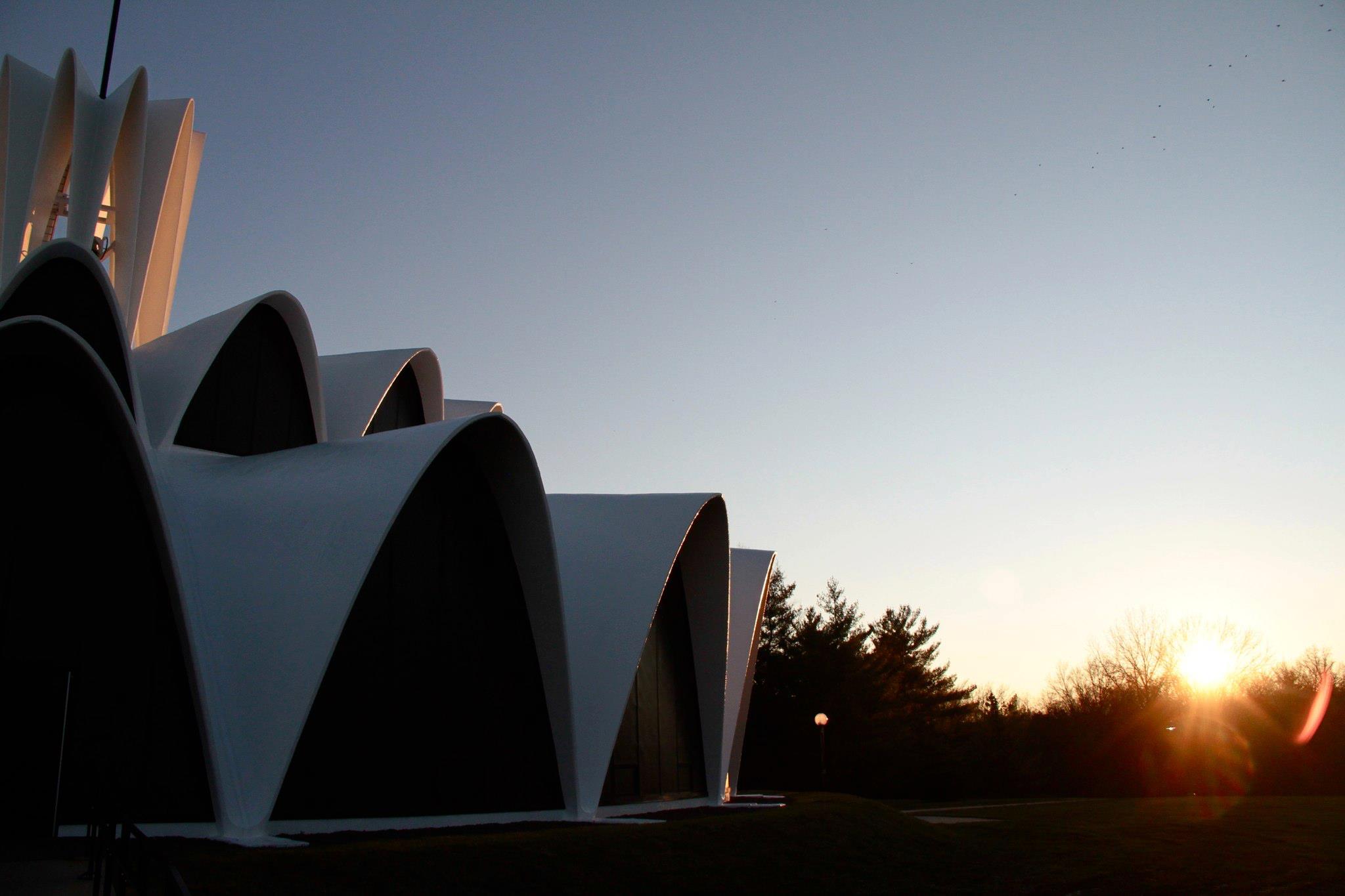 I have learned about clear movement through buildings and how important daylight is to bring a space to life. The relationship to the outdoors and nature is so important.

– Gyo Obata: Architect | Clients | Reflections, 2010
Mid-Century Monastic Modernism
Three English Benedictine monks were invited to Saint Louis in 1955 to start something new. What the lay founders who issued that invitation had wanted was a school. What they got was a monastery, complete with all the trappings of monasticism: a daily rota of prayer and work and communal life that has been an engine for a type of Western culture since the middle of the first Christian millennium.
One of the first buildings constructed was an HOK-designed monastery. It was a mid-century modern brick and glass shell with terracotta tile screens on the second floor porch. It looked like a motel. This building housed nearly everything about the Priory's life for its first several years. Anything that didn't happen in a barn or a shed or in the grand old white brick house on the property happened in this multi use building: it was a dining hall, a monastic dormitory, a chapel. It housed classrooms, art rooms, a laundry, a business office, and places for a new community to grow. That old monastery building (now demolished and replaced) did none of those things especially well, but it did them all admirably.

Lesson #1: On your way to something great, getting it half-right on the first draft might just be an OK way to start. A relationship was formed between young monks and the young architect Gyo Obata.
Fr. Luke Rigby, who was the procurator then, remembered "Unlike other architects we had interviewed, Gyo was more interested in listening to us. That made a big impression even though he'd never designed a church. The three of us all agreed—we wanted Gyo Obata." (Gyo Obata: Architects, Clients, Reflections, Birkman, 2010.)
That was a brilliant choice for both client and architect.
Monks as Clients
Sometimes, I wish I could be a fly on the wall in the early 1960s to hear the conversations between Obata and his monastic clients. I knew those monks. I have a lot of respect for them. I also know they may have been the cheapest clients on the face of the planet.
And they wanted something beautiful. But inexpensive.
In Moira Productions short film "The Church of the Saint Louis Abbey," Fr. Timothy Horner describes the monks having to teach the architect about monasticism.
"What's a choir?  What's antiphonal singing?"
But the architect learned. And it shows.

As their design changed and the idea for a circular church with tiered parabolic walls emerged, serious questions of engineering arose. How would they build this church?
The Italian architect-engineer Pier Luigi Nervi was consulted. He had just finished Rome's Olympic stadium and that city's new train station, Roma Termini — both thin-shell concrete structures. His advice, and the expertise of McCarthy Brothers contractors, allowed Obata's idea to go from paper to a hilltop on Mason Road.
What is Sacred Space?
I should probably get some ideas on the table so you know where I'm coming from. I was raised in a Catholic home, steeped in Catholic ideas about how life is sacramentalized. And by that I mean that I was raised to believe that physical manifestations of spiritual truths are part of one's religious practice.
Here's an example: summer thunderstorms and violent weather are not uncommon in the part of Southern Illinois where I grew up. So, my mother would often light candles when the weather got bad at night. We would pray for our safety and the safety of our neighbors. The pool of light around a candle on a night like that becomes sacramentalized: it becomes a sacred space. And the added benefit is that should the power go out, the Collins family was prepared with a candle already lighted.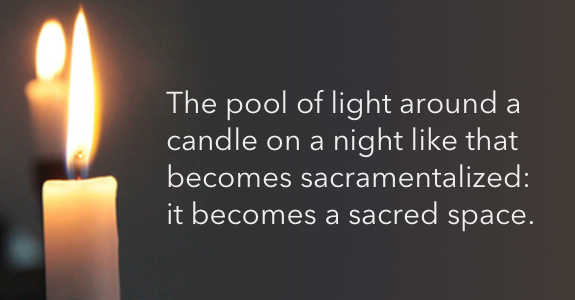 That is a simplistic example, but a powerful one, I think. It speaks to this idea that has persisted in human history that we can—however feebly, however imperfectly— demarcate space for spiritual practice. We can call a place sacred. And then we can try to prove the point by living up to what it calls from us — what we hear ourselves called to when we're inside its walls.
Don't get me wrong. I'm not saying a symphony hall or a bedroom or a bald hill or a library can't be sacred spaces. (In fact, I can make the argument for all four of those and much more!)
But we humans have always designed places and called them sacred. And we have endeavored to build them with care and with an aesthetic that speaks to our idealistic selves.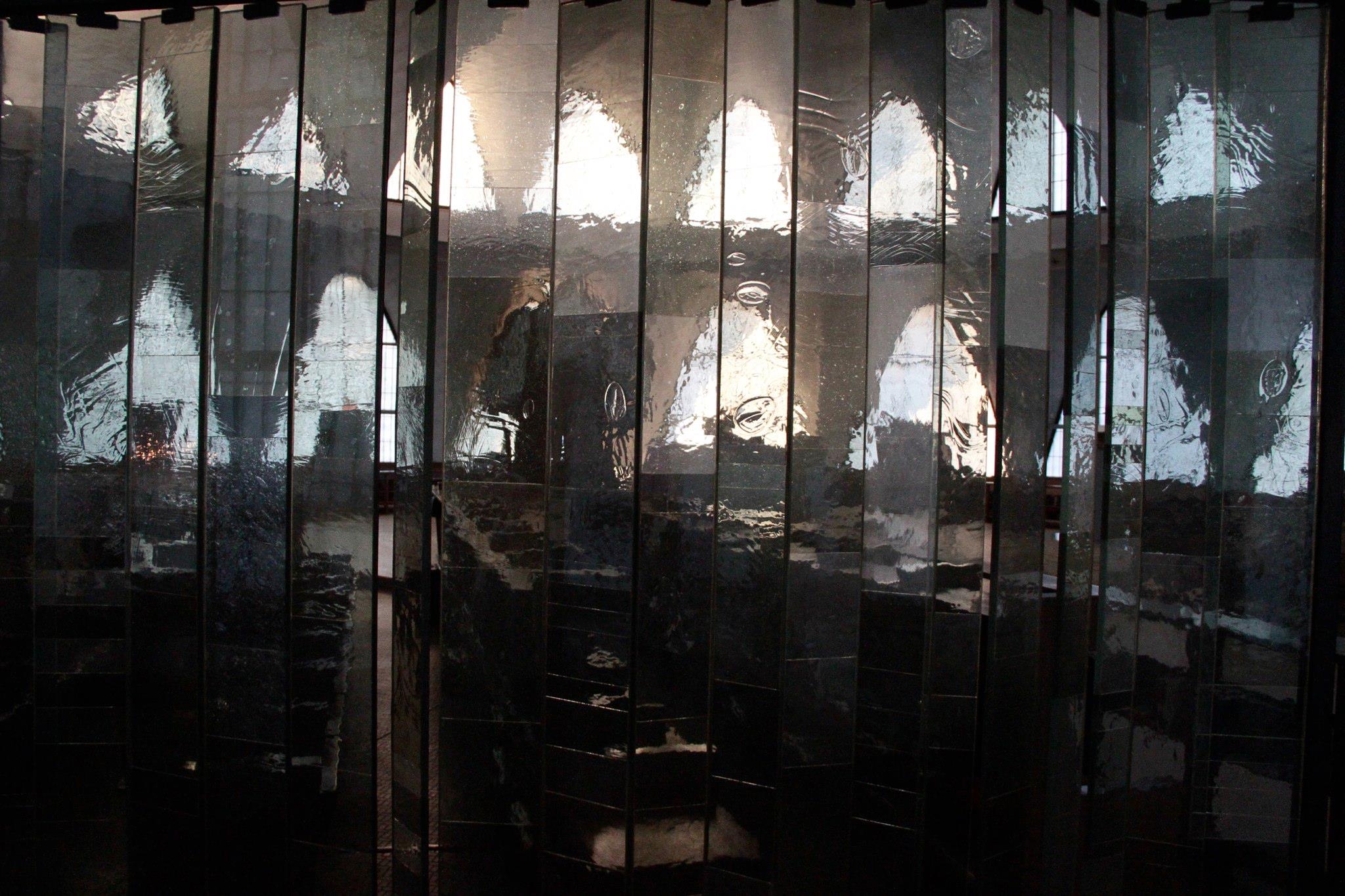 Thin Places and Shoji Screens
The problem with talking about sacred space is that it seems to insist that there must be  profane spaces, too. And that's where my aesthetic breaks ranks with the Catholicism of my youth. (I like to think I've traded majuscule Catholicism for miniscule catholicism.)
I think all space can be sacred.
The profound experience of Gyo Obata's monastic church is, in my experience, that it invites you to leave it and begin to notice all those other spaces with new eyes.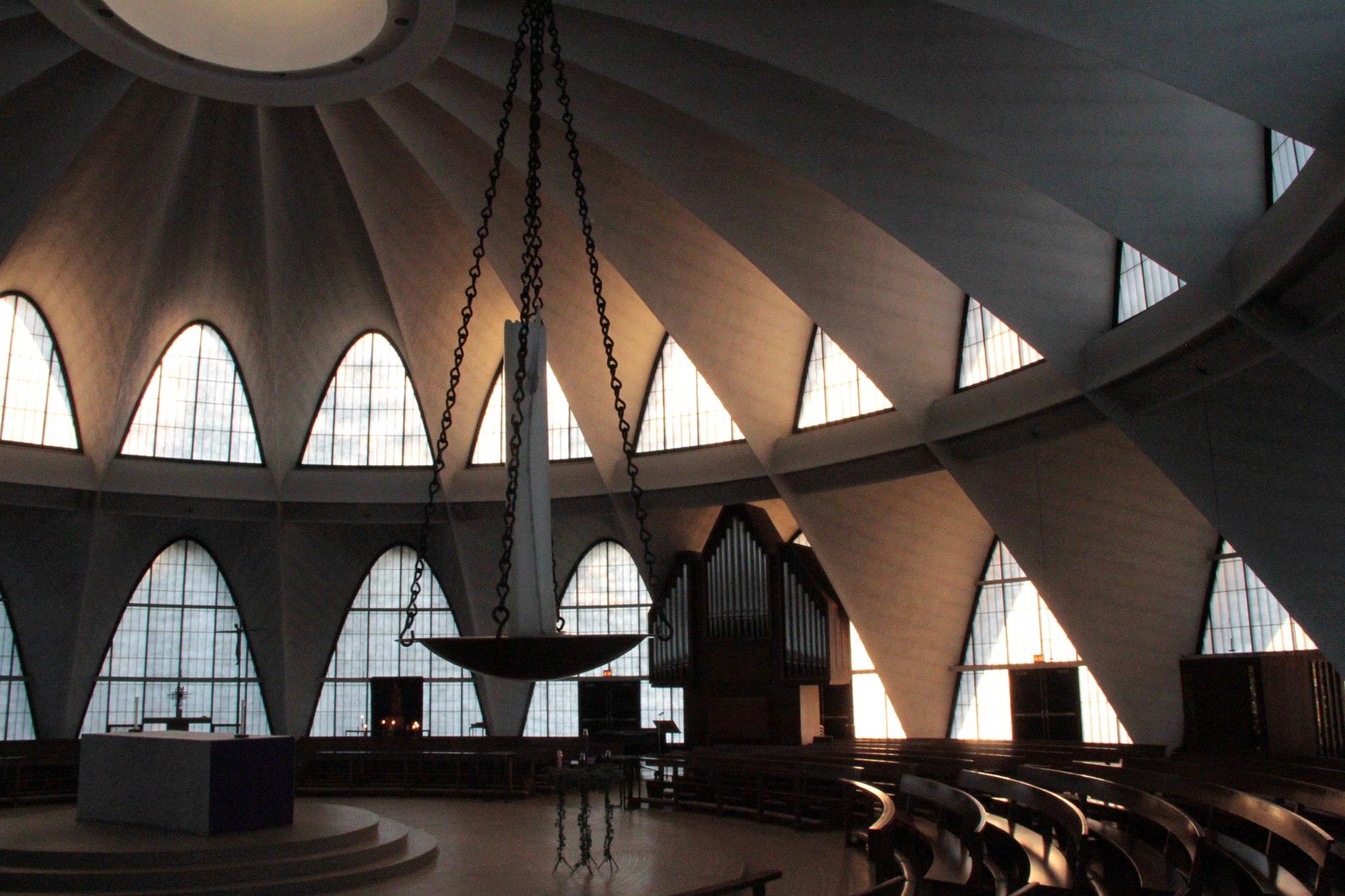 I am an alumnus of the Priory school. And I also am a former member of the monastic community there. I have spent thousands of hours in Gyo Obata's church. Sometimes with hundreds of people. Sometimes with twenty. Sometimes all alone.
I have marked the seasons watching shadows on the window-walls. I have marked the time of day watching the color temperature change in the room.
Like many, many others, I have found comfort along the curve of the simple wooden pews here, gripping the rail of the pew in front of me, already rubbed smooth with worry and the prayer of countless others who sat here before me.
There are "thin places" in the world: liminal zones where our existence feels especially close to a transcendent reality. In these places—whether hilltop, or forest, or cathedral, or mid-century monastic church—we feel at eavesdropping pretense and pretext and being real with ourselves and with our place in the universe.
Obata's church for the Benedictines is simple. Simple lines. Simple curves. Simple materials. The complexity walks in with you and leaves when you let it go.
That's a remarkable thing for a young architect and several naive clients to accomplish with poured concrete and plastic walls. It's a remarkable thing, indeed.
I know this building so, so well. And whenever I leave it, I go looking to find echoes: where else can I find shadows cast like the ones cast on this church's shoji-like walls? Where can the hug of a curve wrap close to my shoulder to give me strength? Where will the smell of burning beeswax comfort me on a stormy summer evening?
More on the church:
Gyo Obata: Architect, Clients, Reflections by Marlene Ann Birkman, 2010.
Church of the St. Louis Abbey by Moira Productions on Vimeo.