Brack to the Future: The NCAA Branding Tournament Championship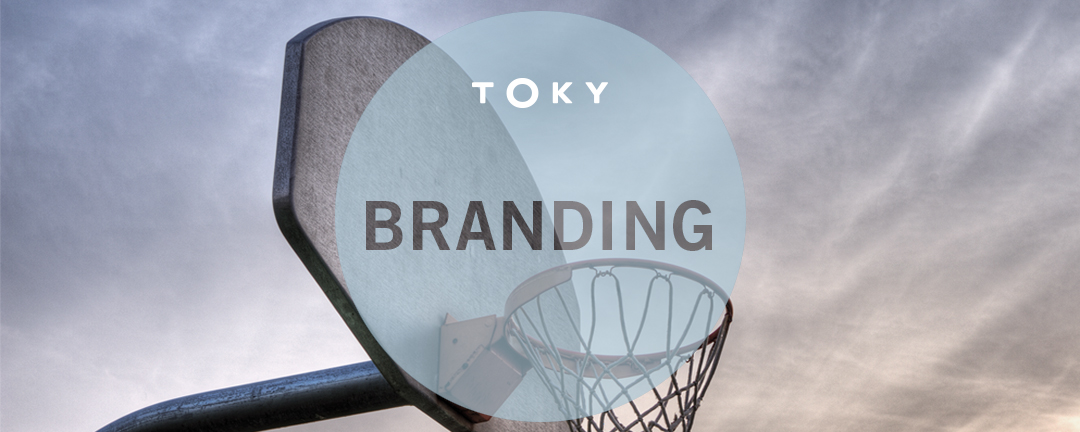 The madness is nearly over. Come Monday, we'll have a new NCAA champ and we can all push college basketball back to the farthest recesses of our storage closets — next to the Christmas decorations and that old Compaq computer we've been meaning to throw out. We've invested a lot of attention into our brackets this year, only to see them fall apart faster than an old Compaq computer (great, now I can't stop thinking about it.)
What I've paid the most attention to though, is the branding on display in this year's tourney. Some good, some bad, and some absolutely puzzling. It'll be a few more days until we know the tournament's final outcome, so in the meantime, I decided to analyze the remaining teams based on the merits of their branding. Here's who I picked as 2015's NCAA Branding Champ.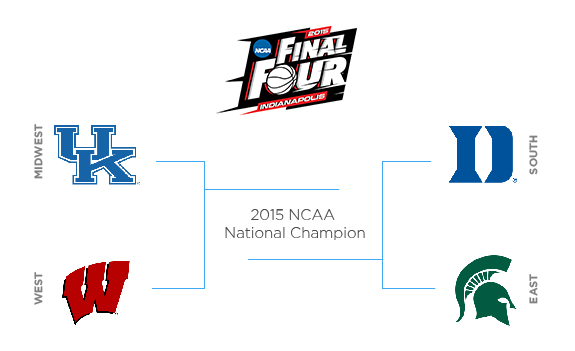 Final Four Game 1: University of Kentucky Wildcats VS. University of Wisconsin Badgers

At first glance, these two seem pretty evenly matched, two teams — two slab-serif monograms. Upon further inspection, however, the holes in Kentucky's game become more evident. Let's start with the UK lock-up, serviceable but a bit clunky, it says "we're a college and these are our initials," but that's about it. The University of Kentucky brand guidelines describe this as an interlocking "U" and "K" when the "K" clearly just lays on top of the "U" — lazy. The whole thing feels a little squished, like somebody accidentally sat on it. However, it is a great improvement over the previous iteration which was all kinds of screwy; it had inconsistent spacing issues and a black outline for no discernable reason. The biggest problem is that there isn't anything that sets Kentucky apart from dozens of other collegiate athletic programs. The colors are blue and white, so they've got that going for them.
Wisconsin, on the other hand, has clearly invested in branding themselves. The colossal red "W" with a black drop-shadow feels bigger than it really is. It probably looks more at home on the football field than on the basketball court, but it gives them a sense of force and dynamism that's missing in UK's logo. Wisconsin also uses this fantastic badger mascot mark quite often. His name is Bucky, he's scrappy, he's confident, he's wearing a little turtleneck sweater. What's not to love? UK's old Wildcat mascot is a mess of hair and teeth. DO NOT get near the UK mascot if your vaccinations aren't up to date. It wouldn't hurt to have a lint roller on hand either. Kentucky, you can do better than this.
UK lacks the depth to compete with a much more complete Wisconsin system. The Badgers don't break a sweat moving forward to the big game.
Final Four Game 2: Michigan State University Spartans VS. Duke University Blue Devils

Military imagery, always a popular theme for athletic branding, can be an effective way to enforce some core ideas about a brand. Strength, honor, toughness — with a simple profile of the iconic spartan helmet, MSU nails it. Sure the mark could be improved, it's a little stale. MSU tried to refresh the program a few years ago, much to the chagrin of the student body. But the fact that the students rallied around the current Spartan logo over a slightly more aggressive but generally similar version speaks volumes to the strength of the brand, not to mention the difficulty in branding collegiate athletics.

My only real complaint is this word-mark. Somebody got a little carried away with all the ligatures and asymmetric serifs and cutaways. They must have used up all their restraint on the Spartan mark and the geometric block "S" logo. It may not blow anybody away, but the Spartan's branding works.
Duke's branding works too, but not quite as well. The giant blue "D" is unique. It's made out of two pillars/columns, a clever nod to academia. Sometimes they put the mascot in the negative space, sometimes they needlessly cram a little basketball and hoop in the there. But it's simple and identifiable and that's never a bad thing. What has always bugged me about Duke is that they refuse to embrace their true identity. They're the Blue Devils, they're the most hated team in college basketball, yet they couldn't be more boring. They employ this dopey cartoon devil that looks like Bono's MacPhisto character. Every time I see it I start humming "Lemon." Nobody has ever been excited about "Lemon." Duke's logo from the '40s and '50s was so nefarious and creepy it would've worked just as well for a motorcycle gang. Aleister Crowley would've loved it. But if it's the whole occult thing that's scaring them off, they should really consider re-examining their original inspiration — the courageous Les Diables Bleus, the French mountain infantry of WWI. What was I just saying about military imagery?
Duke puts up a decent fight in this one, but the Spartans have too good a foundation. Spartans by a nose.
National Championship: University of Wisconsin Badgers VS. Michigan State University Spartans

Now that we've processed the initial design work it's time to dive a little deeper into each of these respective brands. MSU recently worked with Nike in refreshing their athletics brand and it shows. They have a lot of great apparel, and the team uniforms are nice. Whenever they're not using a custom typeface with a bunch of extraneous points and cuts, they use good ol' Gotham.

They've got an interesting campaign based around the plume of the spartan helmet, in which it's superimposed over the head of an MSU student or faculty member, making them into the hero. But the plume is almost always superimposed on the subject sideways, which may make the composition easier, but only makes me think that these people have trouble putting a helmet on the correct way. There also seems to be quite a bit of inconsistency in which green MSU uses. One gets the feeling that they got halfway through the rebranding with Nike and gave up once the students balked at the new spartan logo. Well done overall, but lacking in follow through.
Consistency, however, is the name of the game for Wisconsin. The Badger's current system dates all the way back to 2002, and the materials from before that don't look too dissimilar. Colors, typefaces, logos, alternate logos, and word-marks have all been nailed down for some time. It looks a little dated. They're in need of a refresh, but nothing major. There is a certain naiveté about the Badger's branding that I find really endearing and it's refreshing to see an athletic brand avoid the super aggressive pointy typeface trend. Bonus points for calling their online shop "Bucky's Locker Room"
MSU comes out strong here, but by the end, they weren't playing to win, they were playing not to lose. Wisconsin sticks to the fundamentals and steals the championship right out from under their noses.