10 Ways to Drive Event Ticket Sales Online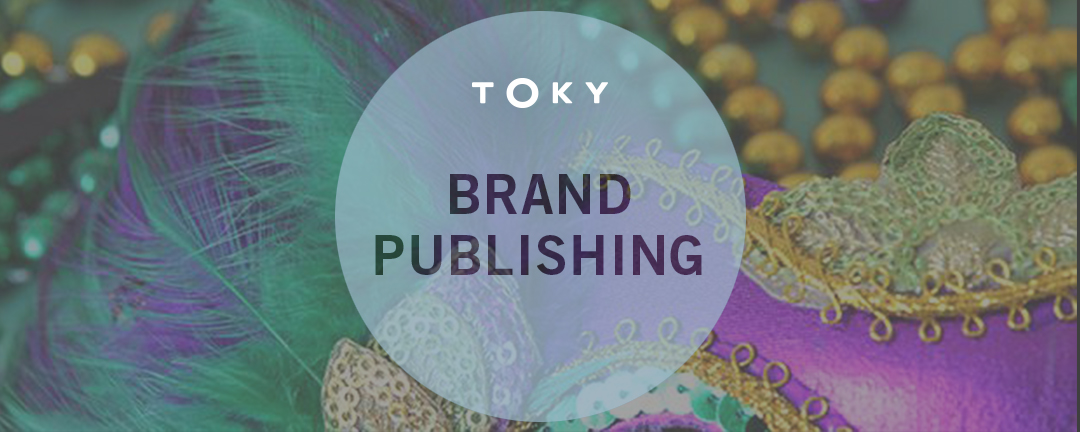 When Mardi Gras Inc. approached us about boosting sales for 2015 ticketed events, we jumped at the chance to introduce a more digital approach. In years past, the event's organizers relied on traditional media — billboards, print ads, and radio — to promote events. While there's a time and a place for traditional media, Mardi Gras was after a young, affluent, food-loving audience — people we knew we could reach and engage through social media, email, and other online platforms.
After a seven-week campaign, increased engagement rates and ticket sales proved that digital media can indeed be an effective tool for driving event sales and awareness. Here's a look at the digital promotion strategies we used — strategies that can be easily adapted to move tickets for your event.
1. Develop a Digital Voice
Before we wrote a single post, email, or editorial calendar draft, we got to work developing a consistent digital voice for Mardi Gras. When you have a team of people posting to different platforms and publications, it's important to establish your messaging and tone in advance, so that readers get a consistent impression of your event.
For Mardi Gras, we settled on a friendly, neighborly tone with a touch of humor to humanize the brand. Messaging would shift slightly depending on whether we were promoting a family-oriented or booze-centric event, but for the most part, all content fit the established digital voice.
As you're developing your digital voice, it's not a bad idea to build out a "dos and don'ts" messaging chart. This can be particularly helpful if you have more than one social media contributor…especially the type that loves exclamation marks and all caps.

2. Double Check Your Website Copy
The digital voice mentioned above should also be applied to your website, or wherever you're sending people to get additional information and tickets. You don't want all the legwork you did via social and email to be wasted because visitors arrive on an inconsistent, grammatically incorrect website.
Since we weren't the original authors behind Mardi Gras Inc.'s web copy, we took the time to ensure that this content meshed with our refreshed digital messaging.
3. Do More Than Sell
Your goal is to sell more tickets, so it can be tempting to publish one "buy now!" post after the other. In practice, though, this is the quickest way to lose (and agitate) your audience. As you're putting together your editorial calendar for the season, take the time to add in a healthy mix of non-promotional messaging.
For Mardi Gras, we supplemented promotional content with interesting tidbits, from the story behind the holiday's ever-shifting calendar date to related content from friends and partners.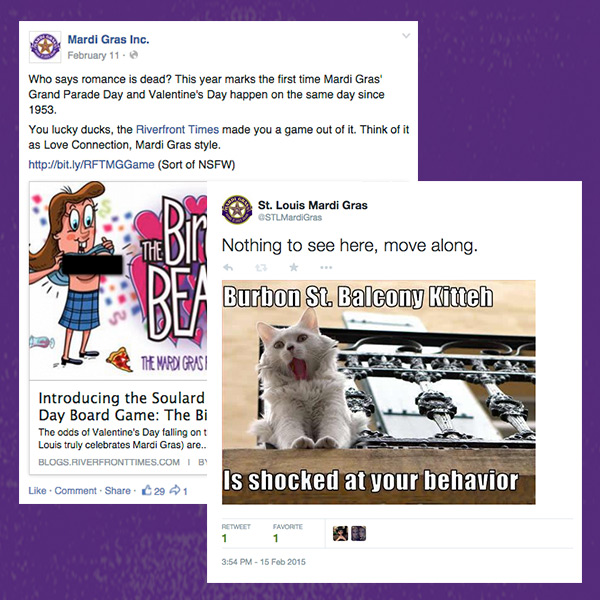 4. Publish High-Quality Imagery
Sharing an abundance of interesting, carefully composed imagery is an across-the-board social media best practice, but it's especially important for the visceral experience of events. If you don't have access to event images from years past, try sharing behind-the-scenes shots of event prep, headshots of your special guests, and of course, the golden ticket: food photos.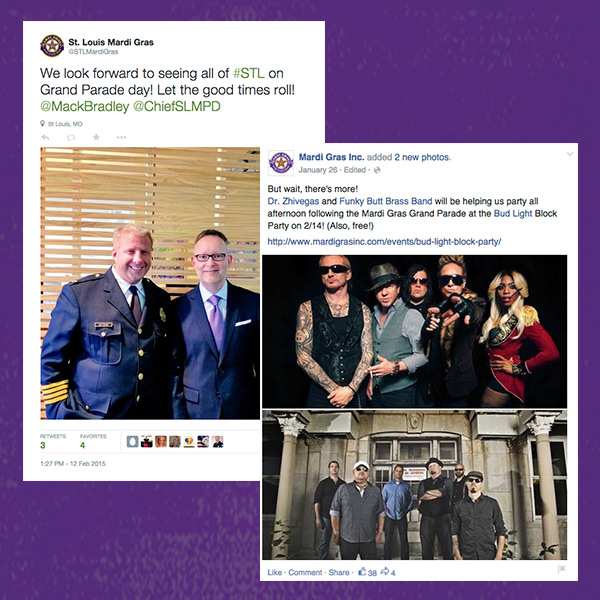 5. Leverage In-Person Relationships Online
It takes a village to put on a good event, and you've probably made some valuable friendships during the planning process. Leverage those relationships online by publicly engaging with their official accounts. A single tweet from a popular restaurant, alderman, or writer can go a long way in spreading the word about your event.
You can also personally reach out to these friends and neighbors, asking them to share a post about your event. We did this for Mardi Gras's barbecue sponsors, an influential group with a considerable digital following in the St. Louis region. To make the favor as easy as possible, we sent along along a mini press kit with suggested text and images.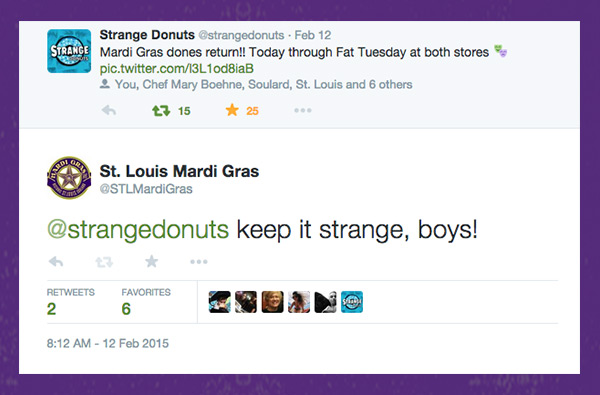 6. Experiment with Longer Form Content
We wanted to paint a better visual picture of Mardi events by publishing a few longer form, behind-the-scenes pieces. Since the Mardi Gras website is without a blog, we had to get creative on where to post this content — a challenge that led us to create what we called "Facebook Microstories."
We shared menu sneak peeks, meet-the-chef stories, and an exclusive interview, all in the form of captioned Facebook photo albums. People responded well, and microstories ended up being some of the most engaging content of the season.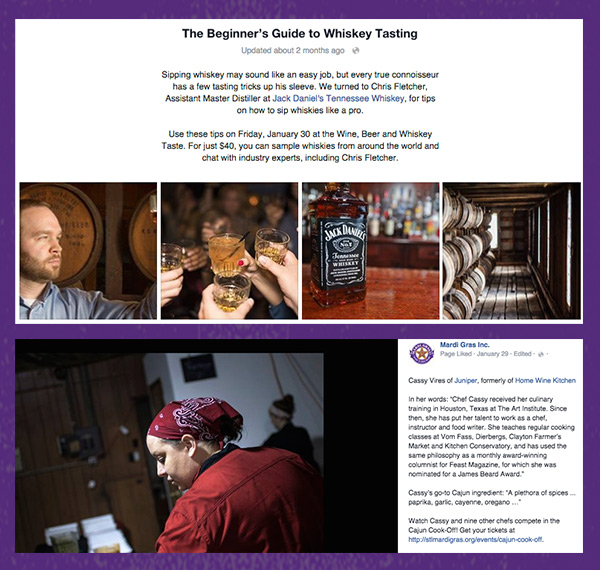 6. Proactively Engage with Current and Potential Fans
Chances are, people are out there talking about your event without tagging your official page or handle. To keep up with these mentions, use a tool like Sprout Social to perform methodical keyword searches.
We regularly monitored Twitter for mentions of "Mardi Gras St. Louis," "Soulard Mardi Gras," "Taste of Soulard," and a long list of other terms. Each time we found someone talking about a Mardi Gras event, we reached out with a friendly response or invitation — a strategy that helped us build our audience and create new brand ambassadors.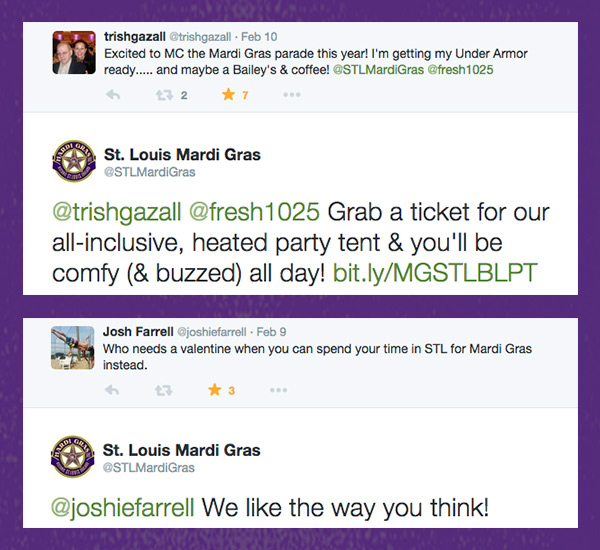 7. Boost Your Content with Ads
While buying fans and followers never makes sense, supporting great content with advertising dollars can help build your audience and engagement.
We used a balance of ad types, topics, and invitational language to figure out which ads resonated with audiences. While Twitter cards were a success, Facebook ads ended up delivering the highest ROi for Mardi Gras. By the end of 13 Facebook campaigns, 25,000 people clicked on Facebook ads leading to an event info page — a huge engagement boost that we would not have seen with an organic-only strategy.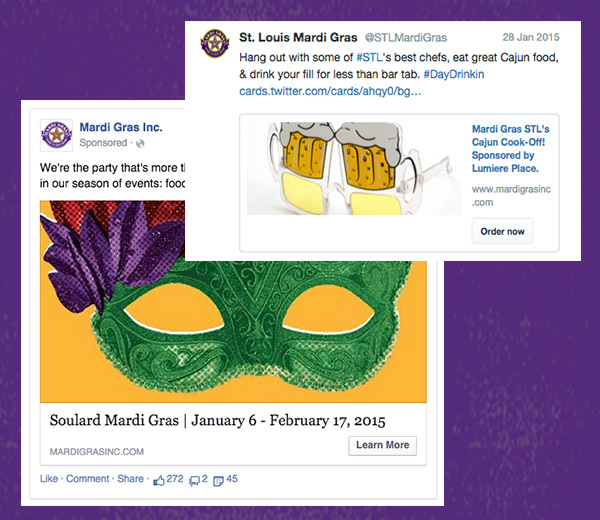 8. Entice Fans with Contests
The chance to win something can motivate your audience to learn more about your event, share your content, and offer up their contact info. Using Woobox, we created three separate Facebook contests for Mardi Gras and offered event tickets as prizes. Participants earned one entry in exchange for their email address, and an extra entry by sharing the contest on Facebook. We saw great results from this strategy, including 900 collected email addresses and 400 contest shares.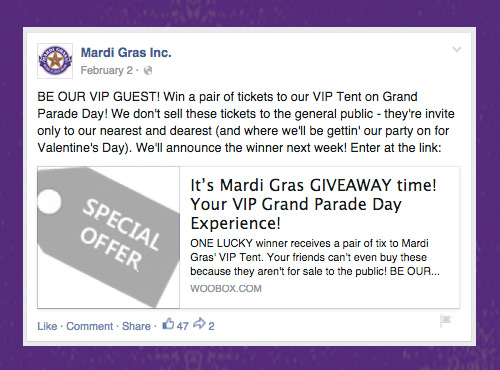 9. Build and Segment Your Email Lists
Social should never be your only means of promotion. Throughout event season, try collecting email addresses, whether at checkout, at the door, or using the social media contests mentioned above.
To avoid overloading this growing list with a season's worth of promotional emails, you'll want to segment subscribers so that you can send specific messages to specific audiences.
With Mardi Gras emails we found (unsurprisingly) that emails sent to smaller, segmented lists based on interest and purchase history yielded significantly higher open and click rates.
10. Select Strategic Media Partnerships
Even if you don't have an extensive email list, there are still opportunities to reach your audience's inbox. Many local publications send targeted weekly emails with categories ranging from "Food and Drink," to "Arts and Culture," and "Family." Reach out to the sales teams at these publications about sending a paid campaign to the list that best aligns with your target.
For Mardi Gras, we promoted our three food events through the Riverfront Times' Dining List and Tip of the Tongue newsletters, ALIVE's Dining List, and Sauce and Feast's promoted newsletters.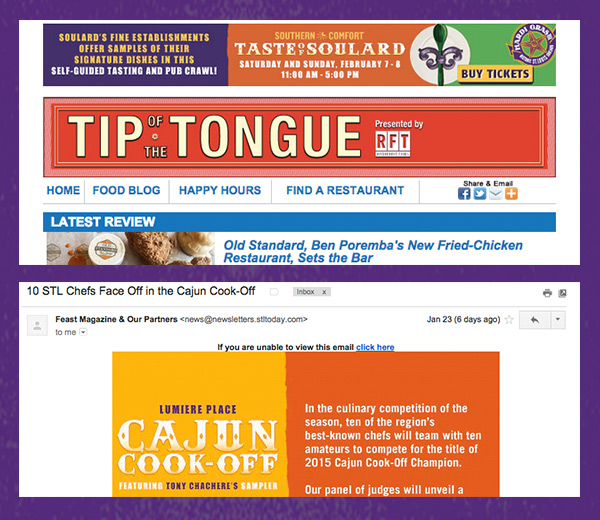 With careful planning and content crafting, digital media can be a great way to drive awareness and ticket sales for your in-person event. For a closer look at our work for Mardi Gras 2015, check out the event's Facebook and Twitter profiles.