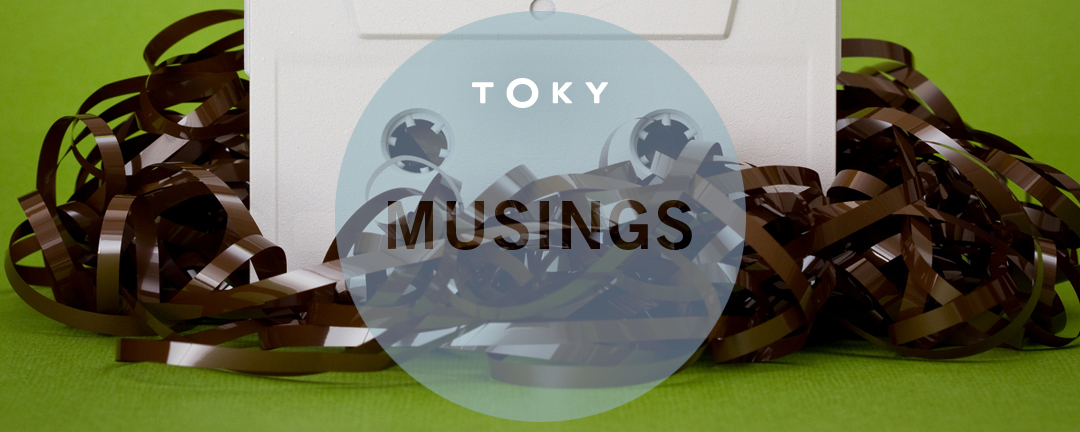 As we look back at 2014, we considered many ways to sum up our year. Some were massive displays of skill, others were small but clever and funny.
Instead of these, we opted for something a bit more personal from our hearts to yours – the 21st century equivalent of a mixtape. Remember your first mixtape? The heady joy realizing that someone made this with you specifically in mind. This was who they were, set to music. It was unique, it was special.
Like the TOKY team, our mixtape is a creative and eclectic mix of hues, moods, and personalities. But this is who we were in 2014. These are the songs we played on repeat, over and over again.
Falling Asleep with a Book on your Chest (Lullatone)
This is one of the albums used to keep my kids sleeping as long as possible. Usually, it's on those days when a nap at home is just not going to happen. So we hop in the car and zone out to the tones of Lullatone. Be warned, coffee is a requirement as it can tend to have the same sleepy effects on the driver.
/ Jay
You + Me (You + Me)
Yes, this is the name of the band and their first single. They are an unlikely duo consisting of Alicia Moore (Pink) and Dallas Green (City and Colour), but man, is this song always stuck in my head.
/ Adam
Choctaw Bingo (James McMurtry and the Heartless Bastards)
This is a decade-old song I didn't know about until A.O. Scott, the New York Times' lead cinema critic, name-checked it in a sprawling pean to the greatness of "Breaking Bad". He called it "the Great American Novel set to music." That was enough for me. I downloaded it blind and was frozen solid by the literate writing of Elmore Leonard characters set to a deeply funky electric guitar with the snarl of a fallen power line. Not Safe For Work; perfect for drinking multiple bourbons with your best friends between 11 pmand dawn.
/ Eric
Obvious Child (Paul Simon) & Three Little Birds (Bob Marley & the Wailers)
Two songs that set the stage for Max's first year of life. I needed music that would wake me up for a spontaneous dance party and songs that I could sing to him to calm him down (with a voice only a son could love).
/ Katy
Dirty Up (Funky Butt Brass Band)
Their new album is filled with St. Louis-focused lyrics, love this wonderful tribute to the STL.
/ Jane
When I Paint My Masterpiece (Bob Dylan)
I've been doing some serious work on my Bob Dylan impression while listening to this song in the privacy of my own car.
Picture Of A Tree That Doesn't Look Okay (The World Is A Beautiful Place & I Am No Longer Afraid To Die)
I can experience all genres of my favorite music in one song. I can enjoy the atmospheric tones of Explosions of the Sky while experiencing the warmth of electronic punk music at the same time. You can't explain science on this one.
/ Bert
Jubilee Street (Nick Cave and the Bad Seeds)
From the instant I heard my first Nick Cave album (Murder Ballads) at 16, I was hooked. Cave's lyrical storytelling is intelligent, poetic, introspective, and angry all at once. I had the amazing fortune to finally see him live in concert in June when he was touring on their most recent album (where you can find this song) and it was beyond words. His word combinations are unexpected and strange, yet you know exactly what he's trying to convey. This song, thanks in no small part to the genius of Warren Ellis on violin (not to be confused with the comics writer of the same name, different guys, both mad talented), builds quietly in the background until it explodes around the five-minute mark. I get chills every time. Hearing it live was an amazing experience.
/ Lindsey
New Name (Sinkane, Mean Love)
I saw this guy drumming for Caribou at the Billiken Club in 2007 or '08. He was mesmerizing, and this song is just… [speechless]
/ Laura
Mesmerize & A Question Isn't Answered (Temples)
These are current favorites and haven't left the turntable in a few weeks.
/ Kelcey
Turtles All the Way Down (Sturgill Simpson)
We don't get enough intelligent, original country music these days, but Sturgill Simpson's Metamodern Sounds in Country Music more than made up for the dearth this year. I saw him at Off Broadway back in August and he put on a real barnburner. Which was a shame because we needed that barn. Sure it was full of rats, but all you had to do was tuck your jeans into your socks and you'd be fine.
/ Ashford
Pulaski at Night (Andrew Bird)
Somehow I'd never come across this song until this year. I thought the 14 Andrew Bird albums in my iTunes library pretty much covered everything; thank you Spotify for proving me wrong.
/ Daniel
Dysnomia (Dawn of Midi)
Dawn of Midi is structured like a jazz trio, but use their acoustic interments to create hypnotic, danceable compositions that draw from glitchy electronic music. I saw a mesmerizing performance of their recent album at an old church this year that I won't soon forget.
/ Logan