A Guide to Launching Your New Brand Identity

A new identity can do wonders for your company's image, but without laying the groundwork for a smooth brand launch, you're likely to throw your audience for a loop, or in more extreme cases an all-out anti-rebrand rebellion.
The Gap learned this lesson in 2010 when they rolled out a redesigned logo without explaining exactly what made this new mark significant to an already iconic brand, or why the rebrand was necessary in the first place. Long story short, Gap lovers of the world took to social media to express their utter disbelief and disappointment in the brand launch. Within days, Gap released a public apology from the company's then-president and threw together a social media campaign to "crowdsource" a new-NEW logo from already disgruntled fans. When (somehow) that didn't work, Gap admitted defeat and reverted back to the classic logo.
Let The Gap's rebranding debacle be a lesson that, no matter how deep your branding research or how stunning your new mark, the process doesn't end with logo selection. As many rebranded companies have learned during the transition period, an identity launch is more complex than simply swapping out a few files and printing a new batch of business cards.
To set your organization up for rebranding success, you've got to go in with a plan on how to make a smooth and mindful transition — not just for your team, but for the audience that knows, trusts, and reveres your existing identity. Below are a few of the tips we give clients when it comes time to transition to a new identity.
Make your new identity part of a larger story.
Human beings crave stories. We want to know the meaning behind everything, and like it or not, that includes your brand's new identity. Take the opportunity to tell your identity transition story, from why a brand shift was necessary, to the reasons why this new mark fits your organization.
A few years back, Airbnb rolled out its new brand look. While the Internet had plenty to say about what the logo may or may not look like, from day one, the company reiterated that the new identity represents something bigger: a sense of belonging.
The same goes for The Whitney's recently revamped aesthetic. The institution took the time to explain that this brand shift marks the upcoming transition to a new building and the mark itself "illustrates the museum's ever-changing nature."
As with a line, every story needs a beginning." Read the entire story behind the design process of our new identity: http://t.co/kjAX0LVdeV

— Whitney Museum (@whitneymuseum) May 21, 2013
Get buy-in from your employees and stakeholders.
Your employees, board members, investors, and other internal stakeholders are essential to the success of your new brand. You'll need to earn their trust and educate them before, during, and after launch.
That process begins with providing answers to basic brand questions, such as:
Why are we rebranding? What prompted this change?
What does this brand represent?
How will this rebrand affect me?
Take Airbnb as an example. Before the public rebranding announcement, the company shared its new look with community members via an exclusive live stream event, which was promoted through the series of email teasers shown below. This "sneak peek" gave Airbnb a platform from which to share its story of growth and belonging. Guests, hosts, and other community members got a first-hand account of all the essential facts: the who, what, why, and how of the rebrand, straight from the company's founders.
We all love swag, but the real key to a successful identity launch is the communication of your brand story. That communication can come in the form of email campaigns, social media, video, in-person events, or all of the above.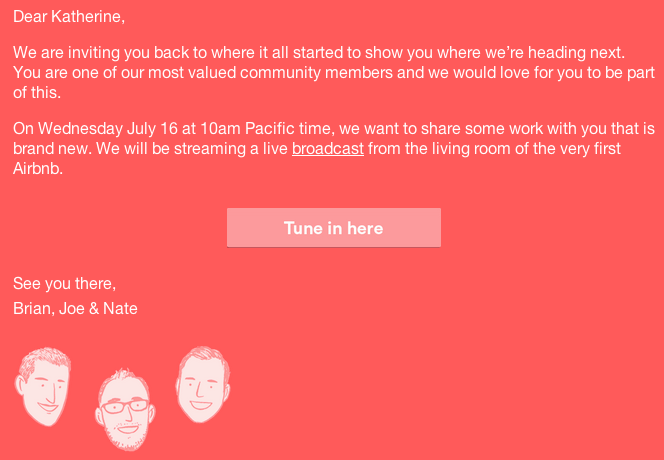 Beware the gradual brand launch.
Put yourself in your audience's mind for a minute. You're researching a brand, and on the website, you see one logo, but that mark doesn't match the sign on the physical building. The brand's Facebook page has another look entirely. This is an inherently confusing brand experience and one that you can avoid by flipping the switch all at once, rather than piecemeal. Make a comprehensive list of all of the places your logo exists. The examples below can get you started, but you'll want your team's input to ensure that all the bases are covered.
Website
Social media platforms
Physical signage
Business papers
Email signature
Online directories
Advertising and marketing materials
Merchandise
Take a multimedia brand launch approach.
For every enthusiastic fan that appreciates your witty, long-form storytelling, there are dozens who would never in a million years, consider reading that 2,500-word brand transition essay. Prepare for these media preferences by taking a diversified approach to your brand launch. So while you may be set on writing that clever story of brand rebirth, you should also include a more visual approach, and even consider an animated video that illustrates the before and after of your new look. Airbnb launched its new symbol with a mixed bag of media: lengthy text-based descriptions, social media-friendly visuals, an infographic, brief animated explanations, and founder interviews.
https://www.instagram.com/p/qhUdeES5p4/
Create a hub for your brand launch story.
You'll probably end up pushing this story out via a variety of platforms: social media, snail mail, press releases, and email newsletters. But will the details and visual assets live anywhere permanently? Consider dedicating a page — or even a full-blown microsite — to the story behind your new identity. This will give you a place to send customers, press, and investors.
Southwest Airlines launched a microsite that explains the ins-and-outs of its new brand, including everything from employee portraits to a narrated video and FAQ section.
Consider giving your new identity a name.
In the weeks that follow launch, you and your staff will tell the story of the new look again and again. Since "our new brand identity" doesn't exactly roll off the tongue, you might think about giving your new look a name of its own.
Airbnb simplified the storytelling process by deeming its symbol the "Belo." Anyone familiar with The Whitney will refer to the museum's new brand mark as "The Responsive W."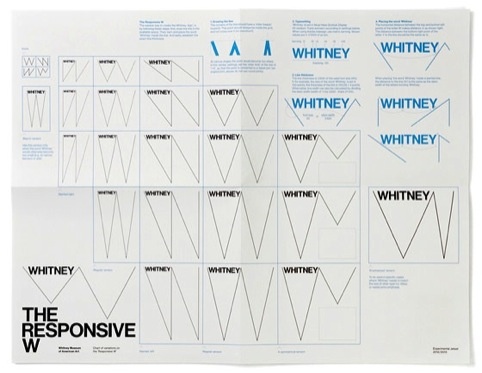 Don't overdo the brand identity talk.
While you — enthusiastic marketing person or designer — likely lived and breathed this identity for months, the same does not go for the rest of the world. You're excited about the launch, and if you play your cards right, your audience will be, too. Just remind yourself not to overload your audience with self-congratulatory tales. Eventually, you'll need to get back to regularly scheduled programming.
—
To learn more about launching a new brand, read "Brand Launch Lessons," our interview with Studio Eagle's brand director on how the firm rolled out its new name, brand, and website.