Web Design Trends for 2015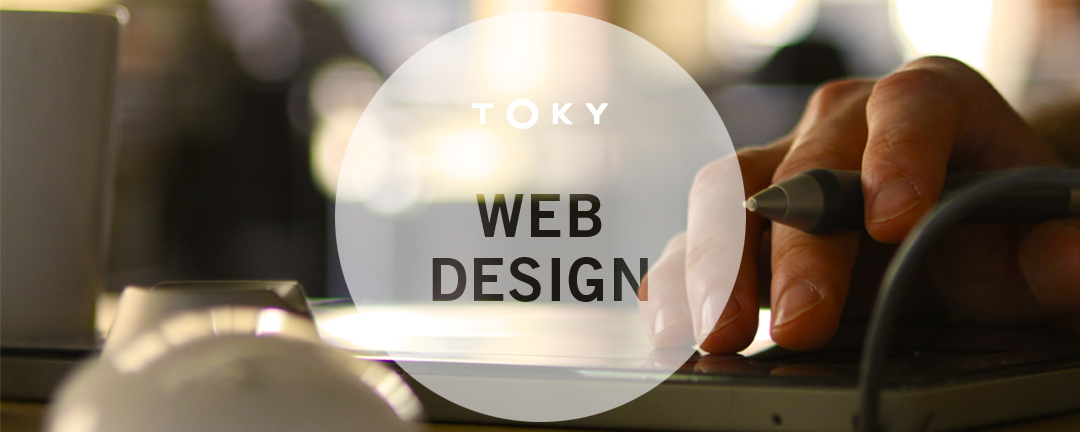 A well-constructed website positions a brand with authority in an ever-crowded virtual information cloud.
For any one brand identity, there can be hundreds (if not thousands) of similar competitors jockeying for the public's attention, money, or click. When done well, a website delivers the brand message, earns trust, and provides a clear call to action for the audience to take away. Often, web design incorporates dominant design trends to help a brand stand out.
But like any trend, you have to be judicious with what you adopt. Some "trends" prove to be very adaptable and easily incorporated into a lasting digital relationship. Others are all flash: the Hypercolor tees and mullets of web design.
When you're as focused on delivering well-crafted brands and design as TOKY, you begin to get an eye for trends that have real staying power.
What to look for in 2015
Many of the web design trends for 2015 that we're focused on are the natural evolutions of the heavy-hitters of 2014 – the designs and ideas that proved their utility but also show some adaptability that we're eager to explore. We're not interested in giving a brand design features that will look dated in a few months. The idea is to be contemporary and timeless at the same time.
So where should we look for the innovations and evolutions in design that will dominate the web in 2015?
Responsive Sites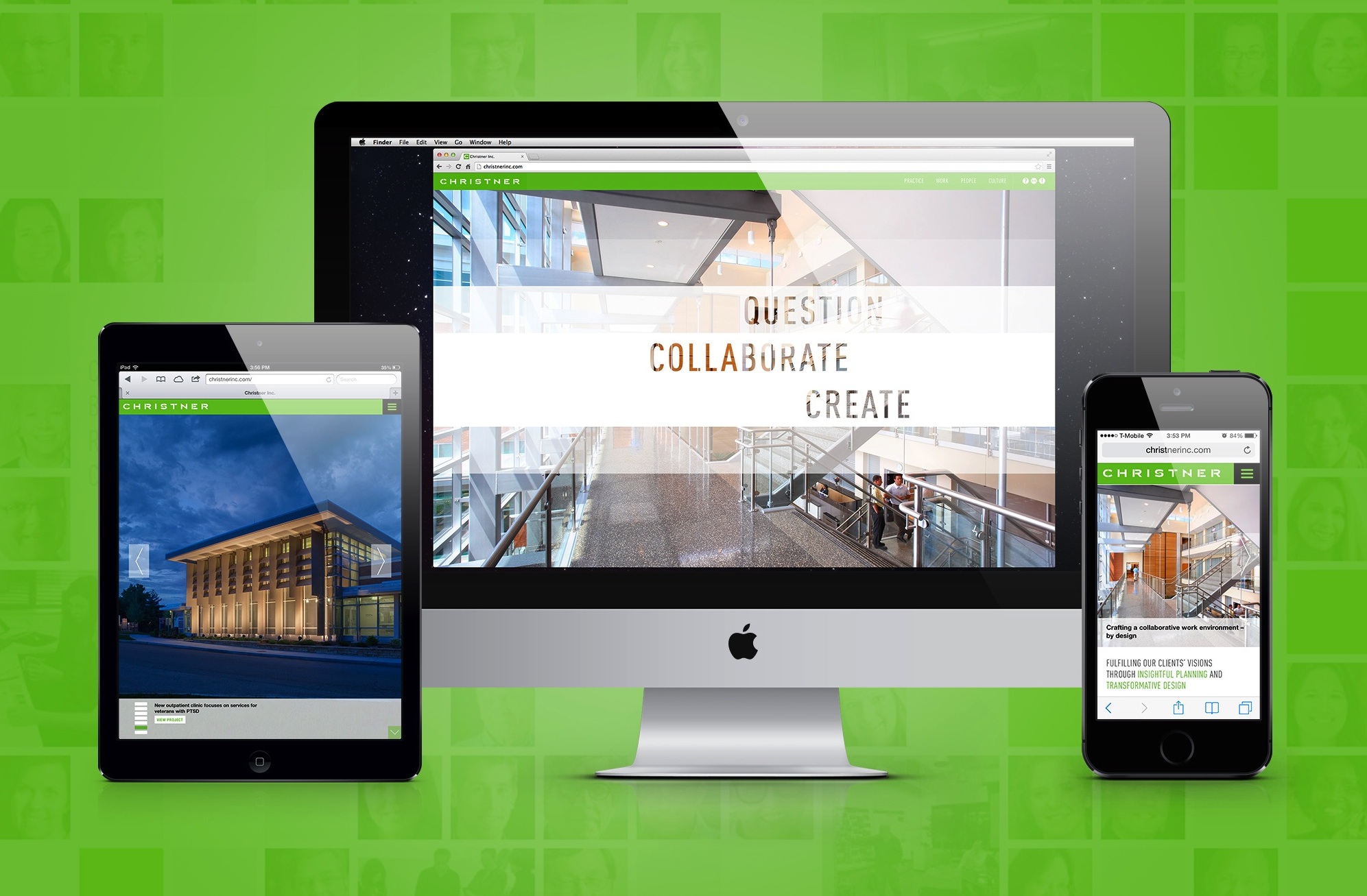 Flexible > Static
Responsive sites have been top of the list for the last few years. However, our bet is that 2015 will finally be the year that responsive sites prove a crucial indicator of the "with it" and the clueless in the digital arena. An intuitively designed responsive site allows each area of the site to shine, no matter how the viewer is accessing the site. Monitor, phone, or tablet, responsive design proves flexible enough to tailor the site into the best optimized presentation for each platform.
More than half of Americans own a smartphone as of 2014, marking the tipping point of mobile technology. Of those, 30% use their mobile phone as the preferred device to go online. And that's just phones. Once you add in tablet users, that number grows and is continuing to climb. Think about those screens for a minute. They're smaller than a desktop monitor or a laptop. A detailed web design that looks great at 18 inches is going to be an impossible to read mess at 5 inches.
Today's average consumer is rapidly becoming more tech savvy. The "pinch, zoom, and squint" of a traditional static site isn't going to cut it anymore when responsive web design is making it easy to fit web browsing into an on-the-go lifestyle.
Scroll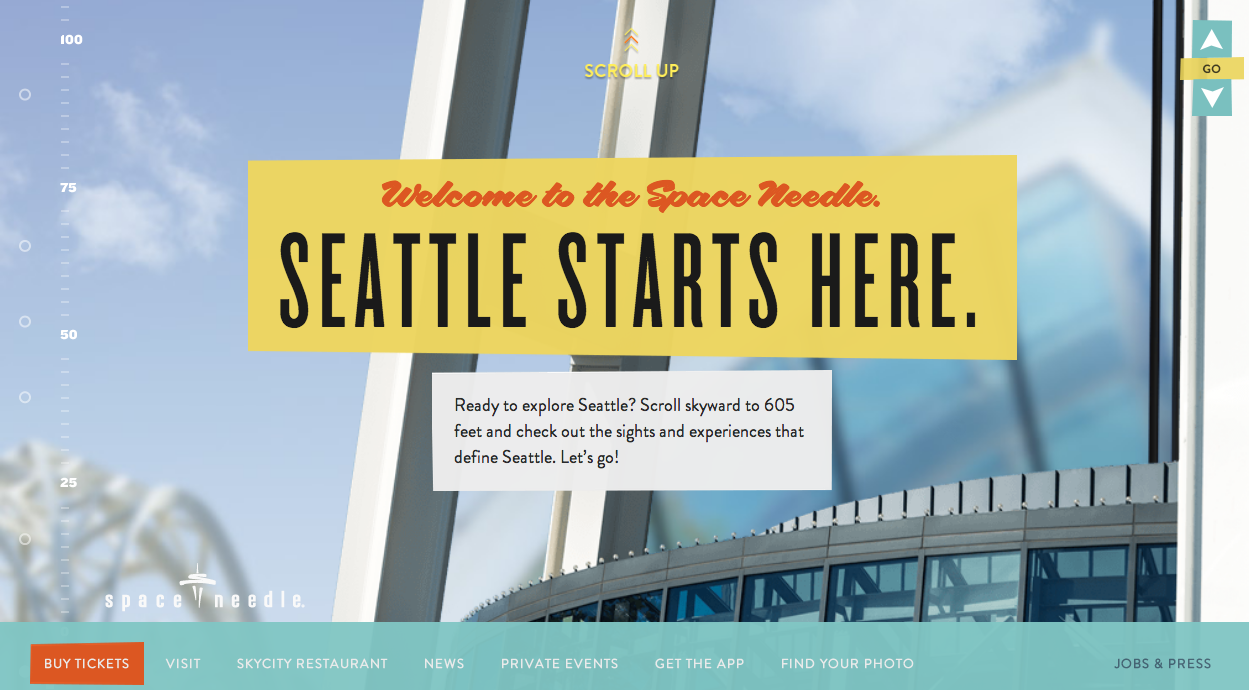 Scroll > Click
A couple of years ago, developers and designers were enchanted by parallax scrolling – a technology developed for computer games to give the illusion of depth by making the background images move more slowly than the foreground. Then, suddenly, it felt like every site in 2013 featured parallax even when it didn't serve the material.
Similarly, infinite scroll websites became popular seemingly overnight and were just as easily overdone. Just how far could you expect someone to scroll before they lost interest (or left in frustration before finding the information they really wanted)?
2015 will showcase a more judicious use of both of these trends, creating something that is both beautiful and in line with an immersive visual experience. Expect to see elegant websites that rely on a limited scrolling page and slide-out menus rather than bulky navigation. Parallax scrolling will return, but again, in a limited fashion that serves to add depth and support strategic content. Web design will be dynamic with an emphasis on visual appeal and creating UX that allows the user to slowly expand the brand narrative.
Simplify, Simplify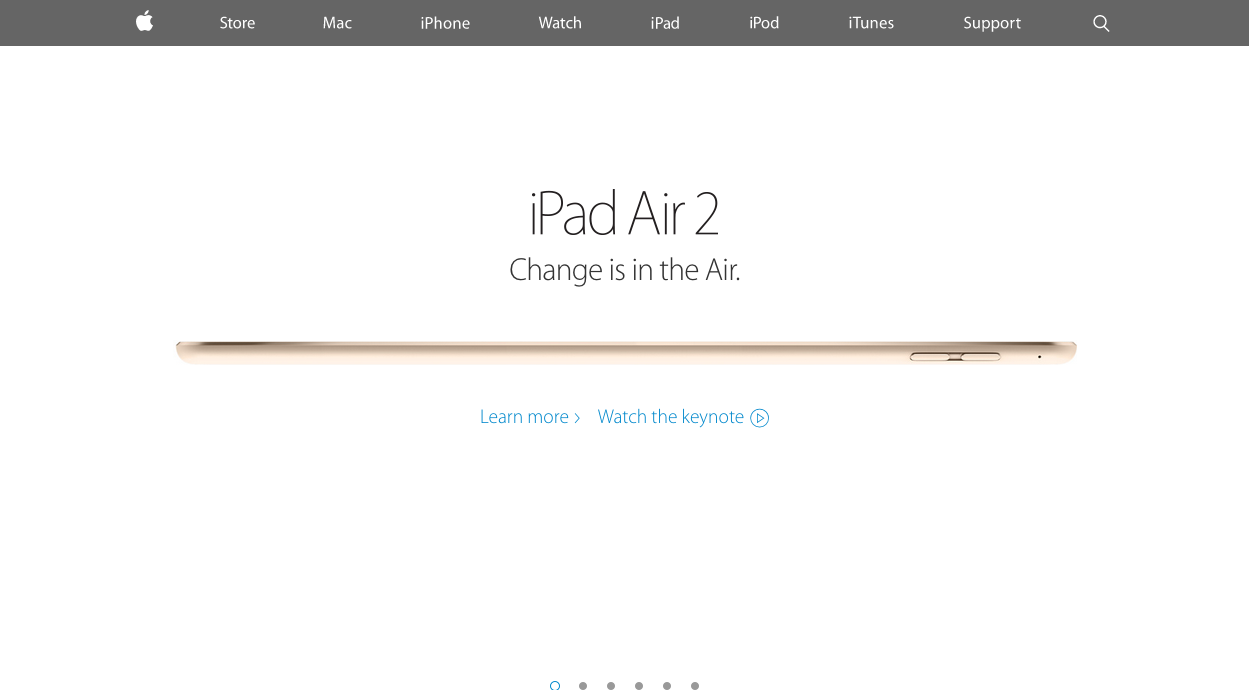 Minimalism > Exposition
The trends in web design for the next year come together much like Coco Chanel's approach to fashion (if you'll excuse the paraphrase): Before you go live, take a good look at your site. Then, take out the last thing you added.
In the heady days of early web design, every bit of information was shoehorned in to every nook and cranny of a website. Blocks of word salad jousted with photos, Flash animations, and site counters. It was excess. It was gluttony. It was a lot to take in.
The style of the moment is saying more with less. Look for elegant, clean designs supporting minimalistic and finely tuned messages.
In 2015, web design will champion the beauty of negative space. While aesthetically pleasing, this embrace of clean lines and simple design also boosts site performance. We'll continue to see the use of Flat Design, and we're especially interested in seeing how Google's Material Design comes in to play in 2015. We expect to see less of the uniform grid-like structure that was synonymous with flat design in 2014, instead favoring presentation cards – a less formally structured way to spotlight smaller pieces of information and create hierarchy within the design.
Sensory Experiences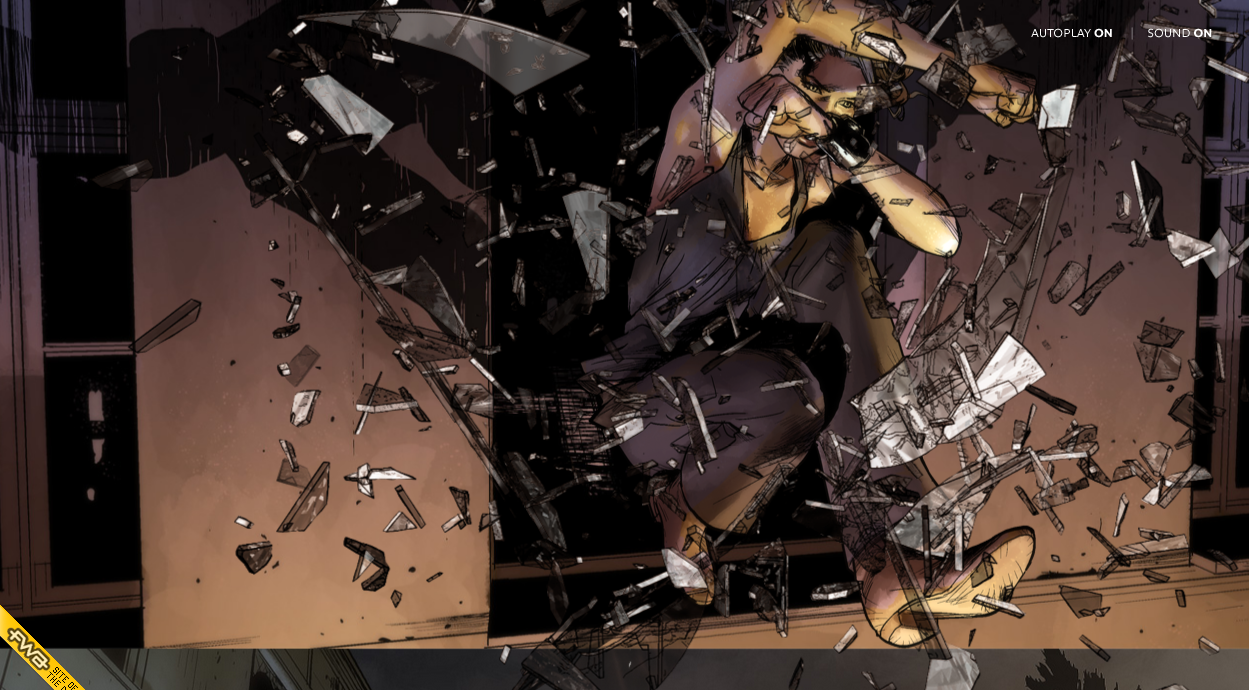 Show > Tell
All of this paring down of site clutter puts a lot more weight onto the elements that stay and challenges designers to utilize old media in new ways.
Good web design in 2015 will focus on crisp layouts and saturated colors. High impact, high contrast visuals in bite-sized pieces will be featured heavily. Websites are moving away from focusing only on lead generation and more toward tantalizing feasts for the eyes.
Look for large hero images featuring beautiful, detailed photography or video as page backgrounds. We expect video to lead the visuals. In the hierarchy of web design in 2015, video will trump images, just like images took the lead over copy in 2014.
These features will be unbound – taking up the full bleed of the screen allowing for a more immersive experience. It's not enough for a consumer to see the brand as a spectator. Web design in 2015 helps consumers envision themselves already living within the brand.
We'll see more handmade elements involved in the design – from custom typography to hand-drawn and slightly imperfect illustrations, design will feel personal.
These visual calling cards will be created to suit a brand and remain consistent throughout their marketing. Details like ghost buttons ensure nothing detracts from the visuals. Toward this, we expect to see Flat Design evolve by adding small textural details or subtle gradients, tricking the eye with almost tactile experiences.
Storytelling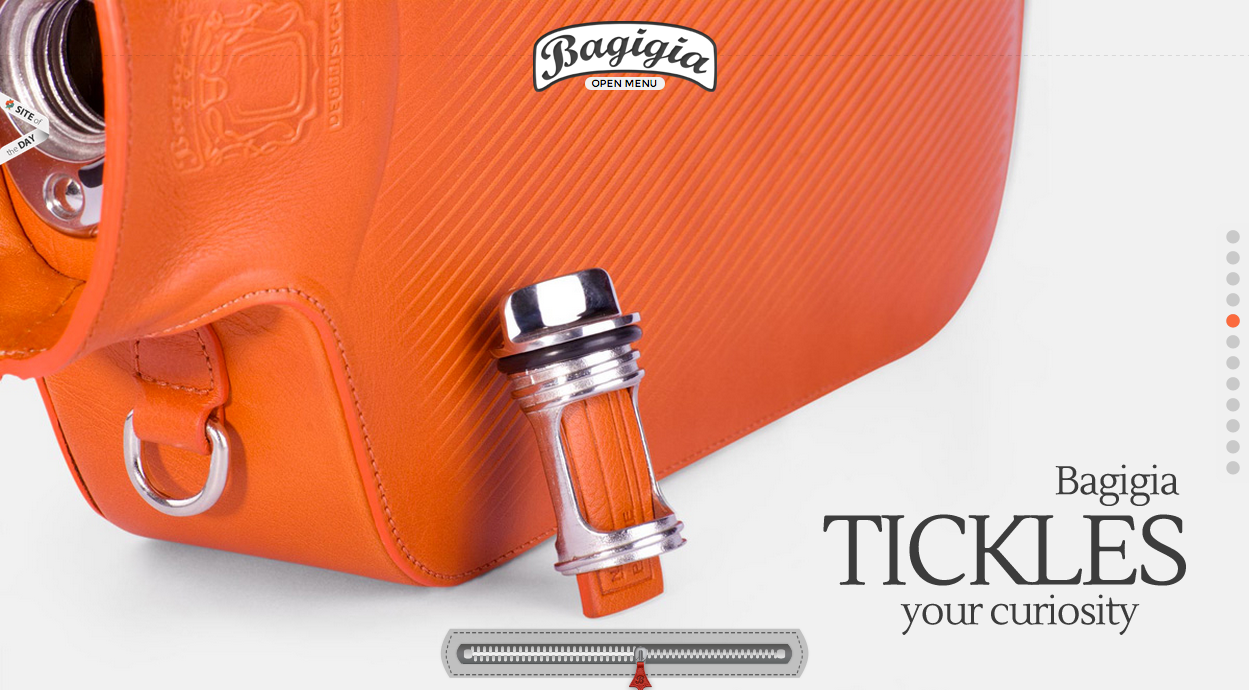 Guided Tour > DIY
Immersive visuals naturally lend themselves to a more narrative style of presenting information. As with scrolling sites, the focus will be on leading the user and allowing the brand narrative to unfold around them.
Storytelling allows a brand to use its website to convey values and concepts with the total package website presentation. Every part of the design builds on each other to present a unified focus and message.
Previous web design created a DIY approach to UX – users would click around until they found the information they wanted. A more narrative approach creates an experience that invites users to engage in a guided tour around the site and into the brand values.
Expect to see a rise in personalization through a more tasteful use of cookies and microinteractions within the storytelling UX of 2015. Once the domain of spammy ad targets, web design in 2015 will use cookies to add convenience and a personal touch to the user experience. These one-use interactions will serve to make a site more personable and make the design feel more intuitive to the end user. It isn't just about convenience, it's about feeling served and understood.
Sites Using 2015's Web Design Trends Now
Some examples of sites that incorporate one or more of these ideas in a useful way:
1. Grey Goose Vodka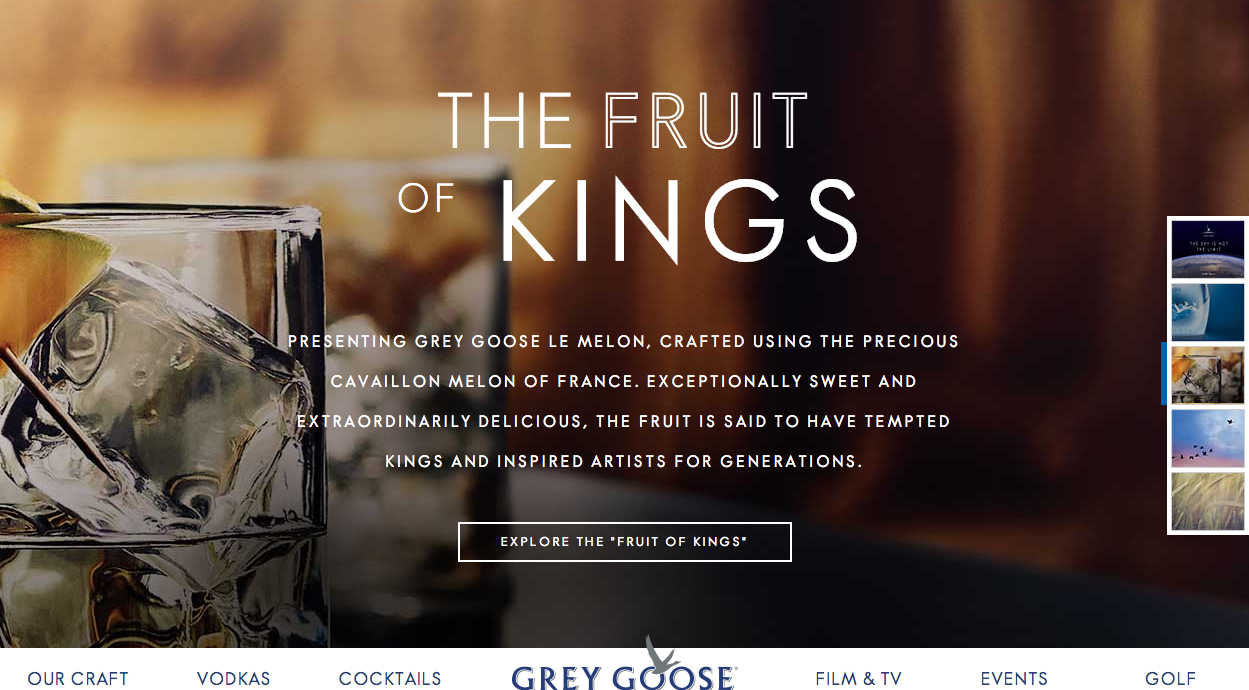 Beautiful images, ghost buttons, and innovative navigation. Oh, and did you notice the subtle parallax scrolling?
2. Whole Foods Markets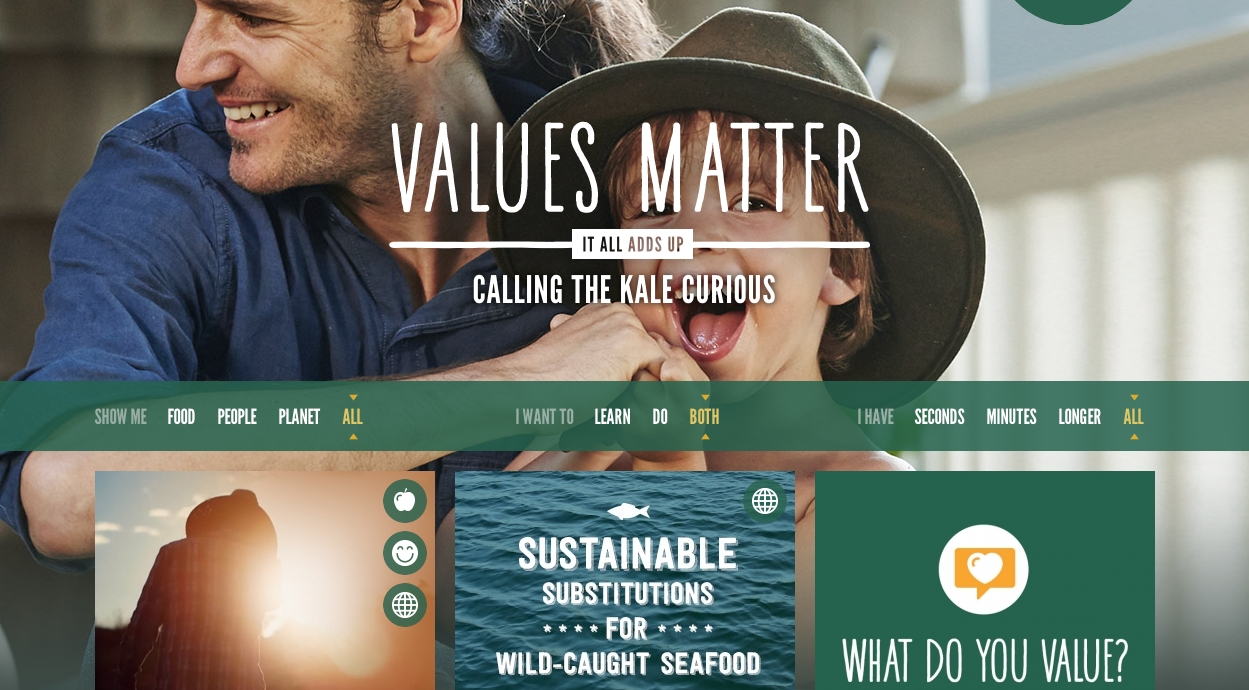 Value-driven and invitational language, attractively arranged cards, and hand-drawn dynamic typography.
3. Salt Surf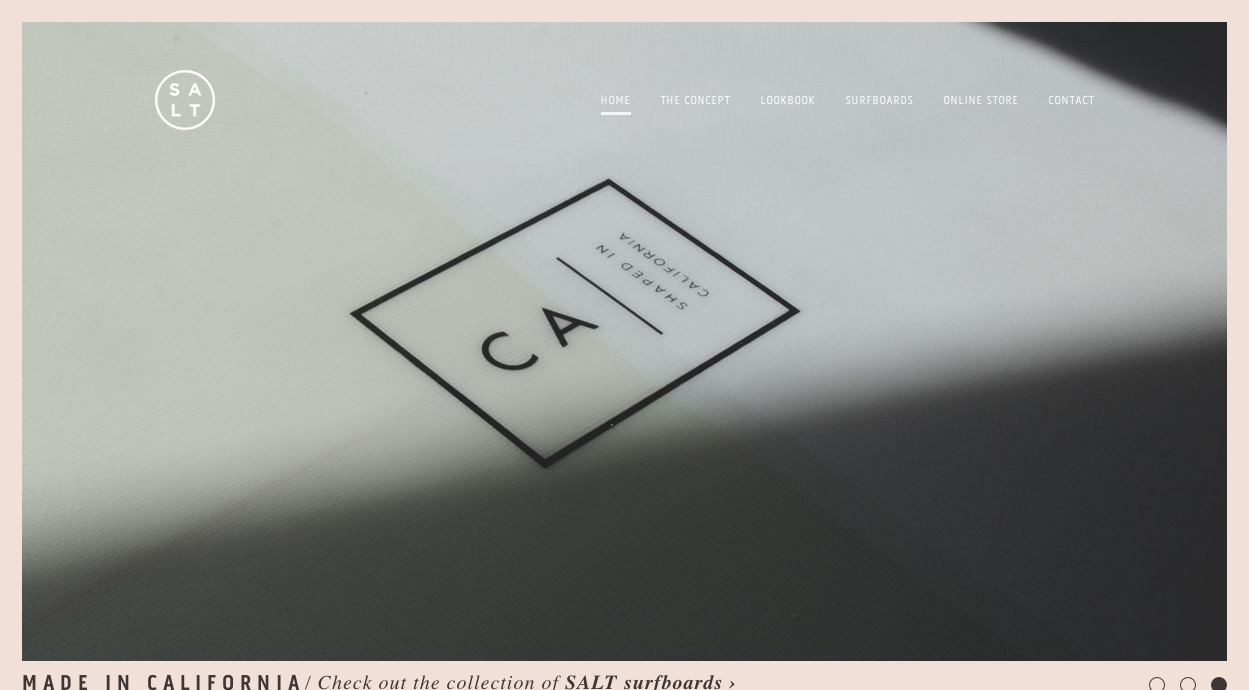 Massive, well-produced photography on a sparsely arranged site.
4. These Are Things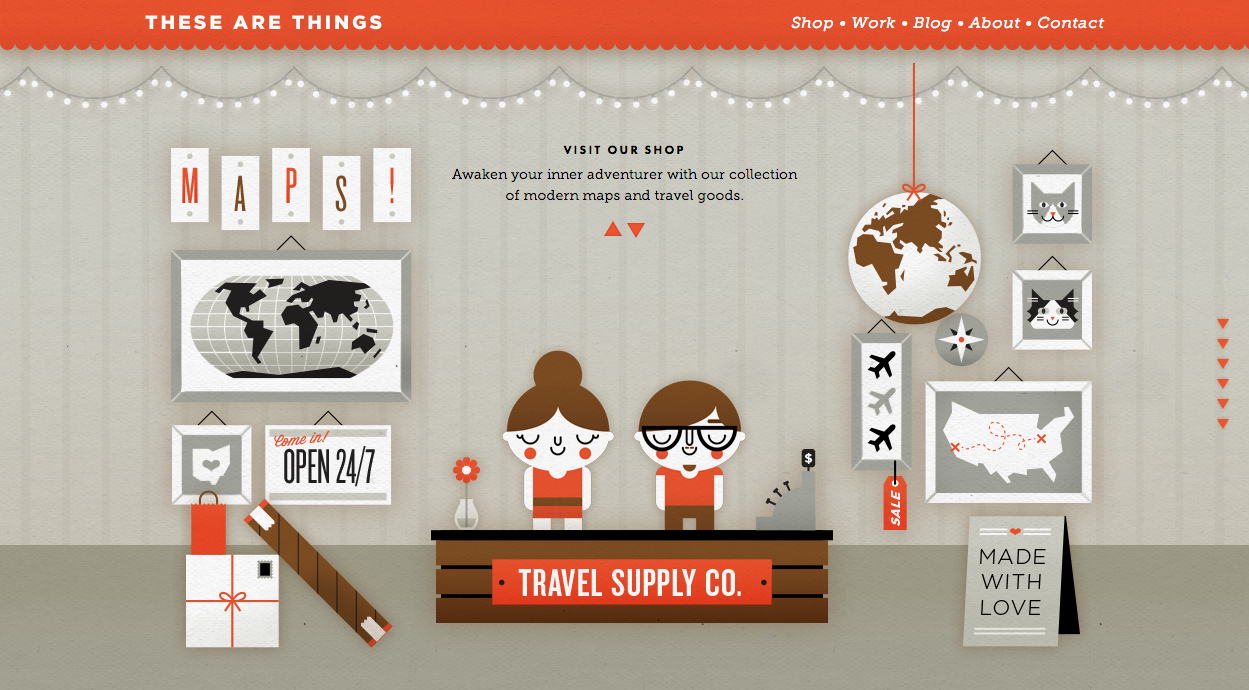 Adorably hand-crafted graphics, innovative storytelling, and a design that maximizes the scrolling site.
Great user experiences come from a keen understanding of both client and audience. So yes, web design trends for 2015 will feature lush photography, background video, and expressive typography. But our expertise (and design chops) will be going into making these trends work for each brand and helping these technologies evolve into staples of good web design.