Landscape & Culture: The Inspiration Behind the Award-Winning "Mound City" Catalogue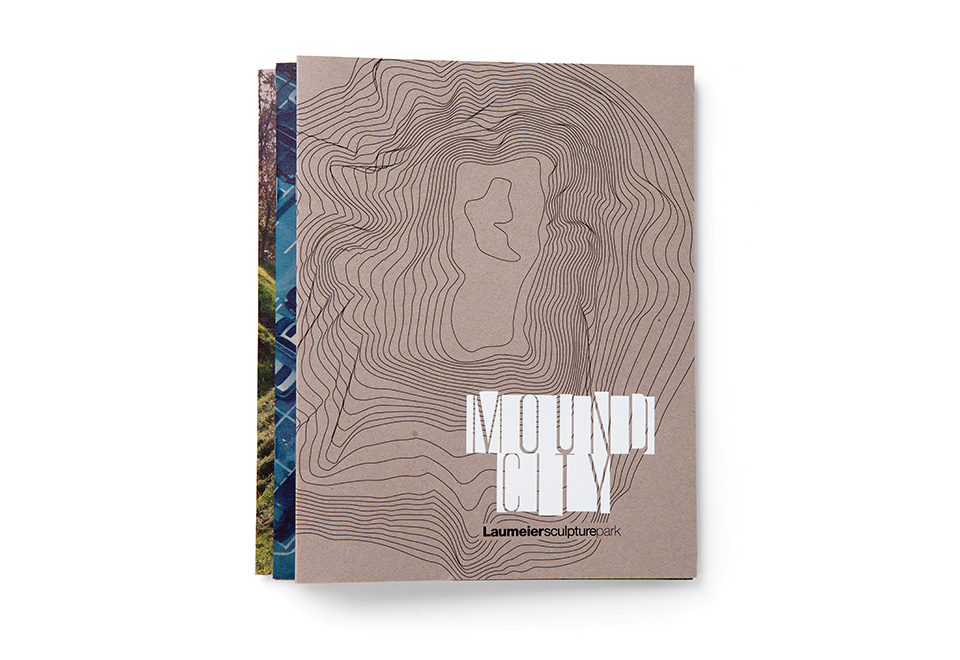 Long before we came to be known as the Gateway to the West, St. Louis answered to another epithet: Mound City.
The origins of this nickname lie in the earthen mounds constructed 1000 years ago by Native Americans of the Mississipian culture. Today, these mounds are largely concentrated in the Cahokia Mounds State Historical Site, which was once the largest ancient city north of Mexico City.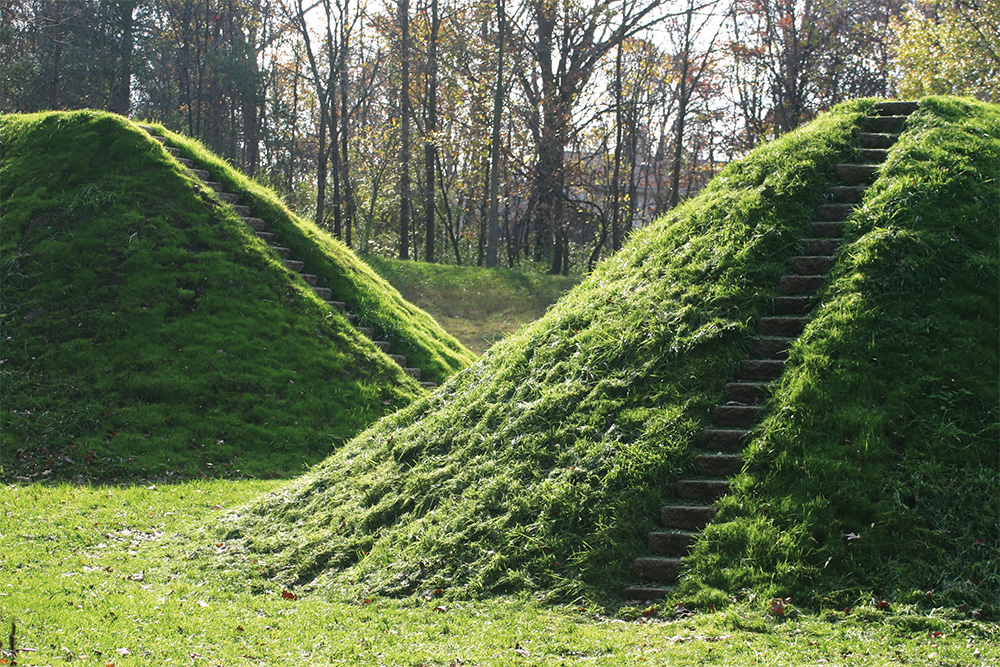 Prior to the 19th Century, mounds of various sizes were scattered throughout St. Louis city limits, but as the city grew, these structures were leveled to make way for modern architecture. Just as the mounds have been physically erased from the city's landscape, the stories of these native cultures have been largely omitted from history books.
The 2014 Mound City exhibit at Laumeier Sculpture Park examined this forgotten past through a collection of contemporary interpretations of disappearance and destruction. TOKY designed the Mound City catalogue, an exhibition book comprised of three main pieces: an introduction from the exhibit's Chief Curator and Laumeier's Executive Director Marliu Knode; exhibition photography; and a collection of essays examining forgotten native cultures and the erasure of historic landscapes over time.
From the beginning, our design team focused on incorporating exhibition themes into the book's design and structure. "Probably the most notable feature is the dimensional binding," says Senior Designer Liz Mohl. "The three content sections lent themselves to a unique binding method that became architectural in its layering — layers that reference both the physical mounds and the complex historical, political, racial, and environmental issues that are discussed within."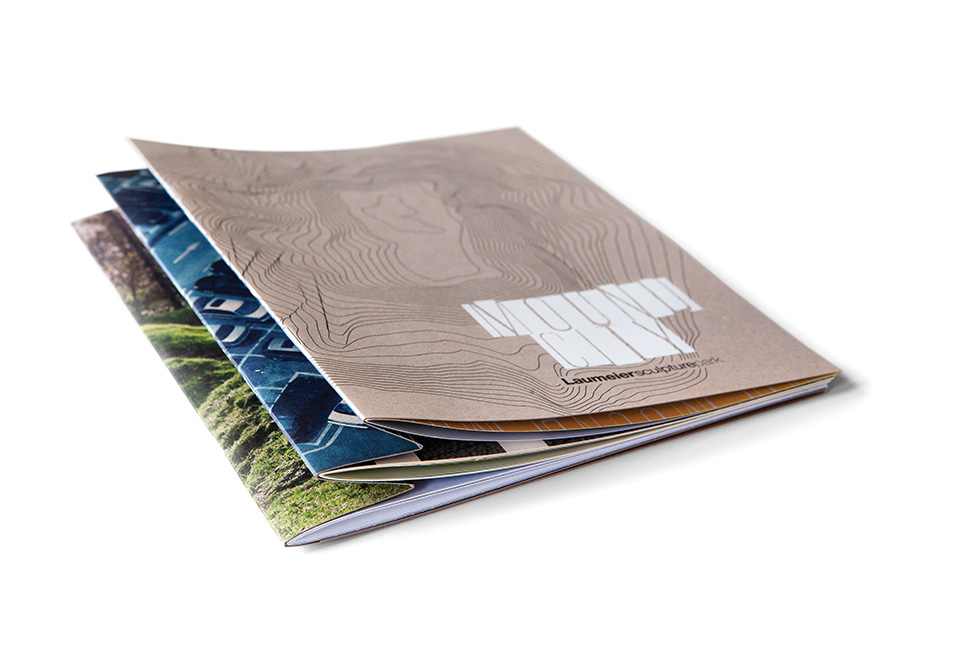 That dimensionality was also echoed in the book's typography. "We were going for typography that was as dimensional and layered as the book and the content," says Designer Kelcey Towell.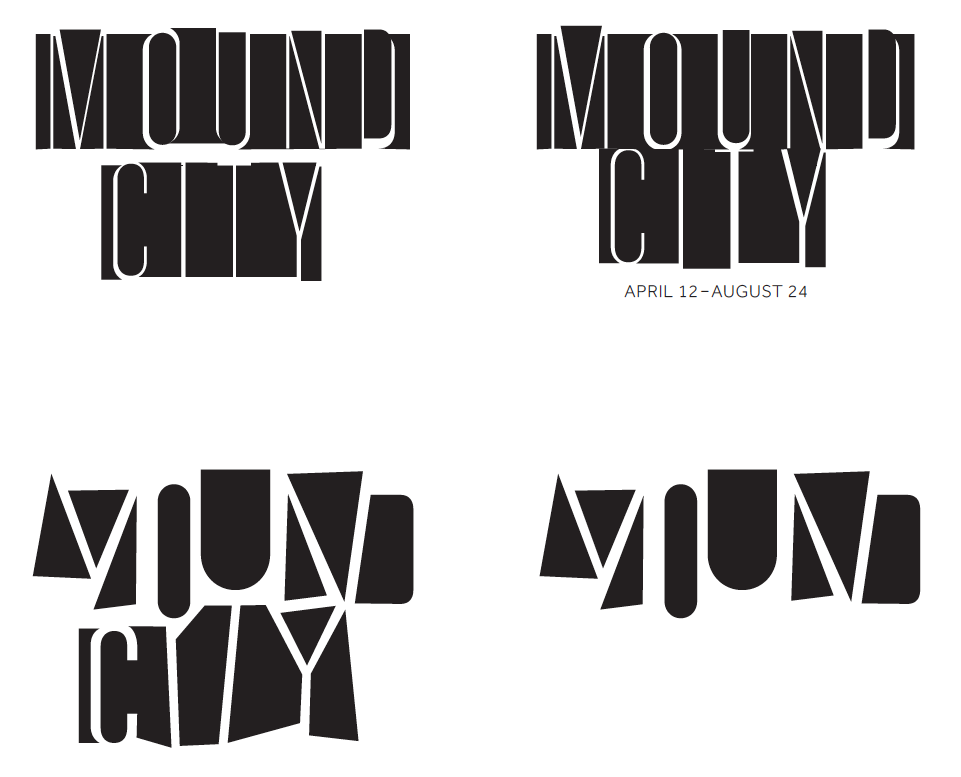 "We pulled inspiration from urban landscapes, Native American patterning and shapes, and the advance and recession of both letterforms and historic and modern societies," Towell says.

On the cover, the foil logo uses a balance of positive and negative space — a theme that is echoed in patterning that graces the catalogue's interior pages.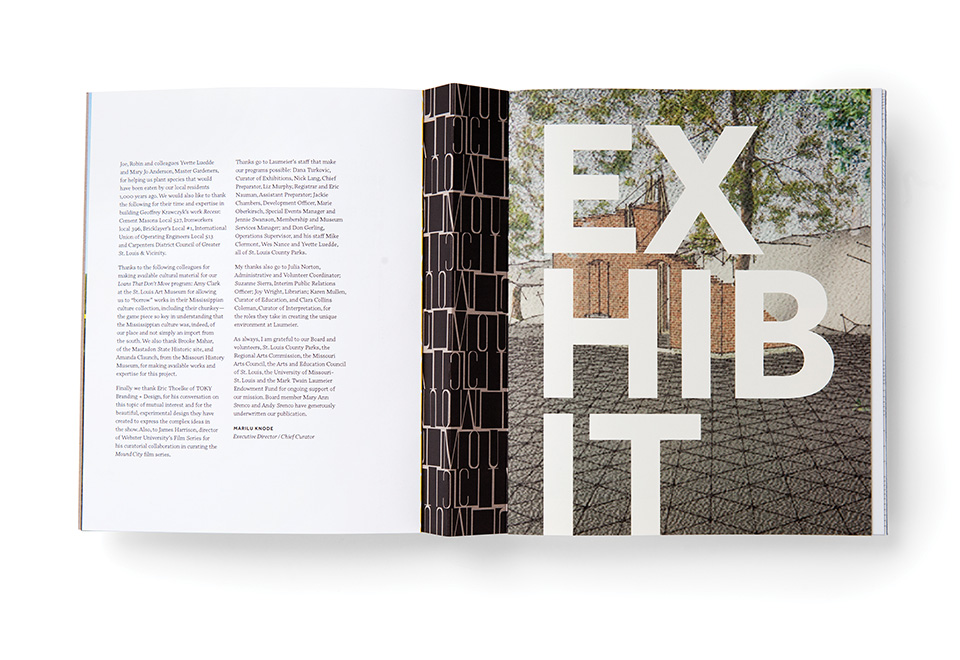 Earlier this year, the Mound City catalogue was included in Communication Arts' 2014 Design Annual, and we've just gotten word that the work has also been listed in Communication Arts' 2015 Typography Annual. Congrats to our designers and clients on the win!