'Twas the Weekend Before STLDW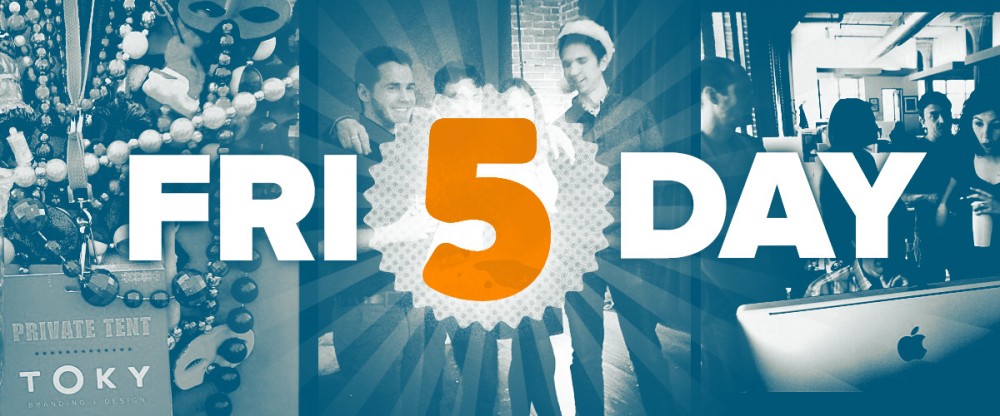 For the St. Louis design world, this weekend is the giddy wait before Christmas. Monday we jump in to St. Louis Design Week with both feet for a jam-packed schedule of design-y goodness.
Of course, we'd be remiss if we didn't mention TOKY's events – our Open House on Monday and Live In the Alley on Friday. You might say that we have the honor of being the bookends to a very creative week! We're certainly looking forward to it. Hopefully, we'll see some of you there!
So, OTHER than ours, what's the TOKY team looking forward to most next week?
Pecha Kucha
It's no secret that a number of TOKY's employees love Pecha Kucha. so this tops the list from a few of us.
"Definitely Pecha Kucha. It's awesome to hear about the new and exciting things happening around Saint Louis. I haven't missed a PK since I learned about it!"
/ Daniel Korte, Web Developer
The Dot Show
"The Dot Show! I can't wait to see what the other artists made. Designers were asked to pick a spot in the city where they are inspired, or a place they find meaningful. I chose the loop. Specifically: the Planet Walk."
(Be sure to look for Kelcey's piece at the Dot Show, we promise it's amazing.)
/ Kelcey Towell, Designer
Tall Tales from a Large Man & Crappy Hour
The Wednesday night combo of Crappy Hour at Triumph and Aaron Draplin's "Tall Tales from a Large Man" talk at Moto Museum. I've been using Draplin's Field Notes for five years now, and look forward to hearing from him (and maybe having him autograph a notebook). Also, it's Crappy Hour's third birthday, which is exciting.
/ Logan Alexander, Designer
TEDx
"The TEDx event looks cool. Just because I like to hear how people who are more creative than I am operate."
// Laura McCarthy, Account Manager

So that's where you'll find some of us next week. For the full schedule of what to expect during St. Louis Design Week, check out their site. Whether you're in it for the craftsmanship, inspiration, or the business end of creative, there's something on the calendar for everyone.