TOKY Friday Five: It's 5 O'clock Somewhere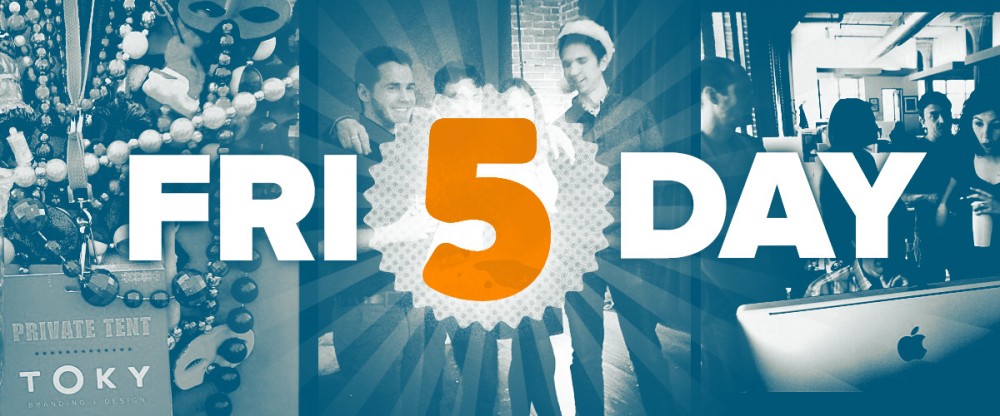 We're in the final stretch, folks. Watching the minute hand inch by… waiting for the first sip of the usual from your favorite seat at the neighborhood joint.
Here's where you can find the TOKY team after hours and what they're likely to be sipping.
The Scottish Arms
The Scottish Arms is my favorite pub and lunch hideaway in the area. I'll be there on Thursday the 18th voting for YES for independent bourbons and beers.
/ Eric Thoelke, President + Executive Creative Director
Small Batch
Blanton's is my go-to order anywhere I go. Lately, I've been enjoying Small Batch a lot. You can't beat the location [downstairs from TOKY] and it's nice to kick back with coworkers.
/ Emily Standley, Account Manager
33 Wine Bar
33 Wine Bar is the best place to have a glass of deep red wine while lounging on the back patio on a crisp autumn early evening. And then there's the cheese… oh, the cheese.
/ Katy Fischer, Creative Director
Diablitos
In the Spring and Fall, I like the firepit and patio at Diablitos. The salsa bar and margaritas are delicious, but something stronger by the fire works well, too. In the Summer, I like Small Batch's patio with a Moscow Mule or beer samplers from some of St. Louis' fantastic local brewers.
/ Jane Winburn, Account Manager
Dressel's
Dressel's is my go-to for a quiet night, either with other humans or with a book. It's dark, cozy, and they've got Perennial Hommel on tap. Plus, the walls are covered in awesome portraits.
/ Katherine Leonard, Content Strategist
Blind Tiger
I'd suggest grabbing a seat at the bar of Blind Tiger and ask the bartender to surprise you with the whiskey, bourbon, or rye they're obsessing over right now. I've never been disappointed and the bartender is always happy to chat about anything and everything.
/ Lindsey Vehlewald, Digital Media Producer
Have a great weekend, everyone!