TOKY Friday 5: Email Subscriptions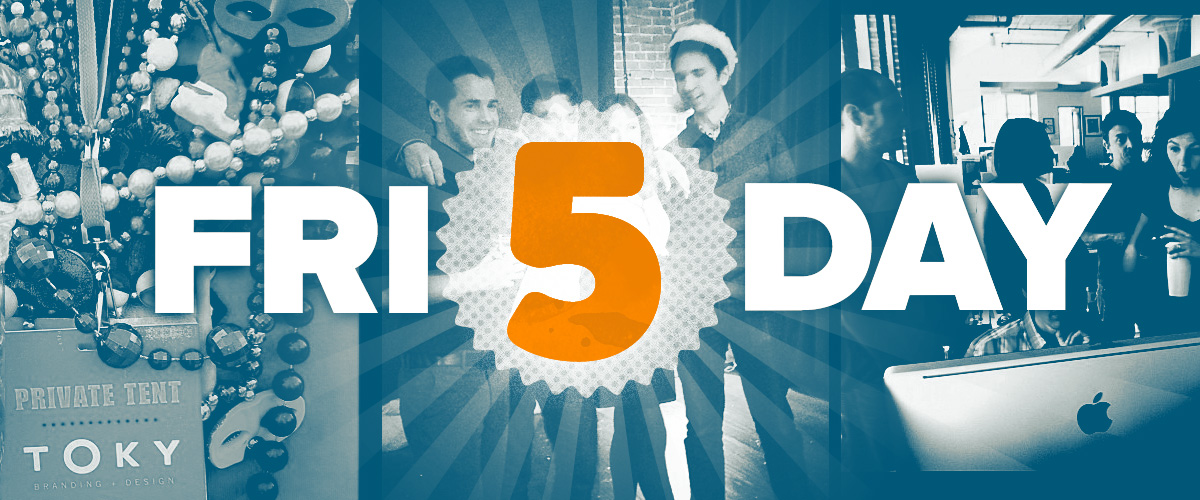 In this week's Friday 5, staffers discuss which subscriptions are worthy of their inboxes.
The Very Short List
I get Very Short List every day, and always read it. It's a nice concise list of three "cultural gems from a different curator everyday." Topics include tech, lit, culture, design and food. I hate the overuse of the word 'curator', but it's usually someone cool and relevant to the topic of the day—like the CodeAcademy founder who recently recommended two articles on the usefulness of teaching code, and linked to an organization in San Francisco that teaches diverse groups of children how to program.
/ Jane Nagle, Designer
The Next Web's Weekly Headlines
The Next Web's Weekly Headlines newsletter is always of interest to me—it's usually industry news that I don't hear from my other channels and I can quickly scan the headlines to see if any are worth reading. Plus it's a lot better than being inundated by their RSS feed.
/ Daniel Korte, Web Developer
Quora Weekly Digest
Quora is like Yahoo Answers with a college degree. Members ask questions across a variety of topics and (in some cases) extremely qualified people answer. Quora Weekly Digest is a list of top content not from the website as a whole, but from the specific categories you've expressed interest in. Some recent answers I couldn't help but click: Why did Microsoft change the default font to Calibri? What does it feel like to be a mail order bride? Useful knowledge? Probably not, but it's a fun weekly trip down the rabbit hole.
/ Katherine Leonard, Content Strategist
Pulse
Pulse's newsletter weeds out all the crap that only I care about it. There's no need to look at Twitter…Pulse takes care of everything for me. It lets me know what's happening whether it's politics, design, or technology. I look forward to seeing top viewed hits in my categories so that I can be updated on what's important and what's not.
/ Robert Paige, Senior Interactive Designer
Svpply
I don't frequent this site a lot, but I do look forward to the curated picks that hit my mailbox a few times a month. Sometimes themed, sometimes not, it's a good way to find out about really obscure items from little-known web stores all over — like when is Lowe's going to start carrying this skull door knocker? And when is my wife going to OK this purchase?
/ Jay David, Creative Director