The TOKY Friday Review: 7/5/13 — 10 Links for the Holiday Weekend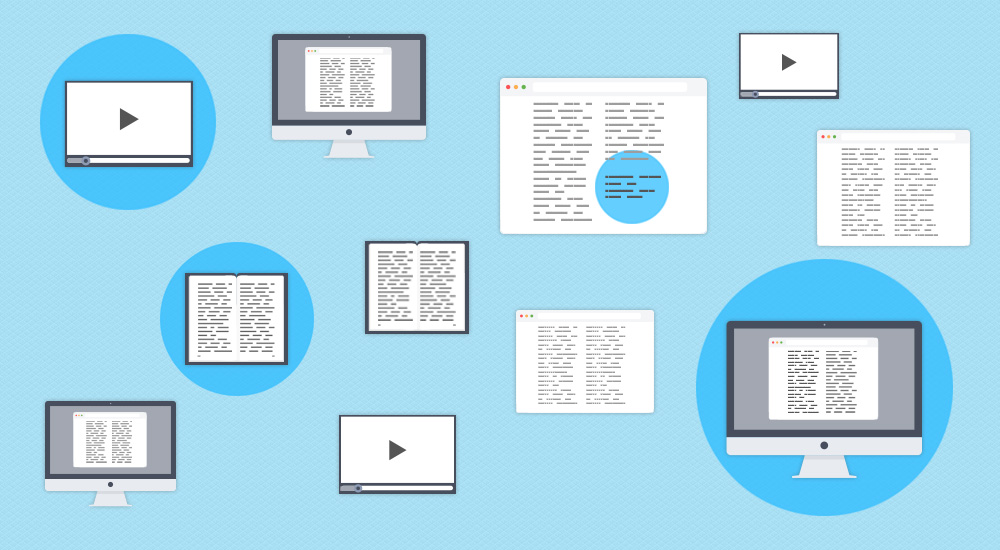 At the end of most weeks, TOKY takes a curatorial look back at a few important or memorable highlights from what we've recently read, watched, or listened to — all related to the industry we love.
The most recent Friday Review was short on examples (three) and longer on commentary. Today we're switching things up with a snackier links-filled post for the long holiday weekend:
1. "The Compounding Returns of Content Marketing: The Data Behind Why Persistence Pays Off in Blogging"
Venture capitalist Tomasz Tunguz takes a numbers approach to arguing for the longterm value of creating a rich "content library," one that remains relevant and visitor-ready well after you first pressed Publish.
2. "Why the Half-life of a Pinterest Pin is Thousands of Times Longer Than a Tweet or Facebook Post"
Leaning on a new study by Piqora, this VentureBeat article also finds a way to let time be your friend when it comes to what you're publishing online. Namely: "The key difference is that while Pinterest is a social network, it's also an ideas-and-inspiration website, whereas Twitter and Facebook are social networks with a massive emphasis on immediacy. When people visit Pinterest, they browse, they search, they surf, and they uncover more pins."
3. The Met: "82nd & Fifth"
It's the great museum's NYC address, as well as the name of a year-long online series: 100 curators discuss "100 works of art that changed the way they see the world," two minutes at a time. New releases are posted each Wednesday. Like The Met's "Connections" series, this is a good example of using basic elements — voiceover and still photography — to create compelling narratives.
4. "Why Advertising Has Become Guerrilla Warfare"
Writing in the WSJ's Speakeasy blog, author and communications professor Michael Serazio sees parallels in "invisible" armies and how marketing is now, more than ever, attempting to live side-by-side traditional media content. (Or course, someone in the Comments points out that some could consider Serazio's own column guerrilla marketing for his book.)
5. Expedia: "Find Your Understanding"
A late June NYT piece — "Commercials With a Gay Emphasis Are Moving to Mainstream Media" — turned our attention to this three-minute video for Expedia that's more short film than advertisement. This came into view for us just as we were having conversations about brands successfully going this route — breaking from product-selling to simply telling a story.
This is part of Expedia's larger "Find Yours" campaign, which is complete with a library of more than 15 short films. Viewers are encouraged to submit their own travel stories through an integrated Twitter campaign.
6. "Why is Google Afraid of Paint Content?"
An interesting argument from Outbrain on why Google shouldn't value all company-created content the same. Key bit: "Brands are increasingly legitimate publishers, with the likes of American Express, Red Bull and L'Oreal creating credible hubs of content, free of promotions and click-baiting, that educate or delight consumers as much as other publisher sites."
7."Family Caregivers are Wired for Health"
As TOKY's healthcare clients well understand, offering useful, compelling content is more important than ever. And as this Pew report explores, one chunk of their online visitorship is expanding: Adults caring for an adult or child with significant health issues. This population has jumped from 30% of U.S. adults in 2010 to 39% today. They're increasingly turning to healthcare sites for answers, insights, connections, and more. Meeting this particular group — caregivers, not just patients — with useful, usable content will continue to be key. And it must be viewable on all screens.
8. "Training Student Content Creators at Glendon College"
Nearly every organization in one of TOKY's other core sectors — higher education — faces the same quandary: How to allow student voices to flourish, while maintaining a school's high standards. At MeetContent, Courtney Mallam of Toronto's Glendon College shares what's worked for her team. (One motto that stuck: "Approve the student, not the post.")
9. Chart: "State of Content Marketing"
An interesting collection of stats gathered by Wishpond. Among them: "Companies that blog have 55% more traffic to their websites," and "marketers now spend 25% of their marketing budget on content marketing."
10. "Bob the Baker"
We'll close with something close to home: A short film about the Carondelet Bakery, the oldest bakery in our HQ city of St. Louis. Made by Greg Kiger's Once Films — with whom TOKY has collaborated — the film follows baker Bob Smith, who shares what it's been like to be at this for a half century, "getting up before the sun." Bob's also the father of TOKY's own Lauren (Smith) Crevits. A lovely portrait.