How We Work: Using The TOKY Research Library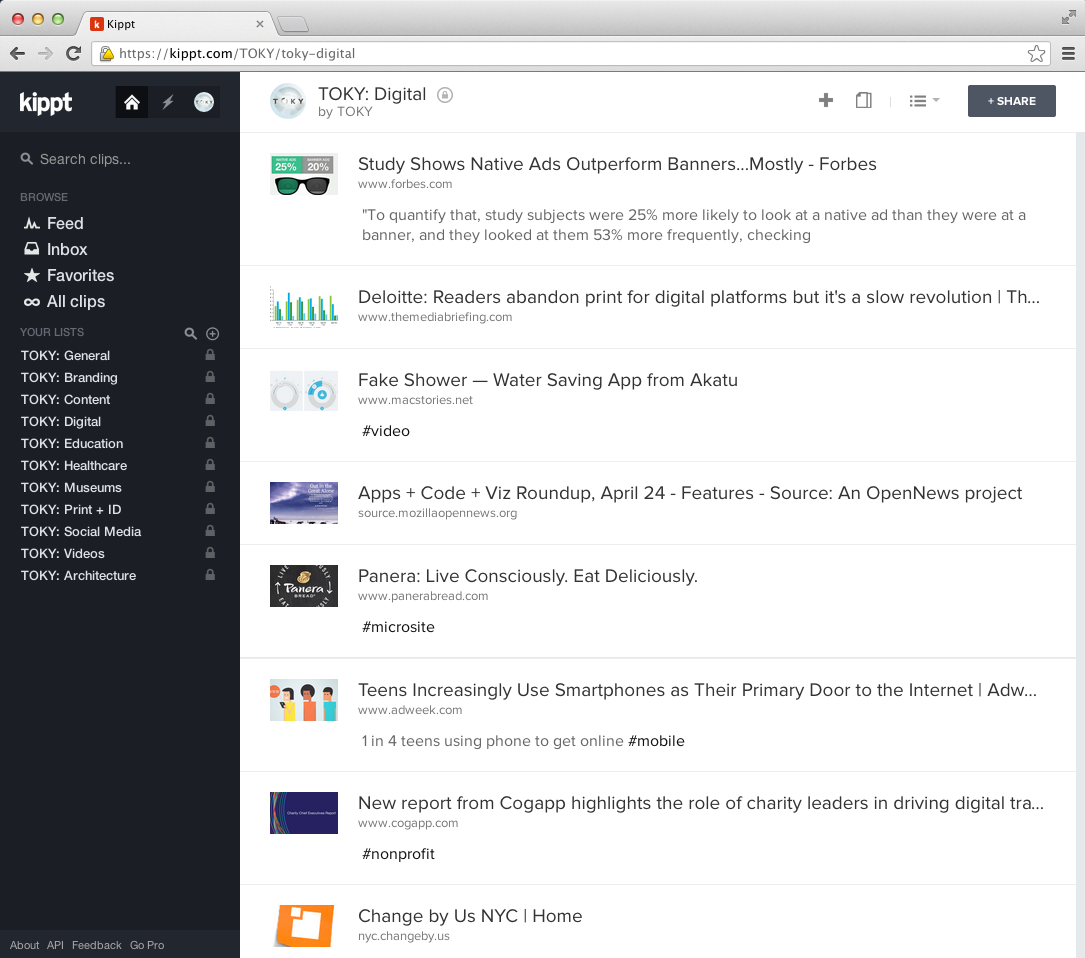 On the list of first-world workplace problems, I place it near the top: how to make valuable use of the unbelievable amount of information scrolling down and up and down in front of our eyeballs every waking hour of the day.
We've never had more opportunities to read case studies, assess other creative efforts, drill down into data, reflect on an industry white paper that just might prove useful in the months ahead. (Where was it that I read that stat on mobile usage in higher-ed? And what exactly was the stat?)
As a memory or inspiration aid, archival online bookmarking is far from new. On the visual side, Pinterest is nearing 50 million users, and services like Dropmark have proven very useful for creatives building creative projects. (Many of us at TOKY use Dropmark every day.)
As for bookmarking articles, the recently relaunched Delicious has been around for a full decade now, with the indie program Pinboard claiming a good number of paying customers as well. While I've used the latter personally for a few years to build a library of articles I might want to come back to one day — in crafting a presentation, in writing a report or blog post — this was still just my personal account, not something that benefitted the larger team.
The TOKY Team does a lot of internal sharing. New websites, studies, articles, videos … anything one of us thinks might be valuable for the team. One link might be shared over email, another in our private Facebook group, another over IM.
With the goal of establishing a single, shared, private archive of the most essential articles, we recently created The TOKY Research Library, using a service called Kippt. We have "lists" for select key sectors (Architecture, Healthcare) and services (Print and Identity, Digital, Content). Just like with Pinterest, giving a single click to a browser bookmarklet will send an article to our Library, giving us the chance to categorize it how we'd like. Staff can have their own personal Kippt accounts, but as they're granted "Collaborator" status on the private TOKY lists, the promise of this shared resource comes alive. In addition, without logging in or using the bookmarklet, staff can always email an article to TOKY's unique Kippt email address; the resource lands in our Library Inbox, and we move it to a list from there.
A few peeks behind the curtain, starting with our "Content" list: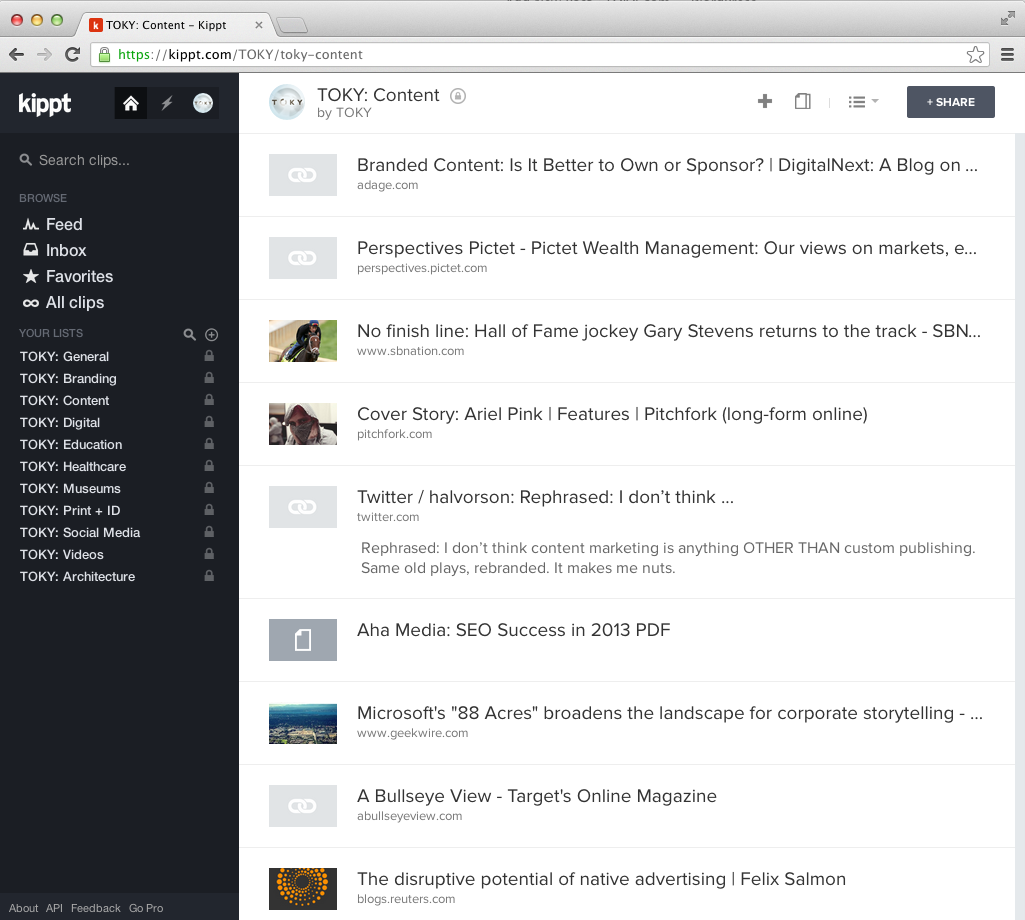 Our "Social Media" list: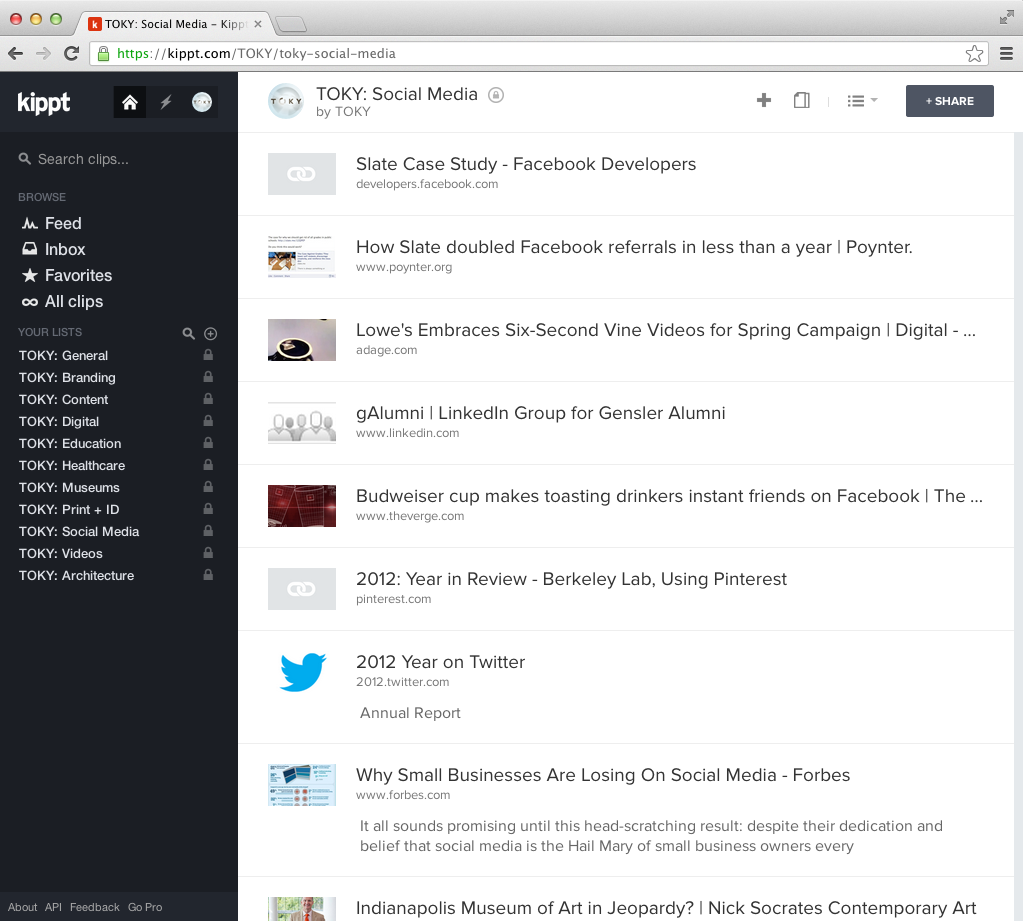 Our "Healthcare" list: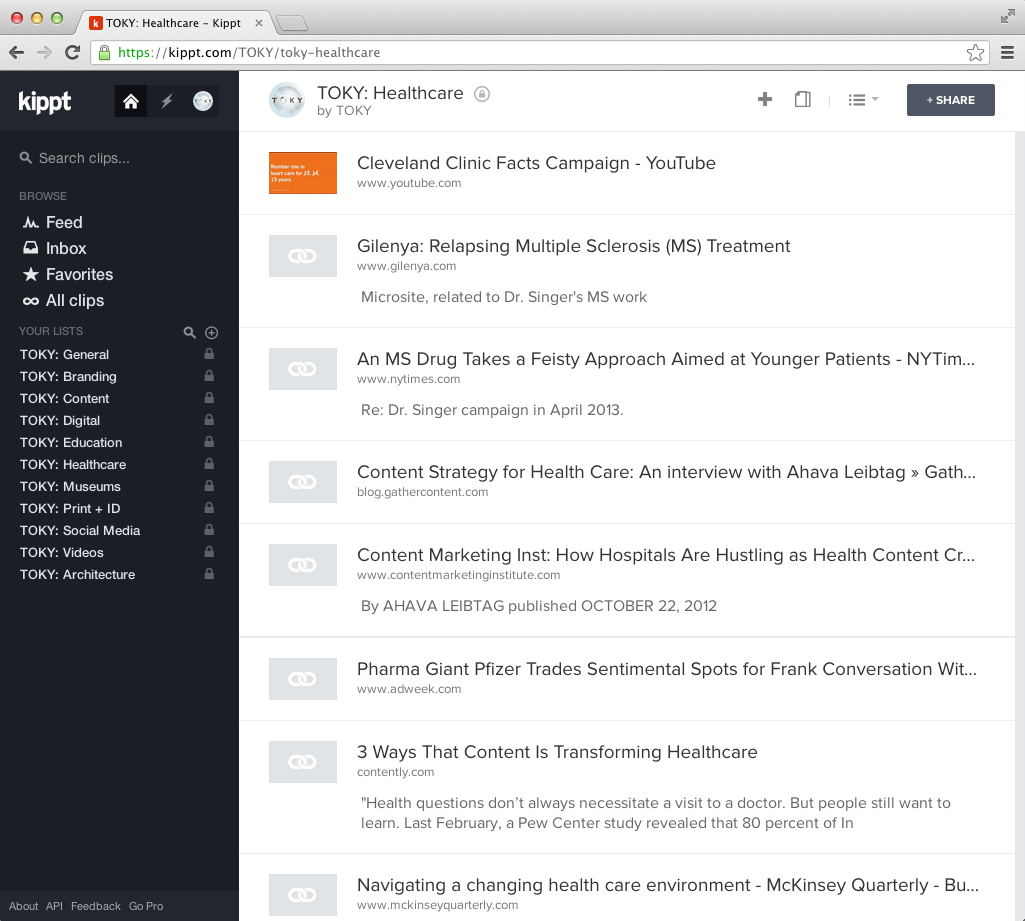 Search works very well on Kippt. Here are search results for "Mobile":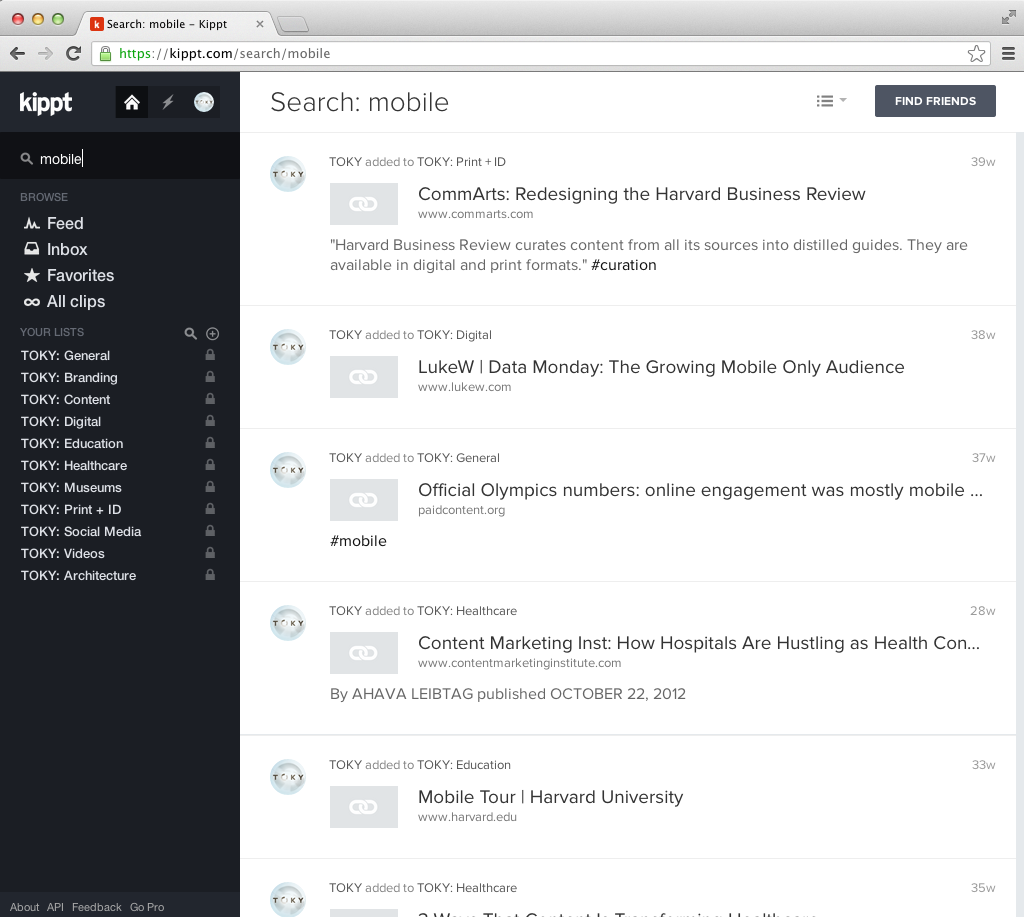 While we spend a great deal of our time here at TOKY crafting concrete deliverables for our clients — identities and websites, videos and books — there's another strategic role we play, one that's fairly constant: We read and watch and reflect. We look ahead and recommend. Whether we're discussing an emerging trend with clients over coffee, or delivering a full boardroom presentation, having organized, at-hand research means our minds are sharper, our thoughts clearer, our counsel more firmly rooted in the real world.