John Foster in London-Based Arts Magazine
TOKY Director of New Business John Foster, who moonlights as a widely noted art collector, has penned a piece for the September issue of Raw Vision, the world's only international journal of Outsider Art.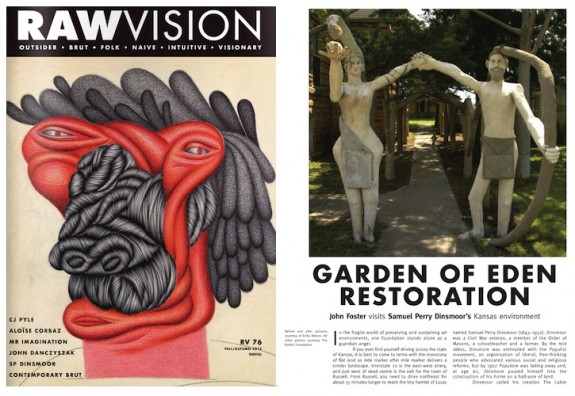 For the piece, John shared his thoughts on the long-overdue restoration of what he deems one of the most startling and magnificent art environments in the United States, and certainly one of the most respected sites of its kind in the world. I asked John to share a few more details about the piece for TOKY's readers:
To call this Lucas, Kansas, site quirky, odd, or bizarre would be correct. After all, it was single-handedly created by one Samuel P. Dinsmoor, who was born in 1843 and died in 1932. A Civil War soldier, a member of the Free Masons, a schoolteacher, and farmer, Dinsmoor got the bug to start building something magnificent and lasting around 1907. Since Kansas is not known for large trees, Dinsmoor used concrete to build his "log" cabin. He populated the yard with concrete trees, concrete figures, and animals — many of his ideas drawn from the Bible and Free Masonry iconography. To cap it off, Dinsmore built a glass coffin for his final resting place and can be seen to this day inside his home. Old Dinsmoor looks pretty good for a man of 169 years of age. The residents of Lucas are very protective of the Dinsmoor site and accept the quirky house and Dinsmoor's art as something unique and special to an otherwise small town.
The Dinsmore site had been suffering for years from the creaks and moans of severe old age — until The Kohler Foundation in Kohler, Wisconsin, stepped in to help. The Foundation brought in art conservators and other professionals to begin the massive task of cleaning, repairing, and conserving the art.
Foster's article about the restoration fits his love of such things. Beyond his life as a collector, he serves on the Board of Trustees for SPACES, a California organization dedicated to the awareness and preservation of art environments all over the world such as this.