Stephen Schenkenberg Receives E-Book Nod From The New York Times
Last Friday morning, The New York Times' Bits blog published a piece by David Streitfeld entitled "A Champion of the Book Takes to the iPad."
The article covered the release of Abstractions Arrive: Having Been There All the Time, a collaborative iPad-exclusive book from celebrated author William H. Gass and photographer Michael Eastman — a book published by none other than TOKY's own Stephen Schenkenberg.
Stephen is a longtime reader and admirer of the writer, and runs the Reading William Gass blog, of which Streitfeld said the following: "Every serious writer should have such an informative blog; few do." To supplement the release of the book, Stephen filmed a conversation between Eastman and Gass and set up an Abstractions Arrive microsite.
Beyond the involvement of TOKY's own Senior Strategist, this project is notable as a William Gass e-book. Thirteen years ago, he published "In Defense of the Book" (subscription only, also collected here), an eloquent profession of support for the printed page in the face of continued digital advances. Several readers of the NYT piece were quick to chalk up the release of Abstractions Arrive as some kind of victory for e-books — the sign of a grizzled veteran of the physical/digital wars finally hoisting the white flag.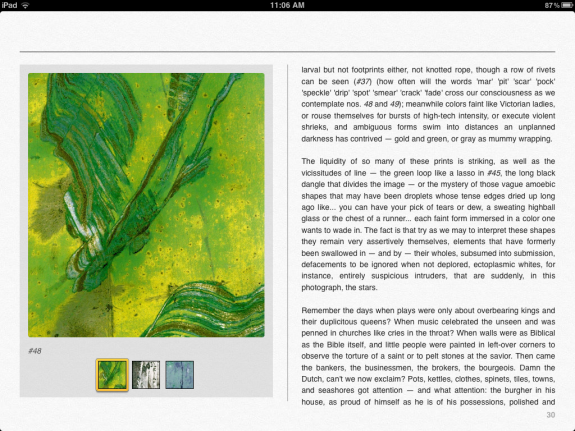 Nothing could be further from the truth. "Bill published another essay collection with Knopf earlier this year, and a novel's coming next March," says Stephen. "He hasn't left print, and never will." In his New York Times interview, Gass put it this way:
I don't write for the reader. I'm working for the text, the object coming into existence. It makes its demands. Then, like a child you've raised, it goes off into its business, not mine.
Here we have one of our nation's greatest living writers advocating, dare we say, good content strategy. Abstractions Arrive's digital release is not a dictum on the superiority of e-books, but simply a case of an author and an artist choosing an appropriate and effective venue for one particular project.