TOKY Staff Help Put On AIGA's BUILD 2012
This past Saturday, I was fortunate to co-chair BUILD, the AIGA St. Louis Student Conference at Maryville University. This popular annual event for junior- and senior- level design students drew more than 165 participants, representing design programs from area colleges and universities, as well as programs in Kansas, Illinois, and Indiana.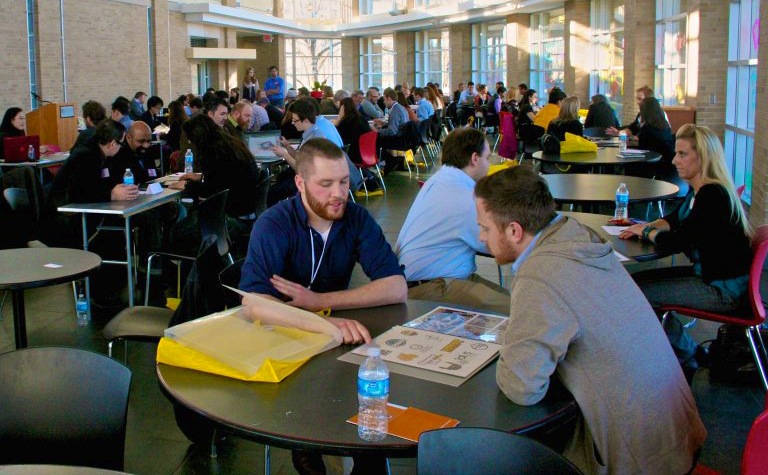 The day began with two keynote speakers who were a large draw for students and professionals alike. Mig Reyes, an interactive designer at 37Signals and professor in Chicago, encouraged students to pursue their interests through passion projects, like Jessica Hische's "Daily Drop Cap" or Coudal Partners' "Layer Tennis" (which Reyes himself won last year). These outlets, Mig explained, create a space for play, stimulate connections, and can open other doors of opportunity.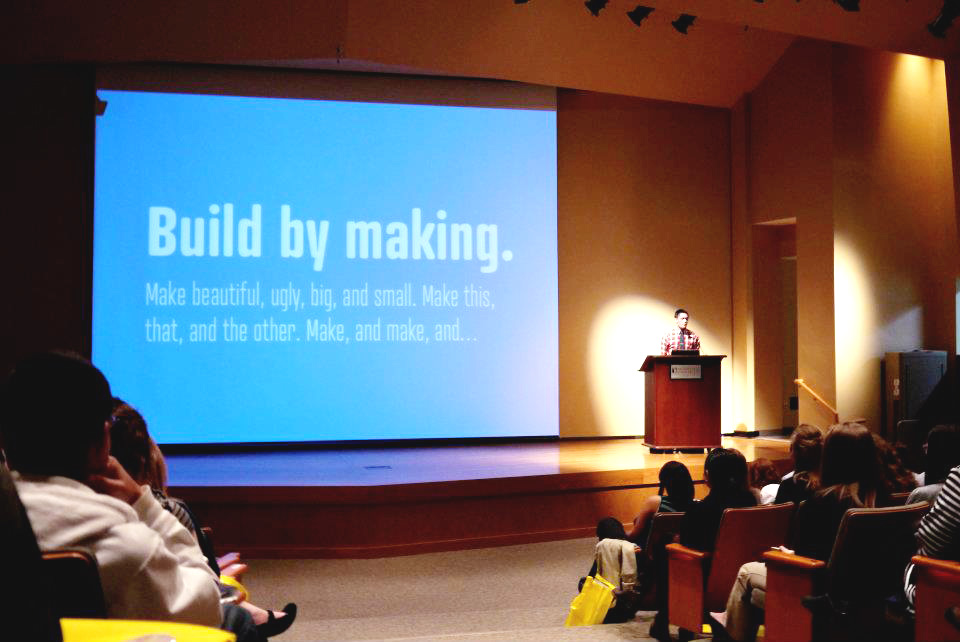 Tad Carpenter, a Kansas City-based illustrator, designer, professor, and co-owner of Vahalla Studios, approached the idea of "build" through a focus on making and process. Tad showed the extensive rounds of ideation it took to get it right on several of his branding and illustration projects.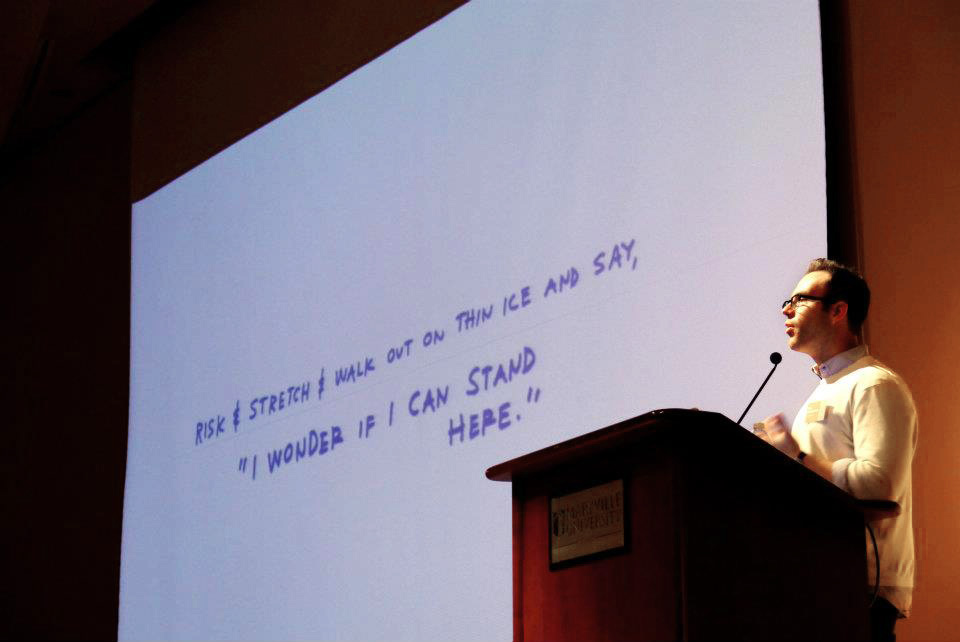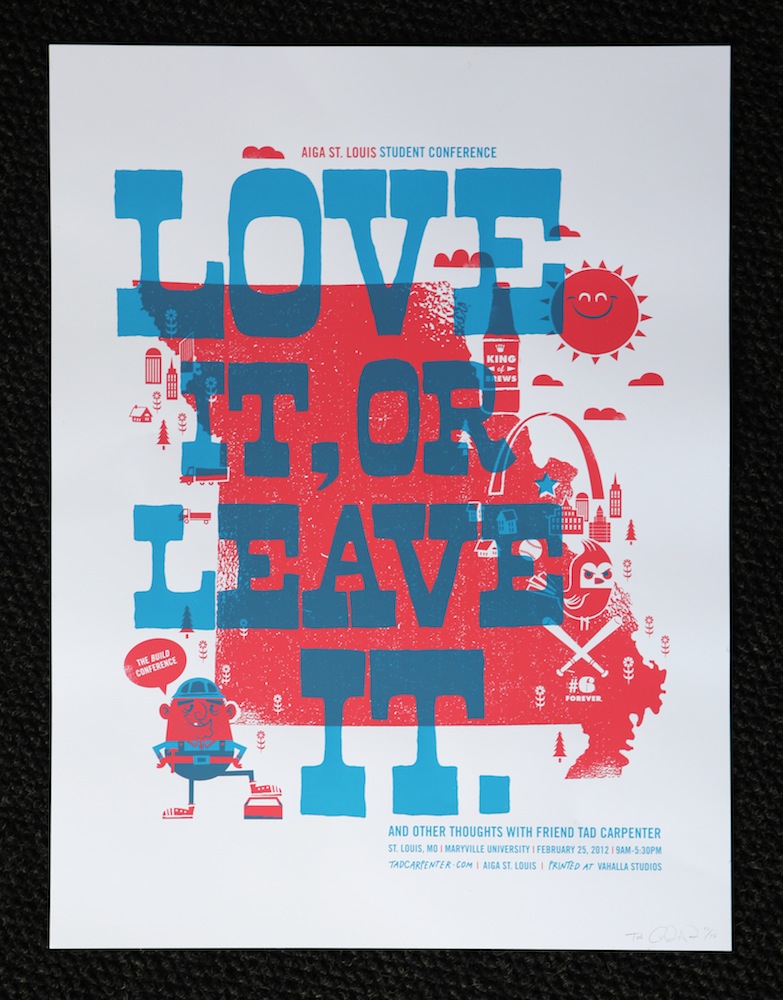 The two speakers were chosen for their energy for design, and complementary styles and experiences. We wanted to seek out designers from the Midwest, to help students realize that location shouldn't be a barrier — that there are plenty of people making compelling work off of the coasts, too.
During the afternoon's Senior Portfolio Review, students were given three 20-minute sessions with different professionals to go over their work, websites, and reels. It's a less pressured environment in which they can experience the types of questions and conversations they'll likely see in a job interview. We were shown great support from the design community, with more than 55 professional designers participating in this portion of the conference, including TOKY Senior Designer Bruce Burton and TOKY Creative Director Katy Fischer.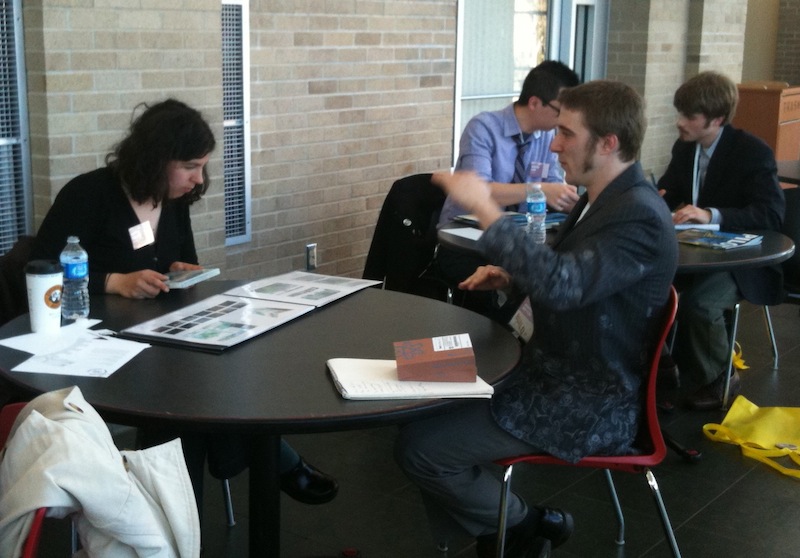 Students not taking part in the review had the opportunity to attend smaller break-out sessions. Mig and Tad hosted a smaller Q&A, the VLAA reviewed freelancing basics, young professionals held a roundtable and reviewed junior students' resumes, and two members of Dachis Group (formerly XPLANE) held a mini-version of their monthly Visual Thinking School. In this session, students explored methods of live-sketching, visual note-taking, and storytelling frameworks to create infographics.
In all, the event was well-attended and the content well-received. We hope that students were able to take away advice and constructive critique to sustain them through their last few months in school. As someone who participated in the event just last year as a senior, the experience was a helpful step in transitioning into the professional realm. It's nice to have your work validated in conversations with designers beyond the scope of the classroom. I was happy to help put on the event this year — and I'm grateful to all those who helped make the day run smoothly.
All photos that don't include Katy Fischer taken and shared by Devon Hirth/AIGA St. Louis. Thank you!