John Foster Profiled in Art & Antiques Magazine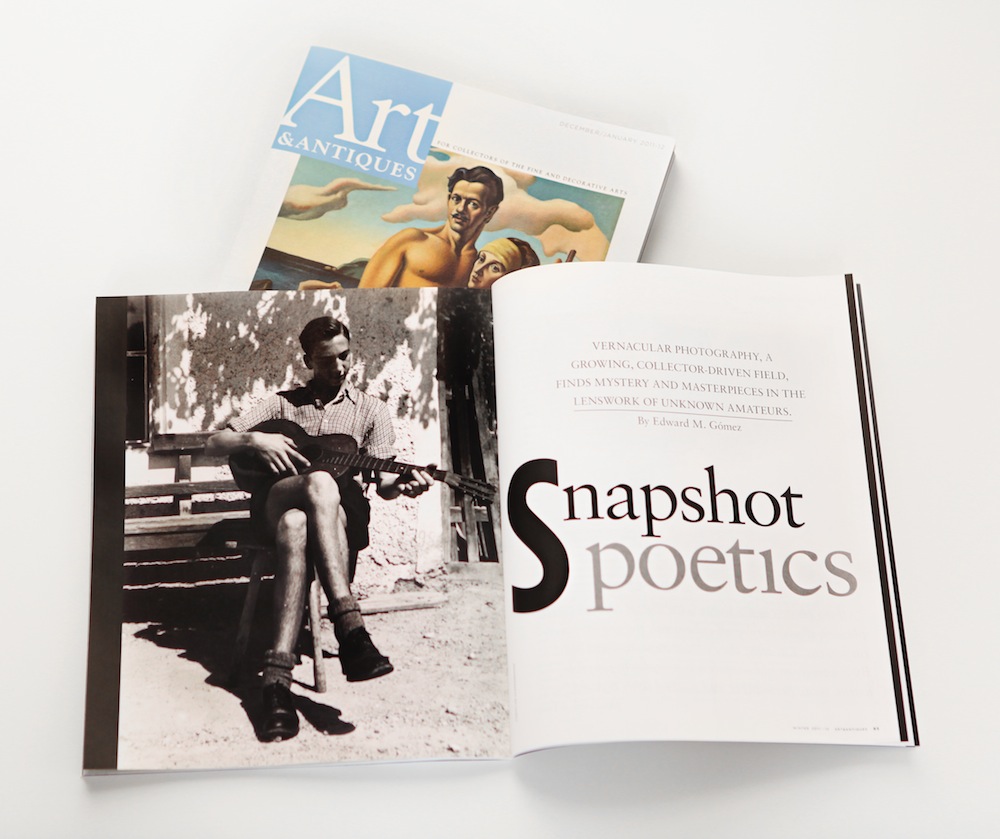 About three months ago, TOKY Director of New Business John Foster was contacted by a writer for Art & Antiques Magazine, which was planning an article about the emerging trend in collecting what is now called "vernacular photography." John has collected snapshots (as he calls them) since the early 1990s, before there was much talk or awareness of the subject. Now, photographic auctions and major galleries include snapshots as an important piece of the bigger picture in understanding what photography was in the last century. It's now understood that ordinary photography by everyday people can yield extraordinarily rich results.
Over the past decade, John has earned wide recognition for his photography collection, with inclusion in Harper's, Newsweek Online, and Art & Antiques itself, which named him one of the "Top 100 Collectors" in the U.S. His collection has toured U.S. museums, and his blog posts — both on his own Accidental Mysteries site and on Design Observer, where he's a weekly contributor — have an international readership. All that to say: We know why John's phone rang on that fall afternoon.
The nine-page finished article, Edward M. Gómez's "Snapshot Poetics," includes interviews not only with John but also William Hunt, Robert Flynn Johnson, Robert Jackson, and Christian Schneeburger, all of whom are recognized as some of the most important collectors of this material in the world.
The photograph in the opening spread is owned by Christian Schneeberger. The three photos in the cover spread are part of Foster's collection.
A few of our favorite quotes from the piece:
The St. Louis-based vernacular photography collector John Foster, whose background is in graphic design, says of his habitual visits to flea markets: "I look for photos that are exceptional in their subject matter, point of view, conception and composition, and even with regard to technical aspects like tonality and focus. Maybe one out of every 500 images I see is worthy of a second, longer look, and it might take looking through that many before spotting a gem."
…
The thrill of finding a fantastic anonymous photo has given rise to a lively, growing market, whose sources lie outside the established gallery world. Foster says, "To look for photos, I've always visited flea markets and antique shops, but today there's eBay. I've spent countless hours and thousands of dollars on that website. There are others, too, where serious collectors will compete fiercely for a prized photo."
Read the piece online, or — better yet — pick up a copy of the magazine at your local bookstore. The photos look terrific.