Possessions: An Ampersand from Amsterdam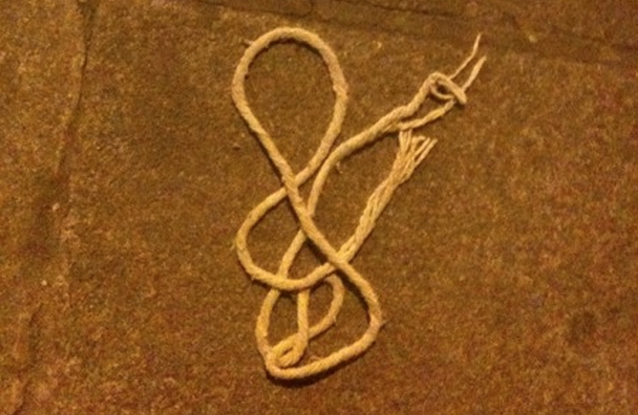 In January of this year, I received an email from a graphic designer named David Bennewith, born in New Zealand but living and working in Amsterdam. Bennewith was launching a small edition of books dedicated to the typographical 'and' ("its graphic and linguistic permutations," he told me) and he was hoping to be connected with William H. Gass, the celebrated American writer whose long and lovely essay on just that subject ("And") was published in Gass' 1997 collection Habitations of the Word. Since one of my side projects is running Reading William Gass, an online resource for Gass readers and fans, I was able to put them in touch.
A valid question you might have at this point: How does one write a long essay about the word 'and'? Is it even possible? Is it interesting? If you're a writer of Gass' caliber (he had 80/1 odds to win last week's Nobel), you do it with passages like this:
The anonymity of 'and,' its very invisibility, recommends the word to the student of language, for when we really look at it, study it, listen to it, 'and' no longer appears to be 'and' at all, because 'and' is, as we said, invisible, one of the threads that holds our clothes together: what business has it being a pants leg or the frilly panel of a blouse? The unwatched word is meaningless — a noise in the nose — it falls on the page as it pleases, while the writer is worrying about nouns and verbs, welfare checks or a love affair; whereas the watched word has many meanings, some of them profound; it has a wide range of functions, some of them essential; it has many lessons to teach us about language, some of them surprising; and it has metaphysical significance of an even salutary sort.
And later:
Although the sound "and" and the word 'and' may appear and reappear in sentence after sentence, both in spoken and in written form, there is no single meaning (AND) which remains tethered to the token. The word is, perhaps, no sneakier than most words, but it is sneaky enough, hiding itself inside other sounds, pulling syllables up over its head. It is, of course, the principal element in 'randy,' 'saraband,' and 'island,' a not inconsiderable segment of 'Andorra,' 'Anderson,' 'antediluvian,' 'Spandau,' and 'ampersand,' whose elegantly twisted symbol [&] (the so-called short or alphabetical 'and' made by intertwining the 'e' and 't' of 'et') also contains it. 'Ampersand' has been reported to be a slovenly corruption of 'and per se and,' which would suggest, when the symbol is used, that it wishes to upset any implied balance or equality in favor of the leadoff term: Dombey and Son would mean "Dombey and equally his son," while Dombey & Son would mean "Dombey in himself and, in addition, his son." 'And' also lurks about in words like 'spanned,' and in apparently innocent commands like 'please put the pan down, Anne,' as well as in many allegations or simple statements of fact, for instance, that 'panders and pimps and pushers, panhandlers and prostitutes stand like so many lamps on the streetcorners.'
And later still:
'And' if we were suddenly to speak of the "andness" of things, we would be rather readily understood to refer to that aspect of life which consists of just one damned 'and' after another. 'And' is a truly desperate part of speech because it separates and joins at the same time. It equalizes. Neither ham nor eggs are more or less. In a phrase like "donkeys and dragons" the donkey brings the dragon down, while in the combination "sweet cream and a kiss"  the thick milk begins to resemble champagne.
Though Gass is a literary figure, it was philosophy that he taught for more than half a century. It shows.
So if Gass can write a lengthy and seriously playful essay on this single — and, we all previously assumed, simple — conjunction, can Bennewith pull off a series of books on it? He's off to a good start.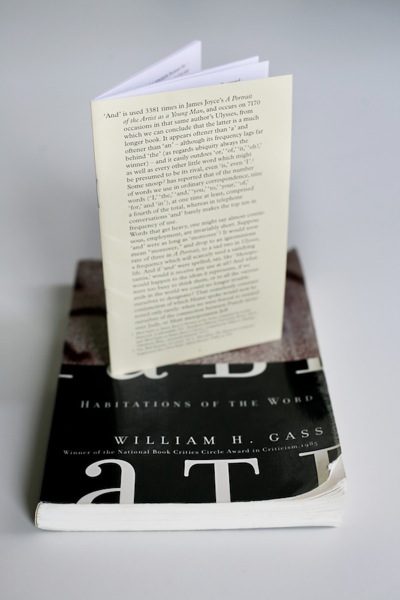 As of last week, after receiving an envelope with a Netherlands postmark, my personal library's rather overstuffed Gass shelf includes Bennewith's charming and unique first finished booklet. It's one of just 300 he printed. (Want your own? They're for sale at the designer's website.)
So what's next in this series? In a recent email, Bennewith told me that the second booklet will be "a collection of '&' forms found on the street" — including this one:
— "by Amsterdam-based graphic designer Jens Schildt, probably followed by an extended and illustrated essay by Paul Elliman about Joseph Churchward's Maori ampersand in his typeface Churchward Maori."
Cool project. Grateful to be on the receiving end of its inaugural volume.
This is the first in a new show-and-tell series in which TOKY staff write about an extra special object — book, artwork, artifact — in their possession.