Preserving Wonder — A New Exhibition of Found Objects at Missouri State University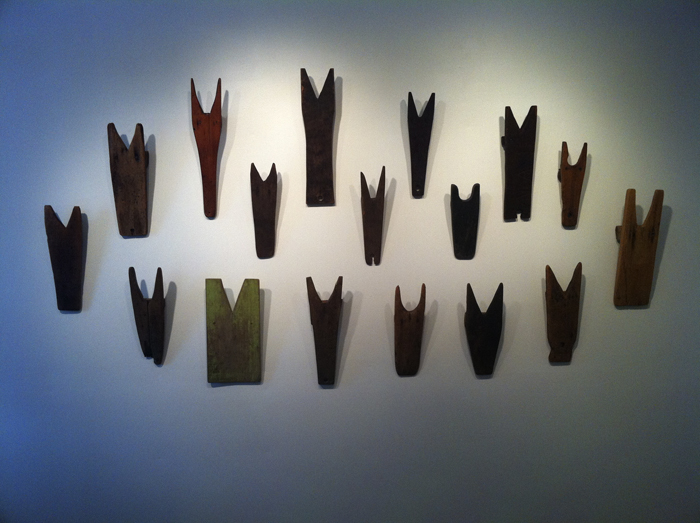 19th century bootjacks stand in as trophy heads.
In the 1970's film Paper Moon, young Tatum O'Neal as Addie Loggins was usually seen tightly clutching her "Cremo" cigar box, the perfect container for her collection of all she owned in the world — a twenty dollar bill, mementos, penny candy and dreams. In some ways, this boxed collection was her safe — they were the things she held precious and the box never left her sight.
Most designers and artists I know are, by nature, collectors. They collect things because they are visual people, and because they seek inspiration. Finding something and placing it on a shelf means that you have, in a way, given new life to that object. This selection process has its roots in childhood. Picking up a shiny piece of tumbled glass or a shell on a beach — the spying of your first "sidewalk penny" — these are moments of discovery that most of us can share. The very act of choosing one thing over another means you have given the selected object a chance for a new life, a chance to be recognized or perhaps even shown to others.
Like young Addie Loggins, my new exhibition at Missouri State University contains things I hold close and dear, objects culled from a lifetime of collecting. This art exhibition at the Brick City Gallery reveals my wonder of everyday, authentic things — my love of art by self-taught makers — a fresh look at things we may have lost touch with in our new century. What I hope to achieve in Self-Taught Art: Pop Culture & Objects of Curiosity is to bring awareness to the idea of interpretation. This is an exhibition where I made nothing and I made everything.
Here, one will see "found objects" as common as a handmade hiker's backpack, made complete with a "make-do" chair back for the frame. Its front, consisting of a rolled-up red and black checked wool shirt, sleeping bag and ax, were tied and bundled just as the hiker left it some 40-plus years earlier. To me, this  object is storytelling at its best. Though I know "what" this is, I interpret it quite differently. I see it as a found, "accidental assemblage" — something the artist Robert Rauschenberg could have certainly identified with.
To that point, what would a collection of primitive bootjacks have in common with an old, round Coca-Cola sign, or "button" as it was called? The answer would be two things: both just happen to be about 50 years of age, and both have now lost their original, intended purpose. With the bootjacks, I am forcing the issue of their accidental anthropomorphic shapes by the simple act of hanging them on a wall, by denying their original use. Bootjacks were originally made for one purpose only: helping a person remove their boots. Look at them as I have them displayed, and suddenly we have a group of horned animals, trophy heads. As for the Coke sign, with its white, paint-crackled surface, perfect rust and patina, this sign is no longer doing its job as an outdoor advertising sign. Today, it hangs as an object about advertising. We look at it now, up close and personal, and we examine it as something authentic. Made of substantial steel and paint that has transformed with age, we see this now as an example of iconic typography married with cracks and rust. It has its lost former life, like a dead butterfly displayed on white cotton.
This is an installation that exhibits important paintings and sculpture by self-taught artists along with found rocks, pig cutting boards, a hand-painted African-American barber sign, police mugshots of smiling prostitutes, shooting gallery targets, paint-by-number paintings, vintage game boards, odd press photos, terra cotta garden planters, carnival knock-downs, Vietnam protest signs, and numerous "things" bound together by a common vision. To put it simply, by taking a new look at common — and some not so common — objects, you just might find art.
A 1940s police target becomes a "pop art" find.
These two rusty signs come from a religious art environment in Alabama created by the self-professed Reverend W.C. Rice.
Two visitors inspect the rants of visionary self-taught artists Howard Finster.
The archetypal "pig cutting board," once the projects of 8th grade industrial arts students, reveal similarities and differences in this collection.
This sawfish blade, pristine and upright, has outstanding sculptural qualities that pushes it into the realm of Modernist art.
A pair of matching paint-by-number paintings are displayed in the original frames.
A 1940's steel and enamel Coca-Cola sign, transformed by time and weather, becomes an object of curiosity.