As I walked through the blockbuster Alexander McQueen exhibition "Savage Beauty" at the Metropolitan Museum of Art this past weekend, I quickly realized that I was in the midst of genius—the kind that comes once in a generation, rare and transformative to those lucky enough to be around it.
Without question, this exhibition was the perfect storm of the late McQueen's visionary fashions paired with the brilliance of his own production designers Sam Gainsbury and Joseph Bennett. Curated by Andrew Bolton, the installation for these works of art was masterful, from mirrored rooms, over the top ornate cases of the highest order, perfect lighting, sound and ending with a swirling hologram of Kate Moss that literally brought me to my knees.

Certainly this exhibition will become a benchmark of inspiration for artists to come. Years from now, as an artist takes his or her own front and center stage, you will read or hear the following statement: "Seeing the Alexander McQueen "Savage Beauty" exhibition at The Metropolitan Museum was the defining moment when I knew I wanted to be an artist."
And it won't only be the future fashion designer who will be inspired. The exhibition is so good it may well be the catalyst for the next great designer, poet, art historian, writer, painter or sculptor. My private tour guide for the show was none other than Met curator of photography Jeff Rosenheim, who hails from St. Louis. His insight was wonderful and helpful—for I had little idea just what to expect as I walked inside the exhibition.
The exhibition was broken into various rooms, each different and reflective of the period this brilliant designer experienced in his brief productive life. The first room, called "The Romantic Mind," was an exact recreation of the atelier he worked in when he first began—complete with fluorescent tube lighting and concrete walls. (1) Oddly, fluorescent lighting never looked so good.
One of my favorite rooms was entitled "Highland Rape," (2) which had nothing to do with what one might first call to mind—but the generational "genocide" of the land and culture by the British Empire. The royal and highly decorated blood-red dresses were set against a backdrop of violent, broken wood, actual holes in the walls that looked as if they were made by cannon shot or axe.
Another room, entitled "Romantic Gothic and Cabinet of Curiosities," (3) was highlighted by multi-leveled shelving of deeply burned and scorched wood, with haunting music mixed with sound recordings of howling wolves. Dark and mysterious, this exhibit touched on fetish-like accessories, bodices of mollusk shells (4) and almost armor-like leather tops (5) for the female form.
Not comfortable with drawing as a way to plan his designs—McQueen instead preferred to simply cut directly into fabric with scissors, a personal style that involved extreme confidence and improvisation.
The exhibit consisted of over 100 ensembles and 70+ accessories from his brief nineteen-year career. The son of a taxi driver, McQueen started as an apprentice in Savile Row at the tender age of 16 and was later hailed and promoted by legendary style icon Isabella Blow. His brief career ended last year with his suicide, which occurred only months after the death of his mother.
The exhibition, which has been extended to August 7, 2011, is a must-see if you are in New York.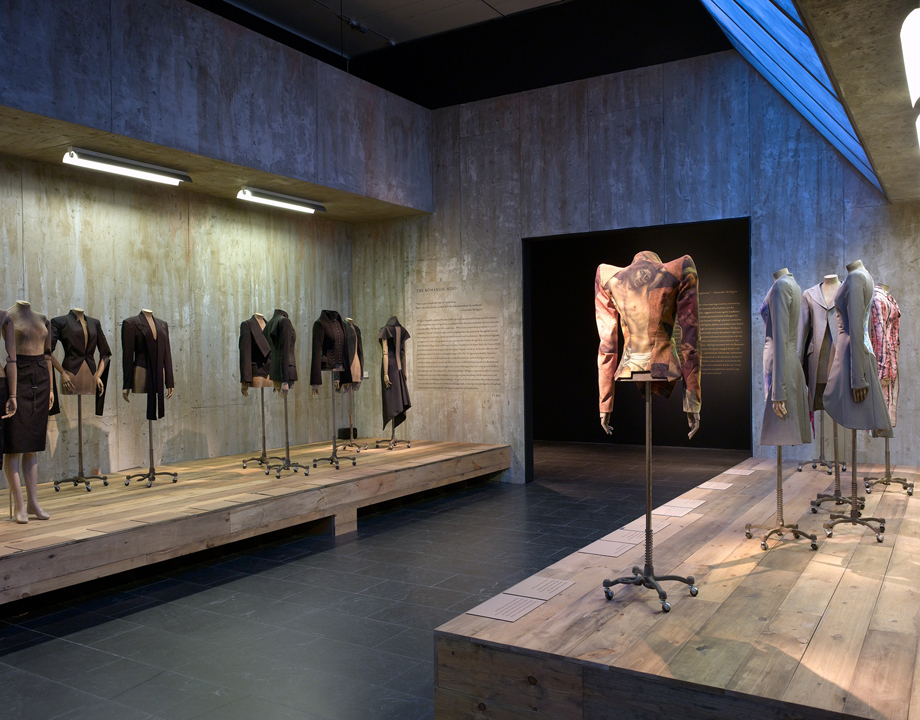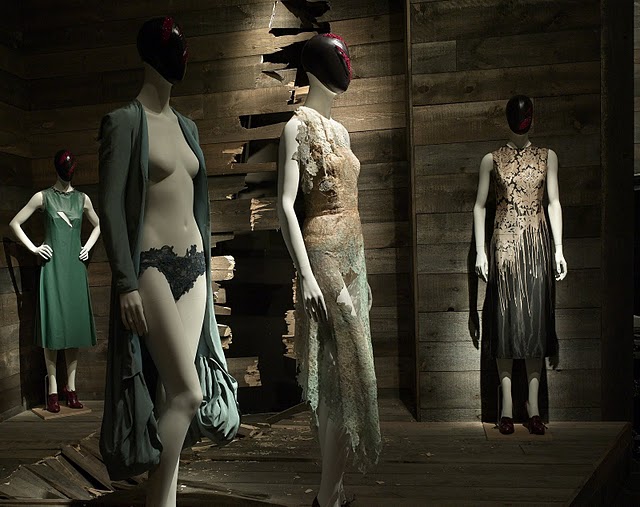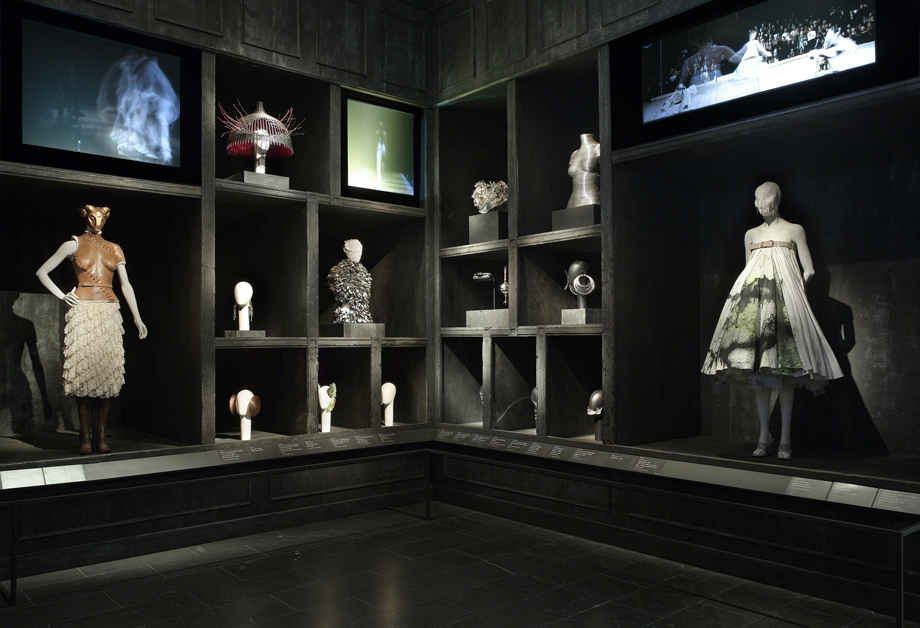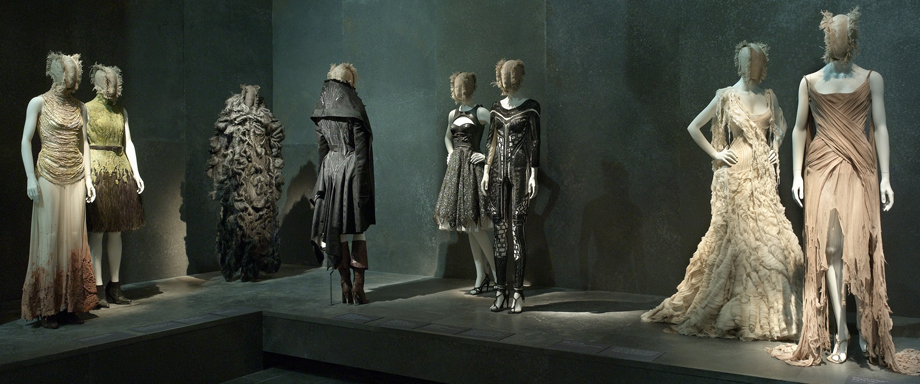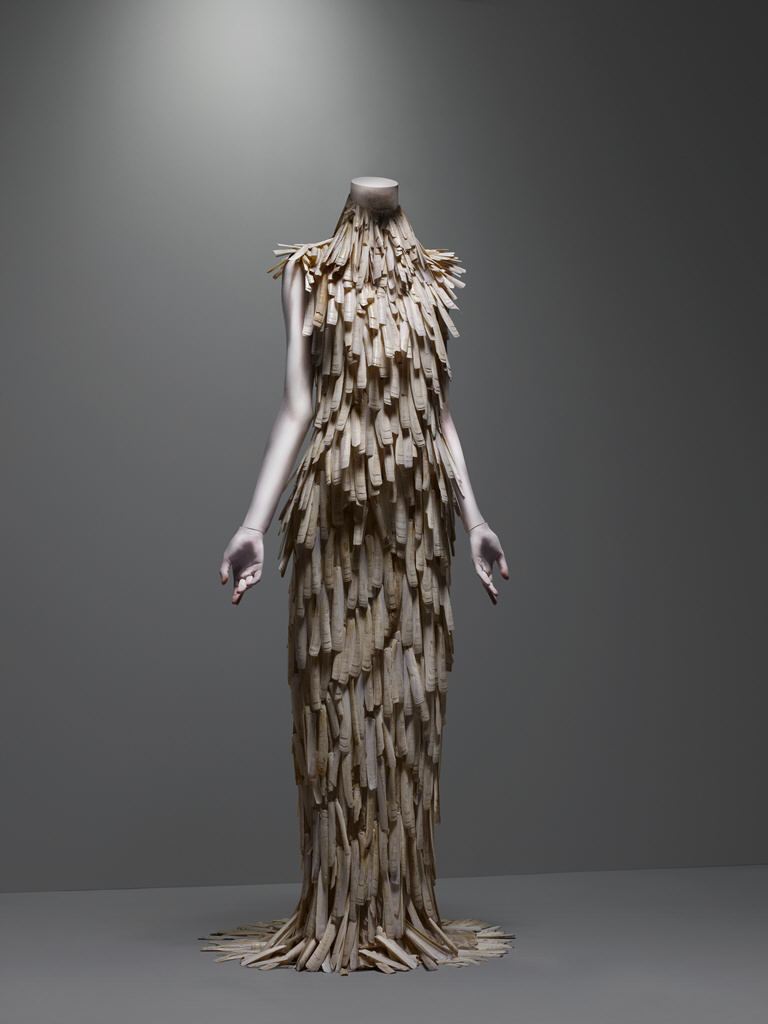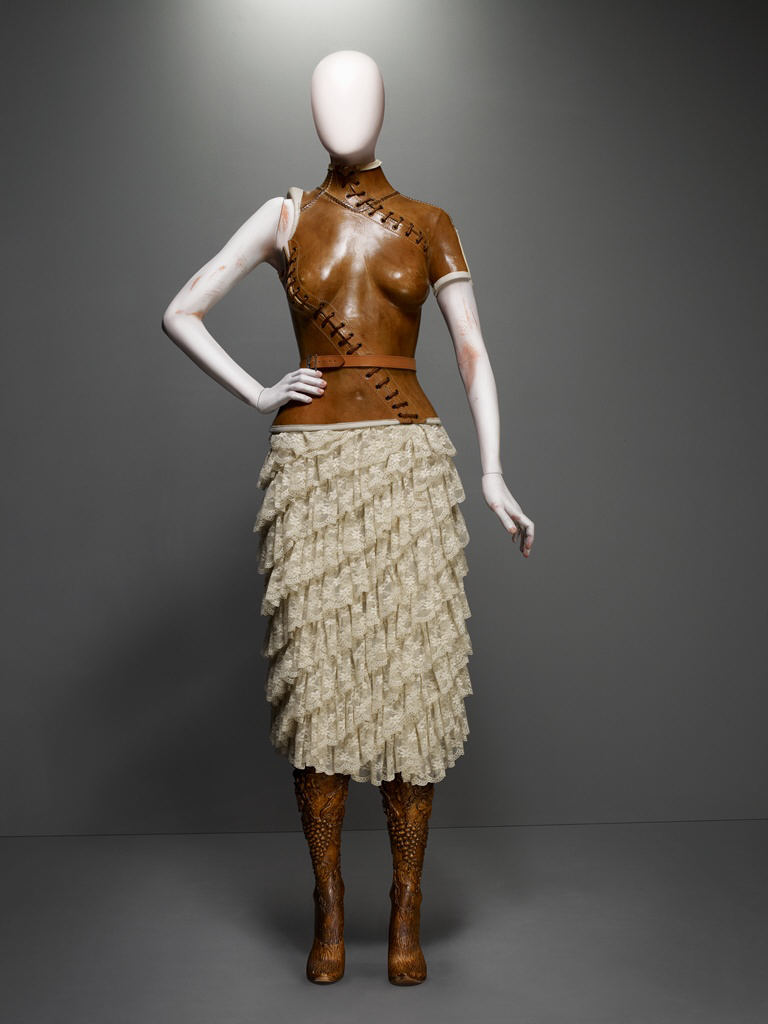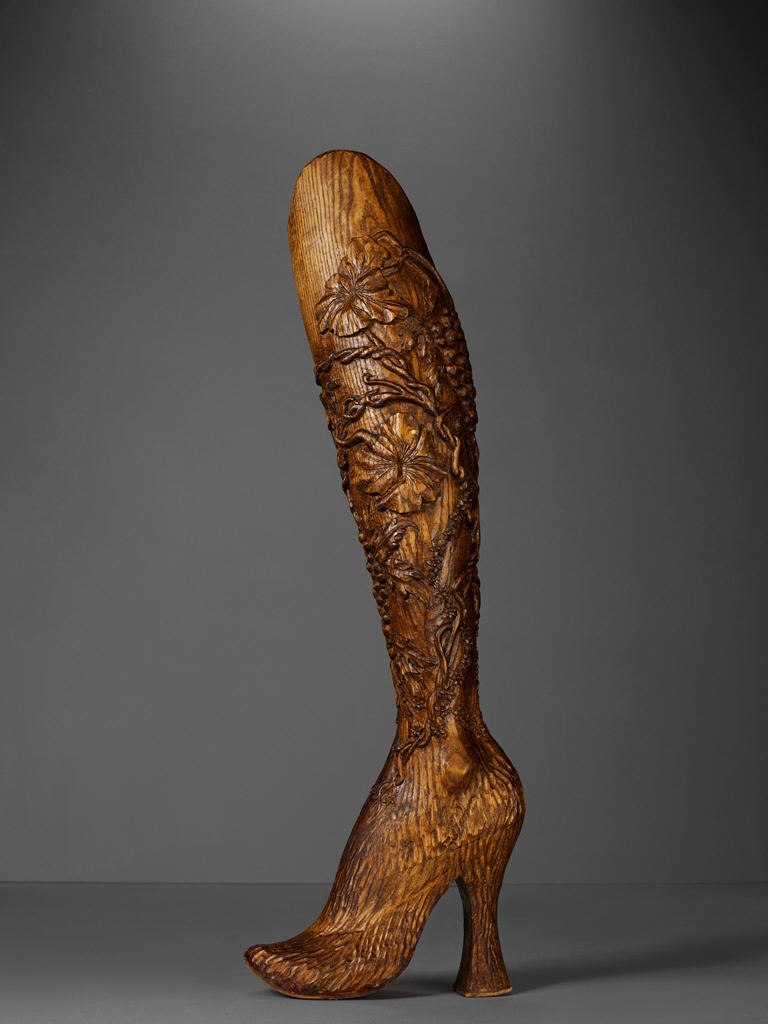 Kate Moss performs an ethereal dance captured with hologram technology. (You HAD to see it in person.)
All images courtesy of The Metropolitan Museum of Art and Alexander McQueen.